Learn how to gain copywriting experience as a beginner from Simran Doshi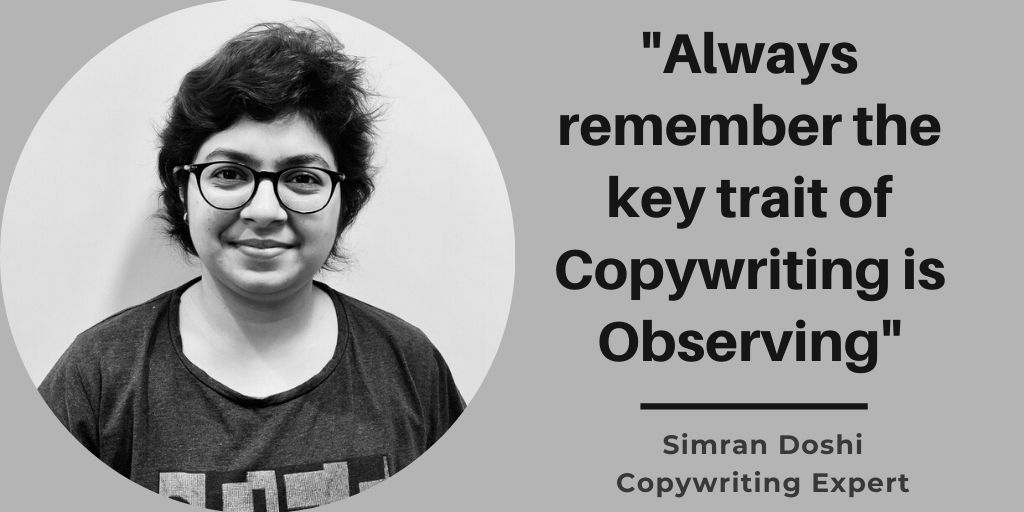 Simran helps brands to write scripts that engage, impact, connect and convert. Whether it is writing scripts for ads, email marketing campaigns. Social media content Simran has the solution.
In the article, she shared her knowledge on how anyone can start copywriting and insights about social media ad copies. Read on!

1. Tell us about your life journey Simran?
I always had an inclination towards books and diaries. How could I not? I received them as gifts every year. My dad gifted me a new year's diary.
He used to get books on different subjects – history, general knowledge, social science, facts about the universe, animals – I was always found reading. And when we used to travel to grandma's place, I had my stock of Chacha Chaudhary and Tinkle comics to read during the train journey.
2005 – I wrote my first piece noting down my experiences in a "diary entry" after watching an amazing teacher's day program at school.
2007 – Wrote my first poem in Hindi on nature 🙂
2010 – Started my blog, just for fun. I wanted to try out the HTML learnings from computer classes.
I actually didn't realize that I wanted to become a writer until I started +2. I had opted for science, but all the physics and chemistry classes passed by gazing at the view from the classroom and scribbling my thoughts.
I used to write poems on the back of the exam paper. Play guitar, compose songs, read fiction, and write some more. Eventually, I realized that English and the love for the written word came naturally to me.
And that's when I changed lanes, got into English (Hons.) for my college degree, and then went on to do post-graduation in the same subject.
After this, I interned at a reputed media house as their website content writer. One month in, and I couldn't do the conventional job life anymore.
Realized my love for freedom, aspiration to build my business, and to give something to the world – I bid goodbye to the job life, and ventured into freelancing. Initial days were tough.
Didn't have knowledge of the industry. I didn't know where to get the clients from. I didn't know where to start. In short, I knew nothing.
But, I was determined. I kept treading through. Kept reading, researching, trying, failing, trying again, experiencing. In my personal life, I was fighting cancer at that time – so business was nil. But, I kept working on personal branding.
Built my network, created content online, worked on giving out to the community, focused on helping people with what I knew best – writing. Months of hard work and consistency, I started getting clients, and my freelance venture transformed into a business.
Today, I have written content and copy for over 150 projects for 20+ clients across 10 countries including clientele from Germany, U.S.A., U.K., U.A.E., Sweden, Singapore, and India (of course!) among others.
And I have a business that I am building with my partner too.

Invitation to join Global Marketers Community Discussion Space

2. Can you specify/decode your favorite ad copy?
Love observing different advertisements and the copy they write. Over the years, I have read uncountable advertisements and other forms of copy. But, my all-time favorite remains Apple's Think Different campaign.
I needn't decode it – for everyone knows about it. And that's the power of strong copy. It needs no introduction. And it lasts. People remember.
The ad came out in 1997 – the turn of the century. And it was indeed a page-turner, a game-changer, in all the sense. I won't go into the details of what impact it created. But for me, the takeaway point remains that the campaign connected on a personal level.
It didn't showcase or sell a product. It didn't highlight the features or any such conventional things that are often seen in an ad. It just tapped on to the emotions, to the common meeting point of everyone who was watching that ad. The emotion. The connection. That worked.

Check out – Top 25 Global Video Marketing Disruptors

3. What is the future of social media ad copies?
Advertising would stay forever. And social media is here to stay for a long long time. In fact, social media would be sustaining it all – businesses and advertisements.
With people spending more time on social media than they ever did (and thanks to the lockdown, this time has increased all the more), businesses need to be the social media platforms today.
People don't just buy things now. They used to, but not anymore. Before buying a product, they read reviews on the net. They check the company's website, their social media handles. They need proof. They need connection. They need the story behind.
That's what social media does – provides proof, reach, visibility, connection, engagement. And they need this all from the comfort of their home – scrolling through their mobile phones. So, how would OOH advertising work, if people don't leave their houses?
So, yeah, businesses need to be on social media and create content there (not only ads) – be it on Facebook, Instagram, LinkedIn, or any other platform. LinkedIn is shedding its old personality. It's not just a job-seeking website anymore.
It is transforming into a professional social media platform – where businesses and business leaders are found. If you have a business that you need to grow, be it on LinkedIn.
Why do I say this with such surety? Because I grew my personal brand, my business on LinkedIn.

Get updated with Latest Video Marketing News

4. What is the best way to gain copywriting experience for beginners?
Write. Read. Analyze. Write again.
See, the best thing is we are surrounded by copy (might be even drowning!) The bad thing is beginners often overlook what's readily available to them and go in search of those fancy hi-fi courses – only to get nothing in return.
Because, hey! You missed observing – the main factor of copywriting. No course can teach you something that comes naturally by practice. Begin by learning what's available everywhere. Because basics matter.
Start reading the advertisements all around and analyzing them through the copywriter's lens. Observe the words used, the placement, the colors (yes, the design matters too and copywriters should know that!).
Traveling by car? Be on a lookout for the ad that attracts the most. Scrolling through your Insta feed? Pause and read the copy when that ad pops up. Observe what's going around.
Note what works and what doesn't. Write them all down.
Next, open up the internet. Some websites have some amazingly helpful resources – that are available for free. Gobble that up. Read blogs, ebooks, physical books. Brush up your knowledge.
Last, apply your learning. Rewrite the advertisement copy, website copy. Practice. See how you can make them better. Pitch to companies about the snags you found in their copy – tell them that you can write amazing (and better) copy for them. (This is for freelancers.)
If you want, apply for an open position in an advertising agency. Just keep creating work and adding on to your portfolio.
And always remember the key trait of copywriting: Observe.

Are you a video marketing expert? Take this quiz

5. What are the important things copywriters need to know about advertising?
Know your audience – in and out. Their location, gender, preferences, everything that you need for the campaign. If you are running a food ad, know whether your audience in that area is primarily vegetarian or non-vegetarian. If you're running an ad selling shoes, note the weather – people don't buy many shoes during monsoons.


Targeted ads work way better than general ads. Don't try to cover it all up in one ad. Run multiple ads targeted towards different sets of audiences. Research, zero in their traits, and then customize your advertisement copy accordingly.


Don't try to sell like a salesman in your advertisement. Craft your ad like someone who genuinely cares for the problems people are facing and offer them a solution. Even if that solution is saving them 50% of their money. Be empathetic.


Never make it a long, boring story. If you're telling a story, keep it interesting. Else, keep it short, to-the-point, and fast. Nobody's got the time to read that long paragraph when there's a world of interesting feed to scroll up.

Always remember one thing about any form of copy: Keep It Simple, Stupid (K.I.S.S.)
Happy practicing : )
Check out her blog here.

Know the New Things in Video Marketing


About Vidsaga
Vidsaga is a global marketplace for Organisations to create Videos. Consider it as "Upwork/ Fiverr for videos" with Creative script writing and professional project management.
Join 52,000+ Global Video Marketers' Community