Learn Community Marketing from Amir Palmen, CEO – Community Bond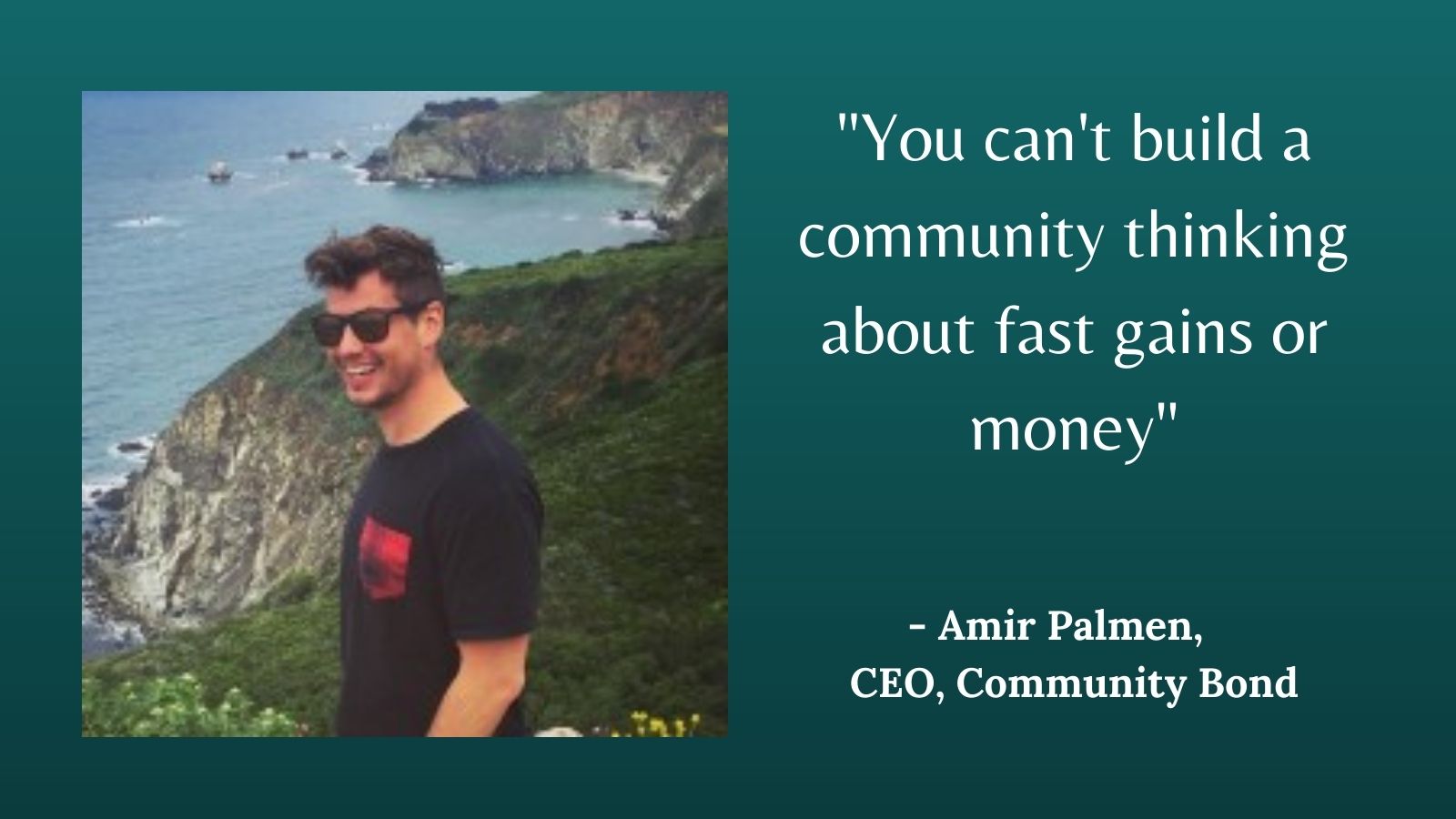 "You need time to build up the community and trust among the people. Once the community trusts and respects one another, it's one of the most powerful things" – Amir Palmen

Invitation to join Global Marketers Community Discussion Space

Organizations have started taking "Community Building" seriously and that's the reason, it's been considered the next thing in Marketing.
A strong community helps with multiple marketing activities – be it generating leads or trust-building or distribution.
In order to learn more about Community building, we spoke to Amir. Read on to know more as she shares community building strategies for Startups and SMEs

Are you paying high? Check – Global Video Production Price guide

1. Tell us about your life journey Amir.
A serial entrepreneur, Amir has started and grown businesses from the age of 21.
In 2017 he visited Silicon Valley in California and that's how he was able to build a strong team around Community Bond. He's often known as a networker and connector who's always willing to support other entrepreneurs in their own startup ventures.
His curious mind and passion to explore different cultures have led him to extensive travels to China, Europe, and all over the world. 
Outside of work, he's passionate about racket and team sports, especially Padel and Tennis, and was a former ice-hockey player.

Check out Video Marketing Knowledge Hub

2. How has community marketing evolved in the last few years?
Community marketing has changed especially due to Covid-19.
Word of mouth referring has transformed into digital and people are again, after some decades more interested in their local areas than they ever have. People read blogs & reviews and look at the local Facebook groups and Instagram stories about where they would wanna go and what they would like to do. 
They want to follow other people's lifestyles and experiences due to influencer marketing and user-generated content creation which has become the new local media. Not more than 10 years ago people used to read local newspapers and articles from there.
Now, most local newspapers have disappeared, and if they still exist the average reader is + 55 years old.

Check out – What Media is writing about Vidsaga
3. What are the effective Community Marketing strategies Startups and small businesses can adopt?
Authentic, real, user-generated. People are tired of fake things and ads.
The best way is to use your existing loyal customers to post and write about you. This creates trust and interest among the nearby local people.
After Covid people are looking to connect in the real world so businesses can come up with events that are aligned with their customer base and business.
A coffee shop can organize a startup networking event, a bar can invite people into happy hour and a yoga studio can plan a free beginner class to attract new local people.


Get updated with Latest Video Marketing News
4. Can you share an interesting/ successful Community you have come across? What makes them different/ unique?
Gym community in a small city called Kotka, Finland. They posted and listed all their activities, sports, healthy eating, and cooking on our platform for a year.
It was amazing to see how open they were in sharing things and experiences with other members. Empowering one another independent of age or gender. 
It was great to see such humanity and empowerment, real community support and movement.

Check out – Top 25 Global Video Marketing Disruptors
5. What would be your advice for those who would like to adopt a "Community First" marketing approach?
Think about the long-term gain. You can't build a community thinking about fast gains or money.
You need time to build up the community and trust among the people. Once the community trusts and respects one another, it's one of the most powerful things. You can't be selfish.
Sharing, respecting, supporting, and staying encouraging is the way to go. Be yourself and be as authentic as possible!
Be aware of each person and stakeholder in your community. After that, you can start doing any marketing you like and it will sell like nothing else before.
Why are Facebook, Instagram, and Google so efficient in their marketing? Because they have built a strong community without people even realizing it.
People use these platforms to stay connected or informed, but they end up using their money and time.

Learn from Video Marketing experts


About Vidsaga
Vidsaga is a global marketplace for Startups & SMBs to create Videos and save money. So far, 1250+ Startups and SMEs from 15 countries have used the platform.
Consider it as "Upwork/ Fiverr dedicatedly for videos". + Milestone based Payment terms
+ Creative scriptwriting
+ Agency like professional project management service
+ 7 days delivery
+ After delivery Support
Join thousands of Global Video Marketers