Invitation to join Global Video Marketers Community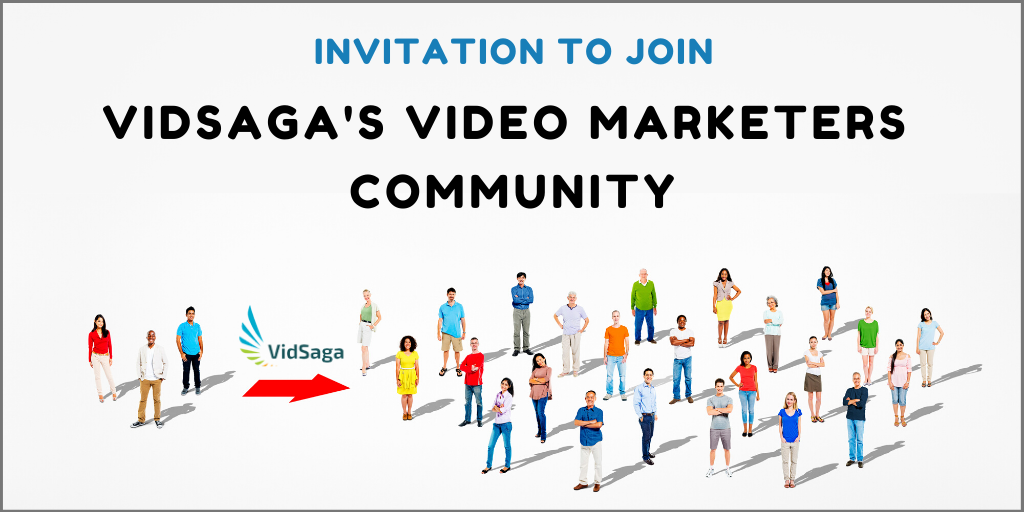 We at Vidsaga are building a first of its kind – Global Video Marketers Community.
TLDR – join the community here.

Objective of the community?
To create a learning space for Video Marketers to have fun with like minded people, get engaged in meaningful conversations and help & learn from fellow community members.


Who the Global Video Marketers community is for?
Video Marketing experts, Video Marketing Aspirants, Video Marketing evangelists, Video Marketing enthusiasts, Marketing Influencers, startup founders, innovators across the globe to interact and grow their businesses.


Why we are building this?
We are super passionate about everything related to Videos. So we realised we need to learn from other people/ experts who share the same passion for the videos and video marketing.
And we know there are many people in the world with the same situation. So we took this initiative to create a community space to help Video marketers like us.


What happens in the community?
We have started with Online Networking. We have an 'email list' to which we share Video Marketing knowledge
Video Marketing Experts share their knowledge,
Stories of successful/ viral Video Marketing campaigns
Video Marketing latest news and trends
Video Marketing Quiz

Who all are part of the community?
Phil Starkovich – CEO, 'TUBE Buddy'
David Walsh (Mr. Youtube) – CEO, David Walsh Online
Aashish Chopra – VP Content Marketing, iXigo
Mike Melli – Co-founder – Miss Malini
Rohan Chaubey, Growth Hacking Expert
Maayan Gordon, Tiktok Marketing Coach & Consultant
And 52,000+ Marketers, Entrepreneurs, Copywriters, Digital Marketers more
Check out the interviews of the prominent Video Marketers

This community is not for
Direct Sales
Spammers
For any other purpose
Join 52,000+ Global Video Marketers' Community