YouTube SEO : Everything you need to know in 2019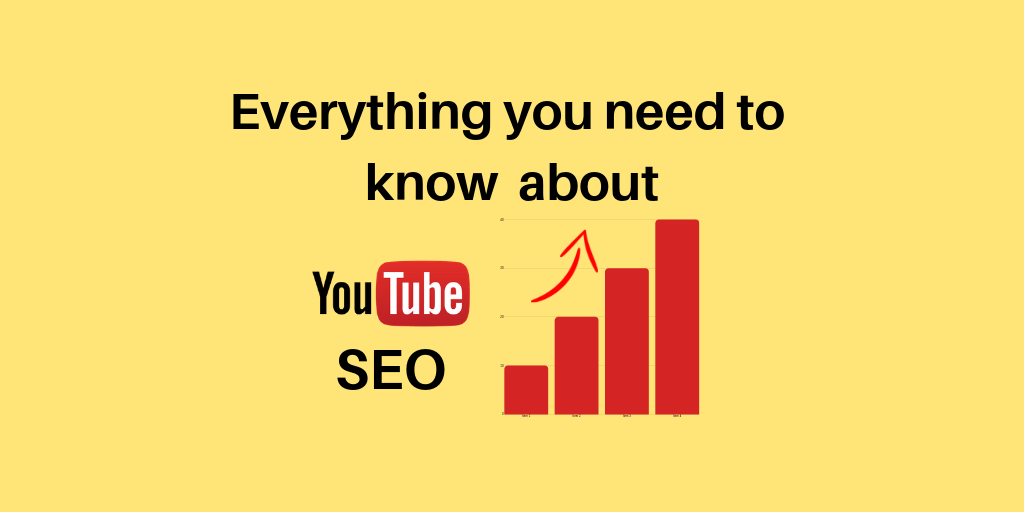 Have you ever wondered how does YouTube decide which video to display in its search results?
Yes ! the simple answer is – the way google shows search results.
But perceiving the high competition present on the site, the main challenge is how you can make people search YOUR VIDEO, and not millions of other similar videos
And for that you need to optimize your video on YouTube through SEO aka YouTube SEO.
In this article, we will explain you everything you need to know about Youtube SEO in 2019.
Here you will learn
1.Optimise your YouTube video title.
2.How to find SEO friendly keywords ?
3.How to write video description ?
4.What youtube video tags to be added ?
5.What is the relevance of adding closed captions ?
6.How to create a click-worthy video thumbnail image ?
7.Why does creating a playlist help in Optimisation ?
8.Importance of Youtube video analytics. 
9.What is the importance of comments, subscribers and likes ? 
10.How to promote your video ?
Why you should learn Youtube SEO?
Unlike Facebook, YouTube (Google) has search engine optimization guidelines based on which a video can be made "search-able"

So, uploading a video is just not enough (until you are a big brand or a celebrity), you MUST optimise it in order to tell Google/ Youtube what your content is all about and related to.

And not to mention If you are not doing YouTube SEO, you are missing a lot of traffic and conversions.

#1 Optimise Youtube Video title for a viral video
While searching for videos on YouTube, most people pay earnest attention to the title.
The more relevant your youtube title, higher are the chances of it getting clicked. 3 out of 4 people click on the link based on the title and if your description is catchy enough.

Many Organizations churn out many videos as a part of online marketing to garner potential traffic for their website, but they do not get the desired results.

The main reason being – NOT writing SEO friendly title or social media friendly title.

#2 How to find Keyword for your title?
You need to do a proper research of keywords before writing a title and description for your video. Title should have the Primary keyword you are targeting.
Primary Keyword is the main keyword on which you want your video to be in the top of search results. While Secondary Keywords are all other keywords related to your primary keyword which people are searching
Method 1 –
You can use Google Trends to get keyword ideas.
The above image shows how google trends can be used for precise Youtube keyword analysis.
From the drop down select Youtube Search and use this amazing tool.

You can also use long tail keywords as it brings better conversions, but don't go much blatant in using multiple keywords for your video description or title as search engines can chasten you for doing that.

Method 2 –

Use Youtube AutoSearch

Whenever you type a keyword in youtube search bar, you get other options as shown in below image, This is called youtube auto search.

This results are possible secondary keyword for the primary keyword you have types in the search bar.

Auto-suggest provided on YouTube can help you getting apt results for keywords, just start typing the title and it will give you the most popular keywords which you can use in creating the title for your own video.

You can have a look at popular videos, and use the same keyword around which the video is optimised.

Method 3 –

The most used tools for keyword search now-a-days is TubeBuddy. Tubebuddy is available as an extension to your search engine.

This tool shows how easy or tough it is for you to rank on any particular keyword. It shows popular tags used for the keyword. The pro version of this tool comes with several other features.

Keyword explorer feature from tubebuddy is shown above. This section displays the overall score of the keyword describing how easy or tough is for you to rank on that keyword.
Keyword Optimisation is the key part of youtube SEO, if a video is popular, has lots of views and engagement, probably the video is optimised around a popular keyword.

Try to insert title at the beginning for better ranking in search results.


#3 How to write YouTube Video Description
Couldn't put everything in the title? Well, you have a video description as a savior.
Video description plays an important role in SEO as Google and YouTube don't know what is there in the video, their search results rely heavily on your description.

As we cited earlier, 3 out of 4 people would go through the content based on the title but the rest 1 would plug your video description very sincerely.
Make your video user-friendly for search engine and eloquent for users by inserting targeted keywords in your video description.
Add a link at the top of the youtube video description.

Small video description does not give much information to Youtube about the video. So a detailed description ( Min 200 Words ) , along with video title and tags, gives a lot of information about your video.
Above, Video description has ranked the video top 3 for its targeted keyword.

Here are the basic guidelines for the YouTube video description:
Include your primary keyword in the first 30 words
description is of at least 200 words
Include your Primary keyword 3-4 times and not more than that.
Add your secondary keywords as well
#4 Add YouTube Video Tags
Tags may not play that significant role in SEO but they help in getting unforeseen views.

Tag your main keywords first and then move to general or matching keywords. It will also secondarily help Google and YouTube in learning what your video is about.

Have to show your video in related video section shows on top ?
The most prominent role of tags is that they show up more often as a related video in the sidebar area of YouTube.

For example, if someone is watching the video which has a similar tags as your video, your video will be added to the sidebar. So add popular youtube tags.

TIP : To see a video's tags, you can add the VidIQ Chrome extension. It shows you a video's tags on the page.

This tools gives a detailed analysis of your Youtube channel and gives meaningful insights.The above images display detailed analysis by report shown by VidiQ.
The pro feature of this extension comes with several other features with subscription costs $10.
How to Check Tags without Extension :
Adding extension to chrome can be a tedious task, So let's find out how can we find tags without adding any extension.

Right click on the video page, find the option source code or simply click Ctrl+U to get source code directly.
In source code page press ctrl + f and search for word " keyword ".

Scroll for the text in inverted commas, that will be the secondary keywords or tags used for the videos.

#5 Why to Include YouTube Closed Captions in your video ?
As video is not text based it is difficult for crawlers to understand what is the content of video. So its always a good practice to include a supporting text to inform google what is the video all about.
The Video Captions and Transcript let google bots to crawl everything that is said in the video. This also increases keyword density as well as keyword diversity.

This allows your video to rank on multiple related terms rather than primary keyword in the video description, title or tags.

In fact, adding captions to your videos is a proven strategy to improve SEO, views, engagement, and search rank.

#6 Create Eye-Catchy Youtube Thumbnail Image
The most important factor and the powerful click motivator is video thumbnail image of your video.

Thumbnail images cannot be considered a direct ranking factor for video, but it makes a huge impact for a video to be clickable.

In a matter of seconds, viewers decides whether they want to watch your video or not.
Most people watch video by just by looking at the thumbnail image.

Here's image comparison of a thumbnail image. You can decide which is more click-worthy and likely to increase views.
Click to know more : How to make clickable Video Thumbnail Image?
#7 Create YouTube Playlist
Playlists are one of the best ways to get more views. Playlist helps users to view all the videos related to a topic in an arranged manner.
You can use a combination of all the secondary keywords that are targeted to rank in Youtube search result.

And you can get more search traffic, increase view time and retention.

Have a look at this playlist.

You can see that all of the secondary keywords are associated in the playlist. Like physical fitness , exercise intensity , skill-related fitness etc. You might got the idea now, how wisely you can use playlist to rank in search.
#8 How to use YouTube Analytics to understand Audience watch time and retention reports
The amount of video that people watch is called audience retention.

And Audience retention is a huge deciding factor for a video to rank higher.

You can check audience retention report by going to Analytics > Audience retention within your Creator Studio.
This graph captures every second of video watched. You can use retention to identify popular parts in your video.
You can have a detailed analysis of graph and check which section of your video is most viewed, the one with the bump indicates most liked and most watched part of your video, and which section is skipped or ignored, the one with gradual downwards curve..
Having analysed the reports you can make
The output of high retention video will be in the form of engagement (likes, comments, subscribe)
#9 Why is it important to encourage People to comment and subscribe
Just like Google, Youtube displays content that is popular. But the question is – how it decides which content is popular.

That is determined by youtube comments, reply, rating and subscription. If your video gets engagement it tells youtube that your video is popular.

Video Subscribing is one of the major factors that youtube algorithm uses to rank videos.
Commenting and replying is one time thing but subscribing shows people want to get regular updates of your video, which reflects the value you provide.

Tips to get comments : End your video with a question or some discussion to get the commenting started.
#10 How to Promote YouTube Video
What after creating a youtube video ?
Video Promotion is equally important, First 24-48 hours after publishing your video can make or break your video.

Some tips for promoting video in first 48 hours.
1 . Identify Best time to publish
Best time is when your audience is most active. You can check peak point by monitoring real time reports in YouTube analytics.

Publishing video at the best time gives you more engagement and views.

2. Respond to comments
Best way to get connected to the audience and know their views is by replying to comments.
YouTube found that viewers who received a heart are 3 times more likely to click on the notification compared to other types of notifications.

3. Promote to your existing audience
You can use your social media accounts, blogs, newsletter to promote video.

Share on social media
Sharing video on various social platforms like facebook, twitter, instagram, linkedin etc. boost the reach to great level thus making video popular.

Share on Quora and Reddit
Find relevant question to you video , post video link with relevant answer explanation thus getting more insights on the subject matter.

Blog Posts
You can write a blog post related to your video , you can embed the youtube video in your post. This not only help in youtube seo but also add value to the blog post.
We have sum up everything in this article that video in digital media will need today. In digital marketing platform, Video is overruling all the other media gradually. So use the above tips to rank your video in top searches in YouTube.
If you are looking to create a video easily, quickly and at the right price, submit your video requirement now
About VidSaga
Vidsaga is a global marketplace for Organizations to hire global Video Creators.
Are you a video creator and looking for global work opportunities, then create your profile here
Join 1800+ Global Video Marketers' Community