Any content that you create has to be differentiated, making them pause everything else – Ayushman Chiranewala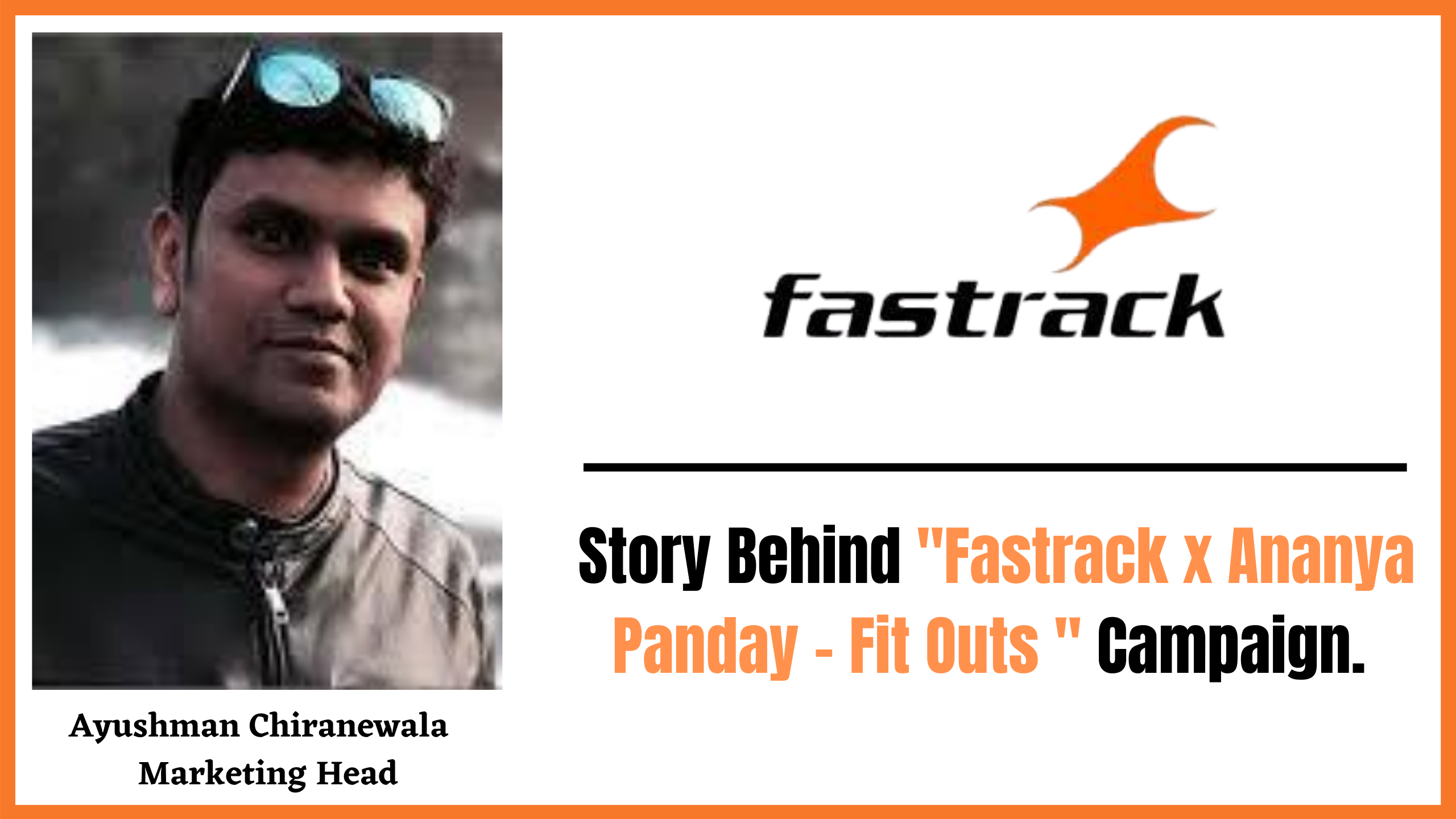 "Customize your video as per the platform, creating multiple cuts of your video asset as per the most relevant audience-interest cuts. Resulting in a stronger engagement and view rate" – Ayushman Chiranewala, Head of Product & Marketing – Fastrack, Titan Company Limited
Fastrack has launched a new campaign – "Fit Outs by Ananya Pandey". The Ad targets female millennials and the idea was to position the new collection as "don't fit in" or as per their term – Fit Outs.
We talked to Ayushman the brain behind this marketing campaign to know the campaign story, like – what was their thought process, business objective, execution plan, video distribution checklist etc .
Read on to know more.

What was the business objective behind making this campaign?
Fastrack has always been known for its edgy and bold styles that set us apart from the others. Setting newer trends and keeping it fresh for our audience.
This time around the focus to come up with a fresh approach for young girls, as we observed a shift.
The occasions for girls have evolved from a bare basic college, sporty everyday look to a bling look for casual meetups over brunch and lit up, elegant party nights.
Creating a need and the flexibility of different looks, exploring a range of styles that cater to different occasions.
The thought here was to create something exciting for the chic young girls of today, reconnect with this evolved set of audience with an all-new exclusive signature collection from the house of Fastrack.
Increasing the share of voice for the brand and driving consideration.

Get updated with Latest Video Marketing News

How did you and your team conceptualize internally and if you could share what brief you gave to the agency?
Taking from the objective, the task statement shared with the agency – Lowe Lintas Bangalore was simple.
Fastrack Fit Outs, our first signature girl's collection is designed in collaboration with Ananya Panday.
It's a true reflection of her personality and will appeal to those young girls who are brave enough to embrace their peculiar side.
The collection is a mix of watches and bag designs ranging from geometrical shapes and colours to textures and starry vibes.
The watches range from gold plated, black metal to a leather strap all keeping in mind the different looks the girls of today are eager to create.
The ask, how can we bring alive her personality and the collections quirkiness with this film that aid us building brand relevance and fashion credentials amongst the GenZ girls.

Are you a video marketing expert? Take this quiz

Is there a checklist for distribution you follow or what best practices you follow for media buying and distribution?
We follow a targeted approach, keeping in mind the digital habits and affinities of our audience relevant to that period combined with platforms that they are most active on.

Know the New Things in Video Marketing

What advice would you like to give our community members when it comes to planning video campaigns?
Digital today allows one user to switch between platforms within seconds, reducing their retention span.
Any content that you create has to be differentiated, making them pause everything else.
This also comes alive better when you customize your video as per the platform, creating multiple cuts of your video asset as per the most relevant audience-interest cuts.
Resulting in a stronger engagement and view rate.

Know the New Things in Video Marketing

Please name the team behind the campaign.
Agency: Lowe Lintas, Bangalore
Creative Team: Sagar Kapoor, Puneet Kapoor, Shiv Parameswaran, Deepesh Rajani, Richa Jain, Bobby Thomas, Hamza Bhavnagarwala
Account Management: Sonali Khanna, Bhupender Agarwal, Radhika Bhattacharya, Ritisha Mondal
Planning: Kishore Subramanian, Easo John, Namrata Sukumar
Brand: Kalpana Rangamani, Ayushman Chiranewala, Pooja Sharma, Anne Chacko, Anuja Salvi, Kirti Verma
Production House: Catnip Culture
Director: Reema Sengupta
Invitation to join Global Video Marketers Community


About Ayushman
Ayushman Chiranewala, Head of Marketing – Fastrack, is amongst the top 25 Hot Young Marketers, 2018 in the country by Economic Times Brand Equity.
Ayushman has completed his MBA in Marketing and Finance from SCMHRD, Pune.
He started his career as an Area Sales Manager at Titan Company Limited in the year 2008 and has been with Titan ever since.
He was responsible for brands such as Fastrack Watches and Eyewear, Tommy Hilfiger and Hugo.
Later, he moved on to become the Brand Manager for Sonata, India's largest selling watch brand, where his role primarily focused on launching and taking the Superfibre range of watches to its 1 millionth sale in year one.
In the year 2011, he joined Titan's international business division as a brand manager, where he was responsible for brand promotion, development of marketing campaigns and consumer research for international business.
After a successful run in the Indian Market, he took over the role of Country Manager for Titan's global markets.
Since 2016, Ayushman holds the role of Head of Product & Marketing at Fastrack – country's coolest & buzziest youth brand, leading the brand to new heights of top line & bottom-line achievement and making it the fastest growing brand in the company.
He has successfully launched the first smartwatch brand Reflex within Fastrack, and made it the number 2 brand as per IDC within the country.

About Vidsaga
Vidsaga is a global marketplace for Organisations to create Videos. Consider it as "Upwork/ Fiverr for videos" with Creative script writing and professional project management.
Join thousands of Global Video Marketers