9 Things To Know Before Choosing A Corporate Video Production Company (2024 Edition)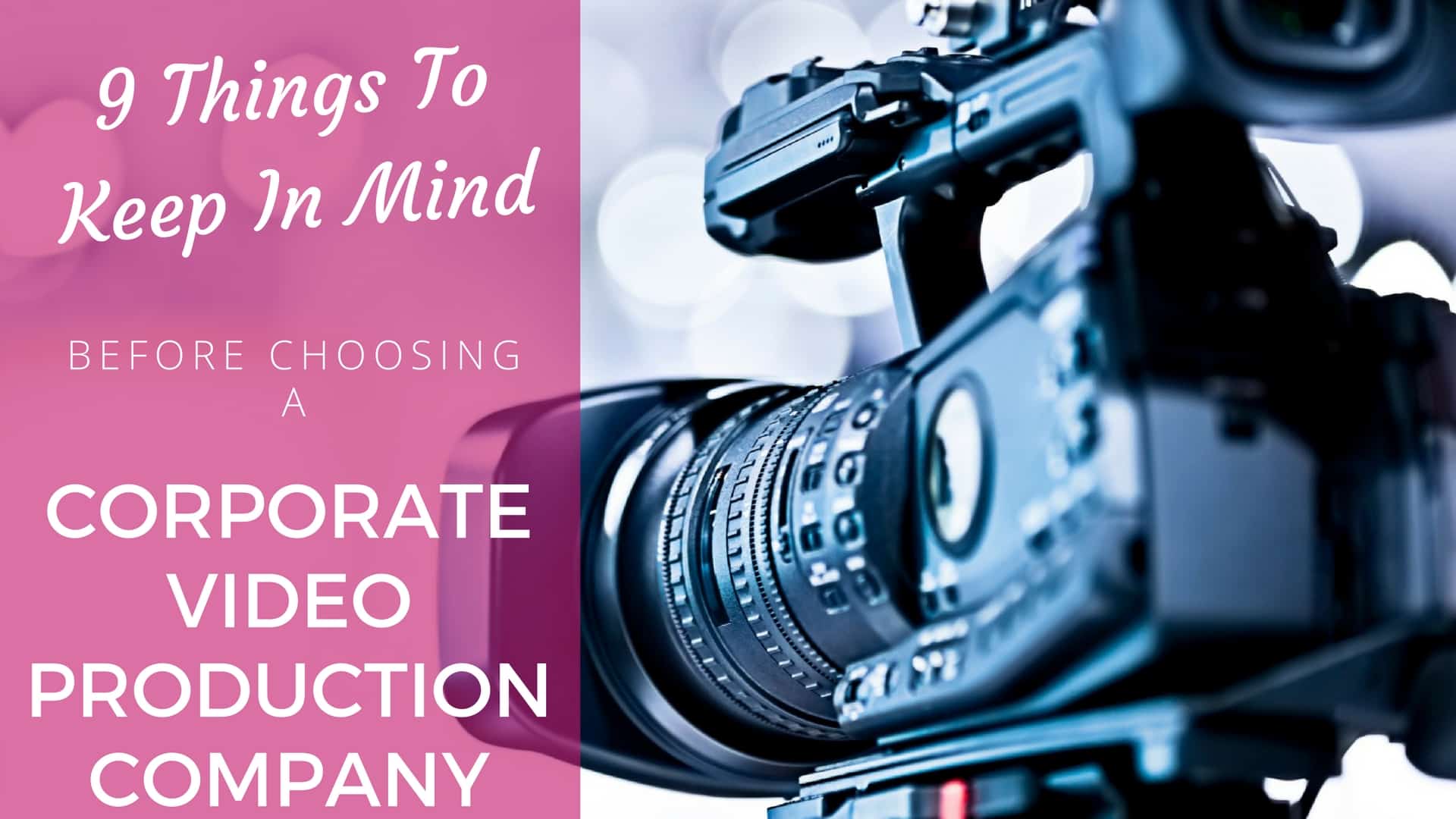 9 Things To Know Before Choosing A Corporate Video Production Company.
Let me guess, you are a smart marketer or a business owner who is trying to take your business to the next level, by using the power of video marketing.

You have been surfing the internet looking for information because you have been thinking about doing corporate video marketing for your brand.

Or, you are confused and are wondering how to choose the right corporate video production company,

Or you need someone who can help you figure out the things that you will need to take care of while dealing with a corporate video production agency.
Well, if that's you, then you have arrived at the right place.

In this article, we will be telling you everything you want to know about Corporate Video Production Services
Read More- Video Production Process: An Ultimate Guide (2024 Edition)

What is a Corporate Video?
According to Wikipedia…

"Corporate video production refers to audio-visual corporate communications material (such as DVD, High-definition video, streaming video or other media) commissioned primarily for use by a company, corporation or organization. "
Basically, Corporate Video is an audiovisual presentation of your company.

The idea behind making any Corporate Video is to tell our audience about the Company to ensure that you are able to HIT your business objectives using the power of video storytelling

Invitation to join Global Marketers Community Discussion Space
What is the framework for a Corporate Video?
Generally, this is a typical framework of a Corporate Video content
Introduction
Company History
Company Growth
Directors' Message
Infrastructure and Office footage
Employees and work culture
Clients and their testimonials
Future Vision
End with the tagline
Why choose Corporate Video Content?
Although we have seen brands use corporate videos for a wide variety of purposes, the major impact of these videos is on improving product range awareness and driving sales, recruitment, and branding.
85% of people say they'd like to see more videos from brands in 2018. *50 Wheel
After watching a video up to 64% of users were more likely to purchase a product online.*Marketing
Up to 80% of marketers say the video has increased the average session duration on their website. *Wyzowl
Check out – Top 25 Global Video Marketing Disruptors
Popular Types of Corporate Videos & Their Uses:
Promotional video: It is targeted towards promoting a specific product and showcasing its features so people can understand it better. Some corporate video production company has specialized in making amazing promotional video.
Industrial video: It is targeted towards a specific audience and towards a specific industrial sector. For example, a video of a tunnel boring machine for the construction industry. Many corporate video companies make industrial videos according to the client's requirements.
Internal Communication videos: They are used for communicating the flow and importance of company policy, terms, etc. This is helpful for large-scale companies.
Recruitment video: It shows prospective recruits the value of a company as a prospective employer and attracts fresh talent towards the company.
How-To videos: They are usually used by software companies to communicate how to use their products and derive maximum value from them.
Testimonial videos: They are usually created to communicate and affirm social proof to the target audience. Many corporate video production companies make testimonial videos of their clients
Corporate Events: They communicate a company's agendas and goals in areas unrelated to generating revenue.
Corporate Documentary:  These videos chronicle the history and hopeful future of the company by featuring key members of the organization. They are mainly targeted towards shareholders of the company and they can improve the brand value. Many video production company has expertise in making a corporate documentary. 
Corporate Social Responsibility aka CSR: CSR communicates to stakeholders of the company and members of society that the brand can focus on the betterment of society while also generating profits.
Company Profile Video: This type of video is really beneficial for brands that are entering new domains and markets, as it can help them establish trust with new potential customers and other stakeholders involved. Many corporate video agencies provide company profile videos for their clients.
Brand Video: These videos are usually helpful when the brand is trying to hold a branding exercise for its target audience.
How much does a Corporate Video Cost?
Corporate Video Production has 3 major elements
Creative Script Writing
Video Creation
Professional Project Management
Generally, corporate video production agencies charge for all 3 activities but we at Vidsaga give you an option to choose from our 3 Pricing Packages

Corporate Video price based on quality would be as below
Basic Quality – $300 – $700
Good quality – $800 – $2000
High Quality – $2000+
Are you a video marketing expert? Take this quiz
Questions you should be prepared with before approaching any Corporate Video production company
What is the target audience?
There could be multiple target audiences for a Corporate Video
Current/ Prospective Clients
Investors
Current/ Prospective Employees
Vendors
All of the Above
Everyone on earth
What is one thing/ emotion/ value proposition you want to show in your Video?
Video is a long entity and we give much information, but human minds do not process all the information. So we need to narrow it down to 1-2 things we want our audience to remember

What is the objective of creating this video?
If you do not have a specific answer to the previous question, then this question may help you. The video content would differ if the objective is 'generating more sales' than 'getting the investment' or 'introducing the company to new employees'
There could be many types of objectives while making a video it could be an explainer video or corporate video or any other kind of video.
9 Things To Keep In Mind Before Choosing A Corporate Video Production Company.
1) Does The Corporate Video Production Company Understand your Needs Clearly?
I believe that every brand marketer or business owner has a rough idea of what they need in their corporate film; the brand image they want to convey, and the end goals that they are looking to achieve with it.
When you are planning to work with a corporate film production company, you need to focus on a few key areas of communication.
When engaging with them, check if the corporate video production house understands your needs clearly.
As a buyer, a good question to ask a corporate film production company might be:
Are they able to translate my needs into proper executable concepts or not?

If not, then you need to be cautious about moving forward with this team, because if your corporate video production company is not able to gauge your needs properly, then it is going to cause you a lot of problems in the future.

I am sure you don't want to be someone who spent money on getting something done, and then is stuck with a half-baked mediocre video with no impact…

2) Are They Aligned With Your Vision:
When engaging with the corporate video services team, you should think about whether they align well with your corporate film vision or not.
You can ask questions like:

Does this corporate film production company understand my brand's vision?

Is this corporate video maker company invested in making me successful?

Do these corporate video production companies fully understand our product?

Does this corporate film production company care about the impact that we intend to have with this exercise?
Are people in this corporate film company asking questions about our brand, or not?

Are they genuinely interested in working for you or is it just another lead for them?

If you do a little bit of analysis with questions like these, you will get a feel of the kind of end results you may end up with.
You can gauge a lot of information within the first few minutes of engagement with the creative team.
Ideally, as the person in charge of the corporate video, you should ensure that the company you are working with understands your vision fully and is focused on it.

3) Do They Have Past Work/Testimonials?
Whenever you buy a service or a new product on the internet, you look for product reviews/past work. Right?

I mean, I do that. I think you should too if you are not doing it already.

The reason I do it is that I want to know about the quality of the work that they have done in the past.

This process can and should be used while selecting corporate production services as well.
So, if you are considering working with a corporate video production company and trying to gauge the quality of their future work, you should always check their past work/testimonials to understand the sort of work that they can do for you.
Past work is always proof of corporate video makers' abilities.
If a video production company's past work isn't up to the mark, chances are that they won't be able to produce a masterpiece for you.
You should check their past work/testimonials for at least 10 past clients/reviews.
Look at their work quality, level of achievement of client goals, & overall buying experience.
You can also ask them if they have done any work in or related to your industry.

If yes, then you can expect them to understand your product and industry better than other people or teams out there.

4) What Is Their Video Production Quality?
As a buyer, I think Video production quality is the most important part of any project.

If their production quality isn't top-notch, you won't be able to make a lasting impression on your target audience.

You should check for quality by inspecting their equipment, tools, cameras and other audio-capturing devices.
Things To Check For:
1. Camera Quality
2. Editing Quality
3. Lenses quality
4. Past testimonials
5. Past videos that they have worked on: Study these at all stages – from the planning stage to the final results.

5) Culture:
I think culture is a mutual FIT quotient, which becomes especially important for hiring a corporate video production company..

Whenever we hire someone at VidSaga, we look for a culture FIT between the prospective employees and our company.
Sometimes this can be even more important than the skills because we care more about the culture FIT than a skill set.
Working with a corporate video production company should follow the same principles.

If both the teams (your company and the corporate video production house) are on the same page, culture-wise, chances are that you will have a great filmmaking experience working with them.

But yes, how does anyone know if a corporate video agency is a good FIT for each other or not?

To figure that out, you need to pay attention to their online blog, their founding story and much more.
Ask questions that tell you why they started when they started.
Review video production companies' work, and talk to them over the phone. Pay close attention to their processes and see if they are dealing with you in a professional manner or not.

If you feel that something is off as far as the culture fit is concerned, then the team you are shortlisting may not be the right corporate production company to represent your brand, because this isn't something that you can do every week or month.
Once you shoot a corporate video it is out there for the world to see.
If you get a mediocre outcome, then it will be out there for everyone to see, and you definitely don't want this to happen to your brand.
6) Pricing:
Ah!

Finally! Let's talk about the budget.

The moment that anyone decides to get a corporate Video done, the first thing that they think of is, what would be a corporate video price.
"What would it cost me to get this corporate video done? Is it too expensive? Or is it too cheap? If I have to compromise on quality?"
I think creating a corporate video service-centred engagement can be quite expensive because, no matter which corporate video company you work with, they have already made investments in tools, equipment, and manpower.

That can easily raise the cost of the whole GIG to be slightly on the higher end of your budget.

It is better to think of this project as an investment because even though corporate video production is not an inexpensive exercise, it can sometimes be the only piece that is going to represent your brand.

So if you compromise on the quality, you will have a mediocre grade end result that could stain your brand's image.

7) How Will You Measure Your ROI?
The only way to measure the ROI for a corporate film is by watching it and measuring its impact against your goals. Look at the percentage of your goals that have been achieved with your planned activity.
.
Map out the goals that you are trying to achieve before starting the engagement. Ask your prospective creative team how they measure the ROI on it.

This should be decided before you even begin your exercise, so keep a tab on the way that you measure this.
Read More- 7 Tips for Working with Voice-Over in Corporate Video Projects

8) Video Promotion Strategy:
Once you have made the corporate video, then you need to focus on distributing it.
Creating a great video is just half of the work. The rest of it focuses on distributing it to the right audience. Your video content will be successful only if it is matched with a robust marketing strategy.

Make sure that your creative video content production company has a plan for promoting its content focusing on the target audience.

If they do, then ask a few questions: What would be the budget? How would it happen (online or offline), what is the duration of the campaign, etc?
You should also question them regarding the expected reach that you can have from the video promotion strategy.
Ask Your Corporate Video Production Company These Marketing Questions:
a) Where are we going to promote our videos?
b) Will we work on offline/online promotion?
c) How many views can I expect from our campaign?
d) What are the average numbers, regarding traffic, that I can expect?
e) Will you be doing YouTube marketing / YouTube SEO for our video so that it keeps getting views in the future?
f) How long will this video campaign be?
g) What is the ideal percentage of (insert your goals) that we would be able to achieve with this?
h) Are we going to promote this over social media? If yes, then what are the expected numbers that we are looking for?

9) Professionalism:
I have seen this more times than you can ever imagine:
Corporate production companies are plagued with a less than professional approach to dealing with clients. Even during our pilot phase, we faced challenges while building a structure where client dealings were happening in a professional way.
To focus on professionalism in this video production industry, you should look for 3 key things in a corporate video production team:
a) Delivery commitment: managing strict timelines – starting of work and end time of work. At VidSaga we ensure that the delivery timeline is followed religiously, so we make sure that from conception to final delivery of a client's corporate video.
b) Quality Commitment: When you engage with a corporate film production team, you will have a series of discussions where you will set a timeline and a budget. Based on these details you can get an idea of the quality that you can expect concerning your corporate film.
This is key if you want to keep your eye on quality, so, make sure the video production company commits to a certain level of quality. This can help with accountability.
c) Communication: I have noticed that there is usually a lack of communication in projects like these. Lack of communication breaks down a working relationship. So make sure that all things are being communicated proactively.

If you are satisfied with these 3 things, then you have a good chance of having a great corporate video production experience.

Some of Our Corporate Film/ Video Work…
We have been working with brands for years now and have worked with early-stage companies, mid-stage companies, large-scale companies, and even companies that are at the idea stage.

We have worked with a lot of video production brands in helping them craft their corporate film ideas into successfully finished projections.

1. Shell (Automotive Industry): The work that we did for them helped them not only generate 5 lakh views after it went viral, it also won them several awards.
2. Effectual Service (Patent Industry): The work we did for them directly helped them get high-end clients and high-ticket orders.
3. Garment Factory (Textile manufacturing): The work we did for them helped them position themselves as better employers within the industry.

Here are the Top 40 Video Production Companies in India
About Vidsaga
Vidsaga is a global marketplace for Organisations to create Videos. Consider it as "Upwork/ Fiverr for videos" with Creative script writing and professional project management
Join thousands of Global Video Marketers