Video Marketing Quiz – Level 'Expert'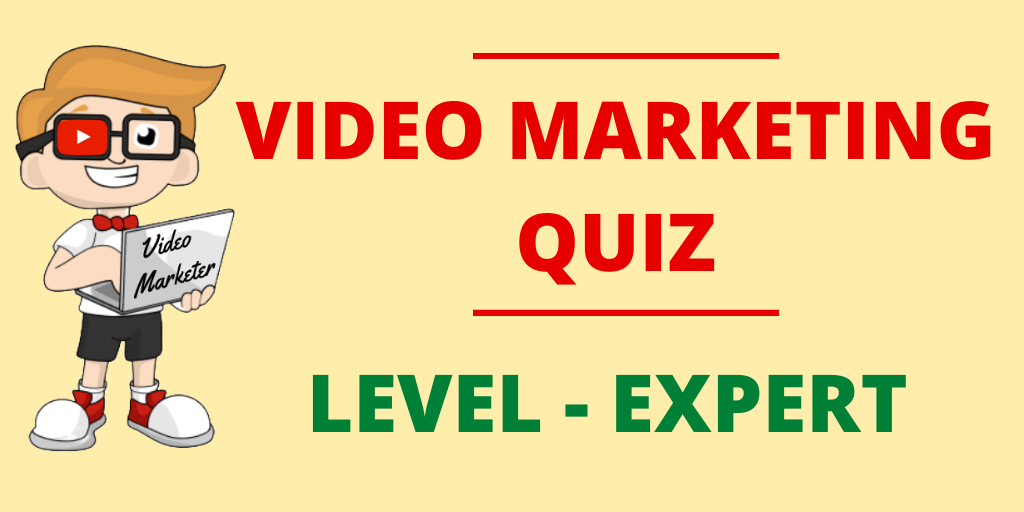 Test your Video Marketing Knowledge by taking this quiz- Video Marketing Quiz-4


1. What is the maximum file size you can upload on YouTube?
    

a. 1GB
   b. 10GB
   c. 128GB
   d. 256GB
2. Which social media platform allows Live Video Streaming editing?
    

a. YouTube
   b. Instagram
   c. Facebook
   d. LinkedIn
3. Which social media platform newly launched a rehearsal feature for Live Video Streaming?
    

a. Instagram
   b. Youtube
   c. Linkedin
   d. Facebook
4. What is the aspect ratio of Instagram Story?
    

a. 3:4
   b. 9:16
   c. 4:3
   d. 16:9
5. What is the minimum video length on Linkedin?
    

a. 3 Seconds
   b. 5 Seconds
   c. 10 Seconds
   d. 15 Seconds
6. By default you can upload videos on YouTube upto ________ long?
    

a. 5 Minutes
   b. 15 Minutes
   c. 30 Minutes
   d. 60 Minutes
7. Which of the amongst is a Video Analytics Tool?
    

a. Tubebuddy
   b. Vimeo
   c. Quora
   d. Pinterest
1. 128 GB
2. Facebook
3. Facebook
4. 9:16
5. 3 Seconds
6. 15 Minutes
7. Tubebuddy

Want to know more about Video Marketing? Check this Quiz as well.
And for more interesting stuff check our Vidsaga's Video Marketers' Community

About Vidsaga
Vidsaga is a global marketplace for Organisations to create Videos. Consider it as "Upwork/ Fiverr for videos" with Creative script writing and professional project management.
Join thousands of Global Video Marketers