Video Production Process: An Ultimate Guide (2024 Edition)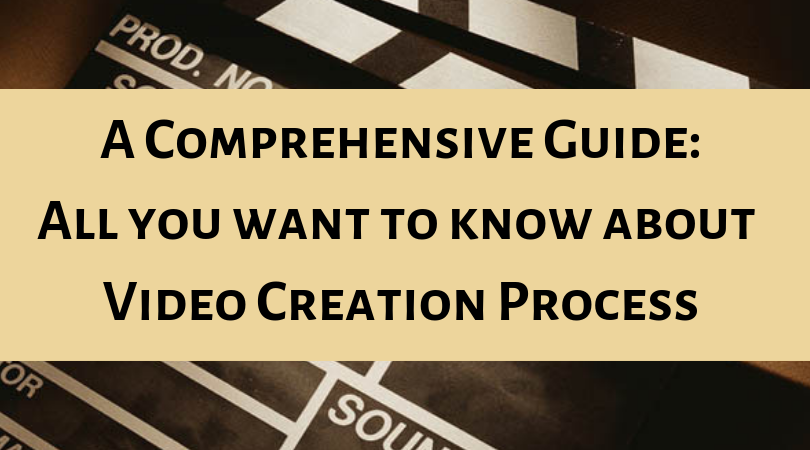 (This video production process article is an extension of this previous Yourstory article – How to simplify video making process for startups)
Visual memories are the strongest memories. Create such memory about your product/ company in the user's mind through a Video
The Internet is flooded with lots of such advice on 'why video is the future of marketing' or 'why you should include video in your content strategy' etc etc.
But no one is telling you the practical "operational nuances" of the Video Production Process
So, we at Vidsaga decided to tell you stuff you should know as a Marketer/ Founder/ CEO/ CMO for an effective/ awesome/ viral video.
Invitation to join Global Marketers Community Discussion Space
"Questions you should 'prepare for' when you plan for video marketing
1. What is the objective of your video?
Your Video Production Process can only start when you identify this.
Most people make this common mistake of approaching video creators before even identifying why they need that piece of video content.
This "why" actually answers a lot of other questions.
Below are some typical objectives, Organizations plan for video content
a) We want to explain our App/ Product/ Service to our users
b) We want to market or sell our product
c) We want to 'promote our brand' through a viral video
d) We want to build credibility among our users
e) We want to attract more people and generate leads
f) We want to create video content for social media

2. Have you figured out the "Messaging":
A Video without the right messaging would be a waste of money.

You can brainstorm with your team on the below questions to figure out the right messaging.

What is that one thing which you want your audience to recall after they watch the video?
What is that one challenge you want to overcome through this video content
What are your audience's major apprehensions?
What is that strong value proposition which would prompt your users to take that 'Call to Action
3. Do you have a Reference Video:
Once you have decided on the objective and style of the video, check out some similar videos on YouTube and try to identify a reference video.
A reference video would save a lot of time when you approach a video production company and make communication easier
4. What will be the Distribution channels
Simply uploading on all the social media channels might not help. You must be clear about where exactly your audience is and how & where we would like to distribute your video.
Bonus Tip on Video duration:
Longer is not always bad and shorter is not always good. It all depends on your objective, platform and audience.

What are the Popular Video Types and their uses?
Check out – Top 25 Global Video Marketing Disruptors
Explainer Videos:
An explainer video is a short, animated promo video that explains your product to your customers in a very simplified manner.
You can also create a product pitch with the help of these explainer videos. These are normally animation videos but could be a mix of Live shoots and graphics as well.
Example

How To Videos
Businesses make 'How To' videos to create content to educate their users. A series of such video content can establish your authority in your field.

Ad Films (Promo Videos):
We do not need to tell you that, right? All the ads you watch on tv or youtube increase brand recognition or product promotion.
Example

Thought Leadership Videos
The role of a marketer is to educate the audience without making it boring or preachy. Marketers can establish thought leadership positions by providing insights about the industry.

Social Media (Viral) Videos:
The name is enough. With social media becoming a world in itself, viral videos became prominent for promoting a product/ service to netizens.
Several factors are responsible for making a video viral. It can be the face value of the influencer in the video, your promotion strategy, launch timing, a relation with controversy or emotional content.
Example

Corporate Videos:
Corporate Video is nothing but making an audio-video presentation of your company than a normal PowerPoint presentation. The idea is to let all the stakeholders know about the company's history, growth, plans etc.
Example

Client Testimonial Videos:
Clients are the best brand ambassadors for any Organization. So, in order to capture what previous clients feel about your product or service, and let other prospective clients know, these videos get made
Example

Product Videos:
Product videos are made to highlight and demonstrate a new innovative product and its features. These are generally a mix of live shoots and graphics.
Example

What is a video production process for Organizations
So once you decide to outsource and create a video, from this point, the process of Video Production would be like this:
The organization shares video requirements with the video creator
Video Creator revert with an indicative budget and timelines
The organization then provides all the details and finalises a right video creator
The video Creator then creates an initial draft of the concept/ script
Once the script is finalized, both parties sign a contract or service agreement.
The Video Creator takes 50% advance and starts the video production.
The video Creator submits the first draft of the video.
After incorporating all the feedback, the Video Creator completes and delivers the final video.
Learn from Video Marketing experts


Video Production Pricing Guide
Animated Video Production Cost
Check – Vidsaga's Global Animation Explainer Video and Editing Price list
Two Golden rules of Video Creation
So when you decide to do video marketing be it to get more clients or acquire users or to improve SEO or to explain your creative/ innovative idea, you need to keep these 2 rules in mind

1. Storytelling rules
Storytelling is the king in any video and production value comes later.
Video is a creative audio visual entity and more than half of the work is done if you have a good concept/script in hand.
Good storytelling could definitely help your audience to understand your product/ service/ value proposition/ brand proposition, help them in recalling your company and hence help you in achieving the business objective.

2. Its all about Users
When you create a video content, do not push your product hard instead think from your users' perspective. It's all about them – what they think, how do they feel and what do they care
Create a Video which celebrate them and not your product/ service

How to find a Video creation company/ Animator/ Editor
There are several ways to reach out to video makers
Google Search
Facebook groups – Filmmakers
Marketplaces like Fiverr, Upwork, Vimeo for hire etc
References
Dedicated Video marketplaces like – Vidsaga.com
What is the criteria to select the Right video creator
Some of the parameters you can check apart from Price are:
Creativity – Script writing
Quality of work
Professionalism
Video Marketing knowledge
Last but not the least – No set rules
There are no set rules when it comes to video content marketing.
Anything which is executed intuitively can work and this is completely valid for videos as well. It's not that animation is better than live shoot or vice versa or Short videos are better than Long videos so on and so forth.
We can tell you an exception for every rule you suggest. So, it's more about understanding your audience, marketing communication and then create a video which can creatively deliver your message.
Here are the Top 40 Video Production Companies in India

About Vidsaga
Vidsaga is a global marketplace for Organisations to create Videos. Consider it as "Upwork/ Fiverr for videos" with Creative script writing and professional project management
Join thousands of Global Video Marketers