Top 18 Explainer Video Tools/Software to create an animated video – 2023 Edition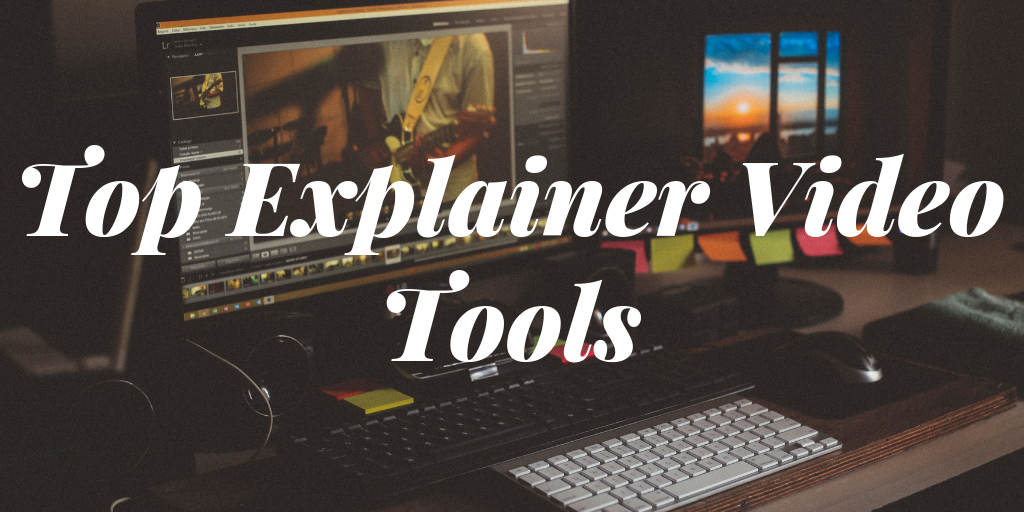 The best way to connect people emotionally with your brand/company/startup is to create an animated explainer video
Animated Explainer videos can transport people back to their childhood days and they are more likely to buy that thing which connects them to an emotion.

Gone are the days when creating an animated video was an expensive and time-intense activity.
Invitation to join Global Marketers Community Discussion Space
Here are the explainer video tools/software for your startup:-
Top 10 online explainer video tools to use
#1. Moovly:
Moovly allows users to create videos easily using libraries of stock media in combination with their own media objects. You can use a combination of uploaded images, videos and sounds, as well as a library of millions of things (images, sounds and videos) in different styles to create videos, It has a drag-and-drop feature that allows you to make professional animated videos right in your internet browser.
Features:
You don't need to install it, as it can directly be done on your desktop.
You do not need more than 15 minutes to make a video.
More than 600000 free samples, videos, animations and sounds are readily available and you are allowed to use your own media too.
Online Video Saving
Plenty of Output formats
Create animated videos for your business such as banners, Ads, Whiteboard animation, YouTube intro, and engaging explainer videos.
Price:
Check out – Top 25 Global Video Marketing Disruptors
#2. Animatron:
This tool allows businesses to master the art of animation, quickly and professionally. The company offers two platforms –
Animatron Studio- This is for creating effective explainer videos, HTML5animations &banners, and
Animatron Wave- This is for social video creation designed for sharing across multiple platforms.
Animatron is an: "Easy-to-use and one of the best online animated video makers
which enable users to create stunning animations and videos right in the browser." It comes with a free plan.
Features:
Html5 animations
Drag-and-drop interface
Has pre-made characters, background scenes, and props
Good variety of graphics and walk-through tutorial
Create up to five 10 seconds-long projects for personal use only
Enjoy 2GB of video hosting storage
Switch between Lite and Expert editing modes
Choose from 2,200 animated objects
Import your own media assets
Edit text and customize font styles
Export to HTML5 video at 360p resolution
#3. Renderforest
Renderforest is an "all-in-one design platform," It might be the most versatile service on this list. It provides tools that can help you create everything from animated logo intros to websites.

Features:
Create presentations, promotional videos, event invitations, testimonials etc
Cloud based platform
Create unlimited videos up to three minutes long
Enjoy 500MB of cloud storage
Export at 360p resolution
#4. Explee
Its application allows users to make powerful animated videos designed to captivate audiences in a concise and engaging way. It is a cloud-based video creation software.
Businesses can create animated presentations with their team, invite members to join the workspace and custom their video library, whilst sharing their content with collaborators.
Features:
Can be accessed from laptops, smartphones and tablets.
Allows users to create whiteboard-style animations online.
little-to-no video production experience needed, good for students.
Templates, image libraries, and quick video tutorials are available.
Price:
Get updated with Latest Video Marketing News
#5. VideoScribe
Video Scribe specializes in hand drawing animation (whiteboard style). It includes templates, a drag-and-drop editor and a library of media assets. It has a free trial version and supports Mac and Windows both
Price:
#6. Animaker
Animaker is a one-stop shop for 10 types of videos from explainer videos to animated infographics. This tool provides the templates you'd need based on the specific purpose of your video.
The videos are mostly created in the form of slides, so, you can change the settings on slides, add more effects and can also add beautiful transitions between two slides.
Features:
Web-based video creation tool with 8 visual tools
Multi-user collaboration features
World's largest animated library.
Create up to five two minutes-long videos per month
Export 480p video to Facebook and YouTube (direct downloads require a paid plan)
Price:
#7. Raw Shorts
RawShorts enables you to create animations from the text (i.e. blog posts) using AI technology. 
Features:
seamless social sharing capability,
plenty of royalty-free media to choose from.
Price:
Are you a video marketing expert? Take this quiz
#8. Biteable
Biteable is one of the best animation video software that provides editable templates to make basic explainer videos quickly. It has a free trial version. It's one of the best for making explainer videos.
Features:
Enjoy 1GB of cloud storage
Export at 720p resolution
Know the New Things in Video Marketing
#9. Common Craft
Common Craft is a simple yet powerful video editing tool, which is suitable for creating unique videos and animations from video clips, photos, and paper cutouts.
This tool is all about creativity and can be used to create explainer videos and animations
Top 9 explainer video software to use
#1. Powtoon
Powtoon is an animated explainer video software for business, It is a popular online video maker that offers editable explainer video templates. The platform offers multiple styles, characters and backgrounds.
This online video creation platform is excellent for creating short, engaging videos and presentations with a professional look and feel.
The platform is used by top companies like Coca-Cola, eBay, Starbucks and more.
Features:
Stylize your video with different "looks," including whiteboard and cartoon
Enjoy 100MB of cloud storage
Export at 480p resolution to YouTube, Facebook, Wistia and Vimeo
Has a dedicated team of technical support, and whenever you need help, you can contact their support
Price:
#2.Adobe Animate CC
With this tool creating vector business animations and publishing them instantly is easy.
Features:
Export the animations to multiple platforms like WebGL, HTML5 Canvas, Flash/Adobe AIR, etc.
Create interactive web banners and lively expressive characters using tilt and pressure-sensitive brushes.
Full integration with Creative Cloud
It also offers support for raster graphics, rich text
#3. Vyond
Vyond is a web application that can be used to create cartoon videos. It also has a collaboration feature, which comes in handy when you're trying to coordinate with a larger team.
Features:
Offer templates for different industries, occupations, and concepts
Character-driven stories or compelling data visualizations can be created
Offers voiceover options
Price:
#4. Synfig
Synfig is an explainer video software that is surprisingly detailed for a completely free platform, If you're used to the Adobe Suite then you'll find some familiar tools in Synfig Studio like brushes, fills, masking, layers, etc. It is free for Windows, macOS X, and Linux.
Features:
f tools to edit your subjects' shape, color, and movements one frame at a time.
Gives users a dominant open-source 2D animation drawing and animation tool.
Vector tweening
Layers and filtering
Bone system for complex editing of bitmap images
#5. Toon Boom
Toon Boom is a professional animation software used by numerous top animation studios globally.
Features:
easy to playback movement and export information.
Price:
#6. Creaza
This app is aimed squarely at children
It is an animation tool that is specifically towards school children. You can design creative storytelling through highly engaging animations and video presentations. This tool has 30 built in ready to use themes along with a number of editing tools that can be used to further enhance the look and feel of your animations.

Mindomo
create mind maps and presentations with text, links, images, video, and audio.
Combine content from the web with its built-in library and your own uploaded files
collaborate in real-time
Activities
Ready-made activities can be filtered by subjects, age groups, and tools
Search for specific topics and activities.
Teachers can easily assign activities to their students and follow their work along the way.
Comment and provide feedback along the way, and approve or reopen once the product has been handed in.
#7. Pencil2D
This software allows users to create more traditional, hand-drawn scenes. This is accomplished using bitmap and vector graphics. It is free and open-source animation software.
Features:
A lightweight and easy design interface
Switch between raster and vector files
Can be operated on Mac, Windows and Linux
#8. Plastic Animation Paper
It is the original version of the Animation Paper. Animation software for beginners, as the product offers tutorials on how to use the software. It is a free tool.
Features:
Ability to organize a workflow with a setup and marking menus
Layering
How to do a walk cycle, which includes timing with clones, a light table and working in passes
Zooming and rotating a sheet
Here are the Top 40 Video Production Companies in India
#9. OpenToonz
It is a free and open-source animation software that enables users to produce 2D animation.
Features:
Produce affected incident light
Change picture styles
Create wavy distortion
4 different types of images can be scanned within the product — black and white, colored or with or without binarization
About Vidsaga
Vidsaga is a global marketplace for Organisations to create Videos. Consider it as "Upwork/ Fiverr for videos" with Creative script writing and professional project management
If you are also planning to create a animated explainer video, find the fair price at our page – here
Join thousands of Global Video Marketers