How to make clickable Video Thumbnail Image ?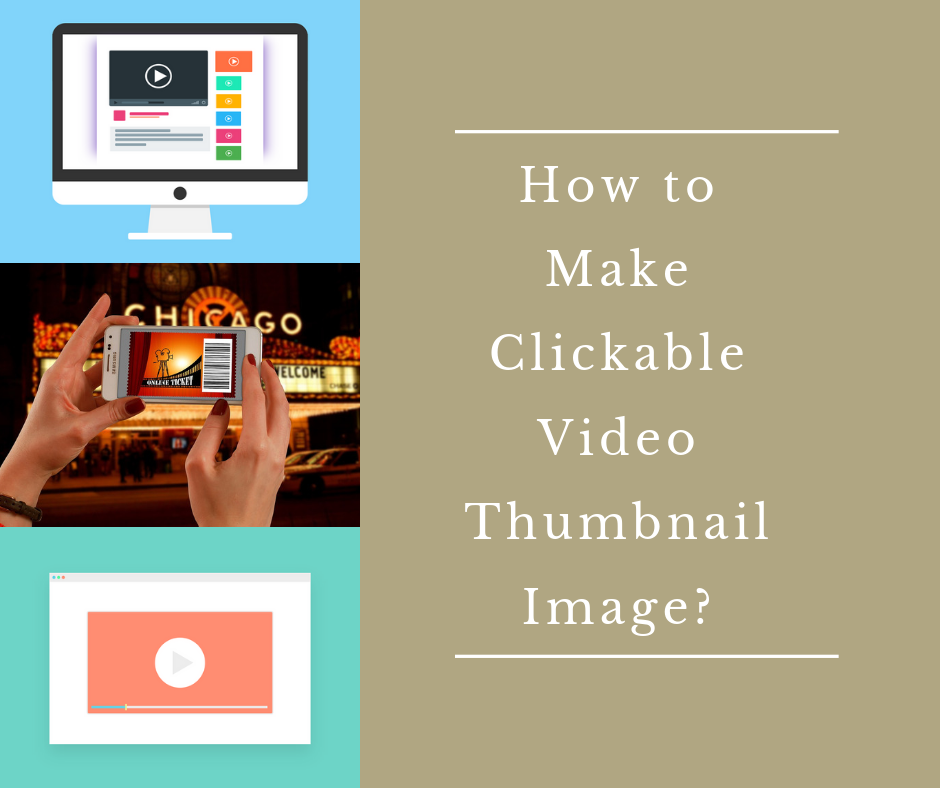 The most important factor and the powerful click motivator is video thumbnail image of your video.
In a matter of seconds, viewers decides whether they want to watch your video or not.

These factors can vary from the number of views to the duration of your video.

Before we get into tips of creating a clickable video Thumbnail image, let me tell how you can downlaod a video tumbnail image of any youtube video
Tip to find Video Thumbnail Image of any You Tube Video
Have you ever searched – how to view youtube video thumbnail image ? or want to download youtube thumbnail image. Well here is the short trick for all these searches.

Find the Video whose thumbnail image you want to see. Select the link as shown in the image.

Open http://img.youtube.com/vi/4Fkc51vyNgc/hqdefault.jpg
Copy and paste the youtube video ID in the link as shown in the image below.

Thus, You can easily see the thumbnail image. And that's how You Tube thumbnail download process gets completed.
Now lets start with the tips to create video thumbnail image that can increase views.
Create a curiosity and excitement
What kind of thumbnail would make you click on any video? Always think of this way before adding a video thumbnail image. Try to liven up your video by adding a screenshot of the most exciting part of the video or by asking a question based on any topic from your video. Add bright colors to make your video stand out from others.
Informative
If you are creating thumbnails for your video then it should be as informative as possible. You can take some ideas from the videos of most famous and viral channels. Their thumbnails are compelling and informative at the same time.
Don't forget to add a logo
Make sure you add the logo on the side or at the bottom of your thumbnail to make it clear that the video has been created by you. If your audience gets acquainted with your brand then there are higher chances that they will always watch your videos or may subscribe to your channels.

Also Read : How are 360-degree videos made?
Be consistent with the video thumbnail image design
While creating a thumbnail for a video, you need to be consistent with the thumbnail design so that viewers can easily identify your brand. You can take reference of youtube thumbnail template and design a creative thumbnail. When your audience gets familiar with it, they are more likely to click on the video to watch.
Keep it short and to the point
Try to keep the text short of your video thumbnail else it will look too congested, and the image will be harder to see. Do not make your thumbnail messy and cluttered, keep it clean and short.
Create for all screen sizes
Do remember that the majority of your audience is coming from the mobile phone, so the text on the thumbnail should be readable even when the size is scaled down.
About Vidsaga.com
Vidsaga is a global marketplace to hire right video creator to create videos easily, quickly and at the right price.
If you are a video creator looking for work opportunities then register yourself with here.
Join thousands of Global Video Marketers