Vidsaga – Alternative of Upwork, Fiverr for Video Production

Vidsaga is an alternative of Upwork and Fiverr to create Videos for Businesses.
Invitation to join Global Marketers Community Discussion Space

What is Upwork or Fiverr:
They are a global marketplace to hire any kind of independent freelancer for your business.

Why Upwork and Fiverr not effective for Videos?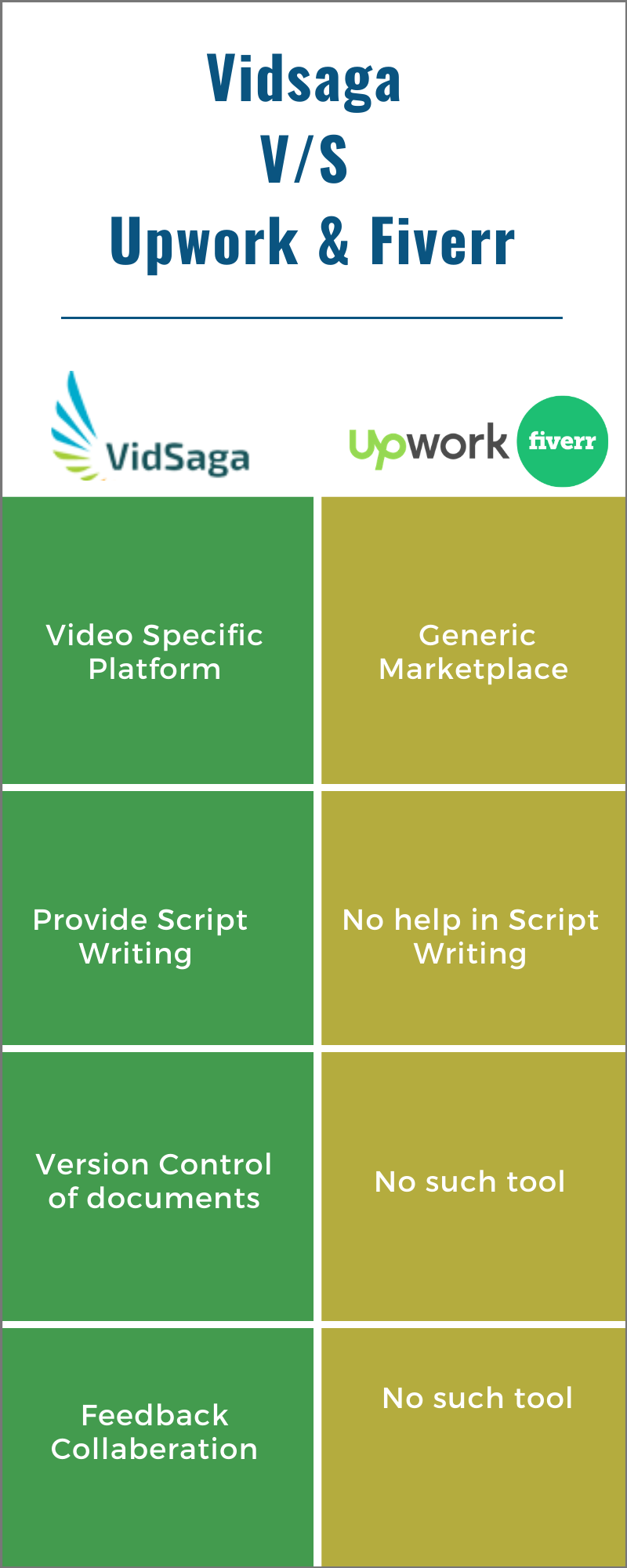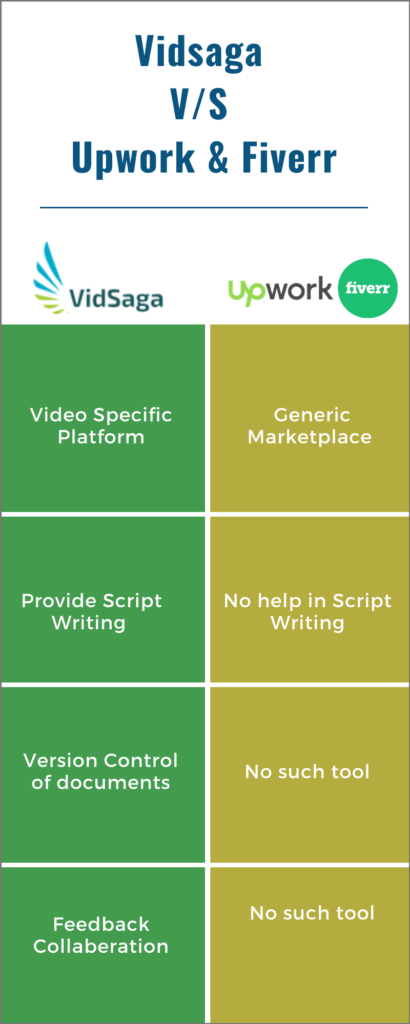 Check out – Top 25 Global Video Marketing Disruptors
Video Production service is different than any other freelance service as it has 3 major parts
Creative Script Writing
Video Creation
Professional Project Management
Every Online marketplace like Upwork, Fiverr, etc just provides the Video creation part and does not focus on the other 2 parts of Enterprise Video content creation.

Creative Script Writing – The reason any business plans to create video content is that the Organization wants to communicate something creatively.
Hence creative script writing is an essential part of a video production process.

Agencies all across the globe provide this service and that's the reason they are effective for video production but online marketplaces do not provide such service yet.


Professional Project Management – Project Management is very important for Video Creation.
Video Production is a 2 to 6 weeks process. The reason a company outsources this because video content creation is not its core competency.
Two main elements that need to be managed are – Promised quality and timely delivery.

Solution – Vidsaga.com – A dedicated marketplace for Organizations to create Videos
Vidsaga is a global marketplace like Upwork, Fiverr alternatives, etc. with script writing and project management service on top of the platform. It also has inbuilt online tools to manage the entire workflow.

Check out Vidsaga Reviews and Rating: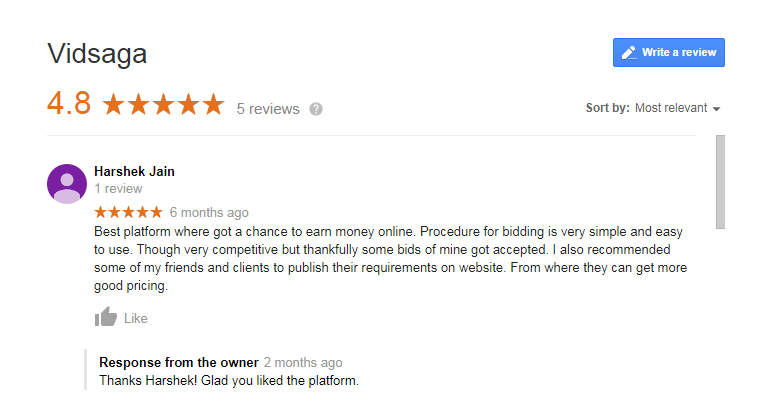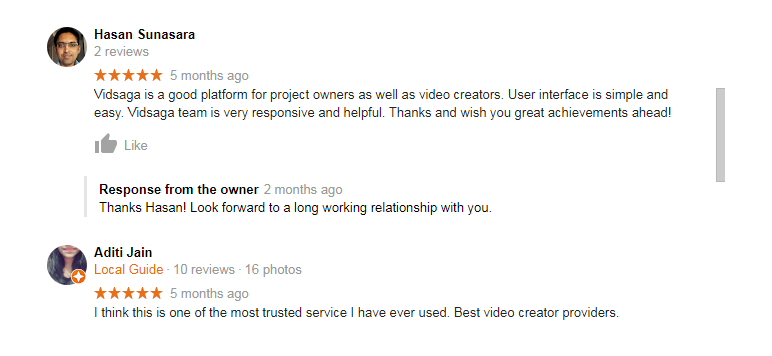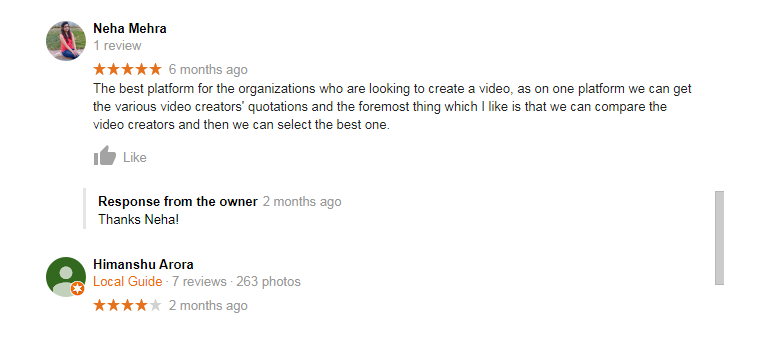 Know the New Things in Video Marketing

How does Vidsaga's online Project Management tool work?
There are two aspects to it
Version Control –
When it comes to video creation, many documents like script, service agreement, NDA, media files etc. are sent back and forth over email. Over the period, we start losing track of these documents and files.
In order to solve this problem, Vidsaga has version control feature where you can store all the versions of the documents and pull them out easily at any time during the project.
2. Feedback collaboration
Giving feedback on the initial drafts of videos is an essential part of video creation. Video creators upload the video files and sends it to the Business.
All the stakeholders at Business then download the file individually and provide their feedback. One person who is coordinating has to collate and share it with the service provider. This is a very inefficient method.
In order to make it efficient, Vidsaga has a feedback collaboration tool. Consider it as a Google docs for
Videos. Multiple stakeholders can provide feedback on the portal itself without downloading the video. All feedback remain on the platform and can be accessed by the video producer.
Get updated with Latest Video Marketing News

What are other online freelance marketplaces which are ineffective for Videos?
Truelancer, Freelancer, Upwork, Fiverr, Vimeo, Simply hired, iFreelance, 99Designs, Crossover, People Per Hour, Guru, Twine, Hubstaff talent, Credo, Legiit, Free up, People Per Hour, Outsourcely, Witmart, Twago, Advisable, Workhoppers, Cloudpeeps, Onsite and many more in line.
1250+ Organizations across the globe have trusted Vidsaga and used the platform for their Video Production
If you are also looking for an Upwork alternative to create video content for your organization, submit your video requirement.
Here are the Top 40 Video Production Companies in India

Join 52,000+ Global Video Marketers' Community