Video Production Process-Everything That You Need To Know About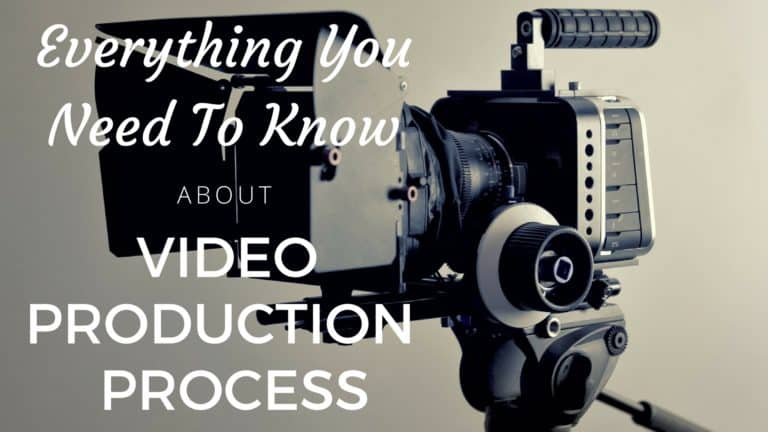 A Step by Step Guide For Video Production process [3 Easy Steps]

Hey! Are you trying to create a video for your brand? Are you worried about how difficult the video production process looks from the outside?
If you are wondering why your carefully made video doesn't look even half as good that 10-second video you saw of someone cooking on Facebook, you've come to the right place.
I know that we all think of video creation in one of the two ways.
We think of it as either this ridiculously difficult but beautiful process that artists go through to make art, or we see it as that common thing we ourselves do with a handheld device.
We have this misconception that only professionals or artists create beautifully rendered yet topical videos.
You, my friend, can also make a very well-made video for your brand, your concept, or your idea, as long as you go through the correct process.
Videos help people buy, they help people find your website better by adding SEO points to your website, and they even help influence people more than any other form of marketing.
With the effect that online video marketing has on b2b and b2c growth, it is a surprise that not everyone is using them.
As we discuss here, more than 80% of all online traffic is going through video campaigns. Part of that traffic can be going through your video!
So let us tell you everything about the video production process that you've ever needed to know. If you still have questions, go through our following articles.
How to create a video (3-step video production process):
The process of creating high-quality videos is simpler than you've ever thought of.
There are 3 simple steps that happen in the video production process.
Whether you are creating the video yourself, or you are using an outside team; these are a few things that you must keep in mind so you can produce a high-quality video.
Video production process is a simple 3 step process.
Step 1: Pre-production: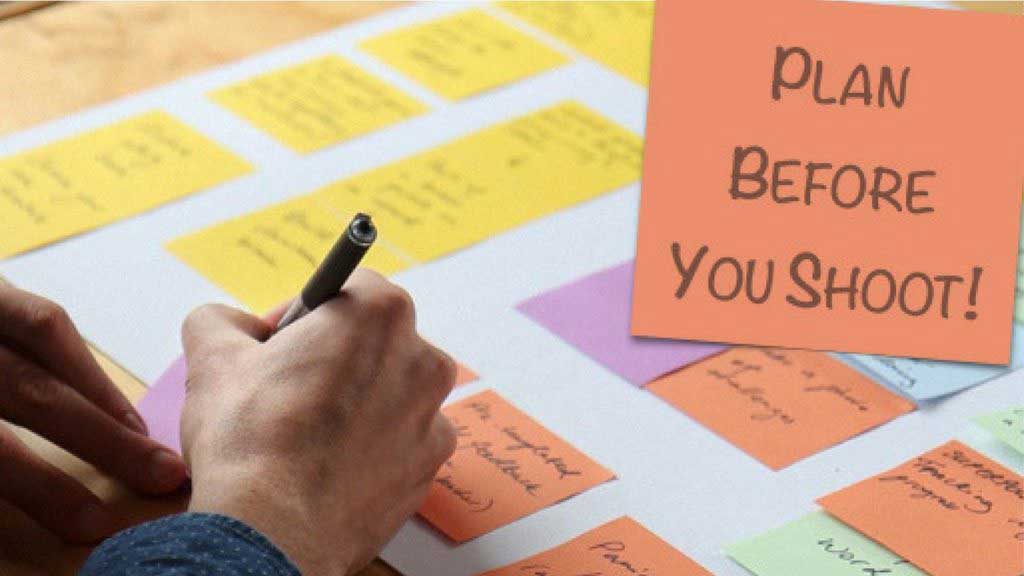 The first step in the process of video production is planning. In the pre-production process, you plan everything that you need to do related to the video.
To create a successful video, you need to plan, research, strategize & pre-work on all the things that are necessary during the production process of the video.
Basically, have everything ready for the production process.
It includes things like:
Briefing
Brainstorming
Concept Development
Planning
Video Strategy and goals: Video production goal, target audience, message delivery, the outcome of the video and USP of the video.
Budget
Story creation and selection
Timelines
Artists
Production team
Location/Set.
Before you start the actual production process of your movie/video, you need to take care of certain things so that everything goes back according to your plans and that you end up with a high-quality video.
If you don't have a plan, and things aren't ready in advance, production can become a difficult task for you and your team.
Something that should be finished within your budget and within your planned time-frame will end up costing you a lot of money and time.
So make sure you have a timeline for your plans and how things would work out with the entire crew.
It's always a good idea to work on everything in advance. Like what type of shots do you want to take, how will you move ahead with the story part, what locations will you use and whether they will even be accessible at that time?
All these are important questions that you should know the answers to.
The more time you put in during the preparation phase, the less strenuous it is going to be on you, and your team, when you actually go through the production phase.
Before you begin the actual production process you must keep the following things in mind.
1) Meeting:
Before you start the production process, I think you must have a face-to-face meeting with all the stakeholders involved, just so everyone knows the targets before starting the actual shooting process.
This step also ensures that everyone is on the same page. If you miss something, someone else in your team is likely to notice it.
This is also the step that lets you run every part of the plan through in front of everybody, so if there is a loophole or an eventuality you haven't prepared for, you and your team can notice it now.
2) Site Inspection:
If you are shooting a video, you must have a preselected location in your mind. If you do not, please select a location.
Location matters a lot for the shoot of a video, and if you choose a wrong location, or don't check for all eventualities, you might end with a video that is not successful.
Before you start the video recording process, you must recheck the shoot location to make sure that things are in order.
3) Shoot Preparation:
Before beginning the actual shoot, run through a master checklist which helps you ensure that everything is carefully taken care of.
If you don't have all the necessary things and tools prepared in front of you; like cameras, tools, and equipment; it would cause unnecessary delay in the whole process and thus add to your costs.
4) Do a practice run:
If video creation is a new process for you, don't rush the actual production. It is cheaper and easier to catch things early-on than to re-shoot or having to fix it in the post-production process.
Get only the necessary crew together, and do a practice run. This way you'll be able to notice all the things that you might have missed otherwise.
A particular angle ruining your shots, a particular area unfriendly for shooting, missing tools, missing crew, things these are easily found in the practice run can, thus, be fixed before the actual shooting.
STEP 2: Production:
The production phase is the process where you will shoot the actual footage that you are going to use in the final movie/video.
It's at this particular stage that you will be using everything that you have done in the pre-production phase. You'll be creating the:
Motions
Lighting effect
Sound
Narration
Video footage
Music
At this stage, your goal should be to get as many usable shots as you can, so that when you sit down and work on the post-production process, you have a lot of material to work with.
Make sure that everything that you are working with is high-quality, and produced with the best of efforts coming from every crew member on the team.
The production phase can be broken down into few sections:
1) Setting up infrastructure
2) Taking Interviews
3) Voice recordings
4) Getting extra footage for the movie.
Make sure that the person who is in charge of the vision is always present at the time of the shooting, so you don't waste time and money shooting footage that you will never need.
Just as a film director never leaves the set while the shooting is going on, so mustn't your video producers and directors.
If you are using an external team, make sure that the theme of the script follows the brand vision even in the shoot, as there is only so much you can fix in the post. The energy you feel around you during the shoot matters.
Step 3: Post-production phase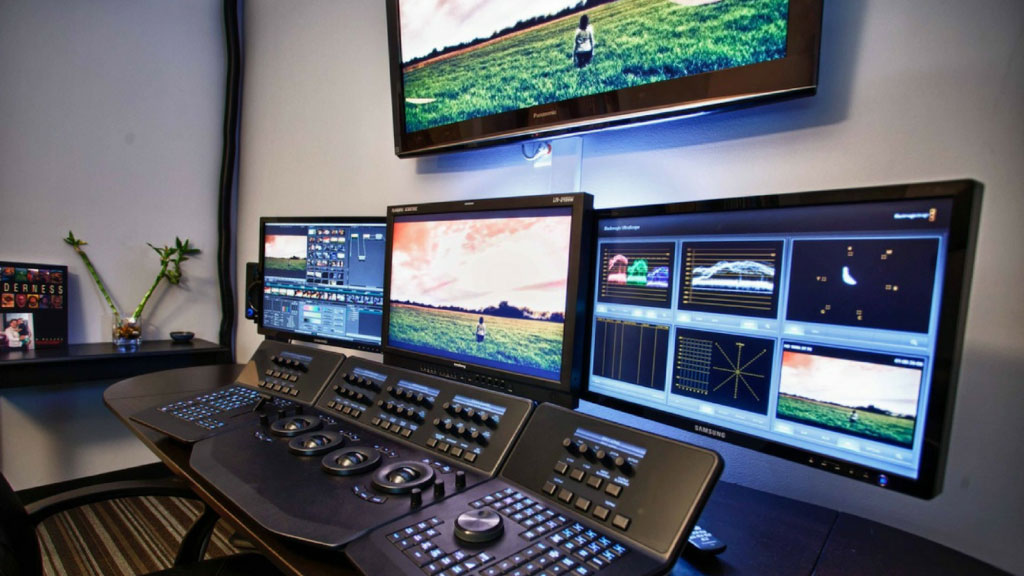 Once you are done with the recording of all the audio and video files, then it is all up to the editor and the producer.
They need to sit down and work together on creating a finalized version. It is during this process that you are supposed to sit down, plan, and edit the content that you have accumulated during the production process.
The producer is the one who develops a structure of the final content. He decides what part of the shoot is included and what isn't.
Once he develops a simple plan for what the end result will look like, then he'd give these details to the editor.
The editor would then technically execute these things on the behalf of the producer by bringing all the selected footage together in the best way possible.
The post-production process includes:
1) Having meetings with the production team
2) Creating the final outcome story
3) Finalizing the audio score
4) Chopping down irrelevant pieces of video
5) Reviewing the final material
6) Final video piece creation
7) Transcribing the interviews
The video production team is then responsible for putting life in your raw video and audio footage. The post-production process usually takes a lot of time and effort so don't rush it, because your vision is being brought to life.
If you indeed have too little time to wait for this process, mention this to your team and work with them to ensure that they have enough time to creatively produce your video. If you plan ahead, you can move a few days around to benefit both you and your team.
No matter what you do, don't rush your team at the last second without any warnings. This may end up ruining the entire video and give you a result which is much lower in quality than the sum of its parts.
Why is the video production process critical for producing a high-quality video?
No matter who you are, if you creating a video with an expectation that it will help present your brand or your image in the best light, you want to make sure that you are aiming for a high-quality result.
In the video production process, quality of video matters a lot. Matter of fact, if the process is done right, it eliminates the possibility that low-quality elements will sneak into your final product.
Technicalities like Poor lighting and camera handling, camera shakes, poor audio quality and other things might really hamper the quality of your video, so you want to avoid them at all costs.
A video is the sum of its parts. If you make sure that all the ingredients are high quality, it is possible that your wizard of an editor can then stew a high-quality concoction out of the things given to them.
As this example suggests, a well-made video is like a seasoned witch's brew. Done just right, it can move masses (read: viral fame).
The better the team that you have around you, the better your video is going to be. After all, you only have one shot, so to speak.
Make sure that you communicate your needs to your production team from the beginning. Be honest, and have a safe time-buffer in place, just in case something goes wrong or gets delayed.
To summarize, once you initiate it, the video making process is:
You submit your requirement to the video/film production house.
The production house/agency creates the initial concept draft. (Remember: Concept is the most important part of the entire video unless we are hiring Salman Khan to act in it. If yes, then who cares? Flex those muscles, baybee! :P).
The script is finalized, and then a service agreement is signed.
The agency/production house takes the advance and starts the actual process of video production.
They give you the first version of the video and take feedback.
After several feedback rounds, they give you the final copy of your video.
Now that you know exactly how your video gets made, you need to know what type of video to make, and how to hire a production house.
Don't worry, we can guide you through these questions as well.
Let's take a look at all the types of videos that you can incorporate into your marketing campaign to make it successful
Type of video formats (popular in online marketing)
Explainer Videos:
This type of video is exactly what it sounds like. It explains your concept, product or idea thoroughly to your audience, without distancing them. You can also create a product pitch with the help of these explainer videos. These are generally animation videos, because of how flexible the animation format is.
To know more about these videos and how you can get one made, click here.
Marketing Videos:
All the video-based ads that increase the brand recognition of a business are marketing videos. These pop up constantly on TV and YouTube, but the best marketing videos don't feel like an advertisement; they have something else that makes them special. Check out these awesome B2B campaigns that went beyond being an advertisement.
These videos are both fiction and non-fiction, and most of them are a live-shoot.
Web Series:
Web series videos are small episodes of videos for digital platforms like YouTube, Facebook or for mobile apps. These are written to target specific demographics based on their viewing preferences.
Web series, when made well, is the most efficient way to approach digital video marketing. The live test series by Volvo is a great example.
Viral Videos:
This is not a type of video, it is the level of fame that we all want our videos to achieve. It is exactly what it sounds like: it is a video that has gone viral.
Several factors can be responsible for making a video viral. It can be the face value of the influencer in the video, your promotion strategy, launch timing, how emotional/controversial it is.
Even controversy can be done in a healthy way. Want to stand out? Challenge the way things are always done. You can achieve this in many ways. You can deliberately offend people, or you can just challenge the industry standards.
The first will make your video viral, but can also drive people away from your brand. So be careful with your brand image. This video Nationwide ran during the 2015 super bowl had very negative mentions when it ran. We would not call that a success.
Corporate Video:
These are videos made by corporations/organizations, videos that are supposed to increase their brand awareness. Corporate videos also help companies do training, interviews, and placement better.
Client Testimonial Videos:
Simply put, these are the review videos that we make for you, by recording your customer's reaction. These can be partially fictional or completely real depending on your campaign requirement.
These videos can be highly influential when they are authentic.
By now, we hope that you have a general idea of the kind of video that you want to have for your marketing campaign, but before you hire an agency to make it for you, here are a few questions you should ask yourself:
Questions that you should ask yourself before approaching any production company
What is the objective of this video? It is extremely important to know why you want a video in the first place. With this "why", you must also answer "how". How will this video help you grow your business?
Type of Concept: Do you have a script or a reference video in mind? For example, if you want to make a video that is similar to Amul's ad, you can refer to it as part of your concept pitch.
Type of Video: Do you want a live-shoot video, an animation video, or do you prefer a mix of both?
Are you making the video for Facebook or YouTube? Most of the clients that we talk to don't understand the difference between a Facebook video and a Youtube video. The host platform is a huge part of the design for any video, so be clear about the platform you want your video to be promoted on.
Duration of the video: What types of videos have you seen and liked? What is the length of the best marketing video that you liked?
If it is a live-shoot video, do you want the agency/production house to provide the models and voice-over artists, or will you arrange it?
Do you want a celebrity associated with your campaign?
What is your maximum budget? (A maximum budget dictates the quality that can be delivered.)
Pricing, quotes, and all the costs related to the video production process:
A video has several elements that change the quality of a video. The cost of your video changes according to all of those things. Depending on how much money you put into it, the same concept's video can cost you anything from ₹50,000 to ₹50 lakhs or even higher.
Video maker's skills, actors' capabilities, camera and lenses, lights, sound and voice-over artists, editor, production quality etc. all affect the video quality. A budget video can be made with budget equipment and artists, but a high-quality video needs high-end equipment and talented artists. All of that costs money.
Now that you know what type of video you want to have, we have a few tips for you:
Tip #1: Unless you have a video focusing on a mega-celebrity, a concept is the most powerful part of your video.
No matter how high your production value is, a video with the poor concept will not be successful.
Tip #2: There are no set rules
As long as you have a solid promotion strategy, anything intuitive and authentic can go viral. All videos have the same chance of success, whether it is a live-shoot or an animation video.
Tip #3: Keep it short
It is a known fact that videos should be as short as possible because that's exactly why they are so powerful! They can explain a lot in very little time. Having said that, if you can create a good subscriber base or a fan following on YouTube, longer videos can also work because your audience is already invested.
Ask us about our transparent pricing policy:
We know that it is unusual to be so transparent about the production pricing, but we manage it because we value what it does for our clients. Being an outsider, we initially did not know how the video industry worked.
This weakness became our greatest strength. We used common sense, Jugaad and our client-first policy to make in-roads quickly and effectively. Because we are entrepreneurs first and creative agency/ production house second, we don't have anything to hide.
If this process intrigues you, and you are looking to get a video marketing campaign for your business?
If you are also planning to create a video, find the fair price through our video price calculator – here
About VidSaga

Vidsaga is a global marketplace for Organizations to hire Video Creators. Currently, 1100+ businesses including Shell India, News 18, Carlton Luggage (VIP Bags), Hindustan Times, FeverFm, Mysmartprice are using our platform.