14 Best Video Hosting Platforms for Marketers, Startups, and Businesses in 2022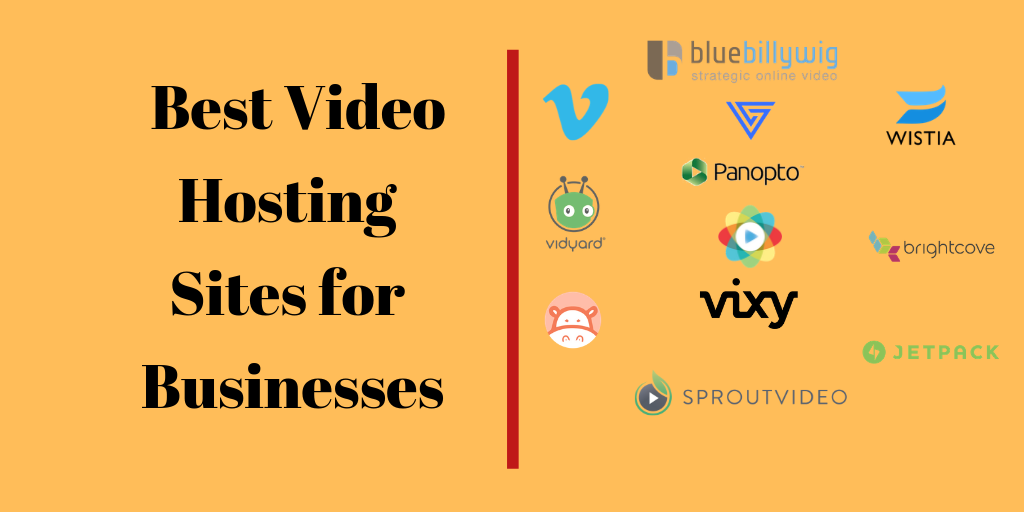 While YouTube gives a free video hosting platforms, it may not be the best choice for Brands.
If you are a business who has just started creating videos for your brand, then you need secure video hosting to safely keep your videos.
Invitation to join Global Marketers Community Discussion Space
Top 14 Video Hosting Platforms
1. Vimeo For Business
Vimeo is an business video hosting platform. Its free version allows you to upload 500MB online videos per week and a total of 25GB per year.
It is an ad-free open video hosting platform and was the first video sharing site to support high definition videos. It also provides tools to host, distribute and monetize videos.
Vimeo is commendable as it offers creators to invite clients, team members, other organizations to preview their projects and offers different permission levels to different members.
Vimeo pricing:
The business plan costs $50/month and is billed annually which includes unlimited weekly storage, total up to 5TB.
Check out – Top 25 Global Video Marketing Disruptors
2. Sprout Video
SproutVideo provides professional video hosting solutions and helps businesses build websites with their video content which can be used to showcase their business portfolio.
There are 5 available themes from which you can select, enter the name and logo of the company. If you have an existing domain name, then you can host your website on that domain also.
The video content that you upload on your sprout account automatically is visible on your website, depending upon the permission you set up. This platform also allows you to embed videos from other external pages which are by default public.
You can set viewing permissions for your videos and by default, all videos are login protected, which means that any user has to login to your website.
Sprout Video Pricing:
Its basic plan for enterprise video hosting solution starts from $59.99 per month.
3. Wistia
Wistia provides corporate video hosting services for businesses and offers various marketing tools that help you to analyze video's progress, collect leads and get the best ROI on your content.
It offers a feature regarding email marketing where you can capture emails from your viewers as they won't be able to further see the video without filling that information and you can add it at any point in your video.
The emails are added to your email listing using email marketing integrations, including platforms such as Campaign Monitor, MailChimp, and Constant Contact.
If you don't want to disrupt the user experience, then you can give CTA at the upper right corner of the video, or at the end of the video.
Wistia also helps your video rank on Google search with links to your own sites.
Wistia Pricing:
Its free for first 3 videos and its pro-plan which is $99 per month includes fully customizable player, unlimited users, basic integrations, easy embedding and sharing, lead generation tools and advanced video analytics.
Get updated with Latest Video Marketing News
4. Hippo Videos
Hippo videos is a paid video hosting platform for businesses that allows you to create personalized videos and distribute them to your target audience.
This has 2 parts to send bulk personalized videos:
1. Creating a Video
2. Sending it to your target audience via Gmail
The Hippo Video chrome extension allows you to send your video using Gmail.
Hippo Video pricing:
The first 3 videos are free on Hippo Video and then they have 3 different packages of $15/mo, $29/mo, $49/mo.
5. Vidalytics
Vidalytics is a video hosting platform that differentiates itself by having an intelligent analytical backend. It gathers data on how your videos are performing.
You can see where in the videos people are skipping and rewinding and when they are dropping off of the video.
You can have autoplay for mobile devices, have a custom thumbnail show when they pause the video, and whitelist videos so course creators can control what website their course videos can be played on.
Vidalytics Pricing:
There are three types of packages
Starter
Pro
Vid Master
All three packages come with 14 days trial
After that Starter package is of 25$, Pro package is of 67$ and Vid Master package is of 129$.
Are you a video marketing expert? Take this quiz
6. Brightcove
Brightcove is a professional video hosting site for businesses that offer you video player customizations in which you can add your company's logo, name, links, colors and even create different video templates for your player.
Once you've made all the changes to your video player, then you can decide whether your video should start automatically once the player starts, or preload the video and then start it.
You can also use social sharing buttons which will appear on the top right corner of the video. At the end of the video, you can add custom URL's or social media sharing options.
BrightCove Pricing:
Starts from $199/mo that includes 50 videos and 2 users.
Read More – 10 Reasons Why You Should Never Host Your Own Videos
7. Vidyard
Vidyard is a video hosting site for businesses enables you to derive viewer behavior information.
It offers a free personal video messaging chrome extension which records your screen. You can get notified when people watch your videos and can share your video through Gmail by clicking on its icon.
It turns your viewers into customers and you can create your personalized videos, A/B testing for thumbnails, playlists, pop out calls to action.
Vidyard Pricing:
It has different plans regarding marketing and sales, starting from $150/mo and $80/mo respectively.
Know the New Things in Video Marketing

8. Jetpack
Jetpack is a WordPress plugin that offers ad-free video hosting solutions, even for high- resolution videos and it does not affect the loading time of the website.
You can get real-time updates about your site traffic, successful posts, site searches, and comments and also schedule promotions of your content to social media in advance to save time.
Make updates to your Jetpack's site from anywhere and anytime and it always keeps your site online and up-to-date.
Jetpack pricing:
consists of personal, premium, professional plans starting from $3.5/mo.
9. Panapto
Panapto is the easiest platform to record, live stream, manage and share videos across your organization.
Many organizations use this video hosting platforms to have a secure library, give training, live event streaming, recording the meetings, lecture capturing and flipping the classroom.
Here are the Top 40 Video Production Companies in India
10. Blue BillyWig
It is an online video hosting site that offers to manage, hosting, publishing, analyzing your video content and give strategic advice when it comes to video marketing.
They increase your search engine rank, leads, viewer engagement.
11. Vixy Video
Vixy Video is a professional video hosting platform and offers solutions for managing, publishing, converting, selling and analyzing your video content.
You can create your own branded player using tools provided by Vixy and you can also manage your video directory from one place, where you can give access to your employees.
Use Vixy reports to analyze your data, business insights and measure your content strategy and see the complete performance report of your video.


12. Daily Motion
Daily motion has free as well as paid accounts for its users. Videos are not ad-free. Advertisements are played at the end of the video.
Daily Motion storage and bandwidth is unlimited, but file sizes should be maximum 2GB. Also, there is a time limit of up to 60 minutes. Analytics are restricted, even for paid accounts.
Below mentioned are the two offers provided by Daily Motion:
Starter offer
Advanced Offer
Daily Motion Pricing : It is free to upload the videos, but there will be pricing for video promotion and ads.


13. Swarmify
Swamify is a free video hosting platform. It aims to eliminate traffic leaking back to YouTube, reduce bounce rates, and keep visitor attention on your brand.
It provides good analytics of your video. It is a cost effective, fast-loading video hosting service provided to all customers,
The setup can be a little tricky but once you know about it you are good to go.
Swarmify Pricing : Free


14. Da Cast
Da cast is a corporate video hosting with a focus on live video streaming. Besides video hosting services, it also includes video players, paywall integration and on-demand video.
You can choose a price package according to your need.
It is excellent for small-midsize companies looking to offer both live and on-demand video content. It is easy to use with 24/7 customer care service. Da cast brings annual engagements and one-time live streaming event.
Da cast Pricing:
Starter – $19 per month
Pro – $165 per month
Premium – $390 per month
In order to keep businesses on top of their game, Video has become a very important tool and to keep them in order, the above-listed video hosting sites will surely help.



About VidSaga
Vidsaga is a global marketplace for Organisations to create Videos. Consider it as "Upwork/ Fiverr for videos" with Creative script writing and professional project management
Join thousands of Global Video Marketers