15 Tips from 6 Experts for creating your company's video content strategy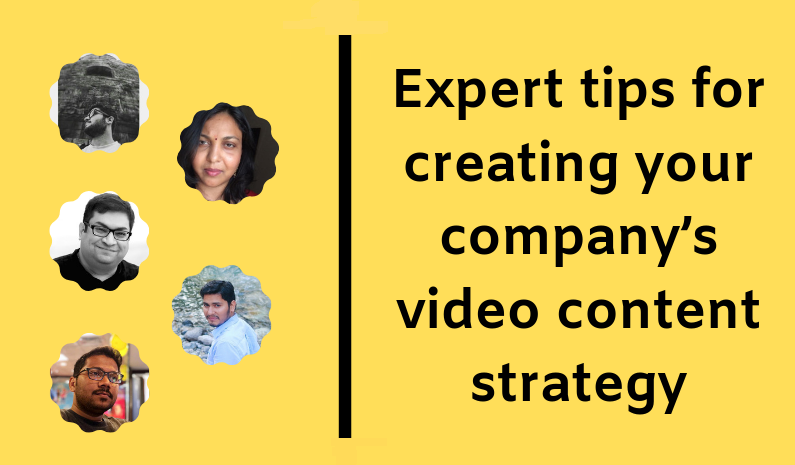 There are many questions which are unanswered when you embark on your company's video content journey.

What type of video content we should create?
Where and How to promote/ market it?
What should be our personalised video marketing strategy?
What are the do's and don'ts while creating it?
etc etc.
We understand the feeling of uncertainty and nervousness when it comes to this maiden voyage as even the seasoned marketers felt so when creating initial video content for their company.

If you're also planning to create video content for your business and are wondering how to go about it, you have arrived at the right place.
We have spoken to top 5 successful video marketers currently in the country and taken their piece of mind regarding this.

So here we are, with industry veterans and influential video marketers, sharing their stories and insights on video content strategy

Also Read : Top 31 Video Marketing Blogs to Follow Now [2019 Edition]
Aashish Chopra (VP, Content Marketing – ixigo)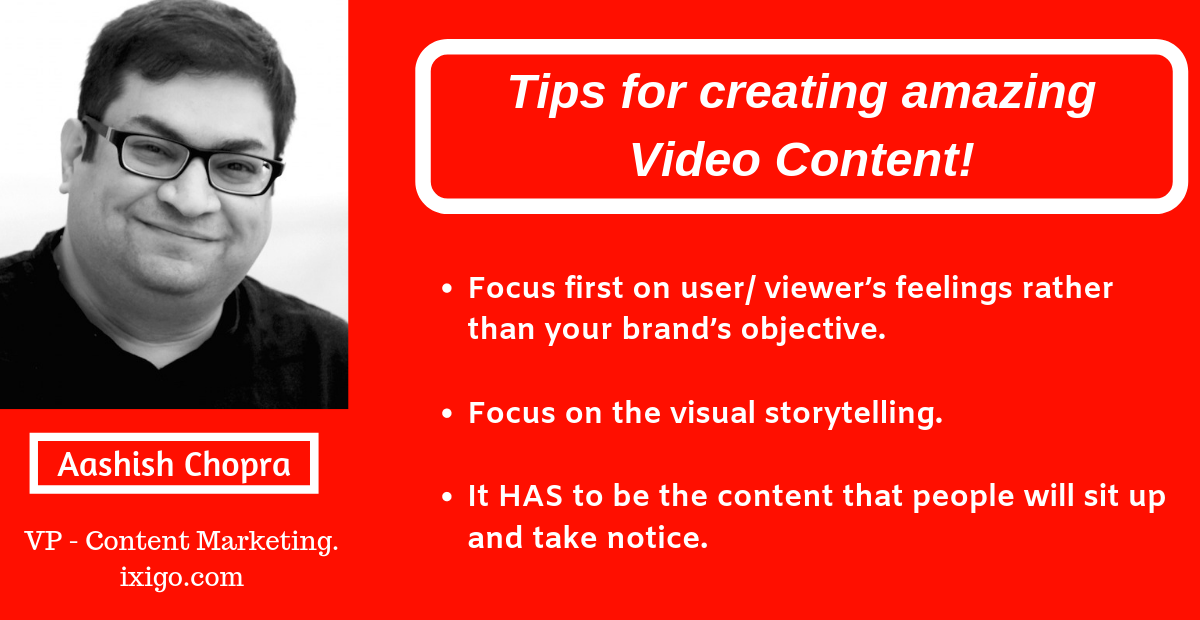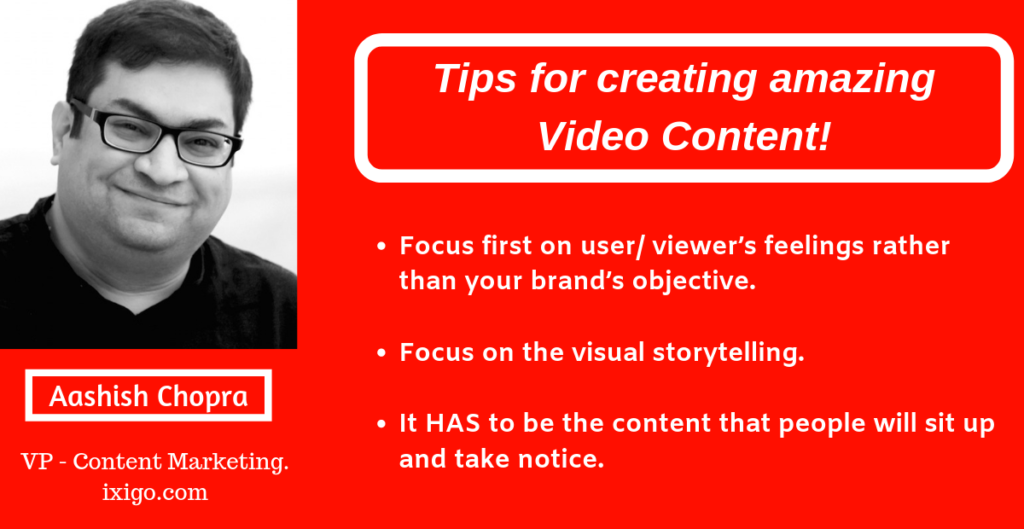 Aashish is an award-winning video marketer whose videos has got 350+ million views on social media.

Ashish confesses sitting on a video idea for 2 years before he actually made one. The idea was to create a video that would inspire action in the audience.

And hence came his first video – The Gurgaon Toll Plaza Surprise.
This video went viral soon after release, it was only because this video went viral that Ashish began exploring the 'why' of it.
Why did the video work? Why did people share it?

As a video content creator, you have to obsess about the user experience and his/her feelings. "People care about their feelings – not your brand.

However, if you take care of their feelings – they might start caring about your brand"

The key lies in visual storytelling – and one should plan the visuals without sound and it should still convey the message.

When it comes to social media – Dialogues are incidental and complementary – not necessary. The video has to have a clear topic and should inspire action.

Hence, every second of your video should be justified towards that goal.
Ashish is a firm believer in obsessing about the user for each video and respecting the users' time and feelings in an increasingly crowded and noisy world.

It HAS to be the content that people will sit up and take notice.

Koushik Marka – Co-founder, StudioTale
Koushik has helped 100+ companies including Xiaomi, Swiggy, Zeta, Big Basket, Cambridge University, Billion, and many others by delivering video content personalized to their marketing strategy.

Kaushik recommends that your video should focus on the benefits that the consumer enjoys due to your product/service instead of the feature list.

If you want people to stop, take notice and engage with your content, the needs of the customer should be kept above the specifics.
The tone of the content should be kept conversational and the approach should be personalized.

For better discoverability, accessibility, and promotion, the title and description of your content should be relevant, should address what people are searching for and should ideally have subtitles in different native languages.

To market your videos better in your niche, it is always a good idea to showcase your videos in relevant communities and groups on Facebook and LinkedIn.
Manisha Pritilaya/ Anupama Singh Founders – BrandLoom Consulting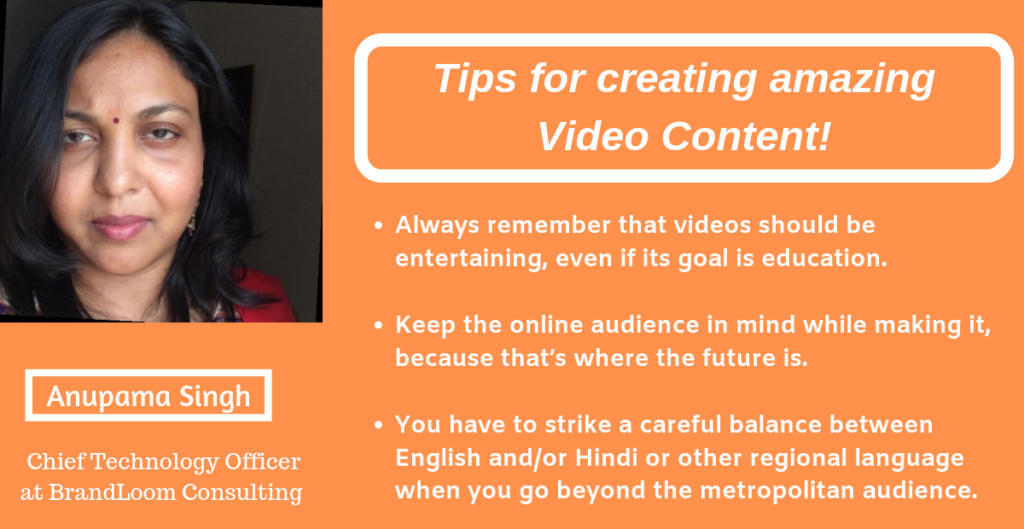 Anupama and Manisha are the founding member of one of the Top Digital Marketing agencies in India – Brandloom Consulting
"What I learned while making and marketing videos is that no matter what you do, your first few videos will be bad," says Anupama
When you make and market a video, always remember that videos should be entertaining, even if its goal is education.
Unless you are a big brand, the videos you post online, or on YouTube or on any social media will not get many hits.
Manisha Pritilaya said: "In India, the two big challenges video makers and marketers face is a limited budget and the language barrier.
The language divide comes into play when you want to reach out to a wider audience- you have to strike a careful balance between English/ Hindi or other regional languages when you go beyond the metropolitan audience.
In hindsight, I think involving the production team from the conception stage itself help you bridge that gap between ideation and execution.
My advice to newbies is that you should learn newer software for editing and making a video, and keep the online audience in mind while making it, because that's where the future is. "
Rajat Tyagi (Team Lead – Digital Marketing at Techmagnate)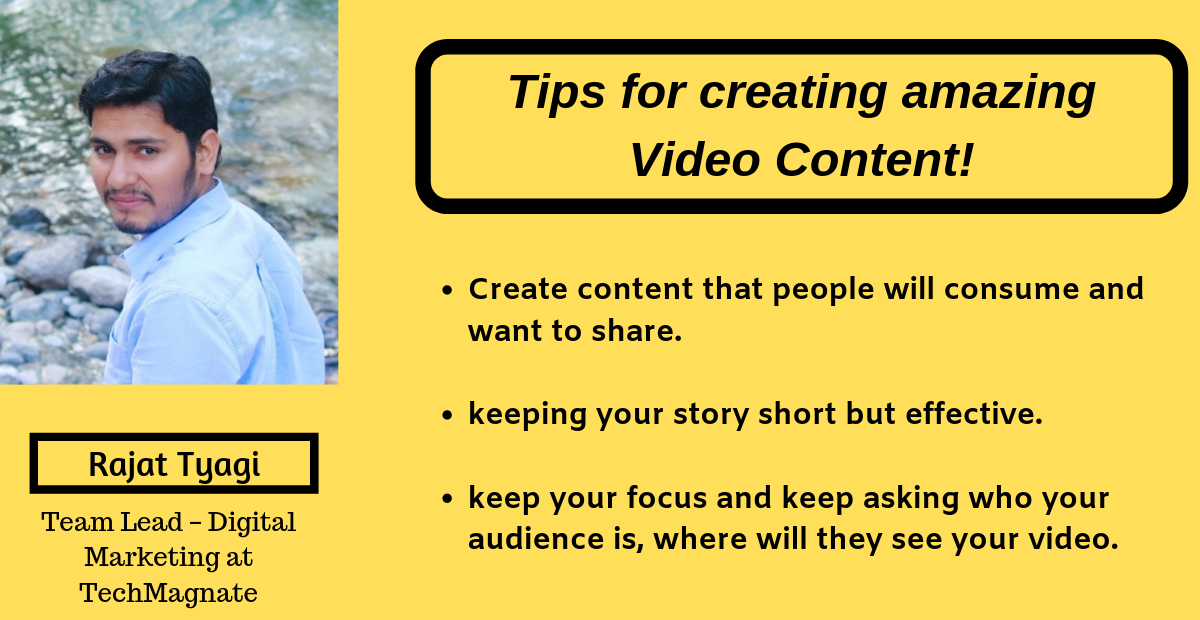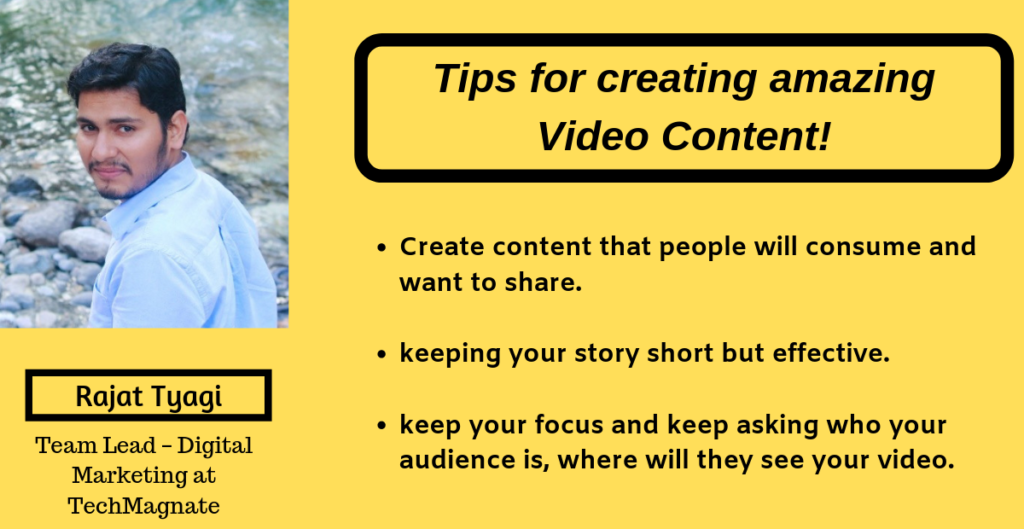 Rajat heads digital marketing team at a prominent startup Techmagnate
He believes that planning a solid video marketing strategy should be done before spending time and energy in producing videos.
The strategy should outline the content and goal of each video, and the videos should cater to each level of the sales funnel.

There should be a goal for each video, against which its performance can be measured. Regularly testing and analyzing the performance of each video is extremely important. The learning should be applied to new videos to make them more effective.

When it comes to promotion, start promoting the videos as soon as they are made public. However, avoid spamming the groups and communities.

Some of the major challenges that come in with time are how to produce videos at a consistent pace, create content that people will consume and want to share, and keeping your story short but effective.

These challenges can be overcome if you keep your focus and keep asking who your audience is, where will they see your video, understanding the goal of your video and tell a story to achieve that goal.
Ayush Rastogi, Video Content Strategists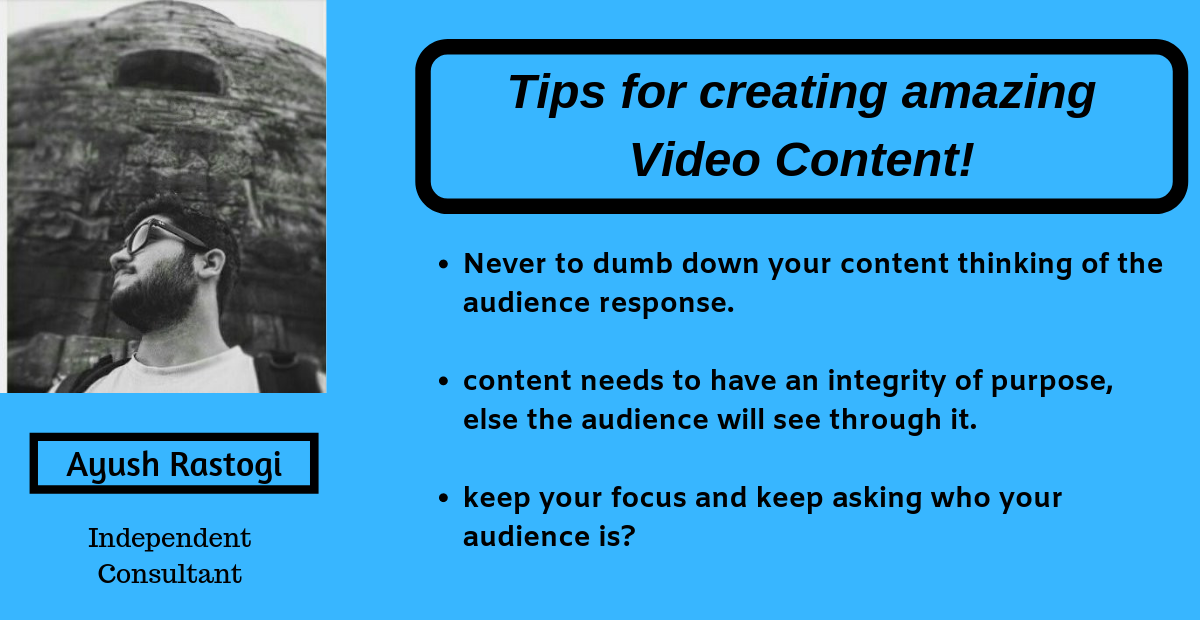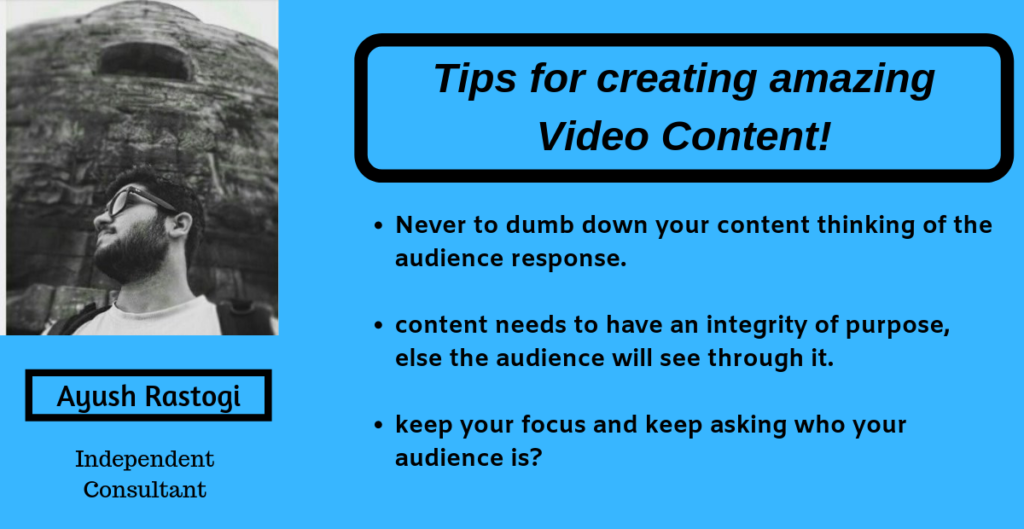 Ayush (UNESCO fellow and Consultant) studied journalism and communications and gradually entered the video space.

In his initial work, he realised that a message is not really received as intended – a reality he found traumatising and magical at the same time!

This led him to films like Roshoman by Akira Kurosawa – open ended content that stands as his inspiration even today.

Ayush discovered that unless and until you have tried, nothing can be predicted – even the most brilliant production can fall flat.

He suggests never to dumb down your content thinking of the audience response.
He believes that the audience is really intelligent and your content needs to have an integrity of purpose, else the audience will see through it.

Today, shabby production, lazy editing will not work.
Having done editing in the initial phase of his career made him appreciate this vital skill and he discovered how the knowledge of editing can help plan the shoot and script differently.

Also, never fall for tricks like a mis-leading thumbnail while promoting your video. This can be detrimental to the trust people place in your brand.
While Ayush believes that a good video will have its own life and it will be popular, but even good content initially needs some push – reason being that there is so much content out there already, that by the time 10 people share, a new stream of content has already arrived in the market.

So it's a good idea to keep some budget for the initial marketing of the video on different platforms.

Also Read: Video Marketing Trends That You Must Follow in 2019

Video marketing has no doubt become the rage today and is here to stay. Most businesses know that video content strategy is important and may already be using videos for marketing, sales, support or training purposes.

If you are looking to Outsource video content creation for your Organization then submit your video requirement here.
About Vidsaga.com
Vidsaga.com is a global marketplace to hire 'best fit' video creator easily, quickly and at the right price.


Join 52,000+ Global Video Marketers' Community