Top UK Startups with Best Product Videos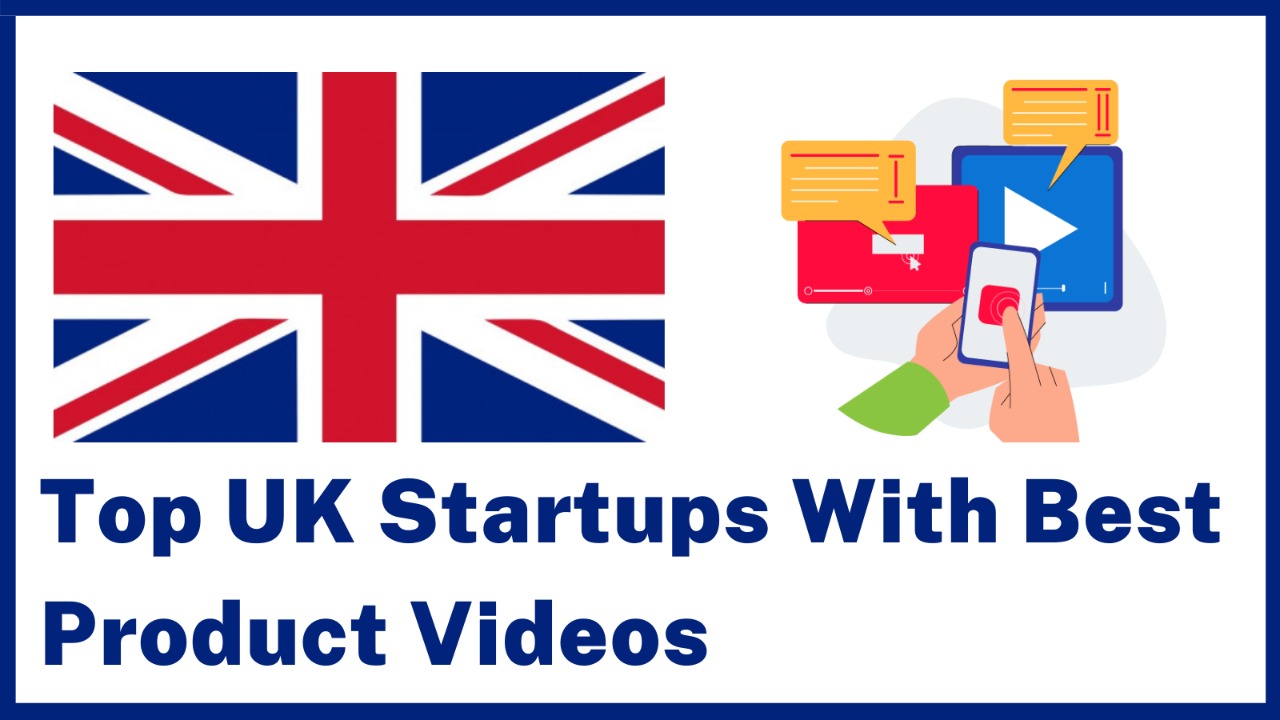 A product demonstration video illustrates how your product works by showing it in action. And to give you an insight into the world of product videos, we dug up "Top 25 UK Startups with Best Product Videos"

Check – Global Video Production Price guide
Demo videos are a compelling way to communicate your product's value to prospective customers. Product videos provide a means to explain the product's features and benefits in a way that doesn't explicitly feel like selling.
The unique thing about "Demo" videos is that one can show what makes your product unique.

Invitation to join Global Marketers Community Discussion Space
Businesses can also showcase why specific features have been included and how these simplify the process of solving the customer's problem
In this article, we curated a list of "Top UK Startups with Best Product Videos" that have nailed the product video creation and raised the bar.

Check out Video Marketing Knowledge Hub
Here is the list of "Top UK Startups with Best Product Videos"

1. Tracatable.ai:
Tractable is a leading AI company whose products help many of the largest P&C insurers, manufacturers, fleet owners worldwide.
The above video clearly shows how to use the tractable.ai application to check the damage to the car.

2. WorldRemit:
WorldRemit is the world's online money transfer service, and they changed the way people send money abroad.
The above video shows how simple it is to use your mobile or laptop to sign up on world remit and transfer money

3. TrueLayer:
TrueLayer helps software developers build their financial applications by providing abstractions and connections to banks and financial institutions worldwide
In the above video, Truelayer's one of products, Verification API, shows How Effortless onboarding is for everything. Verify your customer's account details and ownership in seconds using their bank app

4. Rapyd:
Rapyd, a global fintech organization, has created the world's leading global payment network allowing companies to integrate local payment methods
This video walks you through how to link your business bank account to the Rapyd Client Portal. This linked bank account is where Rapyd will settle collected funds when you use Rapyd's payment acceptance products.

5. Cazoo:
At Cazoo, transforming the way people buy used cars. Cazoo's customers can get the best car buying experience, by their key values such as Customer obsessed, Data-driven, Fast drivers, Team players
The above video explains how to Search a wide range of high-quality cars and complete your purchase from the comfort of your sofa.
Check out – What Media is writing about Vidsaga

6. Hopin:
Hopin can be fully customized to meet the unique needs of every event. So whether hosting a small in-person recruiting event or a global hybrid conference, Hopin is built to bring people closer – no matter where they are.
The above video shows how to create an immersive attendee experience with interactive programming for both digital and onsite audiences.

7. Onfido:
Onfido helps companies see real identity – the humans behind the screens – using world-leading AI and identity experts.
The above video explains how Onfido helps US clients with their onboarding processes and improve user experience

8. Deliveroo:
Deliveroo is a British online food delivery company, It operates in over two hundred locations across the United Kingdom,
This short video explains how to place a corporate order using the company allowance. The video showcases the entire process of ordering from start to end in the platform's interface with the help of a loud and clear voice-over that can help an individual understand the platform better.

9. Prodigy Finance:
Prodigy Finance is a fintech platform that enables financing for international postgraduate students who attend a participating business school or postgraduate institution.
The above video shows 5 steps to getting a loan using a prodigy using 2D characters and explaining the process in a simple and efficient way.

10. Fabric Nano:
Fabric nano is a Biotech startup that designs artificial cells that produce chemicals 100 times faster, with the aim of ditching many of the chemical processes that make manufacturing one of the most polluting industries in the world.
The above video Demonstrates the Multi-Enzyme Cascade which is one of the artificial cells in building the fabric. The video has appealing visuals that bind an individual from the top.
Check out – Top 25 Global Video Marketing Disruptors

11. Oxford Nanopore Technologies:
Oxford Nanopore Technologies Limited is a UK-based company that is developing and selling nanopore sequencing products for the direct, electronic analysis of single molecules,
Oxford Nanopore Technologies video shows how nanopore sequencing functions. The video demonstrates the entire process using appreciating visuals that gives a heavy dose of information to an individual.

12. Revolut:
Revolut is a financial technology company that offers banking services.they are building the world's first truly global financial super app. In 2015, Revolut launched in the UK offering money transfer and exchange. Today, customers around the world use dozens of Revolut's innovative products to make more than 100 million transactions a month.
The above video shows How to Connect your Revolut Business account to Clear Books. The video showcases the entire interface of the platform in an efficient manner along with a touch of upbeat background music.
The video sufficiently delivered the core message.

13. Babylon:
Babylon put an accessible and affordable health service in the hands of every person on Earth. To make healthcare accessible, by delivering it through the devices people already own.
The above video explains How to Skip the Line and See a Doctor Right Away with Babylon.
The video has 2D characters and appealing motion graphics displaying the entire functionality of the Babylon Application.

14. Improbable:
Improbable Worlds Limited is a British multinational technology company founded in 2012 and headquartered in London, England. It makes distributed simulation software for video games and corporate use.
This video showcases the entire functioning of its platform by displaying their interface.
The video has eye-catching graphics, with appealing text animation and background music that keeps a person glued.

15. Truphone:
Truphone is a GSMA accredited global mobile network that operates its service internationally. The company is headquartered in London.
In the above video, Alicia Fairclough explains what eSIM is, the benefits of eSIM, and how you can use eSIM on your iPhone or Android device right now.
Get updated with Latest Video Marketing News

16. What3words:
The Beeline app is a navigation app for cyclists and motorcyclists. It allows users to enter a what3words address as the precise destination – even if the place has no address – and start navigation there either using the Compass or the Route mode.
The above video shows how to use what3words in the app and have the freedom to navigate to any 3m x 3m square you choose.
The video has a subtle color combination along with the instruction to use the app from start to finish. The video also has a voice-over to guide an individual throughout the video.

17. Iwoca:
Iwoca Ltd. is an online Fintech company based in London. It offers credit facilities to small businesses trading in the UK and Germany via an automated lending platform.
Iowca's product video displays the entire interface of the application. The video has no sound or voice-over, but it does have enough visuals and text animations to communicate with the viewer and explain its product.
The video was short, simple, and delivered the core message.

18. Zopa:
Zopa is a British financial services company that began as the world's first peer-to-peer lending company in 2005 and later gained a banking license.
The above video shows How risk management at Zopa works. This 120-second video has eye-catching visuals and text animations giving an individual a deep insight into the functioning of the platform.
The video also has a voice-over that enables a viewer to understand the platform clearly.

19. Revoult:
Revolut is a financial technology company that offers banking services. Headquartered in London, England,
The video explains simply following these steps to install the Revolut plugin and start accepting payments directly into your Revolut Business account within 1-day of the transaction!

20. Monzo:
Monzo Bank Ltd is an online bank based in the United Kingdom. Monzo was one of the earliest of a number of new app-based challenger banks in the UK.
The above video shows the pin-less card feature of Monzo and how it functions. The video interestingly explains the functioning of the Monzo card with a sarcastic touch to it to keep the person glued.
Learn from Marketing experts

21. Starling Bank:
Above is the simple video explaining how one, will be able to block ATM withdrawals, online transactions, in-store payments, and mobile wallet purchases at the flick of a switch until your card turns up – giving you instant peace of mind.
The video has a well-written script and a storyline that connects with the pain points of every card user. The video showcase how an individual can block his card thinking that he lost it and later unblocked it after finding it out. And he did all of this using the Starling Banks App.
The video was amazing and it successfully delivered the core message.

22. World Remit,
WorldRemit is a fast and secure service that lets you transfer money online using a computer, smartphone, or our app. Bank transfer.
The above video shows how to send money globally using the world remit application.
The 90-second video explained the entire interface of the application using 2D characters and appealing visuals.
All-in-all the video was a complete package.

23. OVO Energy:
OVO Energy is an energy supply company based in Bristol, England. It was founded by Stephen Fitzpatrick and began trading energy in September 2009, buying and selling electricity and gas to supply domestic properties throughout the UK.
The above video shows how simple is to pay electricity bills using the application. The Origin app makes energy easy with managing your account with quick access, simple ways to pay, and knowing how much energy to use before the bill arrives. You can also easily connect electricity and gas to your new home to make moving simple or if you enjoy solar you can track your credits as they grow.

24. CRM Surgical:
CMR Surgical is a producer of medical devices for medical surgery. It is the UK's leading surgical robotics company.
This video showcase "Versius" a product made to save time and life. The video has well-defined text animations showing the benefits of the service they provide and also the graphics with 2D visuals and real-time images made the video more connecting to the user.

25. Airtable
Airtable is a cloud collaboration service headquartered in San Francisco. It was founded in 2012 by Howie Liu, Andrew Ofstad, and Emmett Nicholas. Airtable is a spreadsheet-database hybrid, with the features of a database but applied to a spreadsheet
This video presents an overview of a popular project management solution, Airtable. Looking for a project management solution? Get a list of free, personalized recommendations using our Product Selection Tool.
Check out these Top Video Marketing Tools

Our Selection Criteria for Startup Product Videos
Creativity
Well written script
Entertaining/ Interesting
Clear and simple explanation
Music choice
Properly defined CTA
Engagement
Know the New Things happening in Video Marketing
What are you waiting for? Click the link below and Create the Best Product Video.

About Vidsaga
Check out these Top Video Marketing Hacks
Join thousands of Global Video Marketers