Top 5 Motion Graphics Video Production Companies (2020 Edition)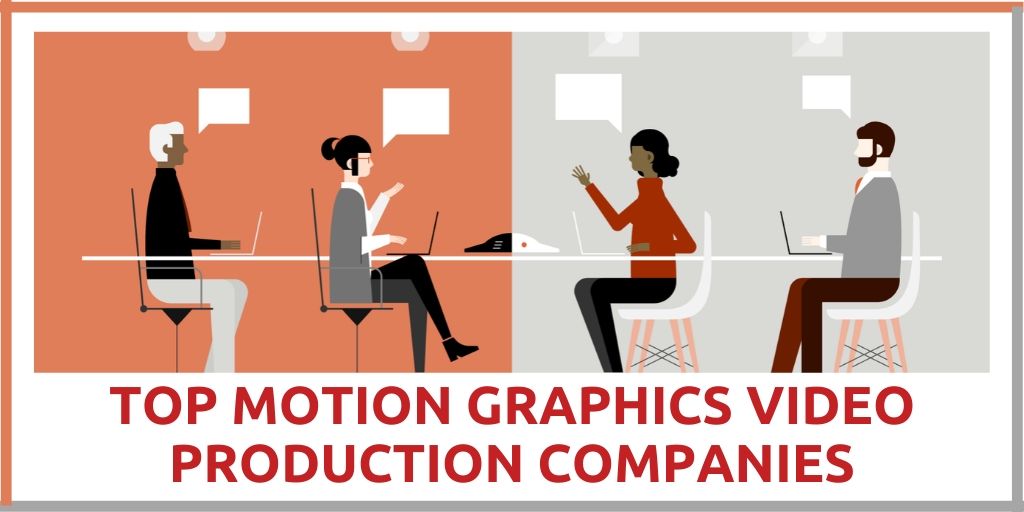 Are you looking to outsource Motion graphics video production then you have landed on the right page.
You can create your own motion graphics video with the help of many paid or free motion graphics softwares like Adobe premiere pro motion graphics, Filmora motion graphics etc.
But in case you want external professional help, the question would be how to find a reliable and creative service provider who can help you in achieving your business objective?
So, in order to hire a top quality vendor for your company, we at Vidsaga.com have researched and have selected top motion graphics video making companies.
The list is based on our research and judgement. The idea is also to recognise these companies for their good work.
Here are Top 5 motion graphics video production companies

Are you paying high? Check – Global Video Production Price guide

1. Epipheo
Epipheo is a motion graphics video production company situated in Cincinnati, Ohio. Their other video production services include explainer videos, branded videos, educational videos, live action videos and testimonial videos production.
They have worked for various B2B & B2C industries like, consumer packaged goods, cybersecurity, financial services and healthcare.
Other than motion graphics their video styles include 2D animation, 3D animation, live action video and white board animation.
With more than 10 years of experience in the field, they have created over 5000 videos for over 3000 clients. In which some of them are Walmart, US Bank, Cintrifuse, Intel and Deloitte.

Get updated with Latest Video Marketing News

2. Gisteo
Gisteo helps you with motion graphics explainer video creation. Despite this, they also provide services in social media animations, animated commercials & ads, explainer videos, promo videos, animated product videos and app explainer videos production.
They have worked for many types of industries like nonprofits, insurance, healthcare, IT, education,Engineering, music and E-commerce and have created over thousands of videos for clients like Oracle, Intel, Mayo Clinic, KPMG, Thomson Reuters and Genentech.
They also provide other services like explainer video script writing, website designing and branding services. The company is situated in Miami.

Are you a video marketing expert? Take this quiz

3. VideoGuru
VideoGuru is a motion graphics production company with a highly experienced and professional team of script writers, designers, animators, voiceover artists and project managers which gives the quality videos as output.
Their other animation services include 2D animation, 3D animation, character animation and whiteboard animation.
They have worked for the clients in the fields like cyber & security, transportation & aviation, medical & healthcare, agritech & research and manufacturing & infrastructure and the company is located in Israel.
Some of their prominent clients include Motorola, US Immigration & custom Enforcement, Unicef, United Nations and Casoro Capital.

Know the New Things in Video Marketing

4. Broadcast2World
Broadcast2World provides motion graphics services, with other animation services like motion whiteboard, motion infographics, motion character, 2.5D animation, 3D animation, AR/VR 360 degree videos and also corporate motion graphics services.
Their video production services also include animated commercials, explainer videos, product videos, music videos and social media videos.
They were selected as the winner of "Pioneering Spirit" a business startup show.
The company has worked for the industries like IT, financial services, non profit, healthcare and consumer goods and have created videos for 2000+ clients in 20+ countries.
Their clientele includes Microsoft, McAfee, UN Women Recruitment, Fujitsu and Symantec.
They have their offices in New Jersey, USA and Gurugram, India.

Invitation to join Global Video Marketers Community

5. Prismart
Prismart helps with professional motion graphics CGI animation services. Their other production services are 3D modeling (which includes medical modeling, furniture modeling, automotive modeling and gaming modeling); 2D animation, 3D animation, explainer videos, AR/VR videos and 3D motion graphics videos.
The company has a skilled team of technicians and artists, which provides the top quality of motion graphics explainer videos and have served their services to 125 organizations over the world.
The company has its office in New Delhi, India.

Here are the Top 40 Video Production Companies in India
Feature Image – source

About Vidsaga
Vidsaga is a global marketplace for Organisations to create Videos. Consider it as "Upwork/ Fiverr for videos" with Creative script writing and professional project management.
Join 52,000+ Global Video Marketers' Community