"Sometimes the strongest and most innovative of ideas lie in the most basic of truths or insights" – Jay Mavani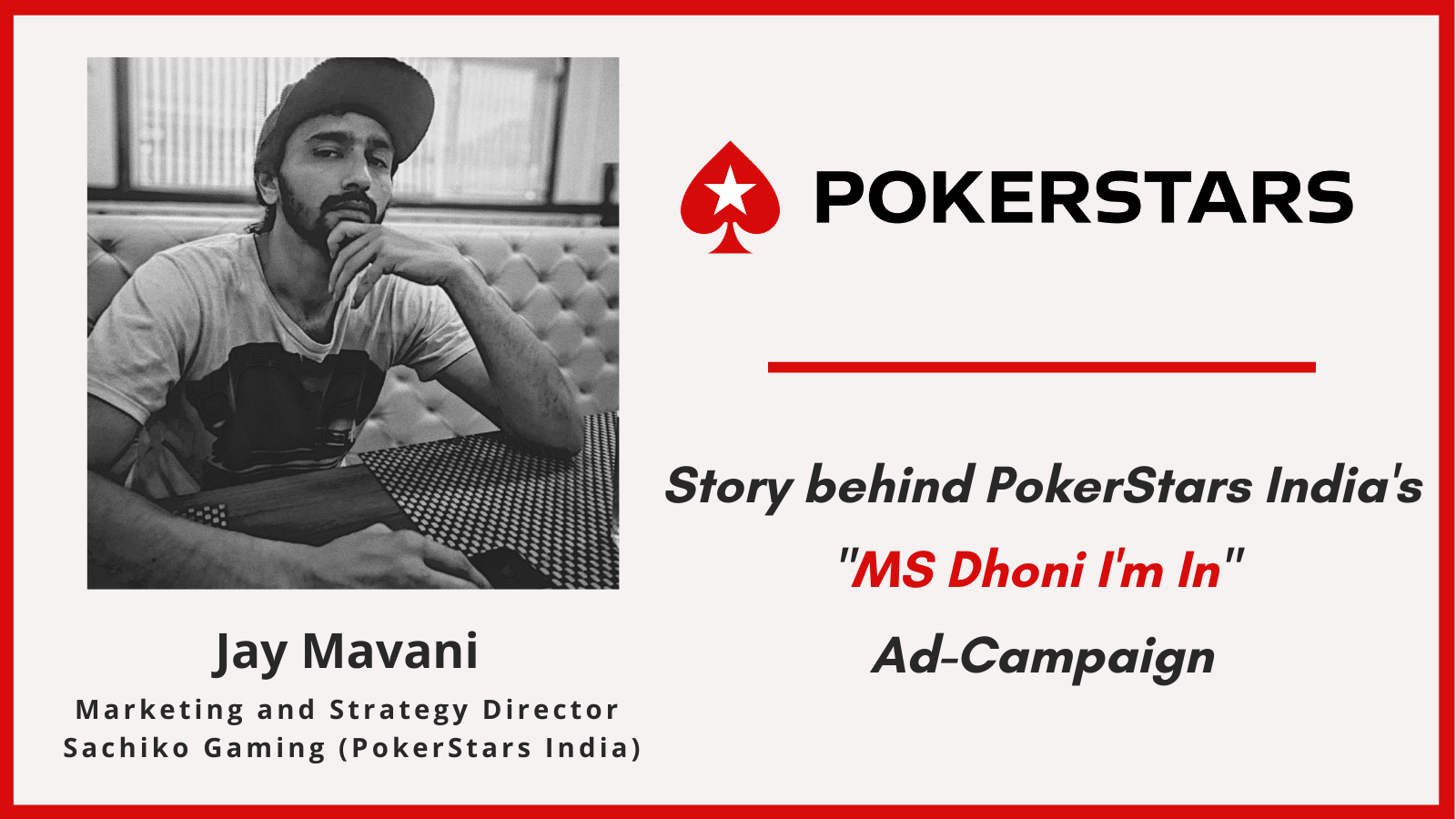 "The more you deep-dive into the understanding of the who, what, why, when and where, the easier it becomes to create stories that are not only creative but also effective."

– Jay Mavani Marketing & Strategy Director, Sachiko Gaming (PokerStars India).
Online gaming industry has been rising in India. The notion which brands are creating is – a level playing field/ platform for everyone irrespective of anything else.
PokerStars created a campaign for their gaming app with Mahendra Singh Dhoni. We talked to Jay and learnt the complete campaign story.
Read on to know how they conceptualised the ad, why did they choose Dhoni and how they measure success of their campaigns.
Are you paying high? Check – Global Video Production Price guide


1. "MS Dhoni vs Bansilal Tiwari, Usha Sampat & Roy Kuriakose", is an interesting idea of providing a level playing field – how did this idea come and how did you build on this?
You see, the game of poker is truly a level playing field – an equalizer of sorts. As much as the game is about winning, it is also about losing.
But it's how you handle a loss that makes you a winner – especially in the long term. MS Dhoni, as a sports personality, is generally perceived as unbeatable, don't you think?
I mean, it's Thala we're talking about here. But if there's one game regular folks like you and I have a chance to beat Dhoni in, it has got to be poker.
People of all walks of life are welcomed by PokerStars. Our ad-films show Dhoni, a cricket champion, playing heads-up poker against three very unique personalities who are also champions in their own right:
– Usha, a 73yr old marathon jogging champion who always comes 1st on sports day
– Bansi, a bodybuilder and fruit seller who has won weight-lifting championships with his hard-work and the hearts of people with the fruits he sells
– Roy, an ace mathematician and crazy metal-head who sees knots everywhere but truly knows the science of kindness
Dhoni can be seen enjoying a game of poker while inviting others to join in the fun game of skill and community.
All three ads showcase that poker is not only a game for all but the winner is never pre-announced.
It celebrates the attitude of PokerStars and its players who are always seeking to challenge themselves and each other, jump into new experiences and learn new skills.
Our goal was to create a series of ads that showcase MS Dhoni as a poker player enjoying a game of poker and not just another celebrity brand-ambassador promoting yet another product in yet another traditional manner.
The idea is a result of having a great understanding of the game, a strong yet fun brand philosophy, playing with genuine insights, having a great reference and giving immense creative freedom to the production house to bring it all to life.
Invitation to join Global Marketers Community Discussion Space


2. How should Marketers go about hiring celebrities to endorse their brands?
I'm not sure if there's "one size fits all" advice for something like this considering there are multiple factors at play but if I had to use Dhoni and PokerStars as an example, I'd say be true to yourself (by that I mean your brand) and do everything in your capacity to find a perfect match for your brand.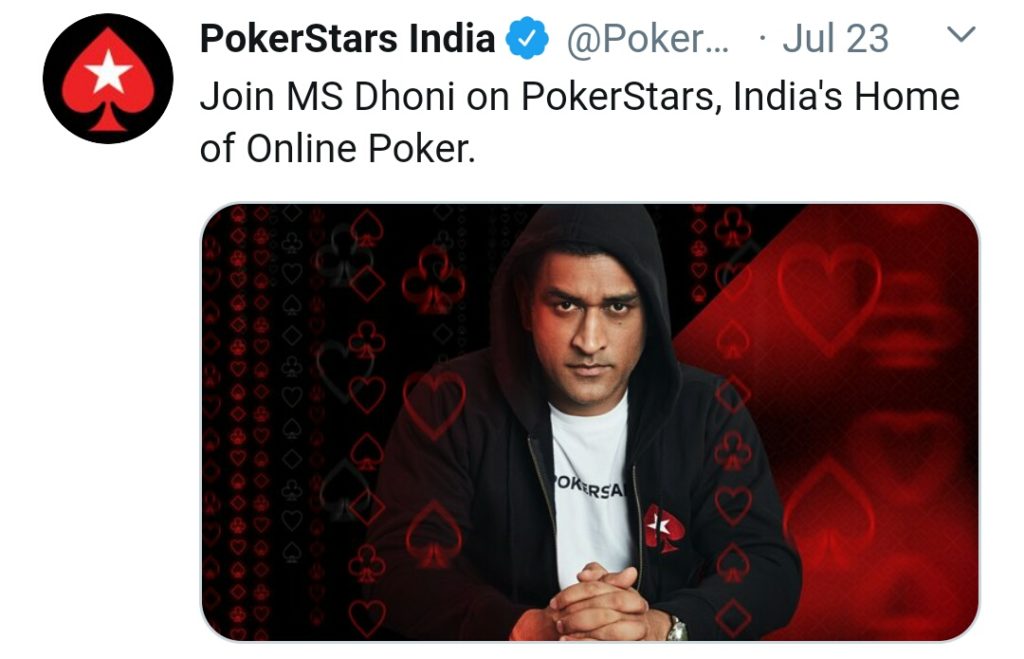 Dhoni is literally everything that you'd want from a celebrity ambassador of the game of poker – actually plays and loves the game, a great poker face, calm under pressure, super strategic/thinking ability, preempting opponents' moves and a personality who's loved and trusted by all.
And to top it all, he's an actual fan of PokerStars.
Check out – Top 25 Global Video Marketing Disruptors


3. How do you measure the success of a video campaign at PokerStars?
It depends on the KPIs we define and track considering not all our video campaigns have the same marketing goals.
Broadly speaking, if our goal is to get consumers to "Think poker, play PokerStars" – typically we want to increase awareness and consideration and ultimately influence action.
Considering most of what we do is digital, it's fairly standard for us to be able to measure the metrics and optimize accordingly. From time to time we go beyond the tools by running consumer surveys.
Get updated with Latest Video Marketing News


4. What advice would you like to give to our community members regarding video marketing campaigns?
Don't just create for the sake of creation and don't try to disrupt for the sake of disruption.
Sometimes the strongest and most innovative of ideas lies in the most basic of truths or insights.
So the more you deep-dive into the understanding of the who, what, why, when and where, the easier it becomes to create stories that are not only creative but also effective.
Learn from Video Marketing experts


5. Please name the team behind this.
Sachiko Gaming (PokerStars India) and Walkabout Films
Here are the Top 40 Video Production Companies in India


About Jay (in his own words)
I grew up in Mumbai, was never really a fan of studying although I did acquire a passion for design and writing fairly early in life.
I pursued a BSc degree in Multimedia Systems (Hons) from London and my professional career started in 2004 after my return to Mumbai. I began designing and writing for friends and family – it helped me create a style of my own.
I benefited from the experience of working with different markets, various brands and nurtured my love for design, writing and strategy over the following years. In 2014, after spending close to 10 years in the world of digital advertising, I decided to leave.
As a digital nomad, regardless of size and importance, I embarked on a journey (Asia and Africa) of doing things for the first time, helping selective brands while on the move and exploring a whole new world of creative opportunities and challenges.
On paper, it was a journey of making mistakes, failing and probably wasting time. Although the adventure brought back my lost love for problem solving and creativity.
And that's when PokerStars India happened to me.
Know the New Things happening in Video Marketing

About Vidsaga
Vidsaga is a global marketplace for Organisations to create Videos. Consider it as "Upwork/ Fiverr for videos" with Creative script writing and professional project management.
Join thousands of Global Video Marketers