"Lack of trust and chronic fear of getting it wrong are your worst enemies." – Jordi Martinez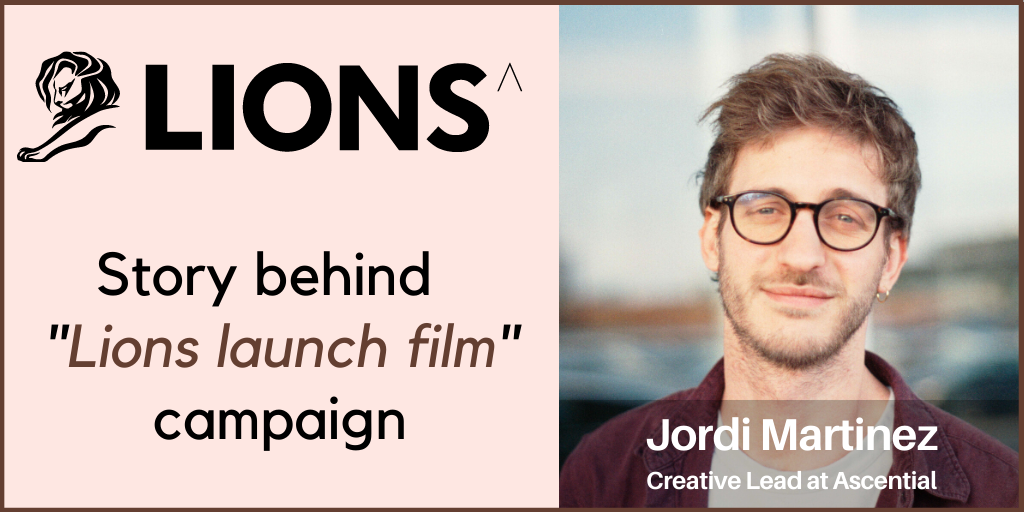 "Creativity is extraordinary, it can come from anywhere and exists in everyone". Jordi Martinez, Creative Lead at Ascential
This is the opening line of LIONS latest brand film. The new "Lions launch film" campaign is based on the pursuit of creative excellence.
We talked to Jordi to know the story behind the campaign. How did they come up with this concept, how did they execute the video? Read on.

Check out these interesting Video Marketing Campaign Stories

1. What is your internal process of coming up with a Brand video campaign?
As weird as it may sound, I try to remove the self from the creative process as much as I can.
As any other creative, the flow of ideas is always greater than the amount of projects to execute them and I have found myself more than once trying to force feed concepts, ideas or executions into projects where they didn't belong.
I try to forbid myself to explore any concepts until I have understood every single element of the brief, made its goals my goals. It's almost like an actor's process when preparing for a role, but my character's backstory is the brief.
As Bruce Lee would put it, 'Be water' and become the brief (apologies to everyone cringing out there).

Get updated with Latest Video Marketing News

2. So, what was your thought process when you decided to create LIONS launch film? How you decided on the script and narrative?

Luckily, by the time we came into the project, the LIONS marketing team had already done the heavy lifting. Theirs is one of the best briefs I have ever worked with: We had the data, we had the insights and we had the brand story. We just needed to find the right way of telling it.

We understood early on that this was a double edged sword of a project. We needed to connect with the global creative community in an emotional way, and we know these people recognise fakeness right away. The film needed to feel genuine and organic.

As much as I'd like to take credit on the script, the LIONS team had already worked on a manifesto, which laid down the basic elements of the brand's story. Our job was simply to connect the dots and turn their manifesto into a film script, adding a story arch.
It was clear to us that if we wanted to put the focus back to the community, we needed to involve it in the process, so we asked creative legends from all ages, fields, places and backgrounds to lend us their voices to tell our story.
But we didn't stop there and decided to use our amazing archive, which contains the most jaw dropping campaigns of the last 40 years in advertising (go check out lovethework.com right now), to create the visuals.

Any production can easily become an odyssey in the dystopian world we are currently living in, but we pushed through and managed to remotely record the talent and go through (literally) thousands of campaigns in less than 2 weeks, to build the 5 films of the launch campaign.

Check out – Top 25 Global Video Marketing Disruptors

3. How did you launch any of your campaigns? Is there any internal checklist you follow?
Every campaign has different needs. More than a checklist, what is more important to us is to have the right people involved throughout the whole project (from brief to final delivery) to ensure that we are always on track.
It is very easy to lose perspective once you are in the midst of production, so we rely heavily on our team to make sure that the soul of the project (and the brand) is not lost along the process.

Get updated with Latest Video Marketing News

4. What mistakes Marketers should avoid when it comes to planning ad campaigns?
In my experience, lack of trust and chronic fear of getting it wrong are your worst enemies.
Trust your team and make them feel comfortable in taking risks and making mistakes. And do not discard any idea, regardless of how stupid it sounds, before asking a thousand questions.

Invitation to join Global Marketers Community Discussion Space

The team behind the campaign
LIONS managing director: Simon Cook
LIONS marketing director: Ilaria Pasquinelli
Producer: Naomi Hartridge
Creative direction & edit: Jordi Martinez
Sound design and mix: Sound Node
Narrators: Tea Uglow, Yang Yeo, Chaka Sobhani, PJ Perreira & Josy Paul
Titles and closed captions design: Lisa Evernden & Charlotte Tatham

Are you paying high? Check – Global Video Production Price guide

About Jordi (in his own words)
I'm a creative director, filmmaker and photographer born in Barcelona and currently based in London, UK. Despite starting my career in film as a director, very early on I felt the need to explore the craft of storytelling in as many mediums as I could get my hands on, turning into digital copywriting and creative direction.

Almost four years ago, I landed my feet at Ascential, LIONS parent company, where I currently work as a creative lead. Working for a creative B2B brand like LIONS, has allowed me to build long term relationships with marketing, content and product teams and collaborate with them on a daily basis, acting as a hinge to weave a cohesive and consistent brand narrative.
I have a hybrid creative profile and as much as I feel the need to keep exploring new fields like data storytelling and mediums like AR and VR, I find myself constantly going back to what I believe to be the core of my job: Good stories, well told.

Learn from Video Marketing experts

About VidSaga
Vidsaga is a global marketplace for Organisations to create Videos. Consider it as "Upwork/ Fiverr for videos" with Creative script writing and professional project management.
Join 52,000+ Global Video Marketers' Community