"One of the key shifts we made for this campaign was to solely release it on digital" – Jay Mavani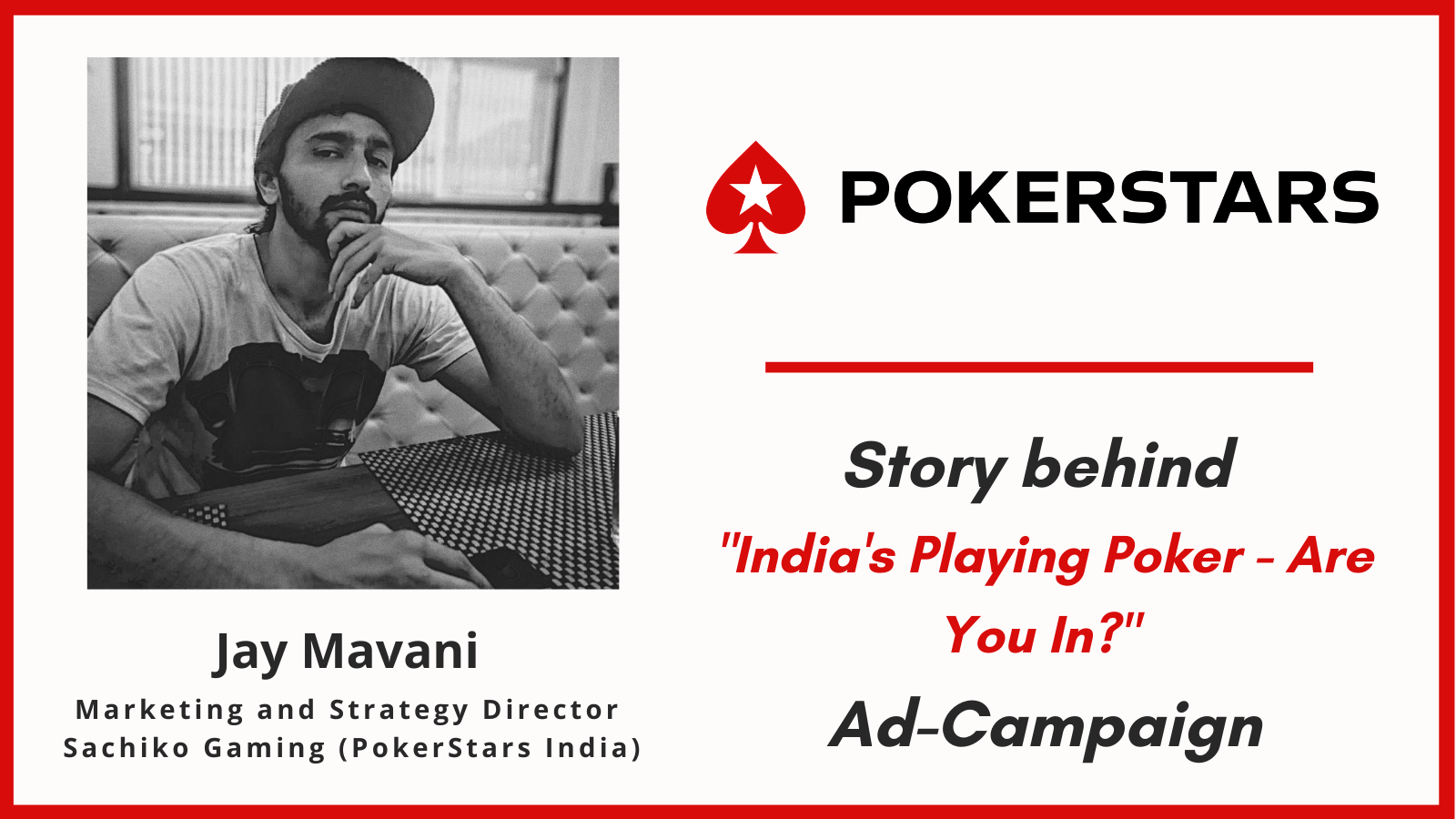 "Our main learning from this campaign series was the affirmation of the creative risk we took in the first part of the campaign, i.e. showing the unbeatable MS Dhoni, our brand ambassador, losing against regular folks like you and me in the game of poker.

Whereas in the traditional sense of storytelling, you don't really ever see the "hero" lose.."

– Jay Mavani, Marketing and Strategy Director, Sachiko Gaming (Pokerstars India)

Why do we love a sport like Cricket? Because it has all the drama & emotions that makes it a perfect experience.
So when you try to promote an online gaming product, can you create that same environment that the audience feels and relates to.
Pokerstars India has attempted the same thing with their new video campaign – "India's Playing Poker – Are You In?".
The ad has a sports drama movie like a feel with central character M.S. Dhoni is playing the game with other players.
We talked to Jay and learned his thoughts process and story behind the campaign. Read on to know the whole story.


Invitation to join Global Marketers Community Discussion Space

1. What is PokerStars India's internal process of coming up with a marketing campaign?
Marketing campaigns involve a lot of data, decision-making, creativity and learning.
To start with, we ask a lot of questions that in turn help define goals for the campaign.
Why are we running this campaign?
Who are we targeting and where will we find them?
What's the key objective and how is it going to help business?
Is it simply brand awareness or lead generation?
Many more such questions help in defining how, what, when, where and why we intend on running the campaign.
The planning also helps in determining how we'll measure the success and effectiveness of the campaign.
We then move on to conceptualization, which eventually leads to creation of an arsenal of assets specially crafted for the campaign and proceed with distribution accordingly.

Check out Video Marketing Knowledge Hub


2. "India's Playing Poker" campaign has a sport drama like a film feel to it, what was your thought process when you were conceptualising the campaign. Please share the story behind.
Poker is just as much a sport as any other. A game of poker has drama, excitement, highs and lows, nail-biting endings and a lot more – a roller coaster of emotions if you will.
Poker players are known for their emotional intelligence considering it's a game of psychological and emotional warfare.
A good poker player never lets his/her emotions take over.
We're very lucky to have many PokerStars global campaigns to take inspiration from and our 'India's playing poker' campaign is nothing but a result of that.
Our key objective with this campaign was to show that people of all backgrounds and from across India are welcome and playing the game on PokerStars India.
Whether it's the man in the Mumbai local-train, a stock market trader, a shepherd, a young fashionista or the elderly woman – there's always a seat at the table.
Our objective with the film was to celebrate the attitude of PokerStars India and its players who are always seeking to challenge themselves and each other, jump into new experiences and learn new skills.

Check out – What Media is writing about Vidsaga


3. This was the second part of the campaign. What is your main learning from creating this campaign series.
The game of poker is truly a level playing field. You win some, you lose some. But it's how you handle the result that makes you a winner – especially in the long term.
It was important for us to showcase this, and so we decided to create a two-part series – winning and losing.
Considering we saw MS Dhoni lose to three champions in the first part of the campaign, it was time for MS Dhoni to get back – and in style.
Not only does he win, he's knocking people out.
Our main learning from this campaign series was the affirmation of the creative risk we took in the first part of the campaign, i.e. showing the unbeatable MS Dhoni, our brand ambassador, losing against regular folks like you and me in the game of poker.
Whereas in the traditional sense of storytelling, you don't really ever see the "hero" lose.
This move helped spark conversations on social-media and in PR, adding to the hype of the campaign.

Check out – Top 25 Global Video Marketing Disruptors


4. What best practices do you follow when it comes to distributing/promoting video ads?
Beyond the usual digital marketing do's and don'ts with regards to distribution, one of the key shifts we made for this campaign was to solely release it on digital (with a primary focus on social-media) as compared to a traditional mix of tv and digital.
Considering we've been advertising for long, we're now very well aware of not only where our core audience exists but is also comfortable in consuming advertising.
A practice we pride ourselves on is how serious we are about responsible gaming.
The safety of our customers always comes first, and so our creative and how it's distributed always respects the highest standards of quality advertising.

Check out these Top Video Marketing Tools


5. What mistakes marketers should avoid when it comes to creating video campaigns?
Beyond the standard trick of doing everything in your power to create really entertaining videos (fun/funny or emotional), I'm not sure if marketers are making mistakes anymore.
Sure, there are video campaigns that perform amazingly well where some don't but we cannot be oblivious to the fact that there are way too many factors that play a role in the success of a campaign today.
I feel the only mistake a marketer is making today is that of not trying something new.
I'm a strong believer of trial and error and it's only when you try something different, you get to know whether it works – or that doesn't.
I personally feel "One man's trash is another man's treasure" holds true in this case, because a lot of times one may feel an idea isn't going to work when in reality it has potential to do wonders for another (brand).

Know the New Things happening in Video Marketing


6. Please name the team behind this
Sachiko Gaming (PokerStars India) and Walkabout Films

Check out these interesting Video Ad Campaign Stories


About VidSaga
Vidsaga is a global marketplace for Organisations to create Videos. Consider it as "Upwork/ Fiverr for videos" with Creative script writing and professional project management.
Join 52,000+ Global Video Marketers' Community