Learn video marketing growth hacks from Rohan Chaubey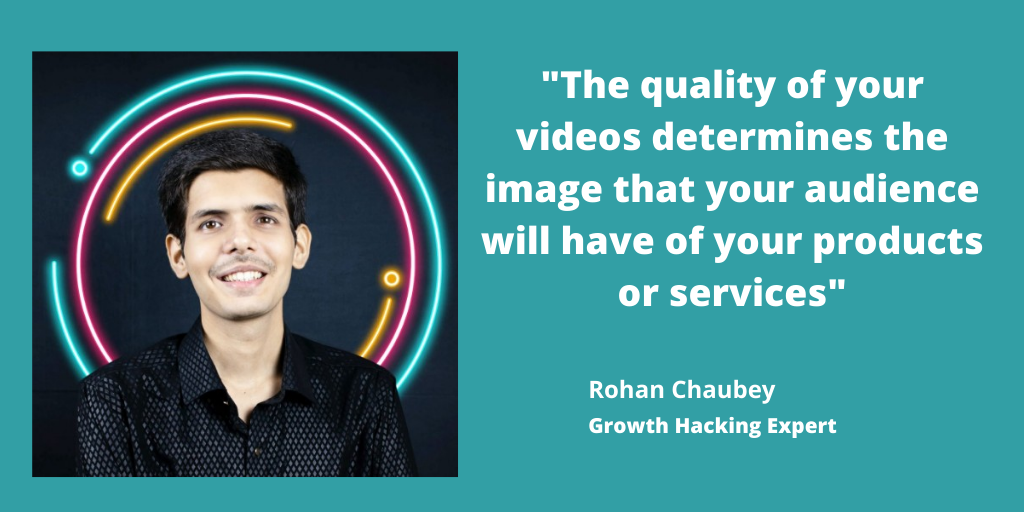 Rohan Chaubey is the founding member of International Growth Hacking Day (July 13) and bestselling author of the award-winning book "The Growth Hacking Book". Audience (IBM and Twitter's partner product) ranks Rohan as the most-followed Growth Hacker. He also hosts RohanChaubey.TV,
His growth strategies and SaaS products have helped notable organizations including UNESCO, UBER, RedBull, Candere by Kalyan Jewellers, Freshworks, BBN Times, etc. and many SaaS startups from the NYC, DC, and Bay Area.
He helps startups acquire their first 100, 1000, 10000 and 100K+ users/customers/followers through consulting and done-for-you growth services. He and his winning team do anything it takes to scale startups from the concept stage to scalability.
He routinely empowers audiences of entrepreneurs, marketers, change-makers, thought leaders and students at corporate offices, conferences and universities through his keynote addresses and breakout sessions on Startup Growth Hacking, SaaS sales, Personal Branding and Marketing that garner top praise from attendees and organizers.
Read on to learn Video marketing growth hacks from the top growth hacker himself.

Invitation to join Global Video Marketers Community

1. Tell us about your life journey, Rohan?
I'm a Gen Z; I grew up on the internet. I've been blogging since I was 16. Blogging exposed me to a lot of digital marketing concepts and helped me acquire skills like social media marketing, content writing, SEO, graphic designing, etc.
Blogging was my hobby and I didn't know that it can be monetized until a San Francisco-based SaaS startup asked me if I would like to work with them. After working with them for two years, I kept getting requests from startups to help them with their growth and marketing.
I soon realized that I am getting approached by more startups than I can serve. I felt it would be a disservice if I blatantly refused to help them, so I started being an advisor to startups and began to post videos about Growth Marketing.

Check out – Top 25 Global Video Marketing Disruptors

2.  What important Video Marketing growth hacks do you recommend for small businesses?  
I can suggest best practices that small businesses can adopt for Video Marketing success:
Produce value-adding, high-quality, share-worthy video content. Make every video count.
Adopt multi-platform distribution.
Use tools like VidIQ or TubeBuddy to perform video keyword research.
Keep attention: YouTube favours videos with higher audience retention. It is a ranking signal. Most viewers are likely to judge your video based on what they see in the first 10–15 seconds. Make sure you keep them hooked.
Create snackable content to get more engagement on social. Your audience has a short attention span. This short attention span is one reason all platforms allow uploading shorter videos.
Videos that are expensive is a myth! Creating videos is now actually cheaper than ever. DIY tools like InVideo help you create professional and engaging videos within minutes on a shoestring budget. 
Get updated with Latest Video Marketing News

3. What is the easiest way to create video content for marketing purposes?
I'm not a professional video editor so I hired a design agency from Mumbai. Adobe Premiere Pro has a steep learning curve and demands more time and skills to create videos. I thought it was a good idea to let an agency do it so I could save time and focus on other important aspects of my personal brand. 
A few months later I found InVideo. With InVideo, I'm able to create stunning videos with minimal investment of time, money and effort. 
I create social videos, and video ads and edit short YouTube videos using InVideo. 

Are you a video marketing expert? Take this quiz

4. What video distribution strategy should a marketer adopt?
I suggest adopting a multi-platform distribution strategy.
Hosting videos on your website is excellent for video SEO.
Uploading your video to other sites such as YouTube, Snapchat, TikTok, Facebook Groups, Vimeo, Daily Motion, etc. can also generate traffic for your video.
Video sharing websites are optimized for search engines and therefore provide more exposure to your videos.
Maximize video distribution using social media to attract potential viewers and subscribers. When someone shares your video off of YouTube with those little share tabs they offer below the video, like sharing to Pinterest, Twitter, etc. This help to show YouTube your video is good and that people are sharing it. You can share your videos on the following channels: Instagram, Facebook, LinkedIn, Twitter, TikTok, Snapchat, Reddit, Pinterest, etc.
Know the New Things in Video Marketing

5. How newbie video marketers can figure out the effectiveness of their campaigns?
Effectiveness and ROI for videos have soft and hard metrics. Boost in SEO, sales and leads are hard metrics. Brand trust, brand recall and engagement rate can be considered soft metrics. 
Videos Spikes Conversion Rate – Marketers can run A/B tests on landing pages with and without videos and see the results for themselves. Statistics show that if a landing page has a video, the conversion rates are likely to be higher by 75%. Buyers want to visualize what they get from the product. So, if you have a video that shows the working of your product, you are likely to see a boost in sales.
Videos Build Brand Trust – The quality of your videos determines the image that your audience will have of your products or services.
Using videos, your prospects can see the person behind the business and hear about the company directly from the owner to connect with them. This builds trust among the audience.
Social Sites Favor Video Content – There is a rise in video-first social media platforms such as TikTok, Snapchat, etc. Videos have the highest engagement rate as compared to other forms of content.
Videos Increase Brand Recall – Visual content is easy to remember as it engages not only the auditory senses but also the visual sense.
In videos, brands can showcase their logo and what they stand for thereby making your brand memorable.
Videos Generate Quick SEO Results – Other than providing a great first impression, videos can also boost the website's SEO as Google also lists videos in the search results page. Videos on the website or landing page also reduce the bounce rate and increase the average time spent on the website.

Follow Rohan
Twitter: https://twitter.com/RohanChaubey4
Website: www.rohanchaubey.com

Here are the Top 40 Video Production Companies in India

About Vidsaga
Vidsaga is a global marketplace for Organisations to create Videos. Consider it as "Upwork/ Fiverr for videos" with Creative script writing and professional project management.
Join thousands of Global Video Marketers