23 Questions You Can Ask Before Hiring Corporate Film Makers In Bangalore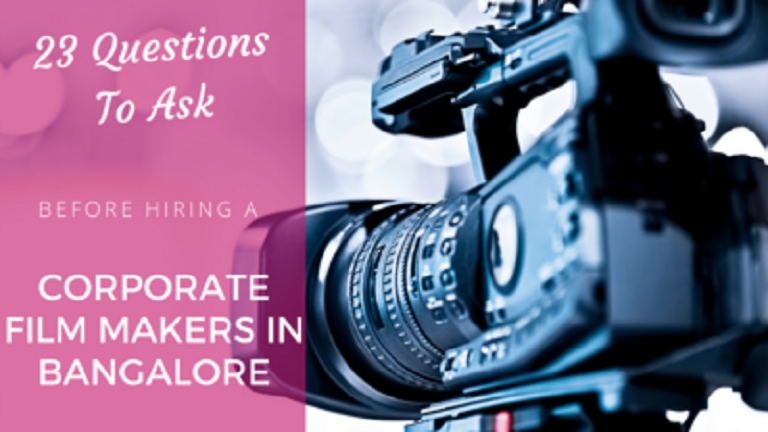 23 Questions You Can Ask Before Hiring Corporate Film Makers In Bangalore.
(Looking for a video for your business? Get in touch with ONE of our brand experts for a free ONE on ONE consultation session)
Hiring a corporate video makers in Bangalore is a tough task.
Whether you are an established brand or an early stage startup, finding a corporate video maker who is at the top of his game is a tough task.
When I say it'd be a tough task, trust me, it won't be easy.
We have grown OLD making corporate videos and have dealt with a lot of clients and corporate video makers. We have seen almost everything in the video production process with respect to corporate video making.
Almost all businesses face some or the other type of struggle, but mainly it stems from not being from the same industry.
And that's why everyone finds it hard to HIRE the RIGHT guy.
Even if they do, they don't know how to select and work with a corporate video maker and get the best out of his craft.
Corporate video making is an engagement which you'll do once or probably twice in the whole lifecycle of your business. You have to be really careful as to what level of content you are putting out there.
But before I take you more into how to filter out and ask the right sort of questions to corporate video makers whom you meet in Bangalore, you MUST know who exactly is a corporate film maker and how he can help your business.
Who is a corporate film maker and how can he you in your business?
Corporate film maker is a person who will understand your business, weave it with his storytelling skills and produce a video which will go on to represent your brand.
He'll be the person who will be creating a video that will fit nicely into your overall marketing plan.
Today, we are in the time period where people want to watch a lot of videos as compared to texts and photos.
In fact, a lot of studies have suggested that in the coming years you'll see that majority of the internet traffic will be coming from videos only.
Hence, investing in working with a good corporate film maker will be helpful for you in getting great returns.
You might be wondering now, okay I understand that the corporate film maker will be the person who will be making my brand's story, but how is that going to help me and my brand.
That's where video marketing comes into play.
So the process of video production is just one piece of puzzle in the whole game of video marketing.
Once your video is created, the next most important job is to distribute the video. Distribution is the sole deciding factor to see whether your video will be successful or not.
In times of social media where people have started watching a lot of content on videos, it has become really crucial to distribute your videos properly.
If you can alter the content and make it simple enough for people to consume, then you'll notice that your content will get a lot of attraction.
(Looking for a video for your business? Get in touch with ONE of our brand experts for a free ONE on ONE consultation session.)
Why is it important to question a corporate film makers in Bangalore?
If you are hiring a corporate film makers in Bangalore, you need to ensure that you are working with the right person. Although Bangalore, as a place, is filled with a lot of corporate film makers, honestly they might be the best out there, but very few of them are good at distributing the content.
So you need to find and work with someone who is good at both video production and video marketing.
Asking these set of questions will help you in finding and weeding out the ONEs that aren't good for your brand.
23 Questions You Can Ask Before Hiring A Corporate Film Makers In Bangalore
1. How long have you been making corporate videos?
This question is mainly to filter out the guys who are non-serious about their craft. It is like someone who is at a professional level vs someone who is a freelancer, a difference will be there in their craft. So when you hand over your brief to them, you want to ensure that you are dealing with the right guy and your time is not wasted in working with the wrong ones.
2. How many corporate video engagements have you done so far?
If you are going to ask a question about their engagements, you are mainly trying to understand their experience level. If you were given a choice of working with someone who has had experience working with thousands of corporate video vs someone who is just in his early dozen numbers. It is obvious that you would want to work with someone who has experience.
Because with more experience, they'd be better at their craft.
3. How big is your video production team and how many people will be working on our project?
It's a simple no brainer question to understand how many people they have on their payroll. Usually a bigger team indicates that your work will be done faster, but that's not the case always. By understanding how many people will work on your team you'll be looking to see how fast your work will be completed and whether the corporate video makers' team will meet their deadlines or not.
4. What is your work culture and what are the things that you really care about when it comes to client dealing?
By asking a question on work culture, you want to understand their work ethics and values. From our experience at Stagephod, we have seen that we work best with brands that have a culture which FIT to ours. In such a way we understand the brand's best and as our values fit like a GLOVE, we are able to paint the best story for their brand.
5. How will we measure the return on investment (ROI) for our corporate video engagement?
Until recently, measuring ROI on video marketing was very tricky. But after working with a lot of bigger brands like Hindustan Times, Shell, Mysmartprice and other brands, we have realised that measuring ROI can be done using a mathematical formula.
In fact I have written this post on 'How you can measure ROI on your brand's video marketing efforts'.
(Note: If you need someone from our team to do ROI for you and your brand, click here and one of our brand strategists will help you in measuring it for your video marketing efforts.)
6. Can you tell me the best work that you have done till now and what are the REAL reasons why it worked so well? And can you give us the same kind of results for our brand?
This question is mainly to understand 2 things:
a) What do they expect out of themselves (standards wise)?
b) What is the best work that they have done till now?
Before you invest your time, money and faith in a brand, you would want to know whether they even have the ability to pull-off something like this or not.
If they have repeatedly done it for other brands, can they do it for your brand as well? If yes, then you have found someone who can give you a replicable success formula for your brand's video.
Like for example, when we worked with Shell, we figured out how to give them a viral growth in their video marketing campaign, just not only once, but we did this 4 times.
This is how Shell got 2.5 million views on their video marketing campaign where we delivered them back to back viral videos.
7. What is the number 1 thing which you value when it comes to delivery while working with clients?
By asking a question like this, what you are trying to understand is the things that the prospect team values. A lot of times, the prospect whom you are dealing with might say something, but do something else. You'd be able to see the inconsistency in their words, thoughts and actions.
For example, when it comes to us as a brand at Stagephod, we take video marketing very seriously, and our basic tenets for creating a video. We deliver on three things: quality, deliverables and timely completion.
For us, these are the 3 pillars that really define us as a brand. But it has to be different for you. Also for a prospect corporate film maker. That's what you'll have to find out whether they value the right things or not.
8. Who has been your toughest client till date? And how did you deal with them?
When it comes to dealing with clients, what you are looking for is managing crisis and fulfilling expectations. When you are assessing a potential prospect, what you are looking for is how they are able to work in tough environments and can they even deliver on client expectations.
Also, just try to listen to them what they say exactly about the conflicts and their ability to manage them.
9. Can we start our project this week?
When you throw a question like this, you mean to see what response do they come up with. Not that they'd be able to take up your project the very next day.
But even if they do, that would mean that they, as a company, are serious about clients and are looking to serve the clients best to their abilities.
10. What timelines are you looking for this project?
Timelines would be basically to see whether the project will be delivered on time or not. If it is not, then that rubs-off as a slightly unprofessional approach.
Also, you'd move towards the project in a much more professional manner when timelines are defined properly.
11. What potential problems can you see coming up with this project?
This question is mainly to understand the challenges and difficulties your prospect team faces while working with clients. For instance, they might say that the project gets delayed because of slow communication from the brand's respective person.
Then, you can prepare in advance and see that these mistakes are NOT repeated in your case.
12. Would you consider yourself an expert at corporate video making?
The main agenda behind asking this question is to understand whether they feel confident about their faculties or not. I personally feel it is an important question to ask. Usually, film makers are good at their skill and, in your lifetime, you can either get very good at a certain type of movie making or you can get slightly better in a lot of areas.
So before you start, you will have to really identify with them and see what are they really good at and find out how you can get the MOST of out their abilities, so that it benefits your business the most.
13. How many revisions do we get for our corporate movie?
This is mainly to understand if things don't go right, or as per your vision, will you have the ability to make changes that can make the video look great.
And if yes, then how many revisions are you getting for the money you are paying. And what are the paid charges of revisions.
This makes you prepared beforehand with everything.
14. Do you guys have any geographical restrictions?
Usually corporate video making is an expensive profession. What happens is that, for you as a brand, it is really important to find someone who is local to your area. By doing so, you'll be getting a better deal for your project.
But there might be instances where you might have to move here and there within 10-60 kms in the same city. This question would be to check whether the company you are dealing with have setup any mobile units or not.
15. I understand that you are into corporate video making business. But do you understand how to plan for video marketing once your video is ready?
Usually corporate video makers are pretty adept with their domain of skill, but when it comes to video marketing, they usually are not well informed. Hence it is difficult for them to pull-off video marketing.
That's why you need to work with someone who understands video production as well as video marketing.
(Looking for a video for your business? Get in touch with ONE of our brand experts for a free ONE on ONE consultation session.)
16. How will the final video production look like?
Video production doesn't mean that you only create a video and that's where you stop. Corporate video making also means that taking decisions in advance how you will package, and present the video.
YOU need to figure out what will be the best video hosting platforms for you (Youtube, Vimeo, etc.).
Or, how will you distribute the videos across social media platforms?
Everything of this sort needs to be figured out beforehand.
17. Who is responsible for giving a final go ahead on the video?
This one is important since this is all about communication and setting responsible people on the project. So it's all self explanatory.
18. How will you define our target audience for this?
This will be mainly to find out whether the corporate video maker whom you are dealing with, have got your audience or not. The REAL ROI is when you know your target audience and you build a targeted campaign for them only.
19. Do you guys have any work assurance?
This question is mainly to see whether the work done by the team comes with any sort of work assurance or not. If they can take up the responsibility for delivering quality work and give some form of assurance for their work, then as a business, it'd be great for you to buy their service.
20. Can you give references of your past work?
I think before you even finalize someone, it is great to check with their past clients and see what do they say about the quality of their work. Ask them questions about what matters the most to you.
You could ask questions on budgets, timelines, quality, speed or just about anything that matters more to you.
21. How many voiceover artist options can I have for my movie?
Now if I am a brand, I would want to have all types of options, be it a male voiceover artist or a woman VO artist. Having more options mean, you can play around more in your videos.
You might consider this question as trivial because if you don't ask this question, you might lose it out on this one. When you request them later, the team you are dealing with might bill you separately on this.
Not only that, but you want to try out with multiple artists and see whose voice you like the most. That is also something you should ask from the team.
If you are also planning to create a video, find the fair price through our video price calculator – here
About VidSaga
Vidsaga is a global marketplace for Organizations to hire Video Creators. Currently, 1100+ businesses including Shell India, News 18, Carlton Luggage (VIP Bags), Hindustan Times, FeverFm, Mysmartprice are using our platform.
Join 52,000+ Global Video Marketers' Community