23 Best and Free Stock Video Sites in 2022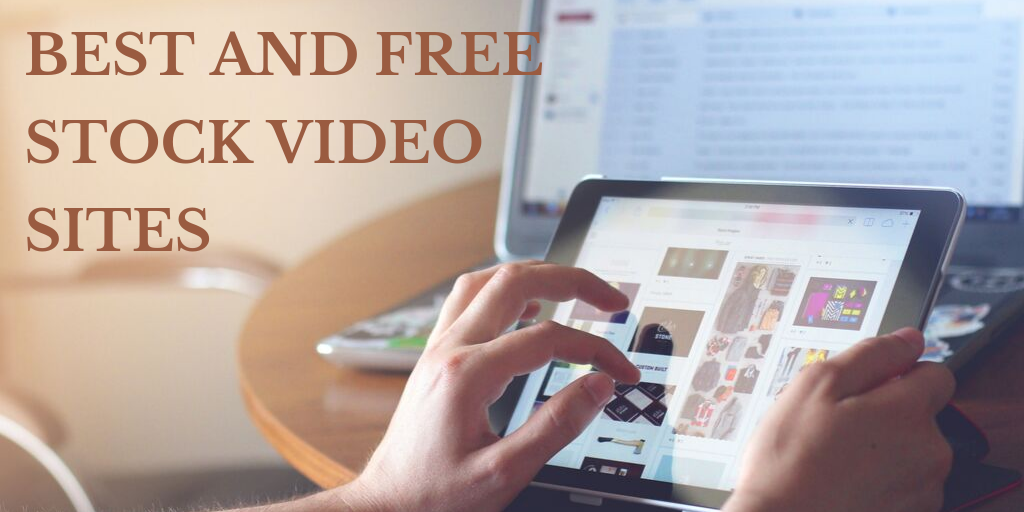 Stock Video or Stock Footage or, archive footage or, library pictures, or film footage is a film/video footage that can be used again in other films. Stock video sites are beneficial to filmmakers as it saves shooting a new video.
A single part of stock footage is called as "stock shot" or a "library shot. Few examples of stock footage that can be used are like moving images of cities and landmarks, wildlife in their natural environments, historical footage etc.
Suppliers of stock footage are either rights-managed or royalty free. Many websites allow direct free stock videos download of clips Stock footage is used throughout the world by many companies in their video productions for in-house meetings, annual conventions, seminars, and other events.
Invitation to join Global Marketers Community Discussion Space
Check – Top 3 Pros and Cons for Using Stock Video Footage in Marketing Videos in 2020

Here is the list of best 23 free stock video sites
1. Pixabay
Pixabay is one of the best and free stock video sites, sharing royalty-free videos and images.
All contents are released under the Creative Commons Zero (CC0) License which means you don't need to get permission or give credit to the artist to use or modify the content.

All videos are submitted by Pixabay's community of users.
There are 4K videos, motion graphics, and some infinitely looping clips that are handy for vido makers.
Check out – Top 25 Global Video Marketing Disruptors
2. Pexels
Pexels comes in one of the top free video stock sites
Pexels began as a free photo site but has since added a large library of free HD stock videos. And true to their name, all Pexels videos have enough pixels to look great on any screen.
Pexels come under the CC0 license, so you can edit and use the videos for personal or commercial purposes.

It have time-lapse videos and also includes a handy 'mockup' category for mobile devices.
3. Videvo
Videvo is one of the stock video sites that offers various types of free stock video footage library as well as motion graphics created by their community of users.
Videos on Videvo fall under one of three licenses, so be sure to check which one applies to your chosen clip before you start working

Videvo Standard License, which lets you use the clips in your own work without attribution,
Videvo Attribution License, which is the same as the Standard License, but requires you to credit the clip's creator.
Creative Commons 3.0 Unported, lets you share and adapt the clip
The Videvo Plus subscription gives you access to 20,000 exclusive stock videos
Get updated with Latest Video Marketing News
4. Life of Vids
Life of Vids has a collection of free stock videos, clips, and loops from Leeroy, an advertising agency in Montreal, Canada.
Copyright-free videos, but redistribution on other sites is limited to 10 videos.

Free videos for web designers, filmmakers, advertisers, agencies, anyone.
You can create infinite loops with most of them.
Do whatever you want with them (commercial and personal use),
Read – Top 9 video editing software/tools you only need to know
Are you a video marketing expert? Take this quiz
5. Splitshire
The idea behind the name is that "shire" represents the county, a closed environment, for a few, in this case, related to copyright and "split" means sharing a piece of this county with everyone.
The videos are mostly drone footage of beautiful outdoor scenes
There are many beautiful and enticing footage that you can use.
Though SplitShire is a pretty serious deal, there is only one human being behind the project.
6. Distill
Distill has a collection of carefully curated stock footage, made for creatives by creatives. After submitting your email address, you'll get 10 free videos delivered to your inbox for every 10 days.

Stock video clips are free for personal or commercial use but are not allowed to be uploaded to the site indiscriminately.
Creators submit their video to Distill for approval before they are included in the library.
7. Stock Footage 4 free
All the footages are royalty-free stock footages allowing you to use it in all types of productions for worldwide distribution, forever.
All of the footage is in HD format and were shot and edited to maintain NTSC broadcast quality.
Daily additions to free and best stock footage library.
8. Videezy
Videezy footage is a royalty-free stock video site that allows you to download for personal and commercial use, but users are asked to credit 'Videezy.com' in their projects.
Many videos are available in HD resolution, but there's also a good selection of free 4K stock footage

landscape scenes and abstract clips rendered using Adobe After Effects.
The quality is mixed but generally high, particularly like the selection of aerial drone footage
All videos are supplied in MP4 format and can see resolution below the preview on the download page.
"Pro" marked videos are premium clips that are only available by paying with credits.
Know the New Things in Video Marketing
9. Clipstill
Clipstill is a free stock video site full of ready-made, royalty-free stock videos. These stock videos are great for all sorts of aims, like marketing, social media or for your blogs and websites.

It's dedicated to cinemagraphs. The effect is like a hypnotic and is a great way to attract viewers.
A small selection of cinemagraphs are available for free
Most of the high qualty stock videos on the site are premium content, but they are of high quality and change each month.
Clipstill's cinemagraphs are available as small video files to download
Striking, unusual videos
Small file sizes
10. Videoblocks
Videoblocks is a free stock video site that has a huge collection of aerial footage, time-lapse videos, and standard B-roll clips of various environments and situations.

After becoming a member, you can download videos, but during your 7-day free trial, you can download 5 files.
Search fields are available to narrow down your results
11. Vidsplay
In Vidsplay new videos are added every week to the collection, which makes it a great resource for keeping up with your social video content

You can download and use any video without paying royalties.
For downloading a video clip, right-click on the download link and then choose "Save Link As and If you're using your phone, just press and hold the video clip to download it.
Read – Top 10 Video Analytics Tools For Businesses In 2020
12. XStockVideo
Xstockvideo has more than 60,000+ members who are enjoying over six hundred stock videos, downloading them thousands of times monthly.

The range of videos goes from simple time-lapses to sophisticated science reaction videos.
All footage is free to use, however, if you wish to use it for commercial purposes you will need to purchase a license for a tiny fee.
13. Motion Array
It has one of the best stock footage libraries. It consists of Premiere Pro,After Effects Templates,androyalty-free music.

Paying members get unlimited access to their whole library.
Offers a free membership too which gives you access to thousands of free video clips, music tracks, and video templates.
14. Dissolve
Dissolve provides high-quality footage for use in any video.
Dissolve stock footage can be used by editors, filmmakers, and producers to augment and enhance their custom work.

With more than 1.3M stock videos
All complement each other with a concise description explaining the scenery and place where the video was shot.
15. MotionElements
MotionElements is a breathtaking resource for footage and stock video which you can put into play for your video content.
Instead of taking clips yourself, you can find all sorts of different masterpieces online which you can employ free of charge.
A bunch of different rules applies to each, but you can still freely use the video you find on MotionElements to entertain your followers.
MotionElements' content is royalty-free
16. Coverr
Coverr is a dope free stock video site with beautiful content for your website.
You can choose from different sorts of categories, like food, nature, tech, people, urban, animal and aerial. Besides,

Try the search function and see what you get for your targeted keyword.
Delivers seven new videos each Monday.
If don't want to miss new content, make sure you become a subscriber and join the Coverr community.
17. Openfootage
Openfootage is one of the versatile finer free stock video sites.
From footage and panoramas to time-lapse and fire clips, find all of them on Openfootage.

Browse by the main categories that can be found on the left or use the search bar
Each piece of content also comes with additional information about the location and tags
There are only four persons behind the Openfootage project, creating the outstanding footage for the entire world to use and take to their advantage.
18. Mixkit
On Mixkit, find only high-definition videos. To increase the hype, Mixkit releases a collection of ten new and free videos each week. They come in various categories to cover as many projects and tastes as possible.

On Mixkit, you will find coffee, transport, outdoors, music, city and lifestyle videos to name a few.
Eleven main categories are consisting of tons of free videos for everyone to benefit from.
Here are the Top 40 Video Production Companies in India
19. Dareful
Dareful is a free stock video site that has many 4k videos completely free to use. It is a one-man show from the creative Joel Holland.

All the free footage is in 4K
There are even some really mind-blowing aerial clips that will definitely take your breath away.
You can expect new clips to drop weekly.
Read – 12 Best Video Hosting Sites for Businesses in 2020
20. Mazwai
Mazwai is a straightforward stock footage site that provides more than two hundred clips.
Just roll over any of the clips and they will begin to play.
It delivers some really astonishing footage and is only about two to three minutes long.
21. Cutestockfootage
CuteStockFootage delivers the best free video stock that you need to create the best videos. It is perfect for any film and video creator, whether professionals or amateurs.
22. Pond5
Pond5 is one of the largest creative media sites with more than seventy employees. Pond 5 provides royalty-free stock footage

Become a paid member of the site and share their work in exchange for a 50/50 split of the earnings made.
All footage comes in several formats like as standard SD, flexible HD option, and 4K.
Choose from various categories, like animals, medical, nature, New York City, sunset, vintage, and waterfall.
23. OrangeHD
OrangeHD has a dozen of good stock footage videos that are completely free

There are about twenty pages of video content available for download.
Along with each video, you will also find a short description and additional details about the quality, duration, and size.
About Vidsaga
Vidsaga is a global marketplace for Organisations to create Videos. Consider it as "Upwork/ Fiverr for videos" with Creative script writing and professional project management.
Join thousands of Global Video Marketers