The best way to rank high on YouTube is to create video that your viewers love to watch – Amir Shahzeidi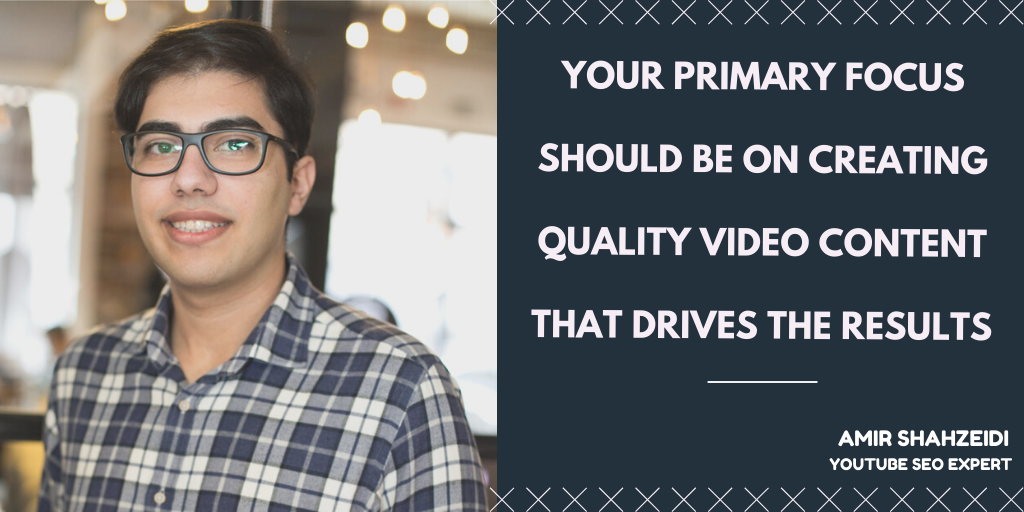 Amir Shahzeidi is a musician by nature. However, his curiosity for web and marketing prompted him to take up YouTube SEO and content marketing.
And today he is a Digital Marketing Expert at a renowned video monetization SaaS company.
Read on to learn more about him and his YouTube SEO Strategies.
1. Tell us about your life journey Amir?
I'm a musician by nature, but since I can remember I had an endless curiosity for anything web and marketing related. I was born in Iran and later moved to Tbilisi, Georgia to study classical piano and composition.
I work as the digital marketing manager at Uscreen, an all-in-one video monetization platform. I manage our SEO and YouTube content marketing, among other things.

2. What are the Youtube SEO strategies you have identified that work in 2024?
The YouTube SEO strategies that currently work, haven't changed that much from the last few years.
In 2024, the best way to rank high on YouTube is to create an engaging video that your viewers love to watch, optimize your video title and description to target the right set of keywords, and create an engaging thumbnail that stands-out and drives clicks. 
Sounds fairly simple, right?
In reality, getting each of these rights can be very difficult. It's very important to understand where you start from and where you want to be.
In the past few years, more and more businesses are turning to YouTube to boost their reach and grow their following. Similar to traditional content marketing, you need to first identify which set of keywords you want to rank for, and what metrics above all else, you want to track.
Be specific – Subscriber numbers or number of views don't mean much for a business if you're not converting your viewers.

If you're just starting, it's best to find relevant long-tail keywords around your top KDP keywords and start targeting those.
There are many tools that can help you find topic ideas. Among them are Ahrefs, Google Trends, TubeBuddy, VidIQ, and YouTube's own auto-suggestion feature.

For example, when you put "content marketing" in Google Trends, you can see that the search volume for this topic has been increasing on YouTube in the US:
Once you find the right topic idea, you can go to YouTube, and start typing in the search bar. Similar to Google search, YouTube will start suggesting different topic ideas:
You can then use a tool like TubeBuddy or VidIQ to get some stats on the search volume and the competition of your keyword:
For example, TubeBuddy estimates that "content marketing for small business" has around 3K monthly search traffic, however, since the competition level is high, this might not be a good keyword to target for a channel that is just starting out.

So to wrap this up, identify a few sets of long-tail keywords that have average to low competition, and average to high search volume, then create an awesome, engaging video around that topic.
Optimize your title and description, add relevant tags, and create an engaging thumbnail that drives traffic to your video.
Learn Video Marketing from Video Marketing experts
3. How Youtube SEO is different from Google SEO?
In some aspects, YouTube is fairly similar to Google, and in some others, YouTube SEO is a whole different game. Similar to Google, you first need awesome content to be able to rank high.
Without that, there's really no SEO. If you also have experience with optimizing pages for Google, I believe the on-page SEO part of YouTube, should be fairly straightforward for you. But that's pretty much where the similarities end.

To rank high on YouTube, you don't need backlinks or technical SEO. On YouTube, your primary focus should be on creating quality content that drives the results that you're after.

Moreover, on YouTube, your views and watch-time sources aren't limited to YouTube searches. As your video starts picking up views and generating engagement, YouTube will start suggesting your video to other viewers who might be interested in what you're offering.

Remember, YouTube's number 1 priority is to keep users on the platform and engaged.
Make that your number 1 priority and you'll be golden.
Check out – Top 25 Global Video Marketing Disruptors
4. What are the best practices for Youtube on-page optimization?
Let's dive into some of the best practices for YT on-page optimization:
1. Make sure to include your target keywords in your title
According to YouTube, it's crucial that you always include your target keyword in your video title. And a study by Briggsby echos YouTube's recommendation.

Briggsby found that including your target keywords in your title can rank videos higher on search results pages.

This doesn't mean stuffing keywords in your title. You also need to make sure that your title is engaging and optimized for viewers.
2. Keep your title concise and under 60 characters
In my experience, the shorter and more concise the title of a video is, the more it can generate views and watch-time.
3. Write an optimized description
Make sure to write a well-optimized description for your video. If possible, include your target keyword or keyphrase in the first paragraph.
When writing the description, aim for a keyword density of 3% to 4%, and a description length of 300-400 words.
4. Include a Timestamp in the description
Google recently started including a timestamp of YouTube videos in the video carousels on Google SERPs. This will allow users to jump to a specific point in your video. But more than that, this will allow your video to stand out on the SERPs, especially on mobile SERPs.
To get this on Google, Simply add a timestamp of each of the steps or chapters in your video, to your description.

You can read more on the best practices for marking timestamps on YouTube here.
Are you a video marketing expert? Take this quiz
5. How can someone optimize for longer watch time?
Here are a few ways, we've been using to optimize our audience retention for longer watch-time:
1. Hook your viewers quickly
The first 15-20 seconds of your video are essential for your audience retention. Start your video by telling your viewers what exactly they're going to find out by watching your video. Include your intro, and graphics after you hooked the viewer, and not before.
2. Use pattern interrupts
Pattern interrupts are awesome and can do wonders for your audience retention. You want to make sure that you're continuously changing things up, including your shots, b-rolls, graphics, visuals, and script. Don't allow viewers to get bored.
3. Deliver on your Promise
Creating a clickbait title and thumbnail can get you a lot of views, but you want to make sure that you deliver on what you're promising to the viewers, otherwise, they will simply go watch another video and never come back.
4. Don't drag your video too long
Once you've delivered on your promise and have fulfilled the searcher's intent, include your CTA, and end the video. Don't drag your outro too long. Doing so will make your viewers lose interest.
I hope you find this helpful, you can learn more about Uscreen by subscribing to our YouTube channel: https://www.youtube.com/c/uscreentv
Join thousands of Global Video Marketers