"Follow these Video SEO tips to be ahead of 90% of the competition." – Marcus Miller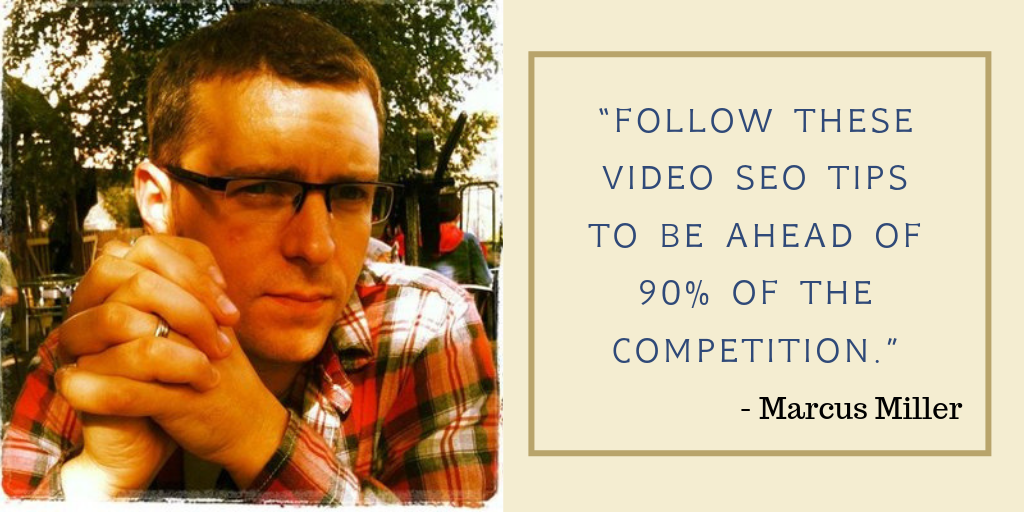 Video SEO is really just an extension of standard SEO with a few additional considerations. – Says Video SEO expert Marcus Miller.


Marcus is a SEO, PPC & Digital Marketing consultant with over 18 years of experience. He successfully runs the Bowler hat Internet Service. In this article learn some video marketing SEO tips from Marcus miller.


" Most important of all our goal is to help you achieve your goals."
Read on to know what this Video SEO expert has for you.

1. Tell us about your life journey, Marcus ?
I am 43 now, so there was no internet when I was growing up. There were, however, video games and many early home computer systems.

I was always drawn to arcade games and digital, even from a super early age. For my 10th birthday, I had my first computer which was a Commodore VIC-20.

I would mainly play games but the games magazines all had games you could code. They were hellish to get running but it got me interested in programming and IT.

My interest in computing grew from there and I ended studying Computer Science at university where I did my dissertation on the comparison of open source vs proprietary web development software.

This was late 90's, the same time the internet was picking up steam and I was building websites for fun and friends and various groups I was involved in.

When I finished Uni and it was time to get a job I started working as a developer (web and software) for a small, early e-commerce business in my home town of Birmingham, UK.
2. What prompted you to get into Video SEO?

The caveat, I am more of a general digital marketer and I specialise in search engine marketing (SEO & Google Ads).

So, the video marketing that we do at Bowler Hat (my agency) is more video SEO.

I ended up on this path almost by accident – I was working as a developer, we built the sites and order processing systems and the question soon became – how do we get more traffic?

This got me interested in SEO and search engine advertising using the just-launched Google Adwords – the rest is history.


3. Tell us about your learning regarding Video SEO Marketing?

I learned in much the way everybody on the bleeding edge learns, through testing and community and following the guidelines laid down by the search engines.

We also share information over on the Bowler Hat Digital Marketing blog and we get great feedback there also that helps us refine our approach.

Video SEO is really just an extension of standard SEO with a few additional considerations.

Generally, the videos will rank on the video platform (Youtube.com etc) so you need to ensure that they are optimised there.

Beyond that the basics apply: Video titles, descriptions, Video thumbnails and off-page SEO to promote and drive engagement with your video will all help drive visibility and improve the SEO of your video.
4. What challenges you face in your work and what keeps you going?

My biggest challenge at work is that I am still very much into the actual work, but I also have to manage the business.

We are a relatively small agency (10 of us) that help small businesses – but this means I have to wear many (bowler) hats.

What keeps me going is getting great results for our clients and watching our business grow and go from strength-to-strength as we help our clients do the same.


Read : Video Marketing Experts' Tips to their Younger-Self


5. What tips you'd like to give to someone who is a newbie to Video Marketing?

My tip for any newbie is always the same – make sure you understand the fundamental principles of marketing.

It does not matter what channel or media you are using – you need to ensure you have the basics down.
There are a couple of tips that can help you get your videos ranking in the organic search results.
Video Title & Description
Do your keyword research and craft a compelling title and description. You need to cover the keywords that people search for but also ensure your

Video Thumbnail
The title and description will get you ranked but the thumbnail is what grabs attention and gets you clicks.

Make sure you use an exciting thumbnail so you grab attention. Stealing clicks from videos that rank above you can be relatively simple by ensuring you have the most enticing thumbnail.
Page SEO Tips
Your video will likely feature on a page on your site so ensure this page is also optimised and only features on video.

You really want to ensure that the video is the focus of the page and that any content supports the video and adds additional context but does not distract from what we want here which is views.

Speak your keywords
Youtube now transcribes your videos. So, they know what you say.

Therefore, ensure you speak your keyword early on in the video and this all aligns with the title and optimisation of the video meta data.


Read : "YouTube Growth is a Marathon and not a Sprint" – Mohamed Salah


Promote your video
Ensure you promote your video whenever possible. If you are engaged in guest posting or digital PR via sources like HARO ensure you link to your video when possible.
Look at other resources like Q&A sites that rank for your targeted keywords and look to mention your video where possible.
Remember, you have to add value so your video must be a great answer – spamming forums will not help – but if you can genuinely add value with your video then promote, promote, promote.
So, study up, read all the classic marketing books and apply this to your work creating marketing videos and you will not go far wrong!
"Follow these five simple Video SEO tips and your Video SEO will be far ahead of 90% of the competition."


If you are also a Video Expert, and would like to get featured by us, simply send us an email with your work links at team(at)vidsaga(dot)com

Join thousands of Global Video Marketers