Learn "how small businesses can scale up Video Content" from Mike Melli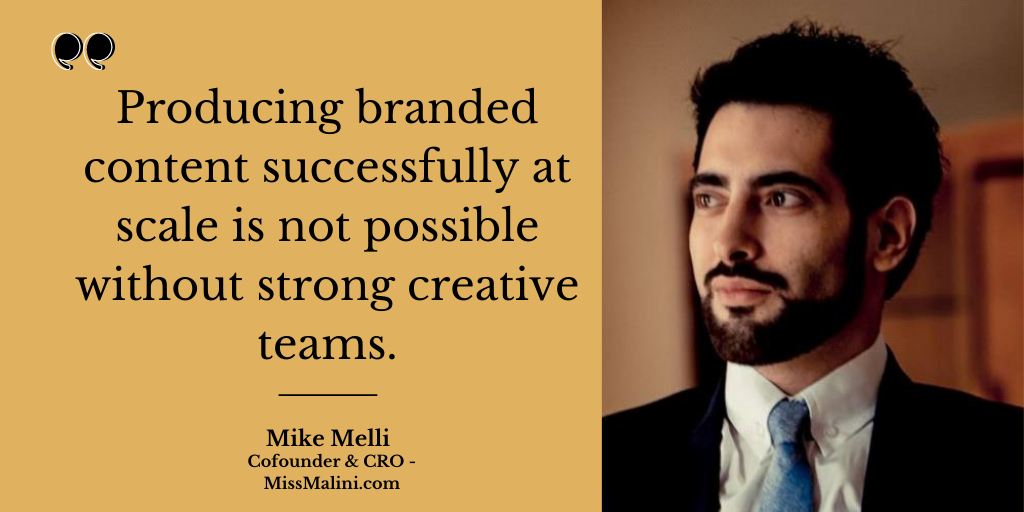 The main learning I have is to achieve the scale you have to be open to different structures and partnerships rather than be stuck on only one model (e.g. Must create everything in-house, or Must outsource everything) – Mike Melli, Co-founder & CRO – MissMalini.com
For the uninitiated, MissMalini.com is a prominent Lifestyle blogging/Vlogging news media portal, a one-stop destination for all – movies, fashion, and lifestyle stuff.
Started with text content Mike understood that in this dynamic digital era, Video is the future of content. Currently, the MissMalini Youtube channel has 500K+ subscribers and 150Mn+ views.
We talked to Mike to learn how he and his team achieved that scale. Read on to know more about Mike, his learnings from creating branded video content and what lies ahead for Video Marketers.

Check out – Top 25 Global Video Marketing Disruptors

Q. Tell us about your life journey, Mike?
I was always drawn to leadership starting in childhood from my time in the Boy Scouts where I eventually attained the rank of Eagle Scout.
I grew up and lived in Connecticut, USA before going to school near Boston at Babson College where I studied marketing and entrepreneurship.
And I started my first business when I was 13, and by the time I was 20 most of my friends were working for me in one of my businesses or the other.
Out of college, I was accepted into a competitive marketing leadership program at EMC (now Dell-EMC), where I worked for 5 years before shifting into the entertainment industry and eventually moving to India in 2009.
I co-founded MissMalini Entertainment in early 2011, and I have been leading the business side of the company as Chief Revenue Officer since then.

Get updated with Latest Video Marketing News

Q. How did you shift from written to video content?
Aside from just personally loving to watch movies and television, my interest professionally in video content was born out of necessity.
I was running a media company that started mostly as written content on MissMalini.com, but by 2013 it was clear to us that video was the future of content, so we have been investing in video and building our capabilities ever since.
By the end of 2014, we had 'graduated' from digital videos into long-form content on Television.
I have since produced 6 full seasons of television program as executive producer – 2 seasons of MissMalini's World on TLC, 1 season of Kya SEEN Hai on Zoom, 2 seasons of Inside Access on VH1/Voot, and one season of The Girl Tribe on Facebook, which is being scaled up to a major OTT platform this year.
This is in addition to our core business of branded content videos, of which we have produced 100's over the years for various brands.
I also became interested in mainline video, so last year we launched a sister company to MissMalini called Agent M Creative, which is a full service mainline creative agency.
We have produced TVC's for brands like Urban Clap, Imagica, Saavn, Bosch, Franklin Templeton, India Gate, and others.

Learn from Video Marketing experts

Q. Please take us through your learning of creating video content at scale.
The main learning I have is to achieve the scale you have to be open to different structures and partnerships rather than be stuck on only one model (e.g. Must create everything in-house, or Must outsource everything).
Hiring full-time talent, especially at a senior level, is extremely challenging because most talents can make more money as freelancers.
This challenge has been accentuated by the big push from companies like Netflix and Amazon because they also have an advantage in attracting top talent.
Other key learning is that in video production, you are truly on as strong as your weakest link because even someone in a 'junior position' can cause massive shoot delays, or even disrupt the final product.
(I am reminded of a rather expensive shoot that actually went quite well, but then one assistant was careless and lost all the SD cards in a rickshaw causing us to have to do an entire re-shoot). So processes and accountability are very important to instill throughout the entire organization.
And one last big learning pertaining to branded video content – it is an absolute fact that there will be disputes between the brand team and the creative team (and even more so when there are influencers/celebrities involved).
Producing branded content successfully at scale is not possible without strong creative teams AND strong client servicing teams who can work through issues in good faith to find solutions.

Are you a video marketing expert? Take this quiz

Q. Can you share the story behind your most successful video?
It's hard to choose one, so I'll mention a few.
A) On the creative side, I am most proud of MissMalini's award-winning short film (2nd place out of 1500 entries) for the India Film Project.
In this case, the entire conceptualization, production, and editing had to be done in 48 hours, and with a shoe-string budget.
https://www.facebook.com/IndiaFilmProject/videos/183337575898293/?t=0&v=183337575898293
B) In television, my favorite video was Season 1, Episode 1 of Inside Access on Vh1 & Voot (it can be viewed along with the whole season if you are on Voot).
This one stands out because we had a unique opportunity to shoot with Chris Martin of Coldplay while he was in India.
Of course it came with almost no notice, and actually before production for the show had properly begun.
So it was a logistical miracle that we got everything in place, and the output of our first episode on a Viacom channel was fantastic with a great storyline we wove to fit with the Global Citizen Festival in Mumbai. And the episode had great ratings 🙂
C) Regarding branded content, my favorite set of videos is a TV ad campaign we did for Urban Clap.
It's a project near and dear to us because we conceptualized a unique stylization for television that borrowed from a popular digital/smartphone feature, which was the 'boomerang' feature.
The ad campaign was recognized by the industry and won great praise from the client like the most innovative and buzz-worthy campaign ever launched by the company.

IInvitation to join Global Marketers Community Discussion Space

Q. What according to you is the future of Video Marketing?
This question can have a whole book written about it and is the subject of countless panels and conferences, so there is no one easy answer to this.
We focus on a few key macro indicators to predict where video marketing is going.
A) The sheer volume of content clutter means that quality does in fact matter.
There are many use cases for low-budget or 'self-shot' video content, so that won't fade away, but for big campaigns and key assets, quality does matter.
That's visual quality AND audio quality (which is more important than most people think).
B) The rapid decentralization of platforms requires all marketers to broaden the range of formats & styles of videos they create.
"With newer platforms like Snapchat, Tik Tok, etc. gaining traction, marketers need to consult (or hire) experts who really understand the different platforms and how they work."
You might be known for having the best 5 minute-duration videos in the market.
But if you don't adapt to also being able to create engaging 10 second-duration videos, you might not be reaching millions of potential audiences.
C) Last but most certainly not least, is COMMUNITY.
Brands, publishers, and influencers/creators alike are all seeing the need for building communities of fans and followers.
This is critically important for video marketing because we all know that Vanity Metrics from disparate mass audiences (likes, 3-second video views, etc.) are not sustainable measures of efficacy.
Highly engaged communities, on the other hand, are a marketer's safeguard to ensure genuine interaction and discussion around your content.
Highly engaged communities share, and comment (and reply to other people's comments), significantly more than a broad audience, and that leads to favorable sorting by the algorithms, which in turn increases content performance/visibility, which in turn DECREASES the cost of paid media/boosting.

Know the New Things in Video Marketing

About Vidsaga
Vidsaga is a global marketplace for Organisations to create Videos. Consider it as "Upwork/ Fiverr for videos" with Creative script writing and professional project management.
Join thousands of Global Video Marketers