Story behind The Fred Hollows Foundation's "Carry On Fred's Vision" campaign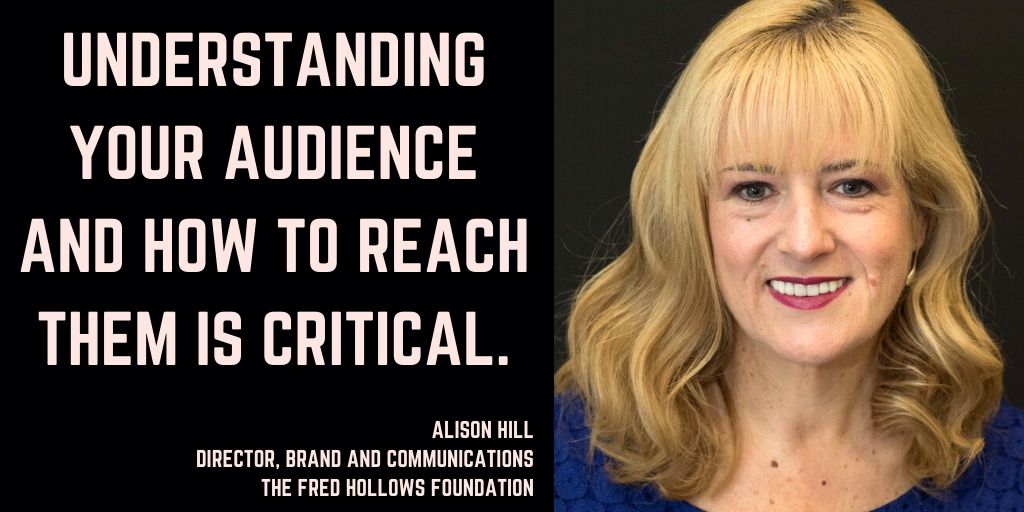 The idea behind the "Carry On Fred's Vision" video marketing campaign was to carry on the legacy of Professor Fred Hollows.
"We wanted to capture both the legacy and spirit of the late Professor Fred Hollows but also to tell the story of the amazing transformation of individuals who have had their sight restored" – Alison Hill, Director, Brand and Communications – The Fred Hollows Foundation.
We talked to Alison the brain behind the video campaign and learned the story. Read on to know how she and her team conceptualized and executed this video marketing campaign.

Check out – Top 25 Global Video Marketing Disruptors

1. What was the thought process when you decided to do this video marketing campaign?
Professor Fred Hollows was Australia's most well-known and respected eye doctor from the 1970s through to the early 1990s, when he died of cancer. The Fred Hollows Foundation is an iconic Australian charity with positive brand recognition in the key Australian market.
We wanted a comprehensive brand campaign which told the story of The Foundation's work In Australia and around the world. 
The Fred Hollows Foundation has restored sight to more than 2.5 million people in more than 25 countries over the past three decades. It's not easy to tell that story in 15 or 30 seconds!
So we wanted to capture both the legacy and spirit of the late Professor Fred Hollows but also to tell the story of the amazing transformation of individuals who have had their sight restored.
And obviously, the main aim is for people to donate to The Foundation so we can help more people who are avoidably blind.

Are you a video marketing expert? Take this quiz

2. How did you conceptualize this campaign? If you could tell us the challenges you faced during execution if any?
The Fred Hollows Foundation worked with our agency partner Campaign Edge on this campaign. The aim was to produce TVCs but to also have a suite of other brand creative including digital, radio and newspaper advertisements, outdoor executions and cinema advertising.
We started with the idea that we wanted to carry on the legacy of Professor Fred Hollows. Campaign Edge suggested the beautiful song Carry You, written by Tim Minchin and released by Missy Higgins earlier this year.
The song was a perfect fit. Carry You is an emotive and unashamedly Australian song. The song is about holding someone in your heart. We hold in our hearts every patient we've restored sight to and there are many more who need our help. That's what the campaign aims to achieve.
The effects of restoring sight are huge. The patients featured in our campaign are a testament to how good vision can lift people out of poverty, give them an independent life and the ability to support their family.
We know that our supporters have a strong connection to Fred Hollows, even 27 years after the great Australian passed away, and so our campaign focuses on his amazing legacy and how everyday people can carry on that work today.
We then needed to weave the historic footage of Fred Hollows together with the new footage of those wonderful patients in a creative and appealing way.
We are very lucky to have an incredible archive of amazing footage and photos and our internal Creative Agency knows how to find the right moments and put those together to show the joy that restoring sight creates.

Know the New Things in Video Marketing

3. Was there any change in the distribution strategy because of the pandemic? 
The COVID-19 pandemic meant we had to change our original plans to adapt to the situation in Australia.
For example, we significantly reduced our outdoor billboard and shopping center display executions given that more Australians have been working from home and not traveling. 
We discontinued our plans to do cinema advertising at this time given that cinemas are closed.
And we had to reduce our television advertising buy because of budget constraints caused by COVID.  But we did not change our creative ideas.

Learn from Video Marketing experts

4. When it comes to advertising, what advice would you like to share with our community members?
I think it is important to work with an advertising agency or creative agency that you trust which understands your brand and is willing to both listen to your feedback and push back on your ideas if they are straying too far from the original aims.
Understanding your audience and how to reach them is also critical. You can do that through surveying supporters or conducting market research or a range of other measures depending on the budget you have available. 

Get updated with Latest Video Marketing News 

5. Please name the team behind the campaign and share the team pic, if possible.
The creative agency was Campaign Edge led by Executive Creative Director Dee Madigan. The Art Director was Samantha Harley, Copywriter Tammy Tinkler and Managing Director Stuart Gillies.
At The Fred Hollows Foundation the campaign involved Deputy CEO Nick Martin, Director, Brand and Communications Alison Hill, Creative Agency Manager Daniel Jesus Vignolli, Multimedia Creative Designer Dillon Conforti and Photographer Michael Amendolia.
The music is Carry You written by Tim Minchin and performed by Missy Higgins and voiceover is by Rhys Muldoon.

Invitation to join Global Video Marketers Community

About Alison in her own words 
My personal belief is in fairness and equity. I feel incredibly lucky to have won the lottery of birth. I was born in a middle class family in Brisbane, Australia where
I was lucky enough to have food clothing, shelter and a good education, as well as the love of my family. I don't deserve that any more than any other person yet there are millions of people around the world who don't start with those same opportunities. 
When I finished high school I didn't know what I wanted to do for a job, but I was good at English and at creative writing and thinking.
So I decided to study journalism and after working in newspapers I went on to work for state and federal governments in Australia, as a communications manager. 
The thing I most enjoyed about working in government was developing and implementing policies that made a positive difference to peoples' lives.
I worked in policy areas including indigenous employment and economic development and social housing and homelessness where it was apparent that government decisions could make a significant impact on improving peoples' lives. 
I was always interested in moving into the not-for-profit sector so when an opportunity came along with The Fred Hollows Foundation I was honored to be able to use my skills to help tell the stories of the work that our amazing partners do around the world.  

Here are the Top 40 Video Production Companies in India

About Vidsaga
Vidsaga is a global marketplace for Organisations to create Videos. Consider it as "Upwork/ Fiverr for videos" with Creative script writing and professional project management.
Join 52,000+ Global Video Marketers' Community