"The biggest mistake that one must avoid while planning ad campaigns is not evolving with time"- Vinod Kumar Gupta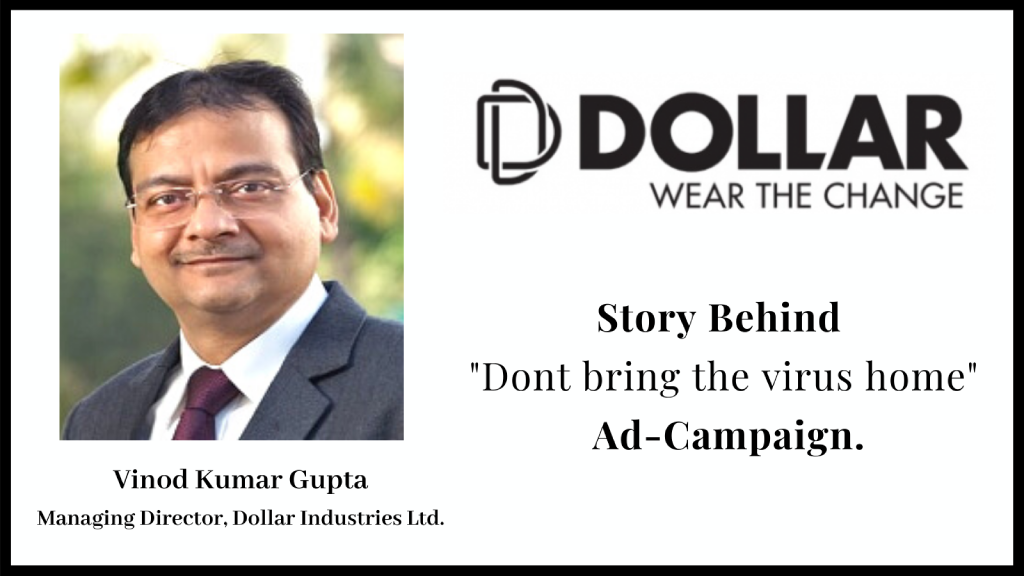 "We believe that without a clear, thoughtful and differentiated concept, it is very difficult to come up with an ad campaign which will penetrate through the noise and appeal to the target audience. "

– Mr. Vinod Kumar Gupta, Managing Director, Dollar Industries Limited
Dollar's latest campaign "Don't bring the virus home" is not just another advertisement, it's a well processed and targeted marketing step.
This ad campaign is a well versed mixture of humour and message that makes it interesting.
We talked to Vinod to know the behind the scene story behind the campaign. How they conceptualised the whole campaign, what was their thought process and the team involved in it.
Read on to know more about the campaign story.

Are you paying high? Check – Global Video Production Price guide
1. What is Dollar's internal process of coming up with an ad campaign?
We believe that without a clear, thoughtful and differentiated concept, it is very difficult to come up with an ad campaign which will penetrate through the noise and appeal to the target audience.
At Dollar, we usually begin the same with a brainstorming session with our team members, so as to come up with innovative ideas.
We also look at the challenges that our brand is facing and come up with solutions which can be incorporated in our ad campaign.
We try to make sure we deliver engrossing content with key messaging so that our consumers are able to connect with it.
We try our best to create a blend between the traditional and the modern so as to appeal to a larger base of consumers.
Of late, we are also enhancing our focus on digital campaigning, realizing its relevance and scope.

Get updated with Latest Video Marketing News


2. What was your thought process when you were planning/conceptualizing the "Anti-Viral Dollar mask" campaign?
With the lockdown being lifted in phases, people have once again started venturing out. However, this time they are more careful as everyone wants not only to protect themselves but also their loved ones against the virus.
This was when we thought of coming up with a range of anti-viral products.
We wanted our campaign to be light-hearted but also to give out a serious message that ordinary masks can't stop the virus from coming home with us.
We wanted to change the conversation around health and safety during COVID-19. Hence, we came with a campaign – 'Don't Bring The Virus Home'.

Check out – Top 25 Global Video Marketing Disruptors


3. One Ad campaign you admire most and why?
Of all our ad campaigns, the one that is closest to my heart is of our brand's new identity wherein we have inverted the idea of 'damsel in distress'.
As a brand, I believe we have a social responsibility and therefore we thought it extremely pertinent to break the existing gender stereotype of masculinity and femininity.
The uniqueness of this ad along with the strong social message that it shares is what makes it so admirable to me.

Invitation to join Global Marketers Community Discussion Space


4. What mistakes our community members should avoid when it comes to planning ad campaigns?

According to me, the biggest mistake that one must avoid while planning ad campaigns is not evolving with time.
I think change and exploration of new ideas is very important to connect with a number of audiences across various age groups.

Get updated with Latest Video Marketing News


The team behind this campaign.
The team behind the 'Duke In Distress' are given below:
Agency: Lowe Lintas Kolkata and LinConsult
Planning: Anurag Prasad, Kritika Sawhney
Creative: Janmenjoy Mohanty, Mohit Arora, Nisheeth Srivastava
Account Management: Indranil Mitra, Siddharth Gautam
Production: Dharma 2.0 (Director: Shiven Surendranath)

Check out these interesting Video Marketing Campaign Stories


About Vinod (in his own words)
Having always believed in the results of hard work and dedication, my journey too has been filled with the same.
Being greatly inspired by my father, Shri Din Dayal Gupta, I have been keen on having a recognized and strong identity for myself.
Having completed my schooling and college from St. Xavier's, I was headstrong about carving a niche for myself. I started my career with Sony Orson but grew to join the family business in 1991.
Over and above everything else, I believe an individual must have faith in himself and it was this strong belief that aided me to take a major leap and helped me to take the business to newer heights.

Learn from Video Marketing experts


About VidSaga
Vidsaga is a global marketplace for Organisations to create Videos. Consider it as "Upwork/ Fiverr for videos" with Creative script writing and professional project management.
Join 52,000+ Global Video Marketers' Community