"Spend a lot of time on the brief and make sure the understanding is similar to everyone contributing to the video. " – Tulika Shukla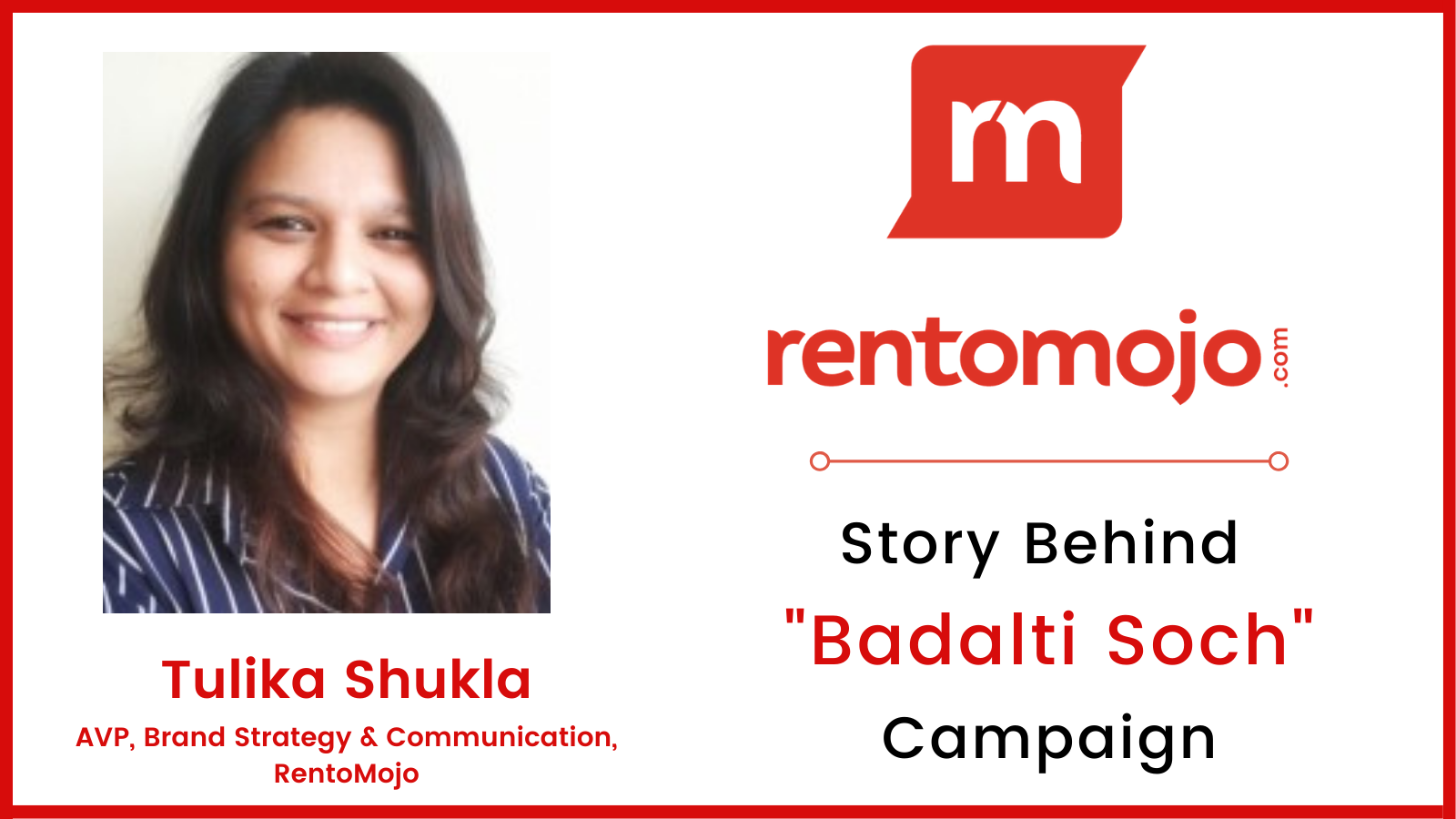 "The campaign 'Badalti Soch' is a representation of transformation and progressive thoughts today's consumers have and what the brand stands for – changing the way things were done."

– Tulika Shukla, AVP, Brand Strategy & Communication, RentoMojo
Rentomojo has launched a new campaign targeting young professionals. The idea is to encourage renting furniture in this tough time.
We talked to Tulika and learned how this idea emerged and how she and her team conceptualised ad-campaign.
Read on to know the story behind the campaign.

Are you paying high? Check – Global Video Production Price guide


1. What was your thought process when you were creating the Ad campaign?

In a country where buying is considered a primary way, renting had many stigma attached to it of not being able to own the products, less awareness towards recycling and reuse and low environmental consciousness.
Renting furniture and appliances was never a mainstream choice when it came to furnishing homes, 5 years from today.
Moreover, it was an unorganised market involving hassles of visiting second hand markets or dealing with strangers, lack of surety in quality, additional stress in pickup/delivery.
RentoMojo revolutionised the way people furnish their homes through renting furniture and appliances without moving a muscle.
Today the customer does not want to get into the whole process of furnishing. The initial years went in educating customers and creating a shift in consumer mindset.
Today, renting is the primary choice to furnish a home, for anyone looking to do it with convenience and ease.
There has been a big change in the thoughts of consumers too and they understand the benefits of renting.
Today they are making choices that matter to the environment, giving voice to brands who have a voice of themselves and embracing change.
Our purpose is to create a brand that stands for this transformation and resonate with our customers.
The idea is to share the big and small transformations in the society and create a purpose driven brand with powerful and relatable storytelling.

Join 52000+ strong Global Video Marketers Community


2. "Badalti Soch" is a nice concept – how did this idea come and how did you execute the idea?
The campaign 'Badalti Soch' is a representation of transformation and progressive thoughts today's consumers have and what the brand stands for – changing the way things were done.
The rental subscription category is rapidly growing but lacks an emotional connect and this campaign was created to increase brand affinity and appreciate the consumers who are breaking barriers and are everyday changemakers.
Several people lost their jobs during this pandemic but it was encouraging to see people not giving up and carving a path on their own.
There were many who took a plunge to start on their own and during these difficult times, created jobs for themselves and many others.
Our ad was inspired by these young professionals who transformed the traditional ways of doing things.
During this time, WFH as a category also saw a huge organic demand and we decided to create a narrative that positions renting as a progressive, transformed way of lifestyle.

Youtube SEO: 10 Hacks you need to know in 2021


3. What best practices you follow when it comes to executing video ads? Is there any internal checklist before you launch a campaign?


Creating stories and stories that relate requires a lot of process, planning and rigor, right from ideation to launch.
What has worked before may not work now and hence, adding relevance, to the content is very important.
We have developed some best practices and also borrowed learnings from the most loved campaigns in India and the world.
The foremost step is to validate if the idea/story is relatable and shareworthy.
Research in small groups within the organisation and outside on the concept, identifying and finalising the right set of metrics to chase and accordingly finalising the media.
Spend a lot of time on the brief and make sure the understanding is similar to everyone contributing to the video.
Ensure team members, internal and external, have a lot of freedom while going through the creative process.
Ensuring timely and structured feedback is very important.
Since we are a digital first brand, we have a few checks for videos:

Clear CTA and brand appearance in the video
If the video is in Hindi, using English subtitles so it can be understood by non-Hindi speaking audience too
SEO optimised title, description and CTAs linked with the video on each platform where the video is published
Creating 5 seconds promo for remarketing (works well on Youtube)
Visually appealing thumbnail and cover image on the video

Get updated with Latest Video Marketing News


4. What mistakes our community members should avoid when it comes to planning ad campaigns?
Every team and individual may have their own way to approach a campaign.
Some of the things that have worked in our favor is a complete clarity of what output to expect right from when the brief is structured and not leaving anything to chance.
As much as you trust in the creative process and a good content piece, you must plan for its distribution too.
Another most important aspect is to trust every team member to deliver.
Invest the experience only in reducing the effort for doing known things and take risks to explore new territories.
If you are hiring an agency/individual, ensure the output comes through collaboration and not micromanagement of the output.

Learn from Video Marketing experts


5. Please name the team behind this campaign.
The entire campaign was ideated, planned inhouse.
Production House: Veda Media House, Mumbai
Director: Jay Bhansali

Are you a video marketing expert? Take these quizzes


About Tulika ( in her own words)
I hail from a small town, Bhilai and like many I become a Marketing Professional by pure serendipity.
My interest grew more when I started reading case studies in the B-school, understanding consumer behaviour etc.
My first job gave me an opportunity to understand Semiotics – a study of signs and symbols that gave me a very structured approach to think and apply insights in problem solving.
I have 8 years of experience and my aim is to learn everyday and get better from my previous self.
RentoMojo has been the biggest learning ground and is also a brand that I have scaled from the scratch and it gives me immense pleasure to see the brand being recognised by people.
When I started working, I was surrounded by strong women leaders, who managed life and work so well that it looked effortless.
I believe there is a need for more women leaders and role models who can inspire and set an example for the coming generation of the workforce and my aim is to work and be one myself so more small town girls like me know and believe that they can achieve anything.

Check out these interesting Video Ad Campaign Stories


About VidSaga
Vidsaga is a global marketplace for Organisations to create Videos. Consider it as "Upwork/ Fiverr for videos" with Creative script writing and professional project management.
Join 52,000+ Global Video Marketers' Community