Learn PR Strategies and Practice in current times from Neha Agarwal Seth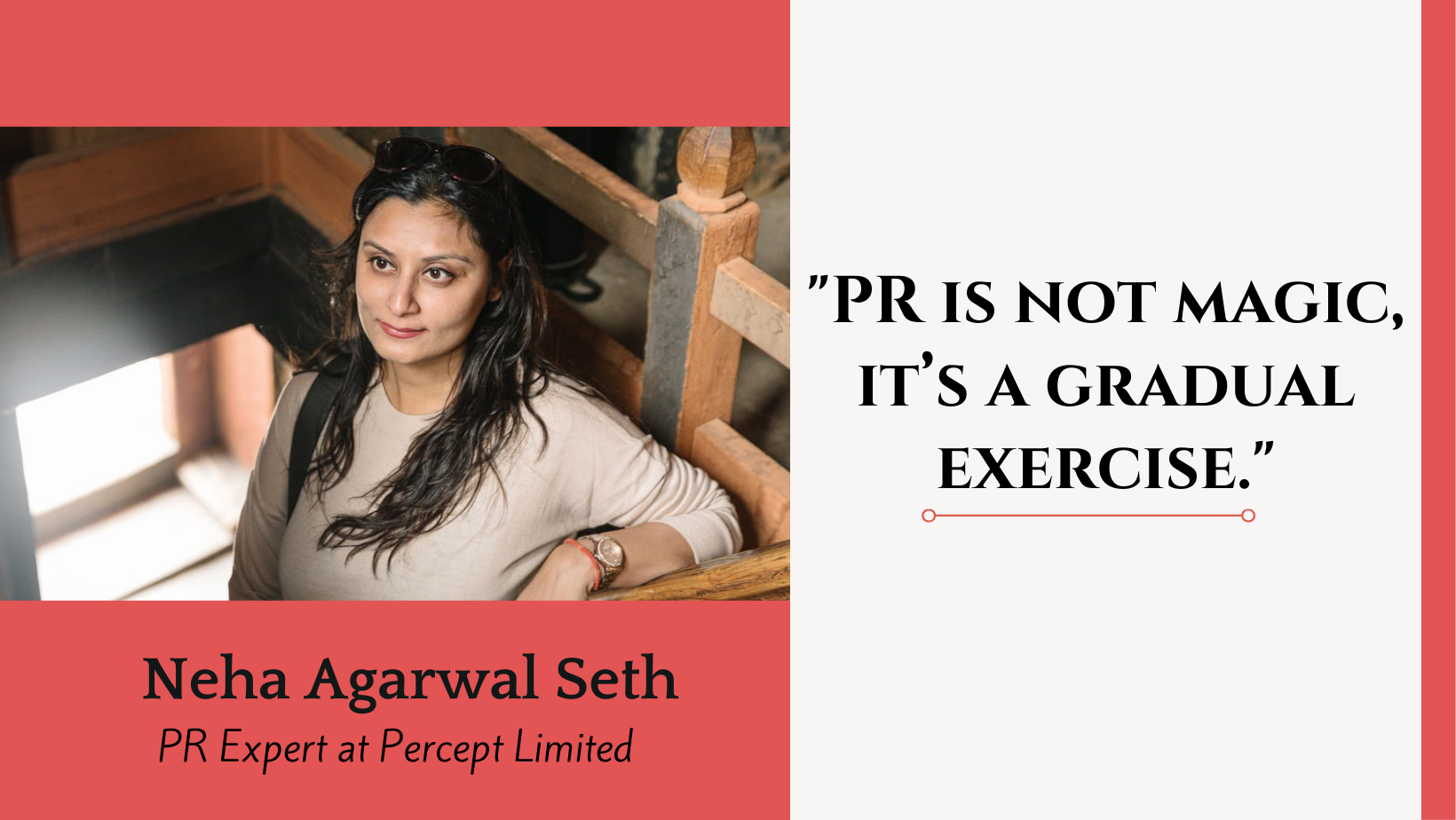 "The smartest strategies to work on in PR is to never stop communicating with the audience even in the most difficult and challenging times" – Neha Agarwal Seth Business Director at Precept Profile

In the current times where communication has changed, PR also has to adapt. We spoke to Neha and learned what practices companies should adopt in these times.
Read on to know more about Neha and her PR strategies.

1. Please tell us about your life journey, Neha?
I hail from a small yet famous town from UP – Moradabad known as Brass city, the biggest exports region of India.
Since childhood I have been academically inclined and passionate towards achieving the set goals, during school time the goals and dreams were simple, ranking 1st in academics which fortunately happened most of the time for me.
After Pursuing Post-Graduation in Commerce from Delhi University, Business and Communications always excited me, I pursued PG in PR & Communications and chose PR as the main career and forego MBA which was everyone's cup of tea 10-15 years back.
At present I am a Business Director at Percept Profile (Percept is one of the largest communications conglomerates of Asia) holding around 15 years of extensive experience in Public Relations / Communications & Marketing having serviced, built imagery for multiple clients & projects across categories.

Here are the Top 40 Video Production Companies in India

2. How PR has evolved in the last few years and what is its future?
Tremendously, the visible change persists from the last 5-7 years. Content, Idea and amalgamation of influencers and traditional media are the winning currencies in PR business now.
The future remains in Expanding social landscape, rising importance of influencers, supremacy of content, new impact measurements and not to forget cracking & hitting campaigns to interact & influence the right target audience at the right time.

Invitation to join Global Video Marketers Community

3. What are the effective PR strategies small businesses can adopt in 2020?
To never stop communicating with their audiences – even in challenging times like this it should happen at a regular pace.
Most of the PR agencies are happy to develop and plan as per client budget's…. with the growing social media importance and existence of influencers in different fields there are umpteen opportunities available.

Get updated with Latest Video Marketing News

4. What should every marketer know about Public relations?
That PR is not magic, results should not be expected overnight.
All must understand PR is a gradual exercise which involves constant effort in each area – brainstorming & research, mapping competition, content structuring , building reputation with traditional media, pitching process of stories, its conversion time and not to forget all has to happen within the ethics of editorial means and limited options available.

Check out – Top 25 Global Video Marketing Disruptors

5. Which mistakes businesses should avoid when it comes to PR?
To consider PR for the short term, like I mentioned above it's a gradual exercise to derive the ultimate goal / objective as per individual business / industry. Using ad hoc PR will not benefit any brand for a longer run of time.


About Vidsaga
Vidsaga is a global marketplace for Organisations to create Videos. Consider it as "Upwork/ Fiverr for videos" with Creative script writing and professional project management.
Join 52,000+ Global Video Marketers' Community