Learn Retention Marketing from Sourabh Ahuja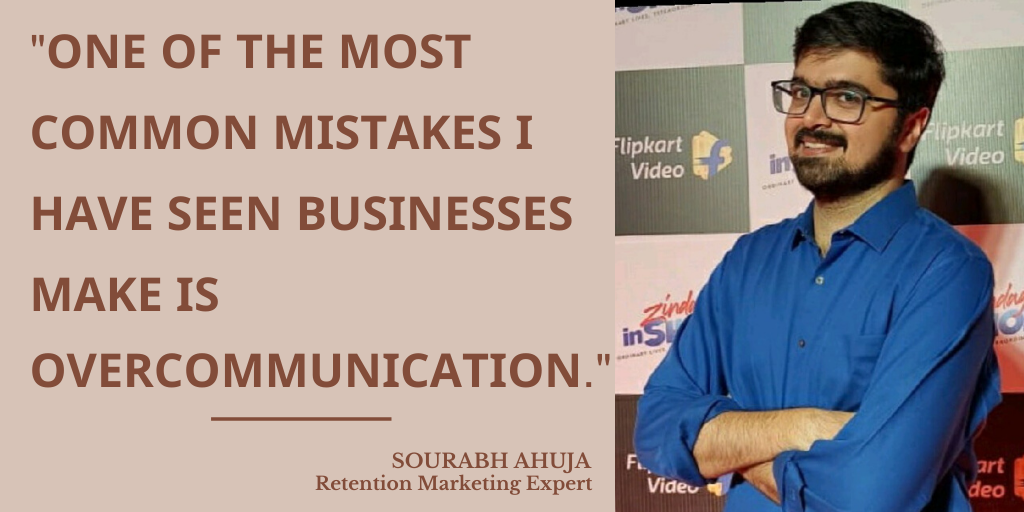 Retention Marketing is the new buzz word in the marketing town. What exactly is that and why we should care about it?
To understand this, we talked to Sourabh Ahuja. An IIT Roorkee Alumnus turned marketer and currently takes care of Retention & Growth Marketing at Flipkart.
Read on to know more about his life journey, learnings, views on Retention marketing and more.

Check out – Top 25 Global Video Marketing Disruptors

1. Tell us about your life journey, Sourabh?
When I was a kid I would look up in the sky and wanted to become a pilot. Probably because of the glamour attached to it. Like most Indians, I took up Engineering as my field of study.
However in my time at IIT Roorkee with each passing day, I would realize that I wanted to take up Marketing as my field of study and was lucky to move to FMS, Delhi right after.
Starting my career with Vodafone helped me explore various roles in the field of Marketing, before finally landing up on Retention Marketing in the Media industry, again probably because of the glamour attached to it.

Get updated with Latest Video Marketing News

2. What is Retention Marketing and how is it different from Customer acquisition?
Even as the name would suggest Retention Marketing focuses on retaining customers, it encompasses much more than that.
Retention Marketing team is responsible for maximizing revenue from existing customers, that would mean getting existing customers to come & buy more often, and with a higher ticket size.
On the other hand, the Acquisition team focuses on getting new customers into the business & at a lower cost per customer.
When a business acquires a new customer they incur a certain cost which is customer acquisition cost or fondly known as CAC.
While the business value the customers give for the time they are associated with the business is called Lifetime value (CLV).
The most fundamental business problem that any growth marketer or any marketing team, for that matter, would have to solve is how to make more money from the customer than the amount they would have to spend to acquire the customer.
CAC > CLV
The acquisition team is responsible to get more customers at a lower CAC, while the retention team is responsible for boosting the CLV.
Both these teams work hand in hand to balance this equation and both these functions play a critical role in the growth of any business.
Customer Retention is very challenging and fulfilling at the same time, it involves establishing a relationship with the customer which is not a one-time activity but to be built upon every single day.

Are you a video marketing expert? Take this quiz

3. Please tell us about the Customer Retention Marketing activities you were/ are part of?
While Retention marketing is still a growing field, I have been fortunate to be involved in a wide range of projects in the field.
Most of my experience is in the Video streaming apps, where my North star KPI has been to increase Platform Watch Time.
When looking at a single KPI might be daunting, hence it is always advised to break this down further, in this case- Unique Viewers and Watch time per user. To drive these metrics I have been involved in a myriad of activities, some of them being:
– Marketing Automation: Setting up campaigns which means users getting real-time relevant communication as per the behavior and nudging them to exhibit desired actions. For instance, when a user drops off after watching a Movie, reminding them to come back the next day
– Up-sell & Cross-sell: Getting users to watch more of the same Series/Genre is called upselling vs getting them to sample another Series/Genre would be cross-selling
– Segmentation is the key for any Marketing plan, where using Demographic & Psychographic attributes you create segments of users who are similar in some form so that they can receive communication that is relevant for them.
For instance if a new Hindi Horror show is being launched, you would want to send a communication to users who watch Hindi content for launch, and then go sharper in communication, by targeting users who have an affinity to Horror genre apart from Hindi watchers.

Learn from Video Marketing experts

4. What are effective Customer Retention Marketing strategies marketers can adopt in 2022?
2022 will be the year where most businesses will sit up and start focussing on retaining their customers. 
Because of the unfortunate situation, we are in, acquiring new customers has become more difficult. In these times, retaining your most valuable customers is extremely important.
Using behavioral data, marketers should choose their winning cohort basis the value they bring to the business, using parameters like frequency of purchase, average ticket size/margin, and recency.
The team should have an unwavering focus on this loyal base, and ensure to extract maximum value from them.

Invitation to join Global Marketers Community Discussion Space

5. What mistakes businesses should avoid when it comes to Retention marketing?
One of the most common mistakes I have seen businesses make is overcommunication. Remember being irritated when you opened your phone and saw a sea of notifications, everyone has faced that some time or the other.
The customers are getting more evolved and becoming picky about what they want i.e only relevant communication.
So while sending multiple communications gives a short term business benefit, it ends up annoying some of your customers who unsubscribe or even worse uninstall your app.
These customers leaving won't show a prominent impact immediately, but is very evident in the long term. Hence it becomes important to set guidelines to your communication strategy on frequency and relevance of communication, which should be followed strictly.

Know the New Things in Video Marketing

About Vidsaga
Vidsaga is a global marketplace for Organisations to create Videos. Consider it as "Upwork/ Fiverr for videos" with Creative script writing and professional project management.
Join thousands of Global Video Marketers