Learn about the effective performance marketing from the expert Dimos Papadopoulos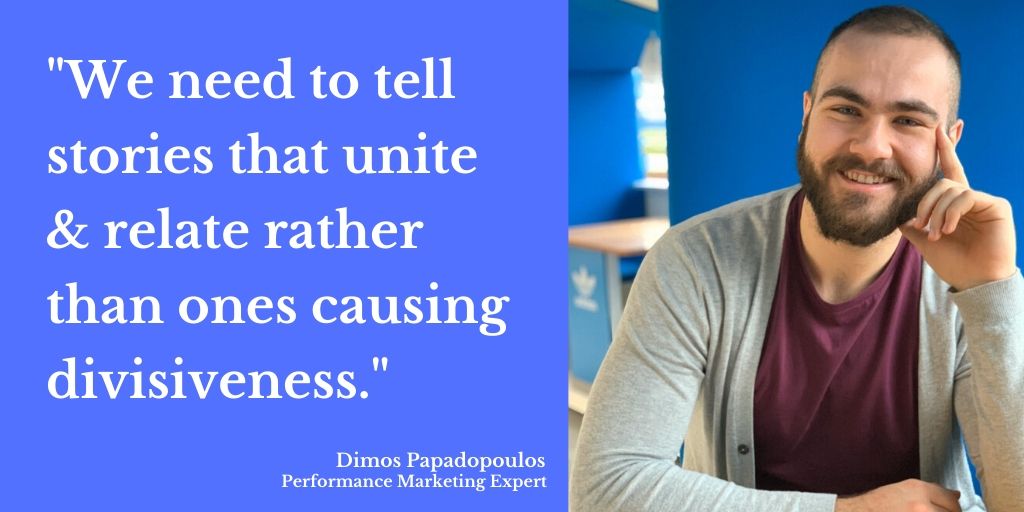 This time we caught up with Dimos Papadopoulos – a Performance Marketing Expert.
"Dimos Papadopoulos is currently working as a marketing analytics assistant manager.
He has been a part of innovative corporations like Robert Bosch, Tommy Hilfiger, SONY, Adidas and also enjoys consulting and coaching peers when it comes to digital marketing.
You can catch him via #OurMarketingLab on LinkedIn, where he writes marketing content and gets in touch for sharing his expertise via public speaking or freelancing."

Read on to learn more about him and about Performance Marketing from him.

Get updated with Latest Video Marketing News


1. Tell us about your life journey,  Dimos?
To begin with, allow me to thank you for inviting me to Vidsaga's marketing experts series. What a nice community sharing the same passion!
I am actually born and raised in a small town in Greece. My dream was to become a psychiatrist due to being very interested in how people behave and perform certain actions. However, due to missing the highest school marks, my journey led me to electrical & computer engineering (giggles). 
Quickly after my studies commenced, I realized that although I Ioved innovation and tech, I was still drawn towards consumer psychology. Checking advertising/marketing news and public speaking were always my thing.
This is how my journey in marketing started. With lots of passion for it and effort, I secured an internship in Belgium. 3 years after that experience, I am currently based in Amsterdam, the Netherlands. Have had the chance to enter corporations in the electronics/retail/sports industries and learn digital marketing practices as well as campaign analytics in order to optimize performance marketing efforts.

Check out – Top 25 Global Video Marketing Disruptors

2. What is a performance marketing and Why does it matter? What is the connection with analytics?
Simply put, performance marketing is having a specific goal for your campaigns and optimizing relentlessly until you reach it.   Depending on the nature of the campaign, the business you operate in, and timings, among other factors, you might want to achieve
clicks
engagement
leads
conversions
It is purely ROI focused and actually aims to transform the old advertising method of "let's put all of our budgets into this banner or TV, no matter the results". In performance marketing, you pay to reach the goal and you measure it to assess its effectiveness.
This is exactly where analytics comes into play. All performance marketing activities (search, affiliates, social etc.) are measurable. In order to determine success and drive a new course of action, analytics is required in order to measure, test & learn as well as optimize.

Know the New Things in Video Marketing

3. What are the best practices marketers should adopt for effective performance marketing?
That is a great question!
Targeting effectively and not intrusively. It is super important to understand the difference between targeting someone from appearing spammy to the individual.
Importing empathy and honesty. It is an era of social change and we need to tell stories that unite and relate rather than ones causing divisiveness.
Respecting data collection practices. In Europe we have GDPR, in the US we saw the CCPA etc. Consumers demand more data ownership as well as limiting consent given to marketers.
Think about attribution. If you spent 100 for a campaign that brought 1 million then be sceptical about it and does check attribution models in order to effectively judge success.

Learn from Video Marketing experts

4. What are the critical skills Performance Marketing Managers must possess?
I think that performance marketing managers need a very diverse set of skills as digital marketing is quite enormous as a discipline.
From management skills (such as collaboration, decision making, and delegation) to marketer's skills (creativity, consumer psychology, campaign management) and finally tech skills come into play.
That would mean that in order to get into performance/digital marketing you need skills in digital platforms and tools in order to create campaigns, collaborate remotely, design, execute and finally measure activities.

Invitation to join Global Marketers Community Discussion Space

5. What mistakes businesses should avoid when it comes to performance marketing?
There are many common pitfalls for businesses of every size. I keep on seeing some of them daily, actually.
Not segmenting consumers properly or applying exclusion lists for their campaigns. Would you show an ad for a baby crib to a person having no children?
Jumping into the bandwagon of conversions rather than creating some sort of brand awareness before.
Not optimizing their landing page hence every click has a high probability of bouncing.
Uninteresting ad copy or poor content forms. Even slang or spelling errors do happen in the online world.
I think the list of mistakes is endless and we can spend days talking about it.

Are you a video marketing expert? Take this quiz

About Vidsaga
Vidsaga is a global marketplace for Organisations to create Videos. Consider it as "Upwork/ Fiverr for videos" with Creative script writing and professional project management.
Join thousands of Global Video Marketers