Learn how to be focussed from the "Focus" Expert and Precision shooting world champion – Christina Bengtsson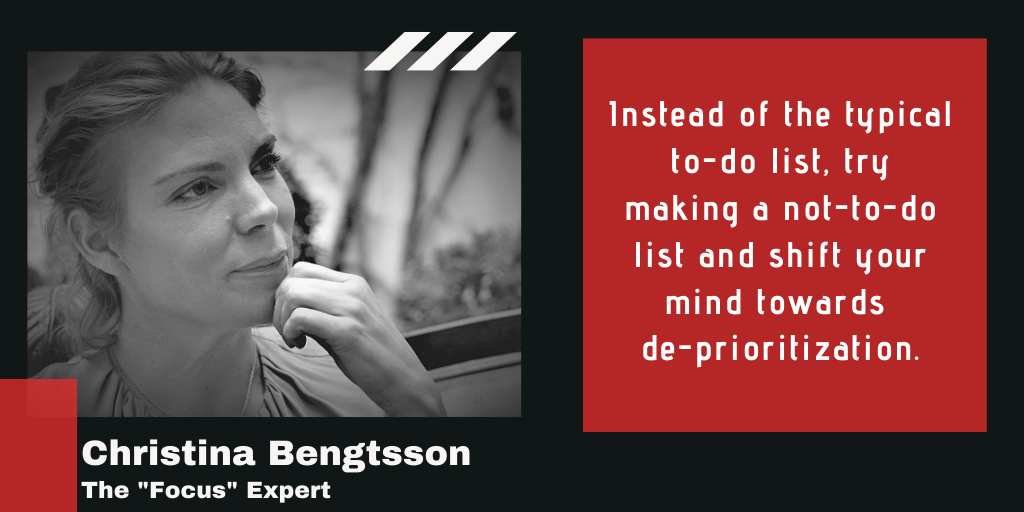 "Change the perception that life is short.

As a society, we've adopted this notion that there is so much to do in so little time.

We try to do everything at once so that we can check off those imaginary boxes more quickly.

I'd like to challenge this multitasking, time crunching mindset with one simple question: What if we dared to view life as long instead of short?" – Christina Bengtsson – The "Focus" Expert

Christina is a World Champion in precision shooting, Military Officer, Focus Expert and Global Thought leader.
We talked to her and understood how marketers & small businesses can remain focussed and why focus is important for them to succeed.
Read on to know more about her and expertise.

1. Tell us about your life journey, Christina?
I have been a very fortunate human being. This is likely apparent in my demeanour. I'm often happy and content, and relatively unafraid of both change and challenges. But I'm also unafraid of stillness, of nothing happening.
The reason I say that I am fortunate and feel that I am standing firm on a secure foundation, I think has to do with my upbringing. My brother Thomas and I grew up on a farm outside Långås in Sweden, with the best parents imaginable.
Farming, animals, nature and warmth defined my life when I was little and I'm sure I have this firm foundation to thank for the success I have achieved to date, and the setbacks I have so far managed to overcome.
As you know, I decided to become a world champion in "something" when I was 23 years old… I did not need to win. I simply knew I could. Among all sports, I chose precision shooting.
The reason I chose a military career was mainly the opportunity to focus my efforts on shooting, to get close to shooting ranges… Life as a military officer has made me articulate and forthright.
The fact that I have been the only woman on most occasions has not always been easy. In one way it has empowered me, but it has not made me any less feminine.
This interest in focus does not solely lie within the framework of productivity and peak performances, but also in how a greater capacity to focus can benefit life itself, and us humans in general. And to sort through these reflections, I have had to look at the world and humans from a much broader perspective than from a winners podium.
When I left the sports and military arenas and I met another world (the business world), I saw with surprise and concern that people had lost something.
I came from worlds where the focus was elevated as a part of the work and was respected as a necessary ability, and I stepped into a world where short-term attitudes, quick-fixes, fragmentation, even attention addiction and time poverty, were the norm.
I decided that something must be done.
So, here I am as a global thought leader on the theme focus, a lecturer at the Stockholm School of Economics Executive International Program, a reclaimed author and a founder of the initiative "Reclaim Focus". In some countries, I am even called The Focus Icon.
Focus is a vital skill that needs to be given more dedication, both within ourselves and in all of society.
My mission is clear, which is to highlight this central societal issue of today and help individuals and organisations to regain lost focus and thereby contribute to a healthy and sustainable society.

Here are the Top 40 Video Production Companies in India

2. So, what are focus and concentration and what impact do they have on our organisations?
With a constantly growing noise around us and in an accelerating attention economy, it is no wonder that we struggle to find and maintain focus.
The most important ability that led me to gold medals in precision shooting and my success beyond the podium was precisely the ability to filter both internal and external distractions and tap into a focused mindset. It helped me ignore the irrelevant noise of the outside world and reach extreme focus.
You see, basically we all humans are focused, but the world around us and our thoughts distract us.
Focus is the ability to resist impulses, exercise self-discipline, control attention and maintain cognitive control. From this follows presence, attentiveness and empathy. This is what keeps us on the right track toward our goals.
Until we learn to position technology, massive information, and the attention economy to our advantage, the focus is the only trustworthy medicine against both individual and societal fragmentation.
At the organizational level, speed and flexibility are encouraged today, which means that people want to multitask to feel efficient and skilled.
But if everyone completes a task before it is genuinely completed, we lose quality, skills and sharpness. This trend should be broken. We should instead encourage the ability to withstand the pressure and stick to the task and our core values.
I want to see more" two seconds" before we act, write, talk or shift our minds, less chasing attention, and more staying on target.
Cause the consequences of the lack of focus are obvious:
Lack of sensitivity and empathy
Lack of clarity and quality
Identity loss
Lack of direction and critical thinking
Lack of time
Research has shown that companies around the world lose billions of hours because of "unfocus" and distractions. This means billions of money of course.
Obviously, companies have much to gain from regaining focused employees. Especially the quality of what is done, well-being and the ability to long-term thinking characterizes the effects of a company with more focused employees.
Here it is interesting to reflect on the fact that the problem largely lies in a general human level, meaning in the everyday day life rather than at work. We don't come, become unfocused when we come to work. We are already unfocused…
Focus is needed for completion of tasks and in order to distinguish between what is important and what is irrelevant and to be able to preserve the greater picture and to achieve results beyond the fire-fighting tasks, so to speak.
The people, the future of work and the world economy will face challenges—and opportunities—that will require both individual and united focus.

Invitation to join Global Video Marketers Community

3. How marketers can maintain focus in this dynamically changing world?
In this fast-changing world where every company, every organisation and every person is online almost all the time, it is easy to become a slave under the attention economy.
– But what happens if everyone wants to be seen as much as possible by as many people as possible all the time?
– Well, this neither fosters uniqueness nor deepness. It creates a life-long chase for attention for everyone – a game where no one is the winner in the long-run.
Instead, focus on quality. Focus on interaction with genuineness.
From a precision shooting champion perspective:
Think ONE shot at a time, and give each shot your full engagement and attention, instead of shooting as many shots as possible with no focus.
As an example: when producing online videos, many people try to say as much as possible as fast as possible, as videos should not be more than 1-3 minutes – and the important message disappears… Instead, give meaningful words the respect and attention they require.
Give them time. Give them pauses. One-shot at a time.
Three tips:
1. Stand firm.
When everything changes and the information overflow is a fact, and when every digital platform wants your attention all the time, it's easy to jump from one thing to another. With a focused and disciplined mindset, you don't do this.
A focused mindset in this context, means to:
– have the ability to resist impulses
– be truly skilful
– dare to refrain—and stay on target
2. Stay unique.
To be true to your uniqueness, you need to connect to your inner core. This is how you reach beyond people´s superficiality and turn them into a deeper perspective where they remember your message more deeply.
You can win people´s attention in the short-run, but to reach people´s long-term memories, you have to create quality instead of quick-fix. This requires time and attention:
TIME + ATTENTION = FOCUS
Let me share three of my quotes from the chapter Our Inner Core in my book The art of focus 10,9 with you here:
" In the pursuit of success, the focus should be placed on who we are and what we have instead of chasing after what we are not and do not have."
"Our inner core is not afraid to lose. It has nothing to lose because it does not identify with either what has been done or what will happen in the future. It just is."
" The power of your inner core – your actual intrinsic worth. Here you are the same, whether you win or lose. Here, you are identified with your inner being and your focus is right. This is how the strength in our inner being can defeat a superior opponent."
3. Treat your attention with respect.
It is not the first time in our history that we are experiencing budding chaos. In 1968, the Swedish economist Staffan Burestam Linder wrote the book The Restless Man.
If we were restless then, what are we now?
To create a sustainable business, to continue to gain confidence, to build sound relations, and to think clearly, you must have a sharp mind.
Think about it: Wherever you are, wherever you go, someone or something wants your attention. Treat your attention with respect. It is yours. Do not give it away to everyone, everywhere, every time.
Give yourself peace by resisting the impulse to be engaged in- and respond to all things that go viral. The best thing would be that you create what goes viral, but that you yourself do not participate in the stupid war of attention on the internet.

Get updated with Latest Video Marketing News

4. What tools do you suggest/ recommend to practice the art of focus?
Notice your thoughts and emotions – Learn to identify where your thoughts reside, past, present or future. Awareness of your thoughts helps you recognize which ones are distractions and which ones are truly focused on "now." Knowing your distractions allows you to more quickly move past them to tap into the present where you have focus.
Practice on ignoring distractions – Focus on one neutral thing for a longer period of time (say minutes) – this neutral thing can help you get rid of distractions and irrelevance. See my TED talk and listen to the story of the leaf which helped me to win the world cup, or learn about The Focus Model in my book.
Respect your present – "What you feed your present becomes your past, and it is from your past that you can create perceptions of the future"
Maintaining a positive mindset in the present allows you to create trust and belief more easily in the future. After all, everything that your brain takes in informs your perception of events, past, present and future. Set yourself up for positivity with a better attitude towards your present!
De-Prioritize – Instead of the typical to-do list, try making a not-to-do list and shift your mind towards de-prioritization. You will begin to see just how much time you actually have.
Discipline on what can be done now – In today's fast-moving society we have got used to constantly striving for the new and the better ways, instead of finding the internal capacity we already have and constructively working with what we know and are best at right now.
Cut the strong bond to future scenarios for a while and let your mind get access to other thought patterns than that which is continuously chasing individual perfection and success.
Goal images and visions in all glory – but to achieve the long-term goals also requires full attention in the short-term perspective.
Read her book – The art of Focus 10,9

5. What mistakes should marketers avoid when it comes to understanding focus?
Change the perception that life is short. – As a society, we've adopted this notion that there is so much to do in so little time. We try to do everything at once so that we can check off those imaginary boxes more quickly. I'd like to challenge this multitasking, time crunching mindset with one simple question: What if we dared to view life as long instead of short?
When you shift your perception of time, the pressure to do everything at once disappears, and you begin to feel genuinely present, better able to delve into what really matters and set your priorities. You gain the ability to live life on your own terms, rather than letting a long list of extraneous "stuff" take up our time and energy.
Avoid egoism – Cognitive empathy is deeply linked to focus. When empathizing with a person, you remove all thoughts of yourself and your inner distractions. You become 100% focused on the person in front of you.
Change the attitude from what YOU must do to what YOU want to do and what YOU want to achieve to what others might want or need. The moment we feel empathy, compassion or solidarity, there is no room for other feelings, distractive or selfish thoughts.
Notice how difficult it is to think in egocentric ways and at the same time have empathy for someone else. Or to be annoyed with someone and at the same time feel empathy for them. Empathy thus creates a shortcut to our focus.
Choose empathy as a way to dispel annoying, worrying and meaningless thoughts. When we think of others, we help ourselves.
Avoid extreme goal-orientation – Realise that life in itself is greater than standing on a podium. Search for passion for what you do instead of chasing for being the best. Being best in the sense of being "better than others" is, in my perspective, quite old fashioned. You don´t win more with this attitude, rather less.
To conclude it all:
Ignore what's irrelevant
One-shot at a time
Decide what not to do


About Vidsaga
Vidsaga is a global marketplace for Organisations to create Videos. Consider it as "Upwork/ Fiverr for videos" with Creative script writing and professional project management.
Join 52,000+ Global Video Marketers' Community