Learn about the responsibilities, challenges and personality traits of a CMO from Kip Knight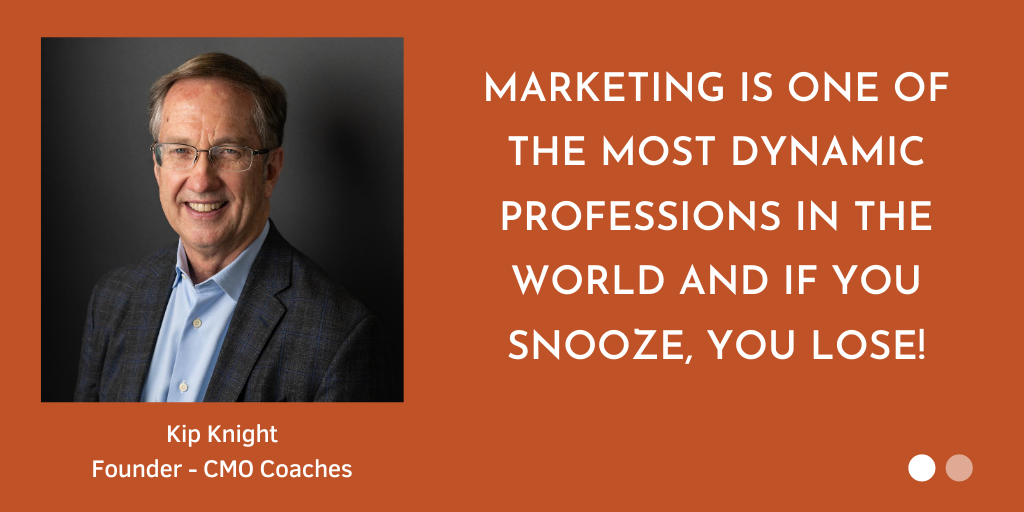 "CMO could be a very challenging role but rewarding and personally satisfying too.

There's always a lot of pressure to deliver the financial numbers that business is planning on which could be especially critical if you are in a large company with publicly traded stock." – Kip Knight, co – founder – CMO Coaches
Kip worked as CMO for Taco Bell from 1999 to 2001.
Kip has worked in 65 countries during his 37-year career. He worked in brand management at P&G for 10 years and the first head of marketing for KFC International.
Knight has also worked at companies like eBay, H&R BLock, Pepsico
We talked to him, and understood what it takes to be a Chief Marketing Officer. Read on to know more.

1. Tell us about your life journey, Kip?
Ever since I was a kid growing up in Louisiana, I've always enjoyed leading teams and bringing new ideas to life.
I started out as a marketer in college when I was in charge of the university's entertainment and academic programming (via various positions I held in the Student Union).
I got my MBA at night while working as a marketing researcher. From there I got into brand management at P&G, then went on to work in international marketing at PepsiCo where
I lived and worked in a number of countries around the world. I came back to the US to become the CMO at Taco Bell.
I made a major career shift in 2002 when I joined eBay and eventually ended up as the president of H&R Block Retail in the US.
I wrapped up my corporate career in 2018 and now I run a coaching business (CMO Coaches) and work with a VC firm (Thomvest) on the West Coast.

Get updated with Latest Video Marketing News

2. So, what is it like to be a Chief Marketing Officer? What are the challenges of being one?
It's a very challenging role but can be very rewarding and personally satisfying.
You are always under a lot of pressure to deliver the short-term financial numbers the business is planning on (this is especially critical if you are in a large company with publicly traded stock).
At the same time, you have to think about and work on the long-term growth of the brand, including what changes you might need to be making now to be successful in the future.
Not to mention the work you should be doing as the marketing leader to grow and develop your marketing team.
The role of CMO is more data driven today than ever before, but you've also got to ensure you are working from a well considered and solid strategic framework to ensure your marketing initiatives are creating something worthy that will last well beyond your time in the position.

Are you a video marketing expert? Take this quiz

3. Is there any difference between a VP Marketing and a CMO?
In some companies (especially smaller ones), there is no difference – it's the same role.
In larger companies with bigger teams (like the one I led at Taco Bell), you can have as many as 5-6 VPs reporting into you (with a team that can sometimes number in the hundreds).

Know the New Things in Video Marketing

4. How the personality of a CMO differ that from a CEO?
I don't think there is one answer to that question. There is no such thing as a CMO or CEO personality.
What I do know is the CEO and CMO roles are very different yet absolutely connected.
The CEO has got to bring everyone together under a common mission and make sure the entire company team is working to deliver against key objectives.
The CMO has a similar role. It's just more customer/client centric.
The best CMOs are the ones who can fully appreciate the role of the CEO and make sure everything the marketing team is doing is helping the overall business reach its critical objectives.
I've known a number of CMOs that have done this well enough to become CEOs (and I'm biased but think CMOs make some of the best CEOs because of their focus and response to the voice of the customer).

Know the New Things in Video Marketing

5. What advice would you like to give to Marketers on shaping their careers?
I would offer three suggestions.
First, develop and constantly refer to a personal development plan you create for your own career. No one is going to be more interested in your career than you are – so you are going to have to take the lead.
Second, always be adding to your marketing skills and experience base. Marketing is one of the most dynamic professions in the world and if you snooze, you lose!
Finally, I would urge ambitious marketers to get a great mentor or coach to help them accelerate their progress. If your company will pay for it, fantastic.

Check out – Top 25 Global Video Marketing Disruptors


About Vidsaga
Vidsaga is a global marketplace for Organisations to create Videos. Consider it as "Upwork/ Fiverr for videos" with Creative script writing and professional project management.
Join 52,000+ Global Video Marketers' Community