Top 7 video production companies in Ahmedabad to look for in 2020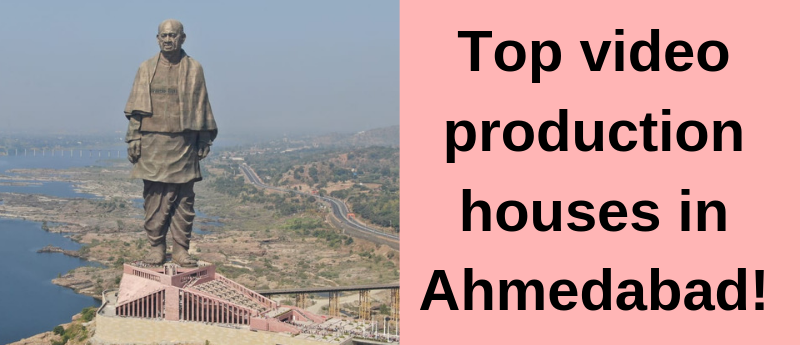 Disclaimer: The intention of writing this article is to give recognition to some of the top video production companies in Ahmedabad. The list is not in any particular order.
Ahmedabad is a city of business, food, and festivals. In a city like this, with so many businesses, it becomes important for business organizations to stay at the top of the game.

And, with video marketing, it becomes a bit easier for them to stay on top but it's difficult to find the right video creator from so many options available.

So in order to help businesses, we at Vidsaga have created a list of top video production houses in Ahmedabad.
Invitation to join Global Video Marketers Community
7 Best Video Production companies in Ahmedabad.

1. Hemant Soni Films

Hemant Soni films is one of the top video production companies in Ahmedabad who is very creative and cost-effective. Services offered by them are

Films – 2D, 3D, Animation, White Board, Explainer Video
Portfolio Shoot – Product / Services / Factory / Workshop
Corporate Video Films
Documentary Films – Short films – Screenplay writing
Photo Shoot – Industrial / Product / Model / Theme
Event / Seminar / Exhibition / Celebration Shoot
Serial , Album, Web Series
Check out – Top 25 Global Video Marketing Disruptors
2. Fram Pix Entertainment

Frame Pix is among the most creative animation companies in Ahmedabad. They create motion graphic videos.
Get updated with Latest Video Marketing News
3. VideoWala productions LLP
VideoWala productions are the most known corporate video makers in Ahmedabad who also create animation films, documentaries, VR 3Ahmedabad60 degree films. They have an amazing video production team who is always ready to help.

Read More – Top 40 Video Production Companies in India to look for in 2020
4. Rivox
Rivox is among the best video production company in Ahmedabad.
They specialize in providing Multimedia Solutions like Corporate Films – Marketing Presentations, 3D Animation Service (Machinery / Mechanical / Machine / Industrial Animation, Product Animation, 3D Animated Advertisement – Ad), Motion Graphics and E-Learning Service, etc.
Read More- How to write a script for an explainer video
5. Green Chutney Films
Green chutney is among the top film production house in ahmedabad. They produce digital and TV commercials for brands with their in-house team of writers and a film production team.

Learn from Video Marketing experts
6. Infomatica Labs

Infomatica is a production house in Ahmedabad. They create
Whiteboard Animation
2D animation
Are you a video marketing expert? Take this quiz
7. FFF Communications
FFF communications are a video production company in Ahmedabad that provides services like ad film, corporate videos, explainer videos.
Know the New Things in Video Marketing
About VidSaga
Vidsaga is a global marketplace for Organisations to create Videos. Consider it as "Upwork/ Fiverr for videos" with Creative script writing and professional project management
Join 21,000+ Global Video Marketers' Community