Top 5 Explainer Video Production Companies in Bangalore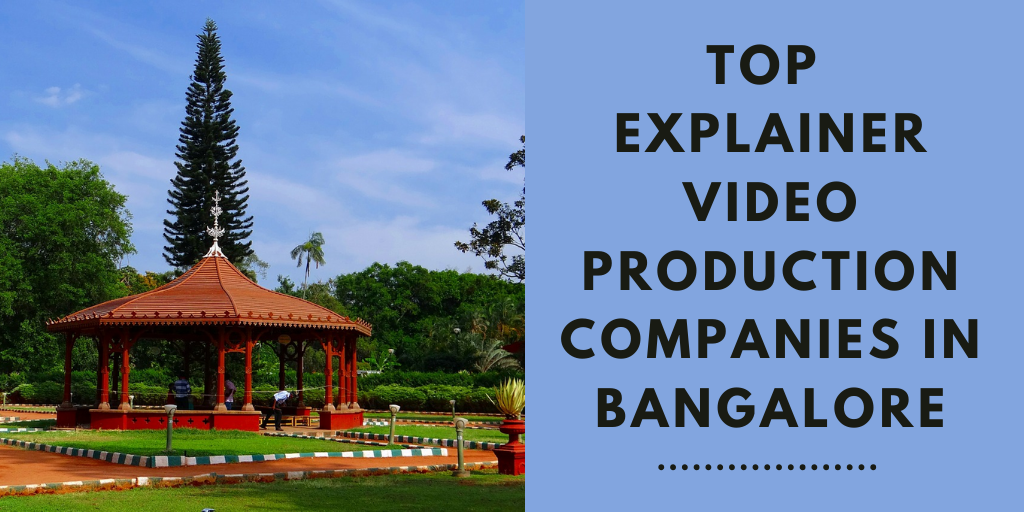 This is the easiest thing to guess that if you have landed on this page then you are looking for explainer video production companies in Bangalore.
We all know that explainer videos have become an effective way to explain & present a new concept/ idea/ product etc. .
Having said that making an explainer video is not a big deal in today's time. There are many DIY tools available to create animation explainer videos.
But the challenge starts when you want to outsource explainer video production services to a service provider. The major reason to outsource explainer animation video could be getting a high quality customised video done for a creative script.
But the problem is how to find an explainer video company which is professional, trustworthy, capable and cost effective.
To solve this and to save your time and effort, we at Vidsaga.com have curated the list of top explainer video production companies in Bangalore that are doing a good job.

Are you paying high? Check – Global Video Production Price guide

1. StudioTale
StudioTale is an explainer video company in Bangalore. Their expertise lies in creating explainer videos, product demo videos, marketing videos, Animation videos, 2D animation, etc.
They have a huge experience of making explainer videos. They have made more than 350 videos with 150 companies globally.
Their client list has companies such as Xiaomi, The University of Cambridge, Cult.fit, Facebook, Swiggy, PropertyGuru, Big Basket, Capillary, and many more.
Check out – Top 25 Global Video Marketing Disruptors
2. 3dtrix
3dtrix is an animation video maker in Bangalore. They provide a variety of video production services such as 3D animation, 2D animation, ad film, corporate video, e-learning video, explainer video, testimonial video, tutorial video, how-to videos, etc.
They expertise in animation, but majorly complimented as a top stand 3D explainer video company in Bangalore.
Additionally, they also provide 3D modeling, VFX, game development, color grading video editing services.
They have more than 6 years of experience and have successfully completed more than 6589 projects with 547 clients in 10 countries.
Their client list includes companies like Flipkart, Swiggy, Titan, Rapido, Bosch, Dimension data, Common Floor, Johhnie Walker, Carl Zeiss. Quickr, etc.
Here are the Top 40 Video Production Companies in India
3. Immortal Dreamz
Immortal Dreamz is an expert in making explainer videos in Bangalore. Their main specialties are explainer videos, 2D animation videos, 3D animation videos, corporate videos, time-lapse videos, and VR videos.
They also provide digital marketing services for companies.
They have a lot of experience and have completed more than 200+ projects.
They are one of the most recommended construction time lapse video companies in Bangalore, providing day-to-night transition and full HD quality video production.
They have a huge client base with companies like Intel, the Art of living, NextGen, K2 Learning, CNF, Audi, CIM Global, Citrix, Minera, WEP, Avi Solar, and many others.
Get updated with Latest Video Marketing News
4. Bode Animation
Bode Animation is an animation video company in Bangalore. They are mainly known for their whiteboard animation video, explainer video, demo video, slow motion video, live-action video, blackboard animation video, handcraft motion video, and video scribbling.
They have a lot of work experience and have completed over 500 projects in 19 languages across 27 countries. They were also featured in various media portals such as The Wall Street Journal, Your Story, Forbes, The Huffington Post, E27, etc.
Their clients are Kotak, Google Ventures, Aditya Birla Group, AOL, Dulsco HR Solutions, Randstad, Qualcomm Ventures, etc.
With their premium work quality and customer service they have secured high goodwill in the market as a top animated explainer video company in Bangalore.
Learn from Video Marketing experts

5. Brand Pix
Brandpix is an experienced animation video maker in Bangalore. Their expertise lies in animation videos, training videos, explainer videos, TV commercials, Startup videos, etc.
They have offices in both India and Australia. They are the sister company of Cinemage Studios which itself is a big video production company.
With so much experience, they have worked with many big industry names such as HP, Paytm, Infosys, Ola, Bookmyshow, EasyCharter, Oracle, Idrive, NGRD, and many more.
They are also considered as one of the best video production companies in Bangalore.
Are you a video marketing expert? Take this quiz

About Vidsaga
Vidsaga is a global marketplace for Organisations to create Videos. Consider it as "Upwork/ Fiverr for videos" with Creative script writing and professional project management.
Join 52,000+ Global Video Marketers' Community