Top Companies with Best 3D Animated Videos (Globally)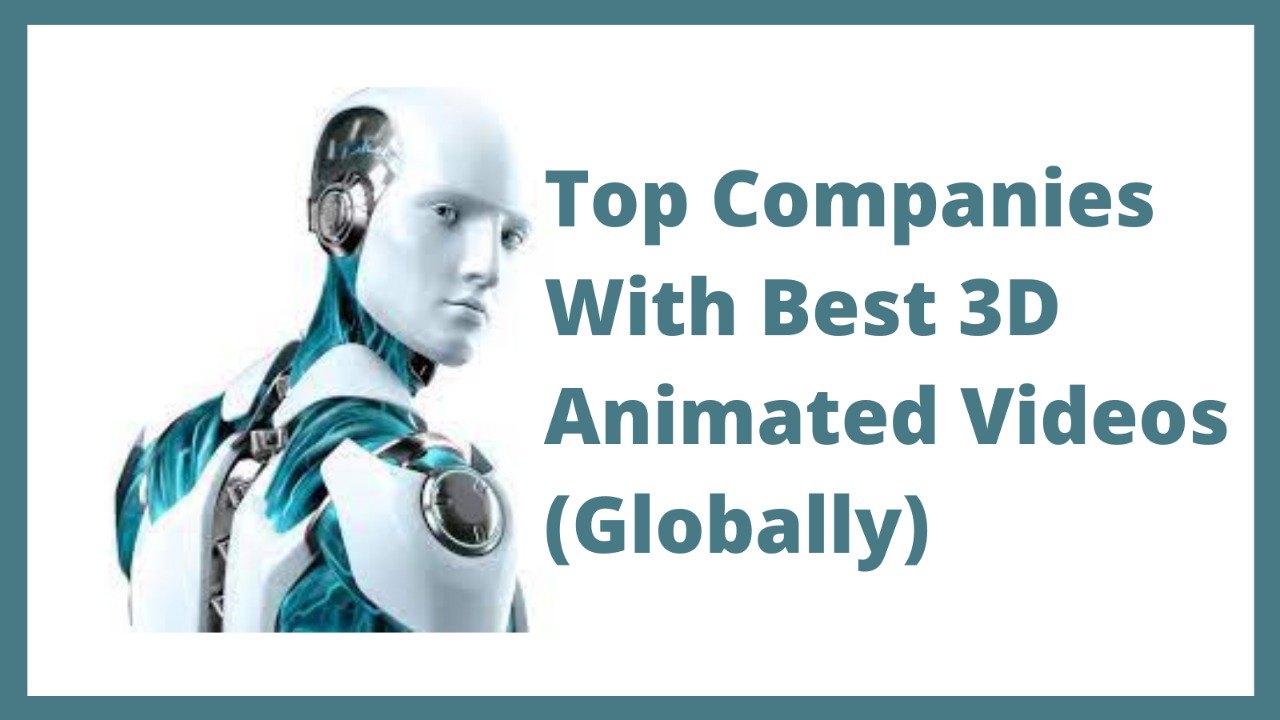 We all have always been fascinated by 3D Animated Videos, haven't we?
But who would have thought that Global startups would be making the best 3D animated videos for marketing campaigns?

Check – Global Video Production Price guide
3D animation is when computer-generated objects appear to move through three-dimensional space.
3D animated videos are a fantastic way to communicate a message that may be difficult to explain other than by using conceptual animation.

Invitation to join Global Marketers Community Discussion Space
Well to help our readers and community members, we have curated a list of "Global Startups that made the Best 3D Animated Videos" for their marketing purpose.

Check out Video Marketing Knowledge Hub

Here is a list of Top companies with 'Best 3D animation videos:

1. BoxTop Technologies
BoxTop Technologies is a pioneer in freight management and supply chain software. They provide technical solutions which are designed specifically for international freight forwarders and logistics providers.
The video clearly represents how Boxtop works around the world: on land, sea, and air.
This simple and clean design accentuates the narrative, drawing the viewer's focus to the important sales messages of Boxtop.


2. Legal & General
Legal and General are a pioneer in providing financial services in the UK. They offer life insurance, pensions, retirement, and investment services.
This video by Legal and General explains what lifetime mortgages are and how they work in a way that is very easy to understand. The animation is positive, engaging, and representative of the lifetime mortgage journey.

3. Adder Technology
Adder Technology is a leader in manufacturing information technology hardware and providing connectivity solutions based in Cambridge, UK.
This 3D animation video by Adder Technology clearly demonstrates the main value propositions of their KVM solution.
It explains how an organization's staff can gain real-time BIOS-level access to critical computers from anywhere in the world.

4. Edwards Vacuum
Edwards Vacuum is one of the leading developers and manufacturers of sophisticated vacuum products, abatement solutions related to value-added services.
The video is a simple demonstration of Edwards Vacuum's EOS Vacuum Pump. Simple animation and engaging voice-over clearly explain how the pump works and its benefits.

5. Bristol Waste
Bristol Waste is an innovative waste collection & street cleansing company that offers recycling, site clearances, residential bins & hazardous waste.
This short animation video by Bristol waste explains how the organization collects waste and cleans the city of Bristol.
The video inspires people to collect and recycle waste In an engaging manner.
Check out – What Media is writing about Vidsaga

6. Novum Trust
The Novum Trust provides small short-term, one-off grants between £500 and £2,500 to support distinctively new work and Scottish projects in Christian action and research.
The video explains the Novum Trust order protocol that builds a one-world blockchain community by introducing structural solutions to the ecosystem. The visuals are attractive and the voice-over is engaging.

7. Cvcheck
Cvcheck is a leading provider of employment screening and verification services in Australia and New Zealand.
They provide verified information that supports building trust and growing honest relationships.
The video demonstrates the problems involved in usual employee verification techniques and shows how Cvcheck comes to the rescue as an innovative tool for employment verification services which saves a lot of time and money.

8. Outcomex
Outcomex is an award-winning advisor, devoted to providing intuitive solutions in information technology.
Outcomex specializes in designing and providing end-to-end IoT solutions including sensors, connectivity, data storage, and analytics platforms.
The video shows how Outcomex can help to offer better services for city residents and greater insights for councils through the Internet of things.
They have very nicely demonstrated how Outcomex can offer sustainable and efficient solutions through IoT.

9. Sustainability Victoria
Sustainability Victoria supports residente of the Australian state Victoria to be more sustainable in their everyday life.
The organization's motive is to improve the way Victoria manages its resources and help communities to take action on climate change.
This educational animation video by Sustainability Victoria is very engaging and brings out the organization's message in a very effective manner.

10. ChildHR
ChildHR is a human resource solution that helps maintain official documentation, store employee performance records, and manage appraisal processes.
The video is a flawless demonstration of the complexities of human resources and how ChildHR makes HR compliance a child's play. The use of strong colors and textured materials makes the video very attractive.
Check out – Top 25 Global Video Marketing Disruptors

11.Tickera
Tickera is a WordPress event ticketing system that enables its users to sell tickets on their websites.
It also allows check-in attendees easily by using integrated barcode readers.
The video explains how Tickera makes the ticketing process a breeze. The video demonstrates all the core features of Tickera in an effective manner.

12. MegaGrass
MegaGrass is an artificial grass and hedge company headquartered in Los Angeles that's devoted to not only providing the highest quality turf but long-term landscaping solutions.
The video educates viewers about how MegaGrass helps their customers cut grass in any size they like, whether it's a small-scale landscaping project or a huge outdoor concert.

13. MrGranita
MrGranita is an Israeli startup that has developed an innovative countertop device that instantaneously creates a wide selection of healthier, customized frozen drinks from any drinkable liquid.
This 3D animated video is a brand commercial that demonstrates the innovative MrGranita device. The 3D characters and the visual graphics in the video are sure to drive the viewer's attention effectively.

14. TravelTripper
Travel tripper is an All-in-One provider of websites, booking technology, and digital marketing for hotels.
Their comprehensive E-Commerce solutions help hotels worldwide to generate demands, optimize conversions, and maximize revenue.
The video effectively explains the services offered by TravelTripper. The use of simple colors and graphics with an engaging voice-over makes it a comprehensive explainer video.

15. Pnut King
The PnutKing brand is a registered trademark quality of peanuts from India exclusively for the factory and high-quality standard users of peanuts.
This video is a feel-good, informal brand video that features characters created in 3D and plenty of detailed scenes.
The use of a story and creative animation characters makes the video engaging and attractive.
Get updated with Latest Video Marketing News

16. Boostation
BHU station is an app for Android smartphone users that basically cleans the smartphone's cache memory to make it work faster.
The video shows how the app works considering your phone as a city. The video explains the app's working in a very interesting way.

17.Trimble
Trimble is a hardware, software, and services technology company. It is transforming the way the world works by delivering products and services that connect the physical and digital worlds.
This video by Trimble is a 3D product overview video. It demonstrates the benefits of the field Level II solution by Trimble effectively.

18. Kahua
Kahua provides a cloud-based, hub-to-hub, and global platform to deliver business-to-business collaboration.
It helps to manage processes, documents, and costs on construction programs and projects from inception to closeout.
The video demonstrates the Kahua solution and the 3D animation adds realism and credibility to the solution.
The tone and style of the video clearly show that Kahua's platform is capable of handling incredibly complex projects.

19. Digital Ocean
DigitalOcean is an American cloud infrastructure provider which is headquartered in New York City with data centers worldwide.
It provides developers with cloud services that help to deploy and scale applications that run simultaneously on multiple computers.
The video shows how DigitalOcean is a true titan in the world of tech. This video has an engaging voice-over and simple graphics making it one of the best 3D animated explainer videos.

20. Squeeze
It is an innovative fill-bag system for plastic condiment squeeze bottles.
Squeeze-it addresses all of the sanitation, combined particles, and waste issues, currently associated with regular plastic squeeze bottles.
The video uses attractive graphics and animation to demonstrate the innovative product Squeeze-it. The video brings out all the MVPs and core features of this unique innovation.
Learn from Marketing experts

21. TrustToken
TrustToken is a platform to create asset-backed tokens that can be used for buying and selling around the world. It is bringing economic opportunity to all by building finance infrastructure for the internet age.
The video explains what TrustToken is and how it works. One can easily understand the working of the platform and how it can be used by simply watching this comprehensive video.

22. StagFox
StagFox is a newly established strong, smart tool designed to empower its users to provide fast, intelligent responses to the ever-shifting consumer landscape.
It collects and aggregates customer experience, demographics, journey, and behavior data to monitor and improve customer experience in real-time.
The interactive 3D infographics style used in the video effectively communicates the information with the audience to a better degree, owing to its attention-holding visual aesthetics.

23. Stratus
Stratus is a mobile application acting as the world's most expansive social ecosystem.
It was born out of an intense determination to completely eliminate the reliance on big tech and solve the biggest issues with mainstream platforms.
This explainer video by Stratus explains how the platform is different than other platforms in a simple and easy-to-understand manner.

24. SlitLED
SlitLED provides a telemedicine system for a remote eye examination as a solution for those billions of people who do not have access to professional ophthalmic services.
The video starts by demonstrating the problems faced by people who do not have access to ophthalmic services and how SlitLED can solve this problem. The video has engaging visuals and simple graphics.

25. Syntera
Syntera is a blockchain platform based on sharing economy that follows principles of sharing economy powered by smart contracts.
It focuses on developing an open ecosystem, where one can issue and exchange coins, promote products and raise fundings.
This explainer video tells in detail about all the advantages of the Syntera platform and helps to interest potential users and attract investors.

Our Selection Criteria for Startup Explainer Videos
Creativity
Well written script
Entertaining/ Interesting
Clear and simple explanation
Music choice
Properly defined CTA
Engagement

About Vidsaga
Join thousands of Global Video Marketers