"A common mistake made by marketers is falling into the trap of selling too hard." – Joy Chatterjee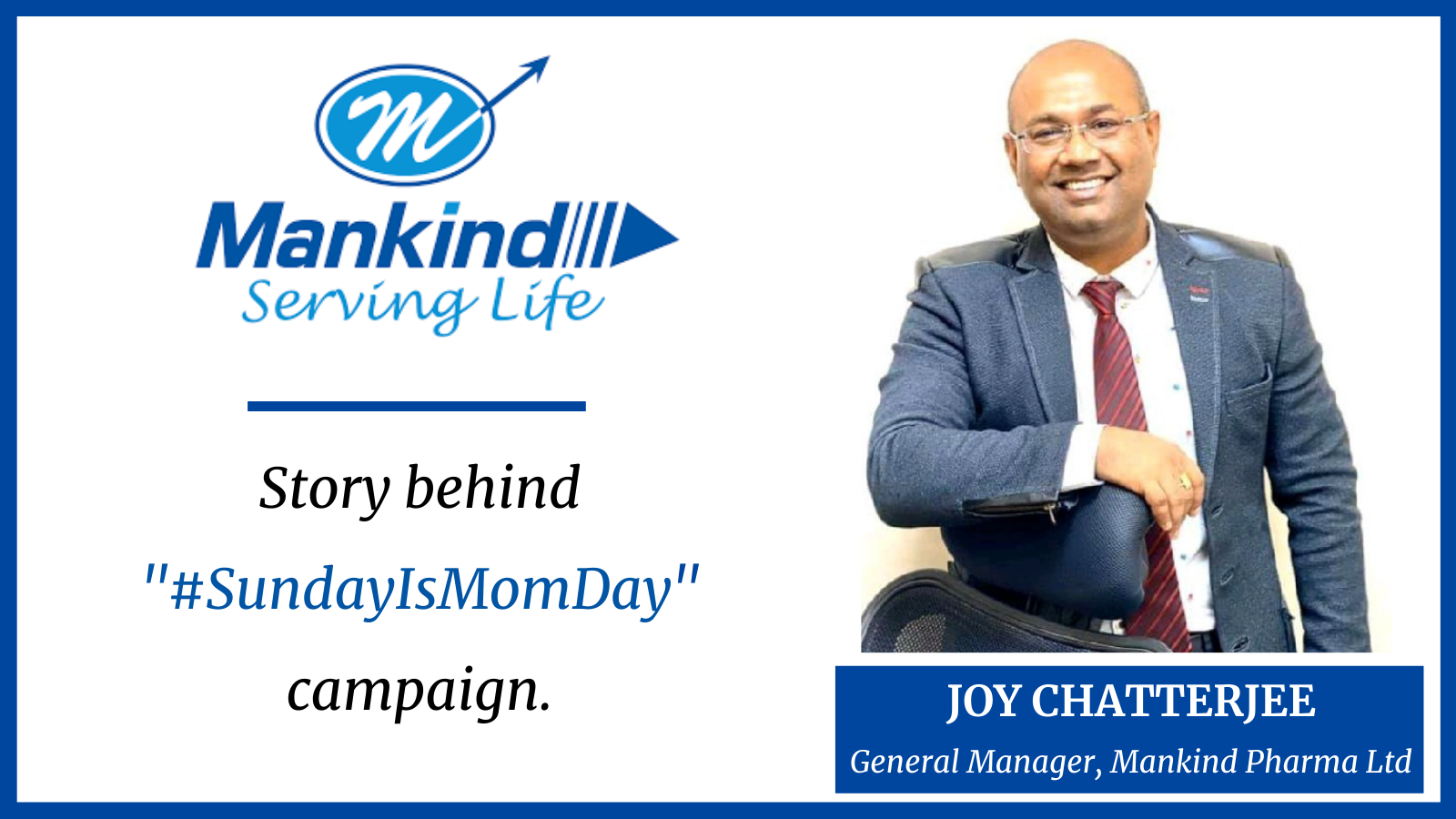 "Sometimes success cannot be quantified by the number of units sold or the number of comments/shares on a video. It is much more than that."

– Joy Chatterjee, General Manager, Mankind Pharma Ltd

Social media is a place to connect with the audience rather than selling.
And Mankind Pharma is known for their impactful social media marketing campaigns like #GoodNewsIsGenderFree or #ImwithYellow
We talked to Joy to know their thought process behind their latest similar campaign – #SundayIsMomDay
Read on to know the complete story behind their latest campaign.

Invitation to join Global Marketers Community Discussion Space


1. What is PregaNews' internal process of coming up with a marketing campaign?
All our discussions on marketing campaigns – be it for any of our brands – are very structured. We begin with a simple question: What is the need of the hour?
We discuss and debate prevalent issues in society for every brand in our portfolio and accordingly devise a strategy.
We always try to bring cultural and social insights to the table, so we connect with all kinds of viewers.
Another thing we try to do is to make every campaign a 360° campaign to cover all mediums – TV, Digital, Print, OOH, and Radio.
This really helps in amplifying the campaign thought and delivering the same message to the audiences in different formats.

Check out Video Marketing Knowledge Hub


2. #SundayIsMomDay campaign is not a typical ad film. What was your thought process while you were conceptualising the campaign?
With the pandemic came an opportunity for us to bond with our primary target audience – mothers.
Our Preganews-Marketing manager and a mother of a little one, Gunjan Virmani, came up with this idea and everybody in the management instantly loved it.
The workload during the lockdown had increased manifolds for women. 'Work From Home' for them meant working 24×7 as a mother and as a working professional.
We shared this brief with our creative agency, Adk Fortune Communications Pvt. Ltd., and asked them to come up with ways to strengthen our bond with our TG in a way that resonates with all.
So, the agency got to work, and not only did they come up with scripts but also devised a solution that could create change.
It was a little step we took to seed an idea in the minds of people – young and old – to look after the needs of all mothers.
The digital film #SundayIsMomday, thus, celebrated the selfless spirit of mothers.
Consequently, it also opened a forum for suggestions from people on how to thank all the mothers who have been tirelessly working for us.
People from all walks of life saw and commented on the campaign. And that's how a little thought churned out a thought-provoking campaign.

Upto 44% discount. Check – Global Video Production Price guide


3. For a campaign like this where you do not directly promote the product, how do you measure its success?
Sometimes success cannot be quantified by the number of units sold or the number of comments/shares on a video. It is much more than that.
The important question is whether we were able to connect with our audiences or not.
If we stand in the consumers' shoes, we will realise they don't want to see an advertisement or campaign that merely promotes a product.
If the TG does not relate to the advertisement, they will never remember it.
The idea, therefore, is to come from real-life insights and talk about issues our audiences are facing. And if you receive a positive reaction – that's a success.
If we talk about this particular campaign, our engagement on social media platforms like Instagram and Facebook increased tremendously.
Women from all over participated, and to our pleasant surprise, this time, even young boys and girls joined the conversation.
They talked about how they feel when they see their mothers work continuously and, in return, don't receive any appreciation or help from the family.

Check out – What Media is writing about Vidsaga


4. What mistakes marketers should avoid when it comes to creating video campaigns?
The consumption of video content is only rising with each passing day. And I feel it's a smart move for brands to incorporate videos in their marketing strategy.
I recently read a study that stated 80% of users do recall a video ad/message they had viewed in the last 30 days.
Interestingly, it also pointed out how the video content on Twitter also receives six times more engagement compared to images.
Every brand has its own set of goals and priorities. What helps, therefore, is having a clear strategy in place before creating a video campaign.
A common mistake made by marketers is falling into the trap of selling too hard.
At Mankind, for instance, we make it a point that our campaigns are not just selling a product.
Sometimes we just want to open a platform for our consumers to share their thoughts or moments, and sometimes we pick up an issue and raise awareness about it.

Check out – Top 25 Global Video Marketing Disruptors


About Joy Chatterjee
With an experience of almost 19years in the industry. I have been handling the Mankind OTC team since 2007.
Currently I am serving here as General manager, Sales & Marketing , handling the entire GT , MT & E-Com team.
I strongly believe in a phrase – "There are no Shortcuts to Success, it is your sheer hard-work & dedication that can lead you to fulfilling your dreams"

Get updated with Latest Video Marketing News


About VidSaga
Vidsaga is a global marketplace for Organisations to create Videos. Consider it as "Upwork/ Fiverr for videos" with Creative script writing and professional project management.
Join 52,000+ Global Video Marketers' Community