Having a video/campaign calendar helps plan the activities much better – Rapti Gupta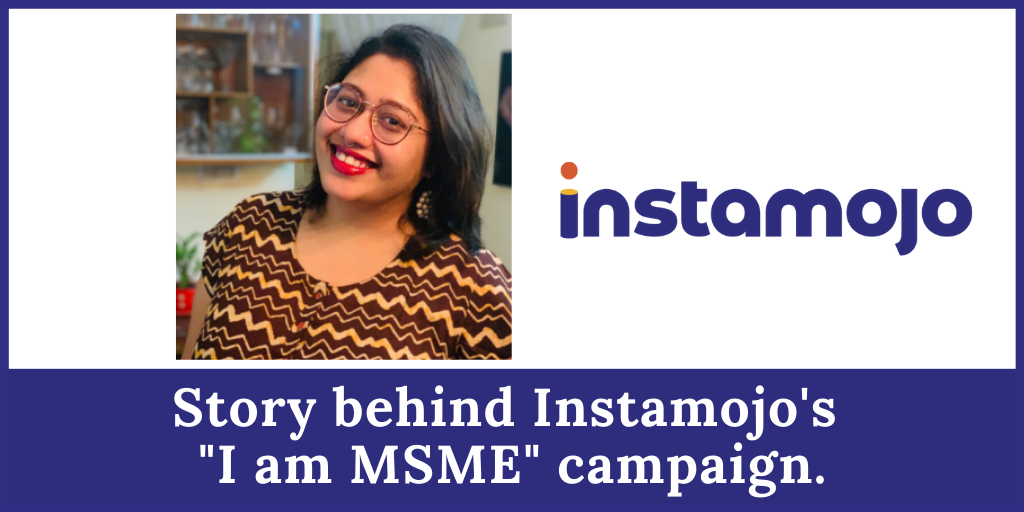 A campaign like "I AM MSME" made sense because it was local, it was a conversation starter, and topical in nature. – Rapti Gupta, Content Marketing Head at Instamojo.
We talked to Rapti to learn from the story of creating – Instamojo's 'I am MSME' video campaign.
Read on to know the story behind the video, challenges they faced during the production, their video distribution strategy and their learnings from executing the campaign.

Get updated with Latest Video Marketing News

1. What was your thought process and how did you come up with the campaign name as "I am MSME"?
I am MSME and was sparked by Chayanika Goswami, our PR head. She wanted to launch a campaign during the elections this year. So we put our heads together and decided we'd make this about growth, change, and impact – everything that Instamojo stands for.
We decided to put together a survey and ask the businesses of India what they'd want the new government to do for them. The idea behind "I AM MSME" was to promote the feeling of voting as a business owner or entrepreneur.
A campaign like "I AM MSME" made sense because it was local, it was a conversation starter, and topical in nature. It also had the ability to create real impact.

Are you a video marketing expert? Take this quiz

2. How did you execute this video campaign?
As a part of the campaign, we interviewed several small businesses and startups around the Bengaluru area. We wanted to understand the general sentiment about the business ecosystem and the challenges a real business was grappling with.
The idea was to compile the survey data and release a report, which will be out soon. It is a comprehensive study on MSME challenges. We'll be sure to share the report with you once it's published.
The survey didn't just help us understand the challenges in-depth but also helped us shape a product roadmap. Today, we know what to build because there is a need for those products and I think Instamojo is positioned to bring solutions to an MSME.
We are no more restricted to just payments. Instamojo enables online shipping, working capital loans, domains & mailboxes, and many other tools that help a business scale online.

Learn from Video Marketing experts

3. What was your video distribution/ media planning strategy?
We built a landing page and embedded the survey in it.
We distributed the video along with the survey link. We sent emails to our 700,000 odd user base (currently we are at a million merchants 🏆).
We shared it on our social media handles. We posted it on our WhatsApp and Facebook groups too!
Most of all, we kept it really organic. We got some press coverage on it too.

Know the New Things in Video Marketing

4. What challenges did you face while executing the campaign?
A campaign of this nature was ambitious; in two parts:
1. We needed to shoot legit videos with real businesses who were really shy to speak on camera. Especially because we wanted them to voice their opinion about the government.
2. We needed more people to take the survey. This was a challenge because we kept it completely organic.

Invitation to join Global Video Marketers Community

5. Please share your learnings from this campaign.
Despite the challenges, keeping it organic helped us get quality data.
The real takeaway was to plan much ahead in time for a campaign of this volume. Some important ones that I can list are:
Having a video/campaign calendar helps plan the activities much better
If it's not possible (because you're a startup) outsource the ideas! There are several content agencies and video platforms that can help you plan campaigns and execute them.

Here are the Top 40 Video Production Companies in India

About Vidsaga
Vidsaga is a global marketplace for Organisations to create Videos. Consider it as "Upwork/ Fiverr for videos" with Creative script writing and professional project management.
Join 52,000+ Global Video Marketers' Community