14 New things in Video Marketing in September 2019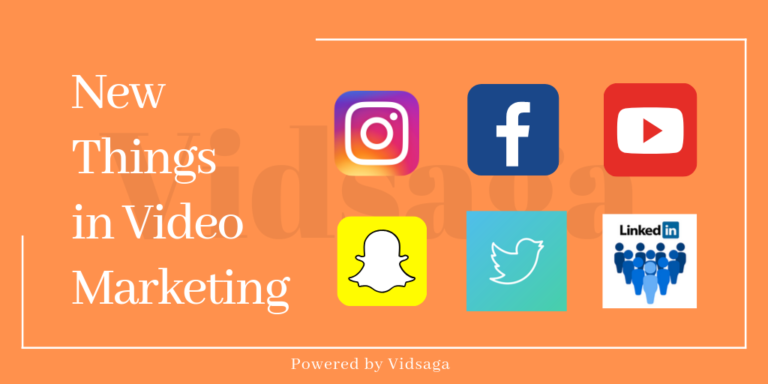 Social media platforms are upgrading their platform regularly and it's really important for Video Marketers to remain up to date with the new things in video marketing.

With YouTube introducing profile cards to Facebook bringing new tools for Video Marketers, September 2019 saw action from the social media world.

So, in order to help Video marketers, we decided to keep all the important updates in one place.
Here are the Latest updates in Video Marketing in September 2019
1. Facebook launched "Rehearsals" for its Live video API
Facebook launched its new feature for Live API.

This is called rehearsals for facebook Live API in which page owners will now able to publish video only to their page admin. This will help them to test new videos and do a practice run for live broadcasts.

Basically, you can do a rehearsal for your live video before going live.
2. Facebook to launch 'Live video' editing for video creators.
Now facebook video creators will get a new tool in which they will be able to trim the beginning and end of a 'live video'.
3. Facebook extending time duration for Live broadcasts
Facebook is extending the time duration for live broadcasts via live API from four hours to eight hours.
4. Youtube makes the verification process harder for creators
Youtube is changing its verification process for creators. Currently, YouTube allows anyone with 100,000 subscribers to be verified but now youtube needs clear proof of authenticity.

It is a very important feature for creators as it helps them in youtube search and represents verified status for creators.
5. Creator studio to add new Instagram and IGTV features
Facebook is now making possible for video creators to schedule video content on Instagram and Instagram's IGTV.
Now, page admins can schedule their video content on Instagram up to six months in advance through the creator studio.

It is also working on new editing features for videos published on Instagram feed and IGTV.

6. Facebook creator studio to add new languages
Creator studio is expanding languages for auto-captioning within videos.

They recently added 13 new languages that pages can use via one-click. These are the new languages they offer.

Arabic
Chinese
German
Hindi
Italian
Malay
Russian
Tagalog
Tamil
Thai
Turkish
Urdu
Vietnamese
7. Facebook to launch new distribution metrics for creator studio
Creator studio's new distribution metrics will give a score to video's performance by a range of metrics like 1-Minute Views, Average Minutes Watched and Retention.

This will help in calculating the overall video's performance.
8. Youtube launches new ad service for Video Marketing
Youtube launches its new Video reach campaign ad using A.I.

This new ad service will allow advertisers to use three different types of things for a single campaign this includes a six-second bumper ad, skippable and unskippable in-stream ad.

The good thing about this service is that it will use Google's machine learning to determine the most effective combination of ads.
9. Facebook's new Watch Party metrics
Pages that host watch parties have new metrics for creator studio.

It will calculate minutes viewed and 60 unique viewers, the minutes viewed tells the total amount of watch time in a watch party and 60 unique views tell the unique viewers who have watched a watch party for at least 60 seconds.
10. Facebook's new loyalty insights visualization feature
The new visualization feature Loyalty Insights will show which videos are driving engagement and returning viewers to a page.

Visuals will help creators to understand which video is getting more engagement so they can make more videos like them.
11. Now Facebook Page admins of a watch party can tag business partners
Facebook Page admins can now tag their business partners in a watch party within their branding content.

Facebook also added a "replay" feature so that viewers can watch a watch party after it is aired.
12. Facebook announced its new video poll ads
Following the success of poll stickers for Instagram stories ads, Facebook to bring polling feature to its video ads.
Recent statistics have shown that polling can be so helpful for video marketers to get engaged with their audience,

13. Youtube tests its new profile card feature
Profile cards are the latest feature from youtube. You can use these cards to engage with your audience.

Now YouTube creators will have the opportunity to see all the comments on all the posts of a user by clicking on their name.

Currently, on youtube when you click on someone's comment name, you're redirected to their specific channel page on YouTube
14. Adobe allies with LinkedIn and Vidyard to bring new features to Marketo engage
Adobe is set to bring new video marketing capabilities to its Marketo to engage through LinkedIn and vidyard.

Now the users of Marketo Engage will be able to upload their leads and accounts from Marketo to LinkedIn that will allow them to do paid advertising.

About Vidsaga

Join 52,000+ Global Video Marketers' Community