20 New Things in Video Marketing in April 2020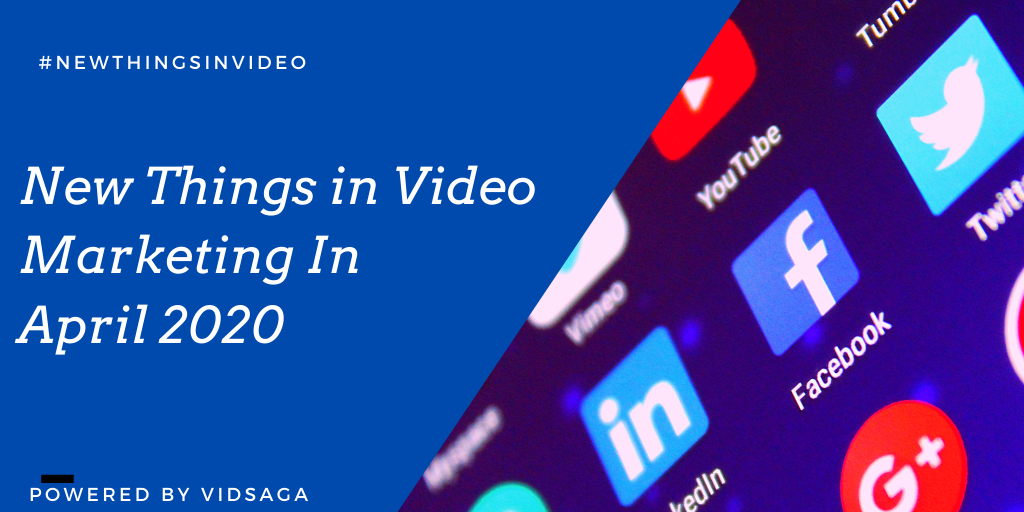 Video marketing is the main key element of any company's marketing strategy.
And like marketing in general, video marketing is also changing regularly. One aspect of this change, continous update of social media platforms.
So marketers need to be updated continuously with all the news things going on in the video marketing world. This helps them in creating effective video marketing strategy.
Without much ado, check out the Top 20 new things in Video Marketing in April'20
Invitation to join Global Video Marketers Community
Here are the 20 new things in video marketing in April
1. YouTube launches a new DIY tool for businesses
This is what everyone was waiting for, isn't it? YouTube has launched a new tool for small businesses to create videos in a simple way.
The tool was in the experimenting phase with a small group of people.
This video tool will soon be an essential thingfor creating quick and easy videos.
Check out – Top 25 Global Video Marketing Disruptors
2. WhatsApp update – Group Calls Now Support up to 8 Participants
Now in WhatsApp, you can have up to 8 members in a group call. The Facebook-owned company was recently testing this feature and now will roll out this feature in beta versions.
WhatsApp beta version 2.20.132 and iOS beta version 2.20.50.25 will have this feature.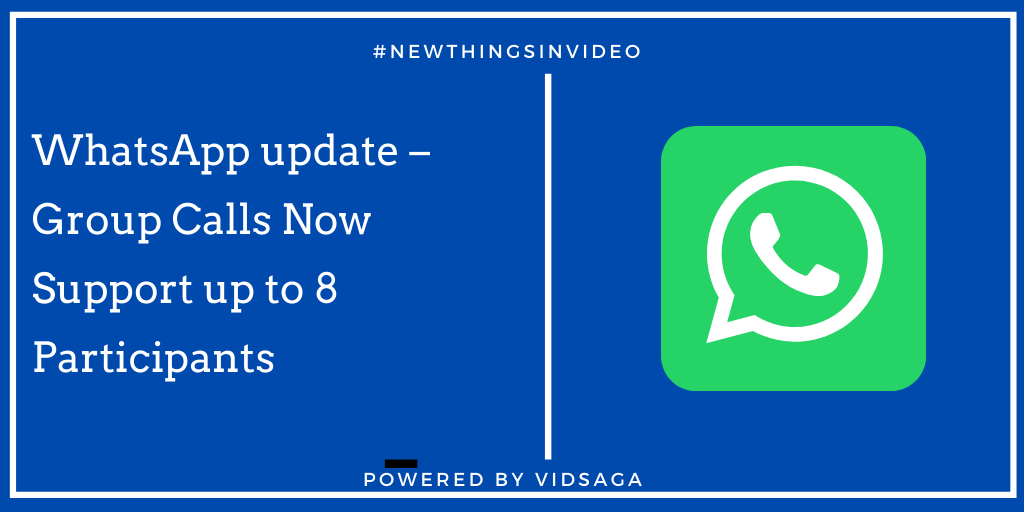 Get updated with Latest Video Marketing News
3. Snapchat will now allow developers to combine Snapchat stories in their apps via Snapkit
Snapchat has officially announced that developers can now combine Snapchat Stories in their apps, facilitating more engaging content experiences, and boosting exposure for Snapchat content.
For example, if you are using a music app Triller which is the partner of Snap Stories Kit, you will be able to share your activity in Triller App to your Snapchat Story.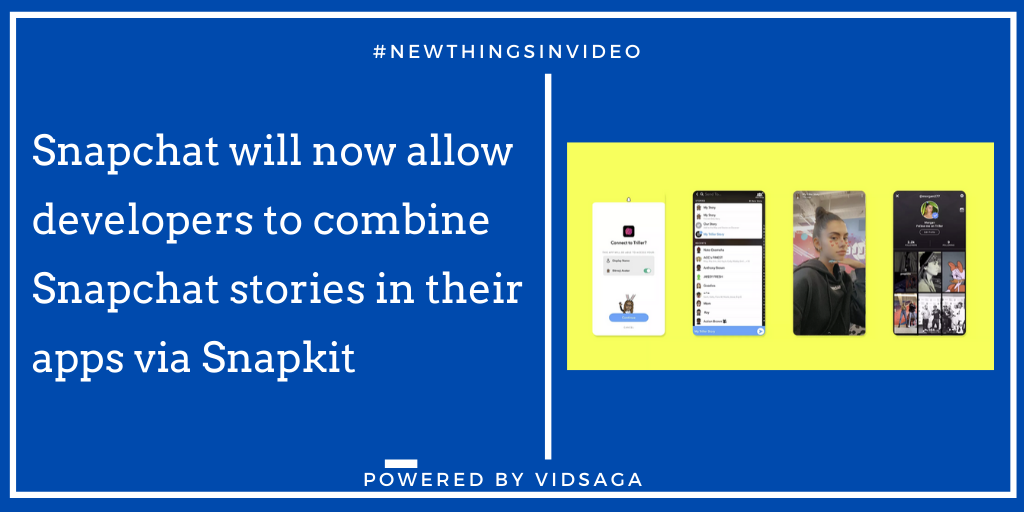 4. Facebook's Bulk Uploader will allow uploading 50 videos at the same time to 1 page
Facebook is updating the efficiency of Bulk Uploader by allowing us to upload 50 videos at the same time to one page.
While the videos are uploading, you can even edit the description, title, tags and schedule post, and other settings.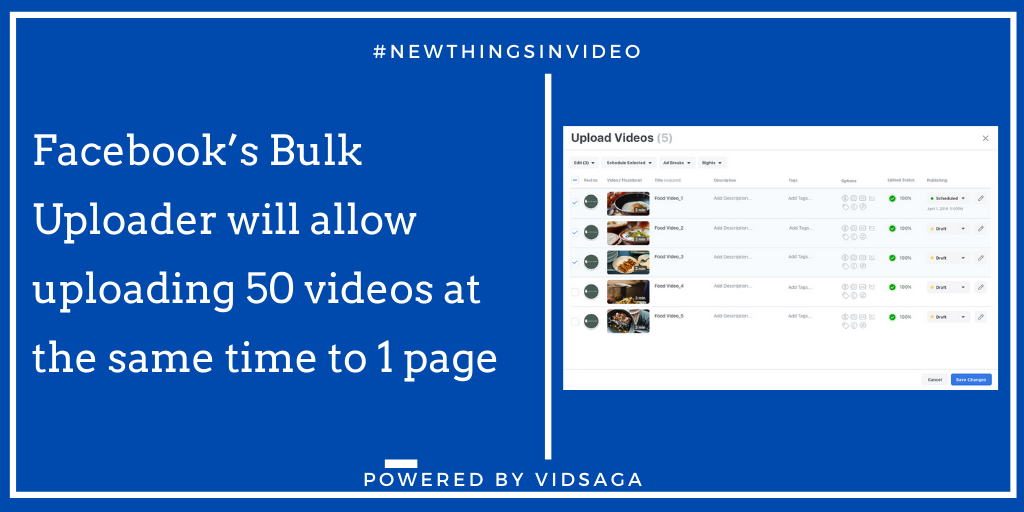 5. Instagram Launches the new "Thank You Hour" sticker and story
Instagram's new 'Thank You Hour' sticker will be added in the stories to showcase the various things people are appreciating in the global COVID-19 pandemic.
If you use this sticker with your story, then it will be shown to all of your connections.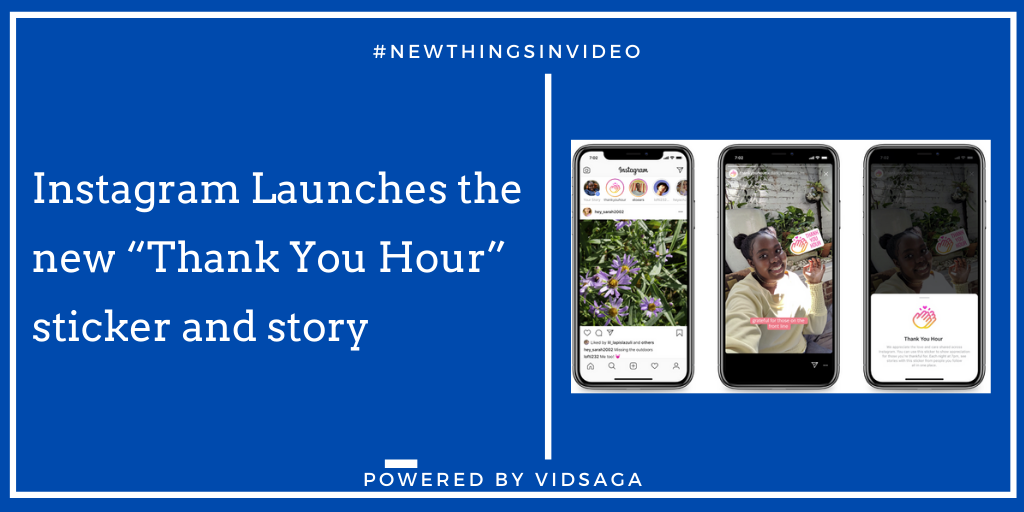 Are you a video marketing expert? Take this quiz
6. Facebook's new feature "series" will allow users to discover video content across Facebook Watch
Facebook's new feature "series " is very similar to playlists. Series will allow the users to discover video content from Facebook Watch, a news feed, and Facebook search results.
With Series, users can continue watching a series of videos on Facebook Watch itself. They can even navigate between seasons episodes.
7. Instagram adds the new IGTV preview option for stories
Instagram has a new update for its IGTV App. Now you can create a preview of your video in stories. First, it will autoplay for 15 seconds and if the video is viewed for more than 3 seconds then the view will be counted towards the total no of IGTV view count.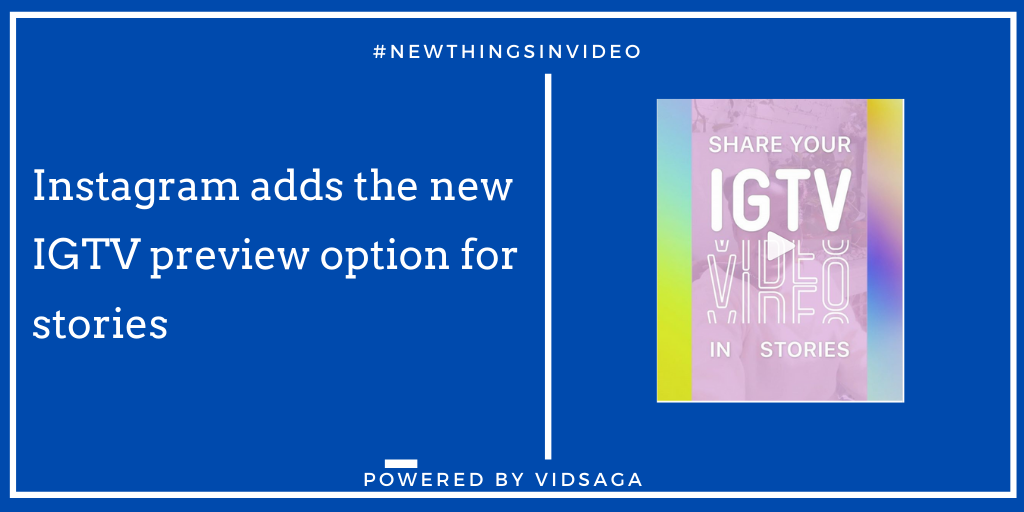 8. YouTube is testing 'video chapters' to skip to the relevant sections in a video
YouTube is testing a new 'video chapters' option which would display the submitted description of the relevant sections of the videos.
This will happen in the playback timeline along with the video post. It will also tell the chapter lengths and the description of what the chapter is all about.
9. Facebook adds new 'experiments' elements in Ad manager
Facebook recently added the 'experiments' section in the ad manager which will provide all the information about all Facebook ad tests and results.
This will be helpful for creators to track and measure all their variables and ultimately improve their approach.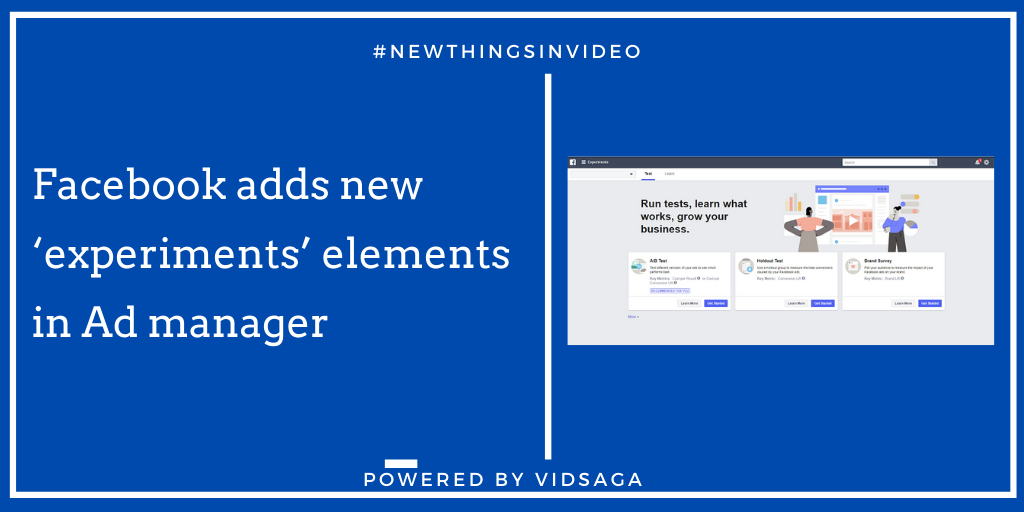 10. Instagram has added a new Gift Card, ordering and fundraising tools
Instagram has officially announced the new gift card, food order, and fundraising tools to help the business grow that are affected by COVID-19.
These businesses can share the new gift card, food order, and fundraising stickers in stories of their respective profiles.
For Example, when you tap on the fundraising sticker in stories, it will take you to the personal fundraiser created by supporters and business owners.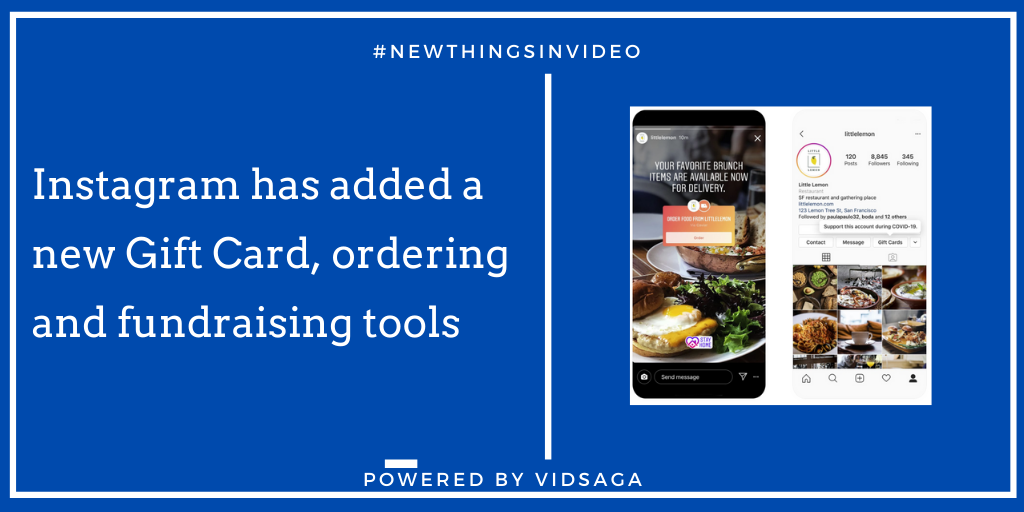 11. TikTok will launch Parental Controls globally and will also disable direct messaging for users under 16
TikTok is initiating a new set of parental control for all its users worldwide. These features are called "Family Pairing" which will allow parents to control scream management time, restricted mode, and direct messages for teen users.
It will also disable all direct messaging for users who are less than 16 years old in all global markets.
12. Instagram live streams can now be viewed from the Web
Instagram is now giving users a new option to see Instagram live broadcasts on PC.
In Instagram live streams on the web, you will get a compressed view in the line with the vertical, mobile presentation and it will also separate comments and video.
13. Facebook launches a new gaming app to compete with Twitch and YouTube.
Facebook Is introducing a new standalone gaming app for live-streamed gaming content.
They have a mixed set of casual games and access to many gaming communities but the main feature is that people can now go live and can see streams of other mobile games.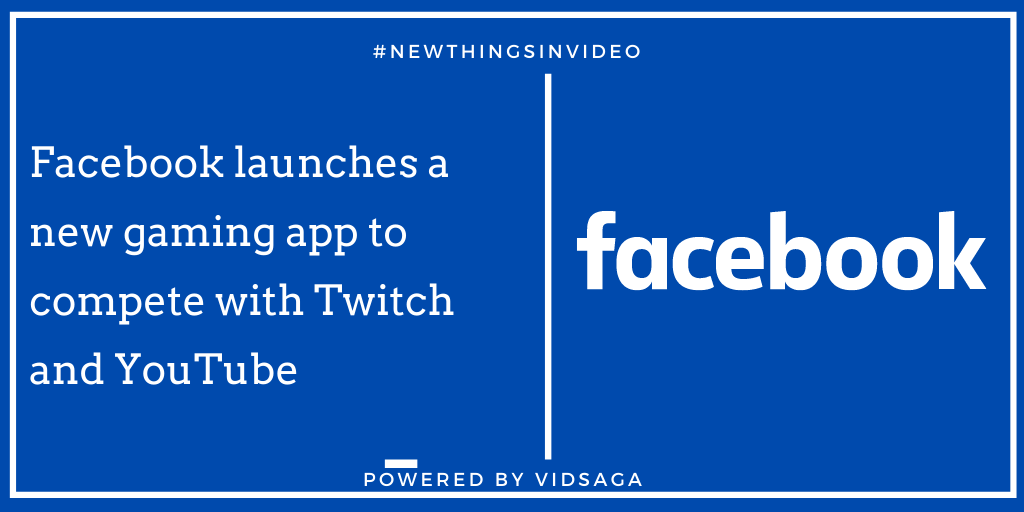 14. YouTube will enable selected vendors to provide advertisers with in-depth data insights via YouTube's API
YouTube will add five more partners for its 'Youtube measurement program' which will enable some selected vendors to provide advertisers with more in-depth data from YouTube API.
The measurement partners that are added are Channel factory, Integral Ad science, Vueplanner, DoubleVerify, and Sightly.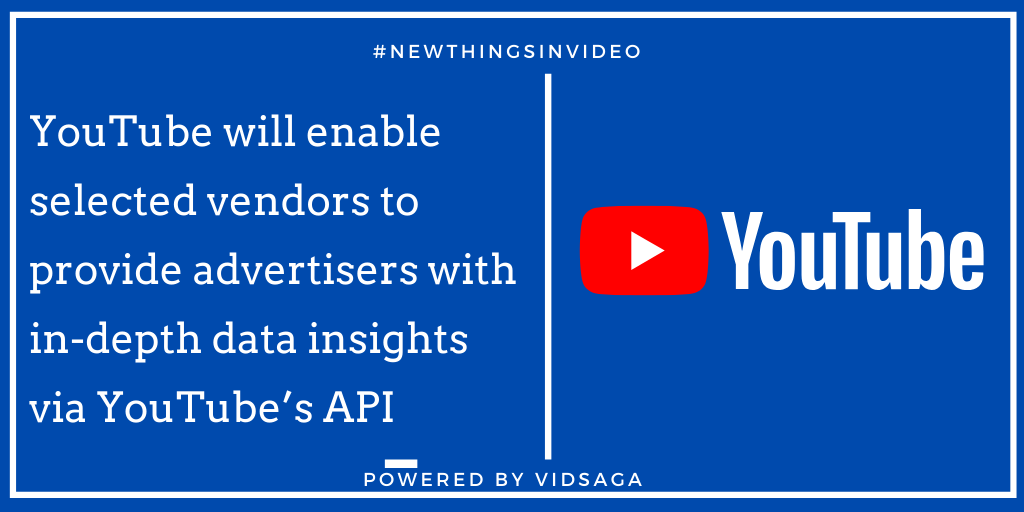 15. Facebook announced messenger rooms to compete with Zoom and Houseparty
Facebook's new messenger rooms will allow virtual hangouts with up to 50 people. This is double from WhatsApp video call capacity that only allows four to eight people.
Additionally, any friend can drop out of a video call whenever they like.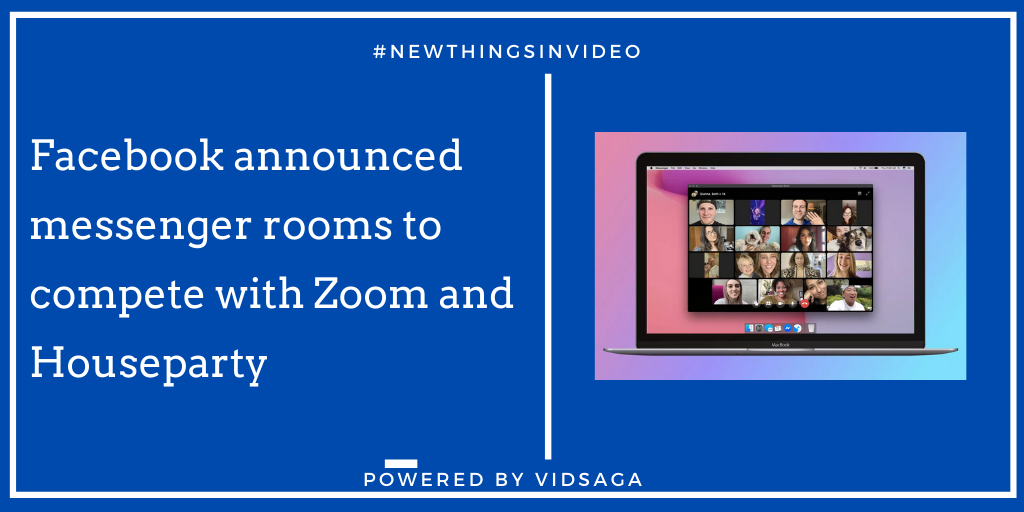 Know the New Things in Video Marketing
16. YouTube is working on new charts that represent when your audience is online
YouTube has been working on some insight tools for creators which will include new charts that will show when your audience is online.
The Darker lines in the chart will represent when exactly people are watching your videos.
This will help creators to know when to upload their videos to get maximum engagement.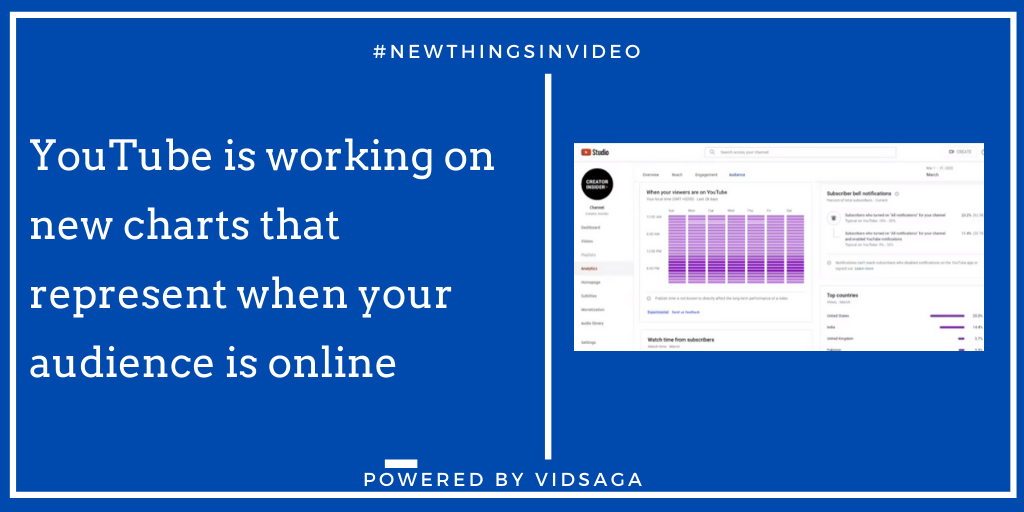 17. Facebook launches a new tournament option for users to create their own gaming events
Facebook's new gaming platform will enable gaming users to arrange their own tournaments .
This will provide an easy and immediate way to boost gaming engagements in the COVID-19 lockdowns.
You can set up the tournament by adding images, description, end date, allocating co-hosts, and making your event public or private.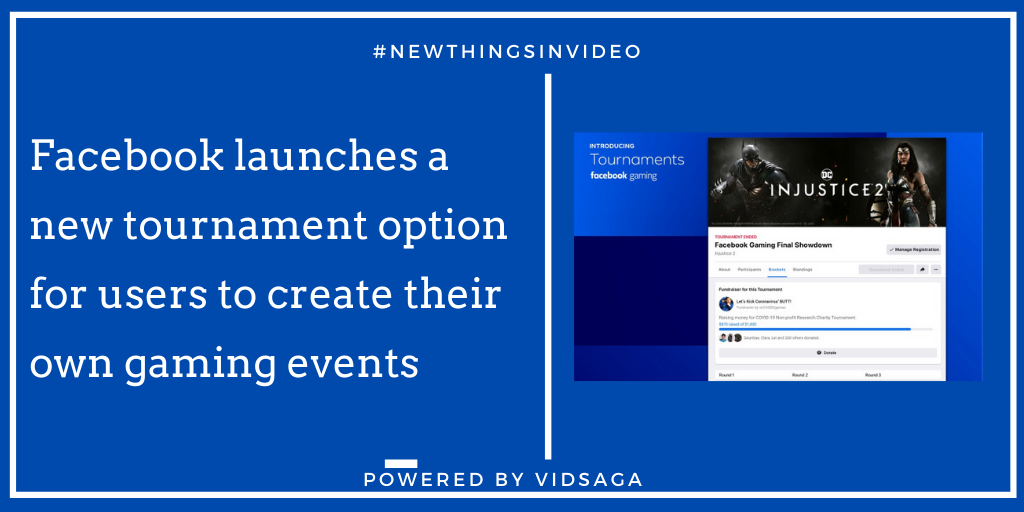 18. Snapchat launches a new ad offering called 'First Commercial'
Snapchat's latest 'First Commercial' will let brands buy the first commercial that any user sees before the Snapchat show they watched that day.
The first commercial will be available on the shows like Nikita Unfiltered, Luck America, Complex Hot Ones. AT&T is the first brand to officially test this feature.
19. TikTok launches new 'Donation Stickers'
TikTok has added a new set of donation stickers which will enable the users to raise awareness and funds for charitable causes from their TikTok clips.
The donation stickers will enable users to select from a range of causes to support people impacted by the COVID-19 pandemic.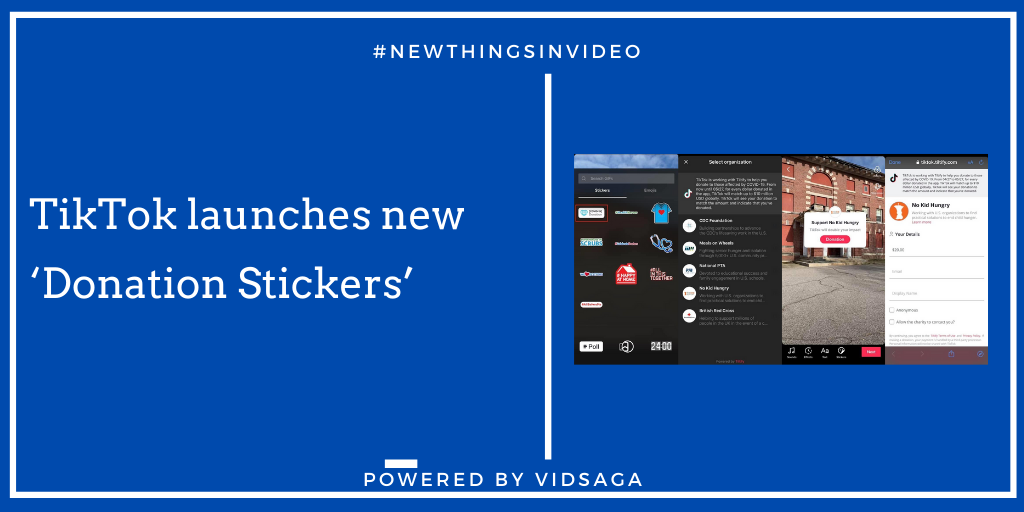 20. Facebook to introduce the new virtual dating feature in messenger
Facebook is working on a new video calling feature that will allow all the Facebook dating users to video call using messenger.
The online daters can invite a date and the recipient accepts or declines. If one accept the invitation then the users will get connected in a video chat via messenger.
About Vidsaga
Vidsaga is a global marketplace for Organisations to create Videos. Consider it as "Upwork/ Fiverr for videos" with Creative script writing and professional project management.
Join 52,000+ Global Video Marketers' Community