Learn About Current SEO strategies from Romain Brabant, CEO- of SEO Buddy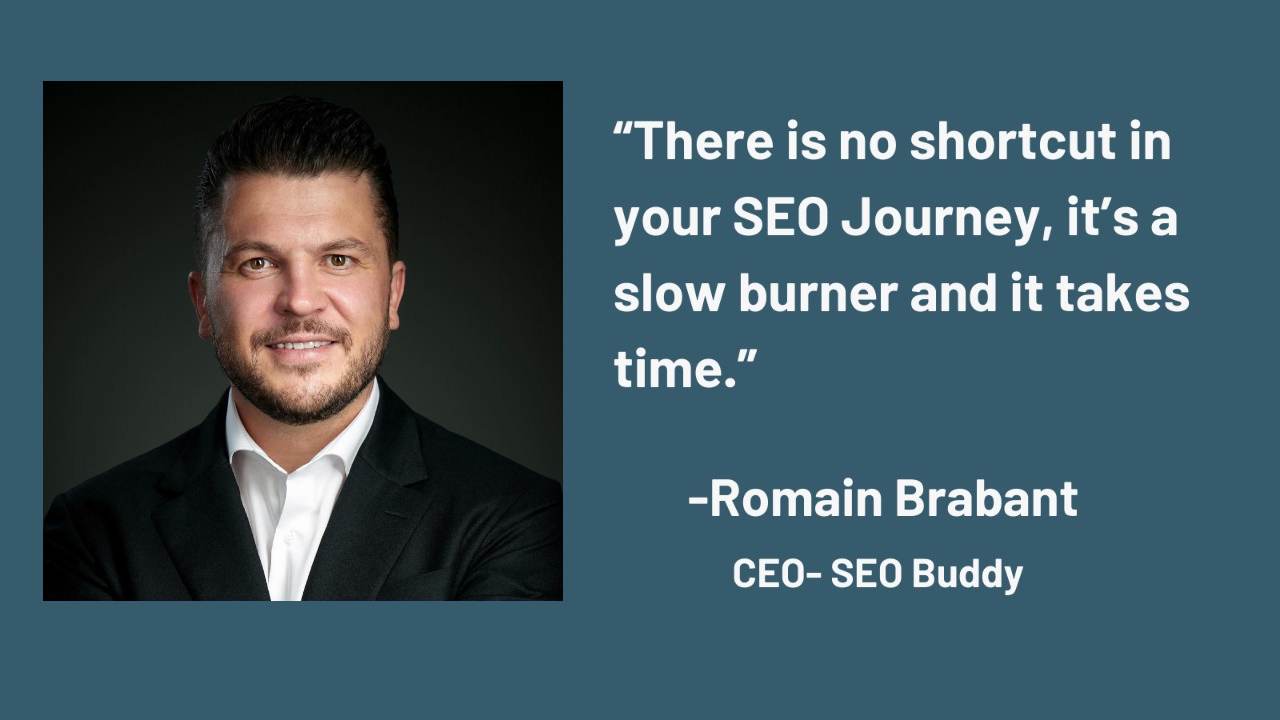 "The best link Building Strategy is to start by building relationships with people relevant to your industry as soon as possible." -Romain Brabant


Invitation to join Global Marketers Community Discussion Space
We often hear nowadays that – SEO is dead. So, has it really died, or has it become extremely competitive?
The follow-up question is – should startups and modern companies spend time/ effort/ money/ resources on SEO in today's time?
To get these answers and more, we talked to SEO expert Romain Brabant.
Read on to know his take on SEO in today's time.

Are you paying high? Check – Global Video Production Price Guide


1. Tell us about your life journey, in brief, Romain?

Hey! My name is Romain Brabant and I'm the Founder of SEO Buddy.
I help entrepreneurs to grow their organic traffic with efficient Do-It-Yourself frameworks.
My goal is to turn the overwhelming data from various SEO Tools into bite-sized missions that your team can achieve at their own pace.
I'm a web entrepreneur since 2001.
I started selling hardware products in the Cell Phone Industry before switching my focus to Virtual Services so I can embrace the life of a Digital Nomad in 2007.
Check out Video Marketing Knowledge Hub

2. How has SEO evolved in the past and where it's heading?
From day one, Search Engines are in the business of delivering the best answer to any question. 
The first job of anyone willing to rank their content is to produce the best answer.
What changed is the massive amount of content and competition, which is only getting bigger and bigger. 
Making it a necessity to audit the Search Engine Result Page, understand your competitive landscape, and have an honest view of how good your content is versus the competition.
Updating your old content when necessary and making sure it's still the best, and worth sharing.
Finally, growing your authority is no longer limited to the number of backlinks or referring domains linking to your site.
Your reputation, testimonials, feedback, and social mention are more than ever powerful off-page SEO Signals and Ranking Factories.
Making Digital PR part of the SEO Journey.

Check out – What Media is writing about Vidsaga

3. What are some SEO tactics that Businesses can adopt?
A goal without a plan is just a wish. The same applies to your SEO effort.

SEO is not Rocket Science; you just need a framework.

Mine is this SEO Checklist, but in a nutshell :

– Start with the foundation to measure your KPI (you can't improve what you don't measure)
– Create an efficient content strategy starting with Keyword Research
– Check your on-page optimization every time you press "Publish"
– And grow your authority by building meaningful relationships with other webmasters.
Get updated with Latest Video Marketing News

4. Can you share an effective backlinking strategy you have come across lately?
The best link Building Strategy is to start by building relationships with people relevant to your industry as soon as possible.
Slowly build a list of 30-50 websites from which you would love to get a mention, and work your way in their network. Follow them on social media, and interact with their content (like, share, comment)
And when the time is right, you won't be a stranger when it comes to asking for a backlink.

Remember that every stranger is a potential friend, but for now, you're just a stranger.
Check out – Top 25 Global Video Marketing Disruptors

5. What mistakes marketers should avoid when it comes to SEO?
There is no shortcut in your SEO Journey, it's a slow burner and it takes time.
Be patient, and start early, then stay consistent at it by creating habits from your processes.
Don't get fooled by some SEO promises that seem too good to be true.
And always prioritize quality over quantity.
Learn from Video Marketing experts


About Vidsaga
Vidsaga is a global marketplace for Startups & SMBs to create Videos and save money. So far, 1250+ Startups and SMEs from 15 countries have used the platform.
Consider it as "Upwork/ Fiverr dedicatedly for videos". + Milestone based Payment terms
+ Creative script writing
+ Agency like professional project management service
+ 7 days delivery
+ After delivery Support
Join thousands of Global Video Marketers