Learn about E-commerce Fashion Marketing from the expert Celine Hajjar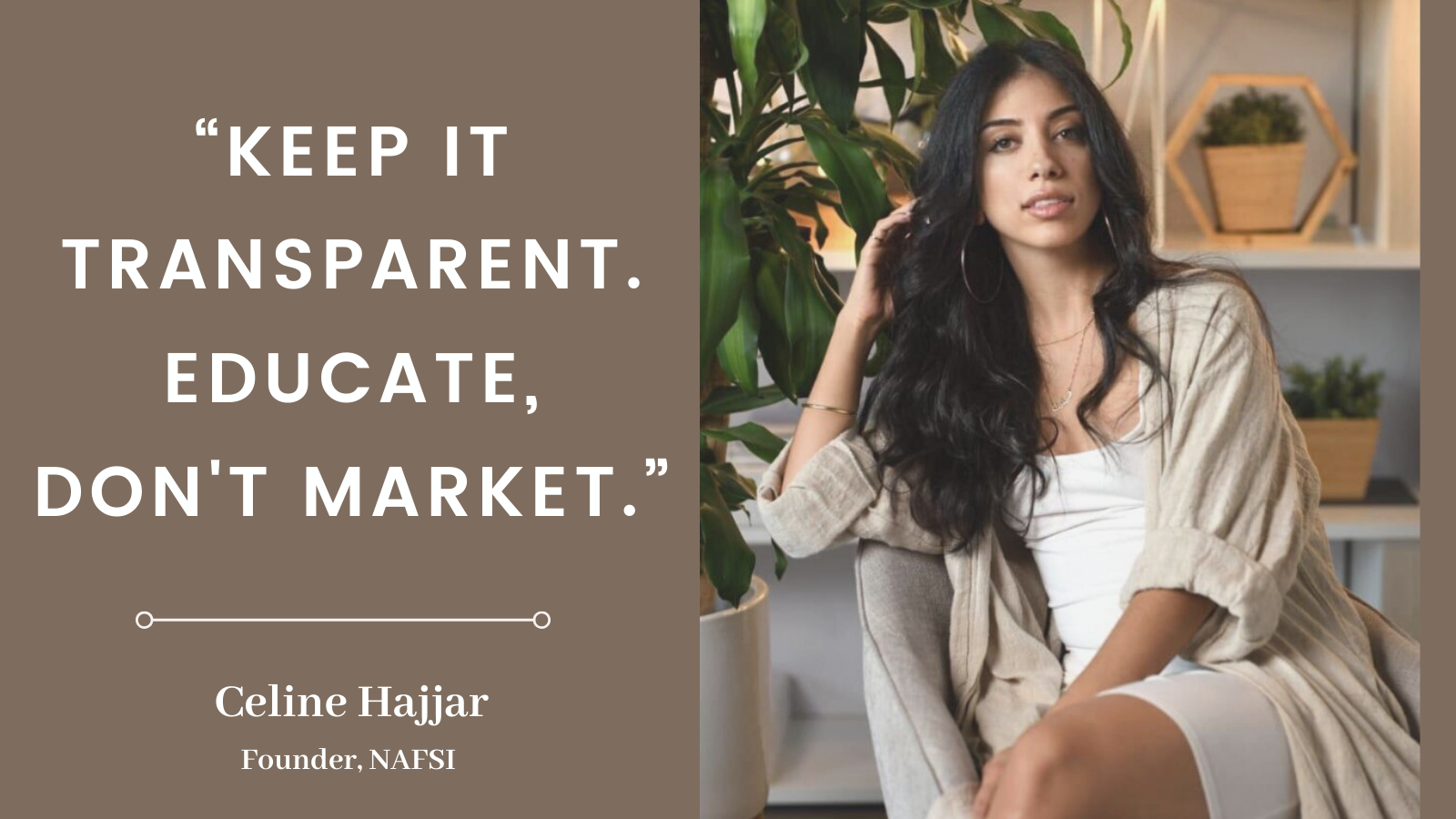 E-commerce Fashion is an industry with highest competition in the market, and hence the brands need to devise an impactful marketing strategy and create persuasive content.
With the increasing pace of the fashion industry, the need for ecommerce and effective marketing strategy on all channels is of utmost importance in today's time.
We talked to Celine to understand the insights on E-commerce Fashion Marketing.
Read on to know more about it.

Are you paying high? Check – Global Video Production Price guide


1. What are the best e-commerce marketing trends you have come across in 2021? 
One thing that I am consistently working on is e-mail marketing! A lot of data supports that it is huge for e-commerce and building that e-mail list is a must for anyone in the industry.

Get updated with Latest Video Marketing News


2. What best practices one must adapt when it comes to marketing fashion on e-commerce?
KEEP IT TRANSPARENT. EDUCATE DON'T MARKET.
This is especially important in the fashion industry. There is so much clutter around fast fashion and seasonal trends that consumers can't spot the difference between that and a brand aiming to make an impact.
By being transparent and educating, you have a much higher chance of standing out — plus you're keeping it real, people connect with that.

Check out these interesting Video Marketing Campaign Stories


3. How can the fashion industry be more sustainable?
Many ways. The fashion industry is responsible for 10% of annual global carbon emissions, more than all international flights and maritime shipping combined.
At this pace, the fashion industry's greenhouse gas emissions will surge more than 5 % by 2030.
We can't change the fashion industry, but we can change consumer behavior. I've drafted 5 conscious questions to ask yourself before you shop, in an effort to encourage sustainable purchases! Have a look

Youtube SEO: 10 Hacks you need to know in 2021


4. What tips would you like to give marketers who are willing to build a career in e-commerce/ fashion marketing?
Keep your designs true to what you believe in.
Would you wear such pieces? Are you proud of what you're putting together? Are you still passionate about it?
I've made pieces I would never wear and guess what? They never sold.
Stay focused, passionate, and true to your art.

Invitation to join Global Video Marketers Community


About Celine ( in her own words )
I was born & raised to lovely Lebanese parents in Canada, surrounded by artists, musicians and Middle Eastern grace — all of which eventually formed the basis of NAFSI's aesthetic.
As a teenager, I loved cutting up my clothing to make new pieces and picked up the habit of thrift shopping to repurpose old pieces!
I never studied fashion, but as soon as I finished my university degree I decided to venture out into the industry. So I left my home town and moved halfway across the world, to an up & coming city; Dubai.
That's where my journey in fashion began. I landed an internship at a multinational fashion company and learned so much about the industry.
That also meant that I learned about the detrimental impacts the industry has on our environment.
So in 2017, I decided to quit my job and made a promise to find (or create) pieces that are kind to our world!
After years of research and visits to farms and factories around the globe, I came up with NAFSI, a line of slow fashion that is always sustainably sourced & ethically made.

Learn from Video Marketing experts


About Vidsaga
Vidsaga is a global marketplace for Startups and SMEsto create Videos. 1250+ Organizations have trusted and saved money through Vidsaga.
Join 52,000+ Global Video Marketers' Community