10 Video Marketing Conferences You Can't Miss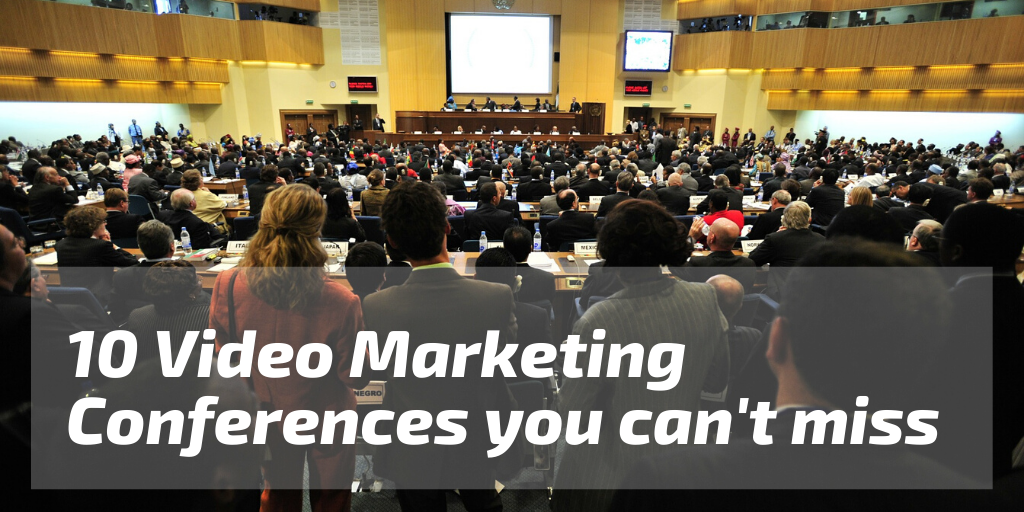 Disclaimer: The motive of this article is to introduce a walkthrough to the 10 video marketing conferences around the world. The list is not in any particular order.
Video content is no longer a luxury but will soon become survival tactic for Organizations.
As video marketing is growing at high pace, many people are taking up this audio visual format of marketing and becoming video marketers. This calls for a space where there like minded Video marketers can come and interact with each other.
Invitation to join Global Marketers Community Discussion Space
Here is a list of 10 dedicated video marketing conferences creating such space.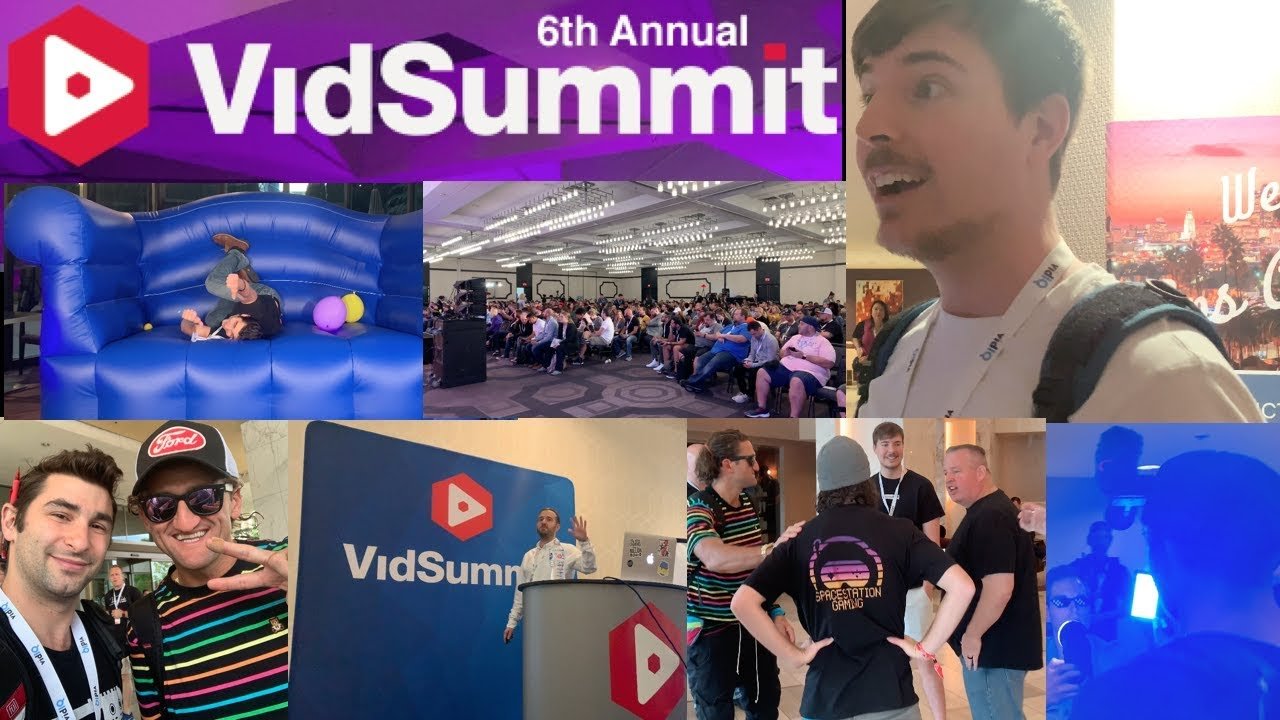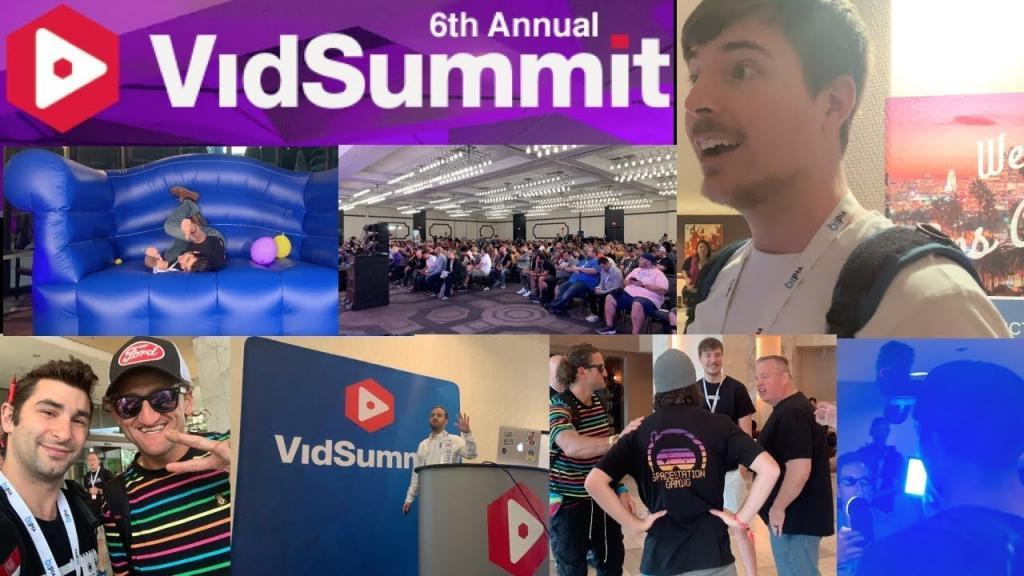 Vidsummit brings together world's top Video Influencers, Video Marketers And Brands to learn from each other.
Organized By: Derral Eves, Founder of Vidsummit
Location: Los Angeles, USA
Prominent Speakers – 60+ High-Level Speakers including
Casey Neistat – American film director, producer, and creator of popular YouTube videos.
Jon Youshaei – Instagram – IGTV Product Marketing Manager.
Derral Eves – Derral Eves is regarded as one of the top video marketing experts in the world.
Topics Covered:
Latest in video marketing, How to turn videos into sales, Viral video campaigns, Mobile video strategy, Learn about LinkedIn video creation etc.
Why you should attend this conference
VidSummit is not a conference where creators interact with the fans but its a place for content creators to come together to interact and network with each other.
2. VIDCON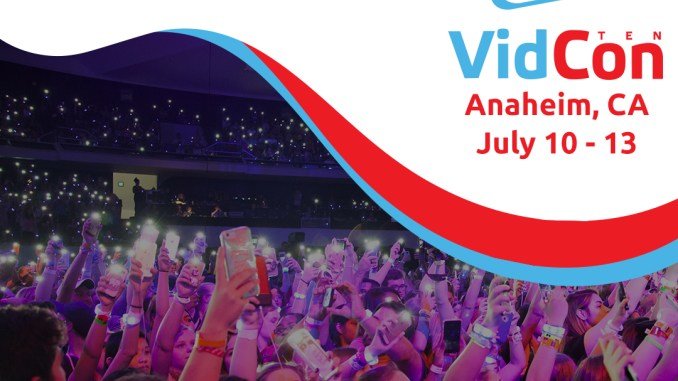 It's the world's largest video marketing conference for the video creators, video marketers and brands who are passionate about online video and building diverse communities.
Organized By: John Green, Founder of Vidcon
Location: Anaheim, California
Prominent Speakers
Matthew Patrick – Co-owner and President at Theorist Media. Creator of the nerdiest shows on the internet like Game Theory, Film Theory, and GTLive.
Hank Green – Co-Founder of Vidcon. He is the CEO of Complexly, which produces SciShow, Crash Course, and a dozen other educational YouTube channels.
Alex Wassabi – His YouTube channel, Wassabi, has garnered over 11 million subscribers with over a lifetime of 4 billion views.
Topics Covered:
How to create engaging videos, How to create viral videos, How to create videos for youtube, Storytelling videos etc.

Why you should attend this conference
The event has live performances, creative workshops, Q&As, and a chance to meet the Featured Creators in person via the Meet & Greet Lottery.
3. VIDEO MARKETING WORLD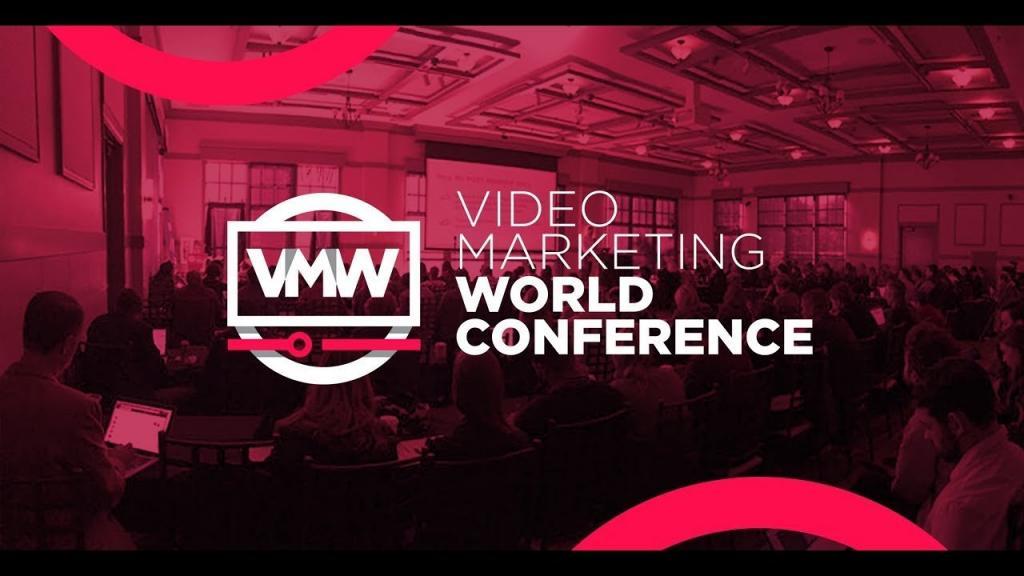 Video Marketing World Conference is an opportunity to meet and learn from the best and brightest minds in Video Marketing.
Organized By: Scott Simson, CEO of Video Marketing World LLC
Location: Richardson, Texas
Prominent Speakers
Benton Crane – As CEO of Harmon Brothers, the ad agency behind the most viral ads in internet history,
Shaun Mcknight – Shaun McKnight manages 5 YouTube channels together totaling more than 2 Billion views (40 million views/month), with over 13 million subscribers globally.
Sean Cannell – Sean Cannell is the CEO of Think Media and co-founder of Video Influencers.
Topics Covered during the conference:
Strategies of video marketing, social media video strategy, B2B Video Strategy, How to create the best videos for businesses etc.
Why you should attend this conference
This conference is 100 percent dedicated to helping businesses and business minded people grow their following and earn revenue using video online.
Read – Top 25 Video Marketing Disruptors (Globally) in 2019
4. TV & VIDEO INSIDER SUMMIT
The TV & Video Insider Summit is a three-day event hosted by MediaPost to bring top TV, video marketing and Ad Agency buyers together to discuss, debate and share best practices.
Organized By: Steve Smith, Editorial Director, Events, MediaPost
Location: Montauk, NY
Prominent Speakers
Joe Mandese – Editor-in-Chief, MediaPost
Josie Warren – Senior Content Producer, Sleep Number
Jesse Math – VP, Paid Media; Paid Social Lead; Head of OTT at ForwardPMX
Topics Covered:
Learn about OTT, How to create quality video content, Learn from EA (world's largest video game maker) that how to make a creative video, learn about the power of short and simple messaging in video ad formats etc.

Why you should attend this conference
In this Summit, you can connect with TV and video professionals. Attendees can directly interact with experts who are planning, buying and telling the next generation of brand stories.
Get updated with Latest Video Marketing News

5. VIDYARD FAST FORWARD'19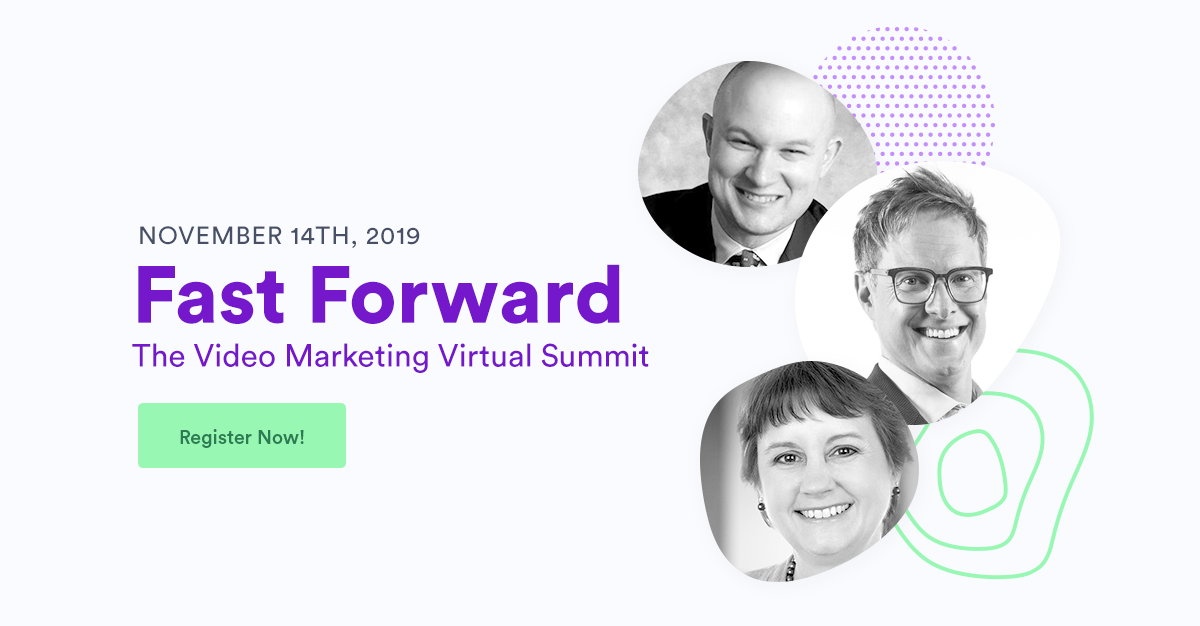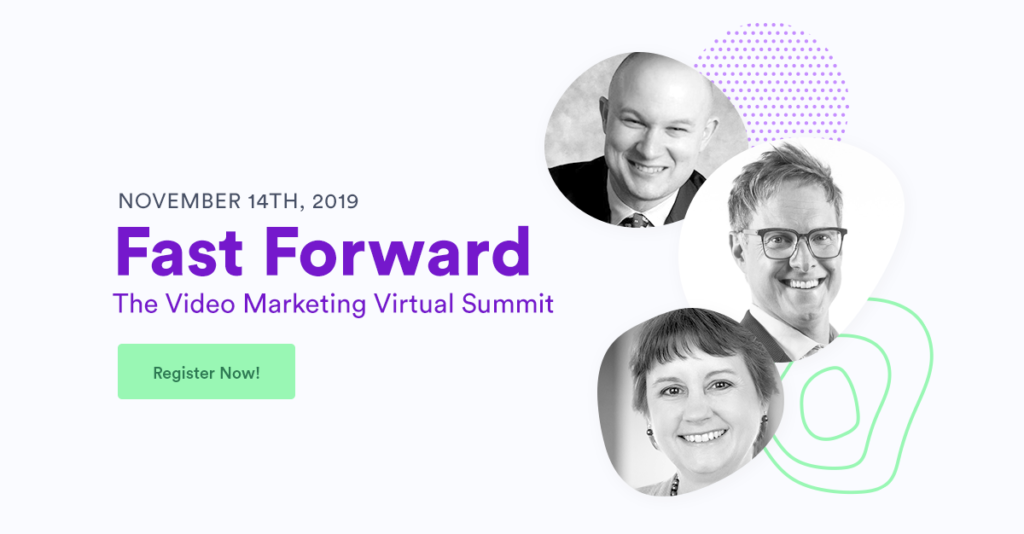 The conference where over 2,000 marketers and salespeople gather to share strategies and learn from the industry's top players.

Organized By: Michael Litt, Co-Founder and CEO at Vidyard
Location: Kitchener, Ontario
Prominent Speakers
Mat King – Video Production Manage, Vidyard
Glenn Hughes – Video Producer, Gordian
Matt Heinz – President, Heinz Marketing Inc.
Topics Covered:
Learn how to leverage video across your business, video marketing strategy, enhancing the value of your video content, practical tips and tricks for video production, Tactics to Increase Your Video Engagement, Accelerating Demand and Website Conversions with Strategic Video Content etc
Why you should attend this conference
In this Summit, you get access to industry leaders, get practical tips & tricks for video production, and actionable tactics to take your video strategy to the next level!

6. VIDEO ADVERTISING SUMMIT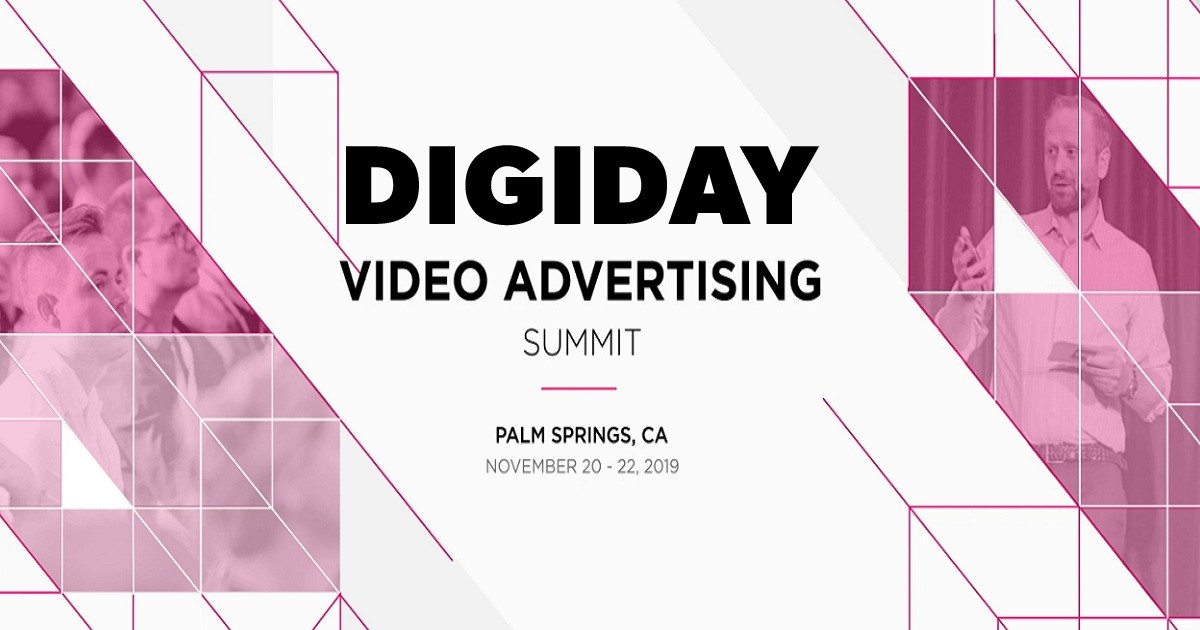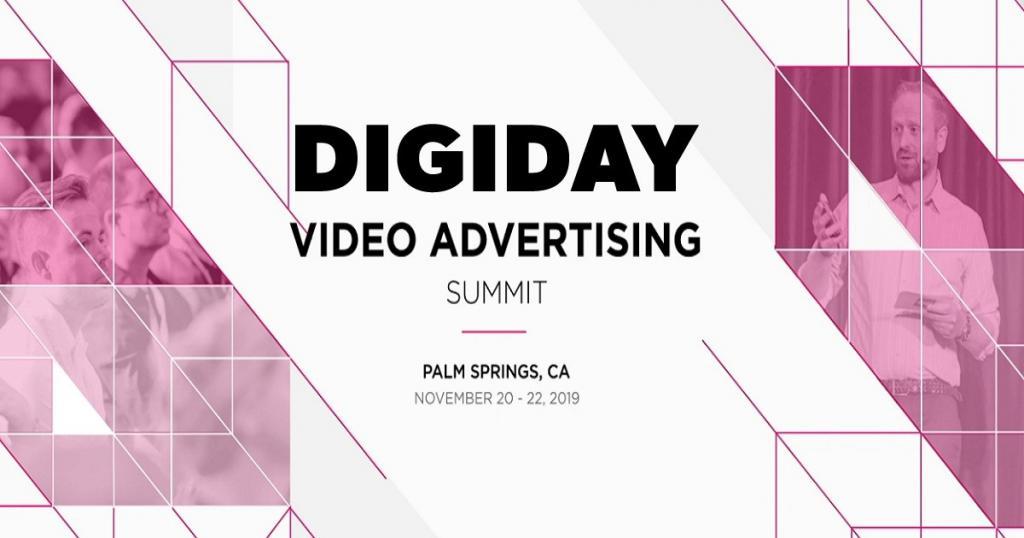 At the Digiday Video Advertising Summit, join top brand and agency executives to discuss how they are seizing the opportunities and addressing the challenges in the aftermath of TV and digital video's collision.

Organized By: Nick Friese, CEO Digiday
Location: Palm Springs, CA
Prominent Speakers
Marc Cestaro – Director, Addressable Lead at MODI Media
Nate Houghteling – Co-founder, Executive Producer, Portal A
Gaston Legorburu – Founder | CEO | Chief Strategy, Marketing, Creative Officer and New York Times Best Selling Author
Topics Covered:
Limitations in OTT Advertising — and What Comes Next, evolution of video marketing, how leaders in the industry are making their video investments work, key challenges that the video industry faces etc

Why you should attend this conference
This Summit brings together the top brand & agency executives to discuss the evolution of video marketing and how leaders in the industry are making their video investments work.
Know the New Things in Video Marketing
7. MAD OVER VIDEOS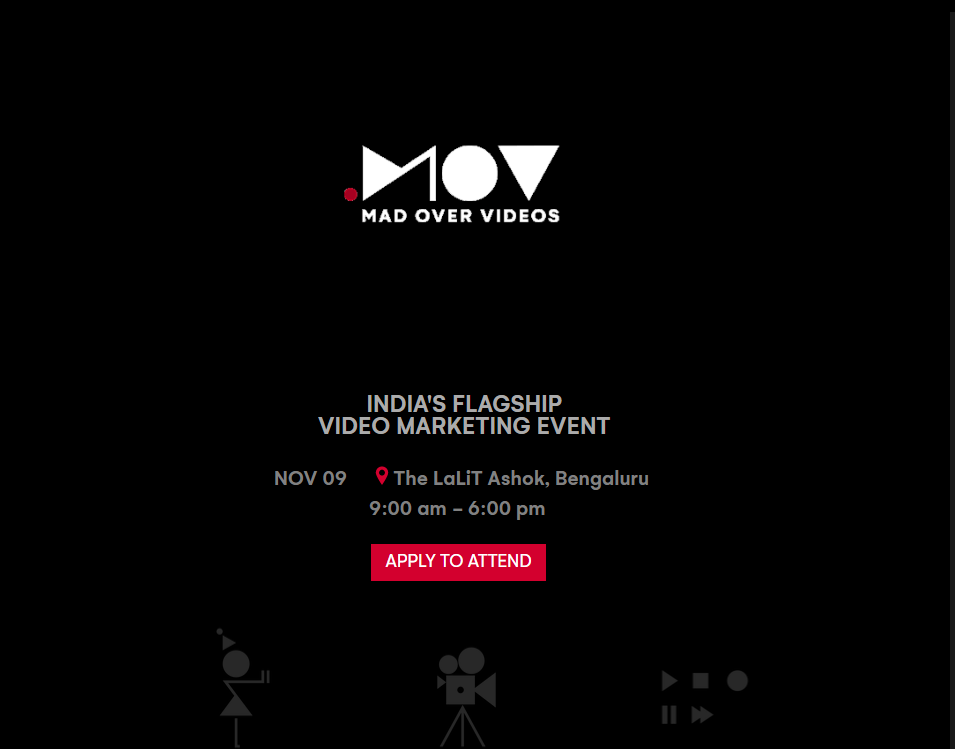 A curated community of 200 elite marketers and brand managers.
Organized By: Bobby Isac & Kamalesh Keserker
Location: Bengaluru
Prominent Speakers
Aashish Chopra – VP Content Marketing, Ixigo. Award-winning viral video marketer, 350 millon+ views
Deepa Kedoor – Content Marketing Evangelist, LinkedIn​, Helped Lenovo and IBM optimize digital presence
Achint Setia – VP Marketing, Myntra, ​Building a digital-first brand led digital ventures at Viacom18.
Topics Covered:
Video Marketing Strategies, Making viral videos, creating world-class video content, why you should also have videos in your marketing arsenal etc.

Why you should attend this conference
9 speakers will share their stories of creating world-class video content, how they use video to market themselves and their companies and why you should also have videos in your marketing arsenal.
8. VIDEO MARKETING SUMMIT FOR ENTREPRENEURS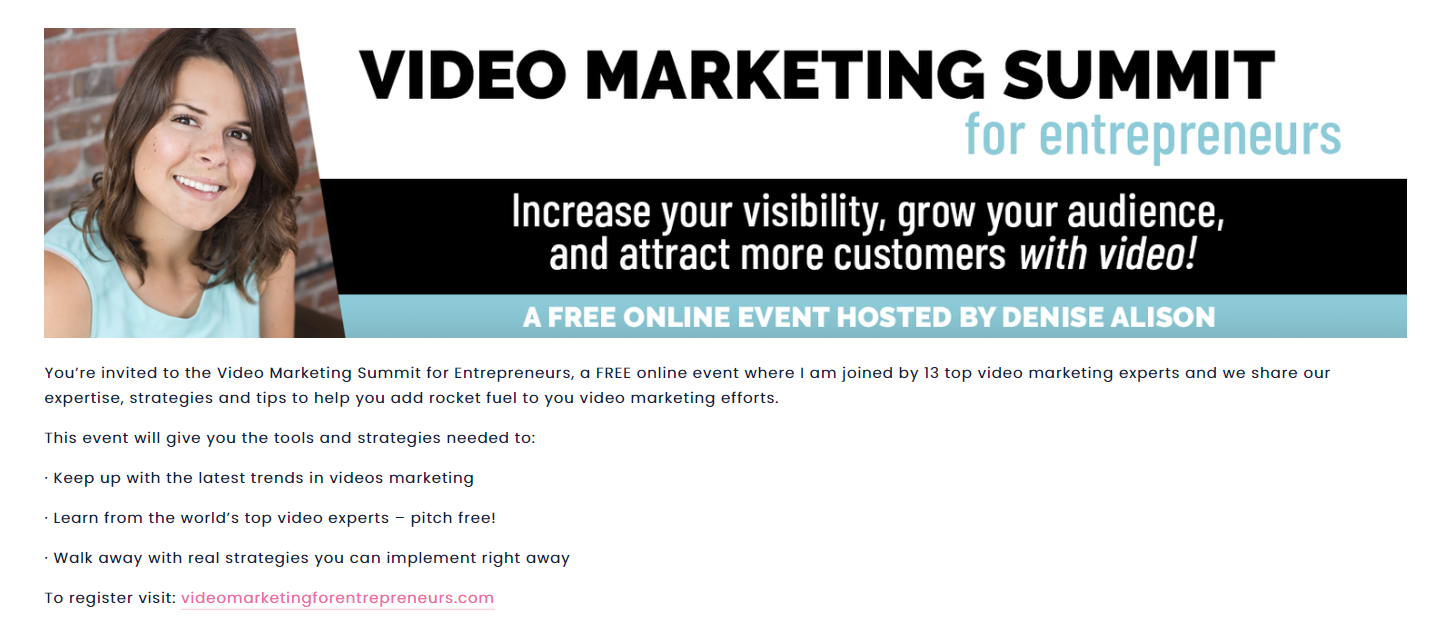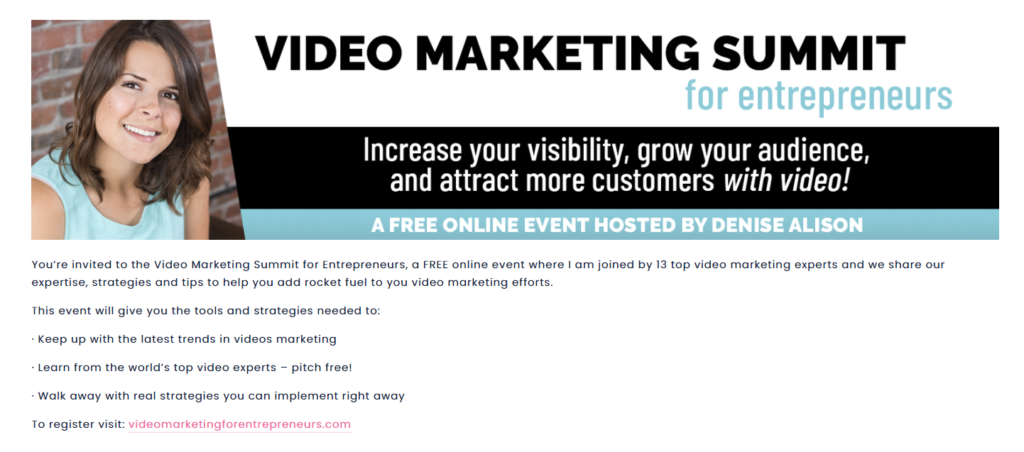 The Video Marketing Summit for Entrepreneurs – a 3-day online event made up of expert interviews with video marketing experts from around the world!

Hosted By: Denise Alison
Location: Online event
Prominent Speakers
Ben Decastro – Award Winning Social Media Creator • On-Air & Content Creator for TV, Radio & Podcast • PawSox Stadium Announcer
Brian Schulman – Founder & CEO of Voice Your Vibe, Forbes Featured Entrepreneur, LinkedIn Top Video Creator
Jeff Sieh – International speaker and visual marketing consultant specializing in Pinterest, Instagram, and video marketing.
Denise Alison – Social Media Strategist & Entrepreneur | Speaker, Live Video Formula & The Art of Online Marketing
Topics Covered:
How to create top videos for LinkedIn, Create professional live video, learn how to grow your business with video marketing, how to create effective videos, learn the Tech of Live Video and Podcasting, as well as Instagram Video etc.

Why you should attend this conference
This event is for an entrepreneur who wants to leverage the power of video to grow their business. Whether he is already creating videos, or even just thinking about it, there is some great value inside this event for him.
9. VIDEO MARKETING SUMMIT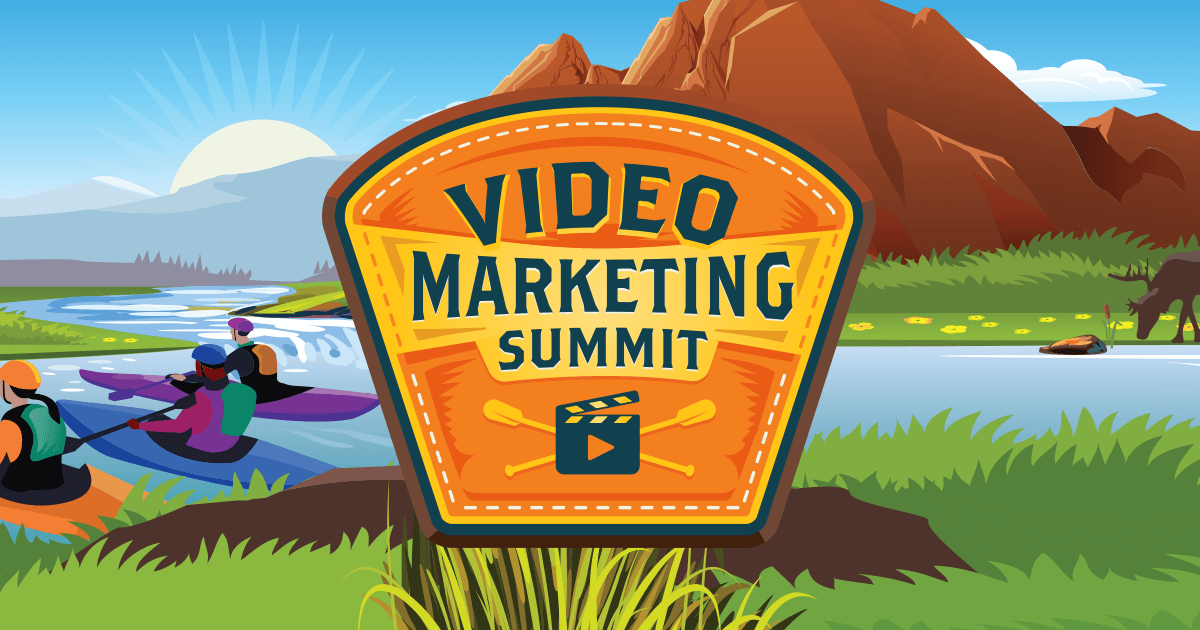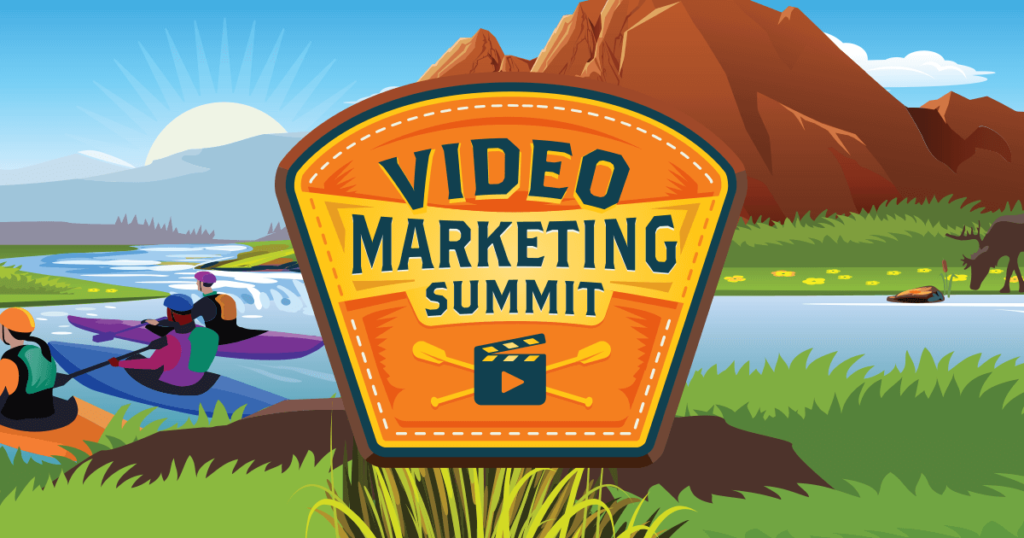 The Video Marketing Summit is a live online training event from Social Media Examiner. Each day you'll receive step-by-step live instruction in multiple 45-minute sessions.

Organized By: Michael Stelzner, Founder & CEO Social Media Examiner
Location: Online

Prominent Speakers
Tim Schmoyer – Video Strategist to 500,000 YouTube creators and brands.
Nick Nimmin – A YouTube expert who helps content creators grow their brands and businesses
Justin Brown – Worked in film for over 20 years producing Netflix documentaries, music videos, and extreme sports videos.
Topics Covered:
How to Create Winning Facebook and Instagram Video Ads, How to Boost Your Reach and Engagement with Live Video, How to Make Successful YouTube Videos, How to Leverage LinkedIn Video to Grow Your Business, How to Quickly Create Quality Videos etc.
Why you should attend this conference
You'll be able to figure out the best ways to engage your audience with video on Facebook, Instagram, YouTube, and LinkedIn.

Read – Are you a Video Marketing Expert? Take this Quiz
10. VIDEONOMICS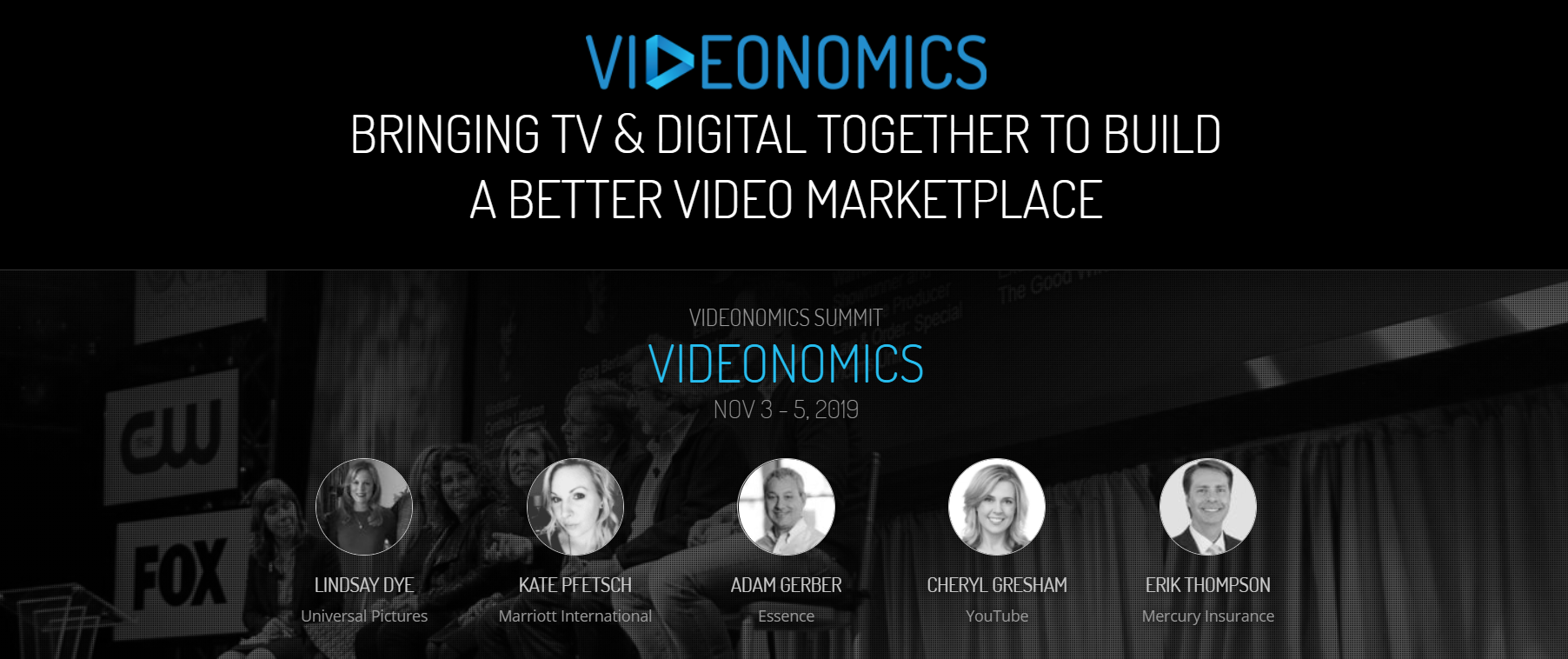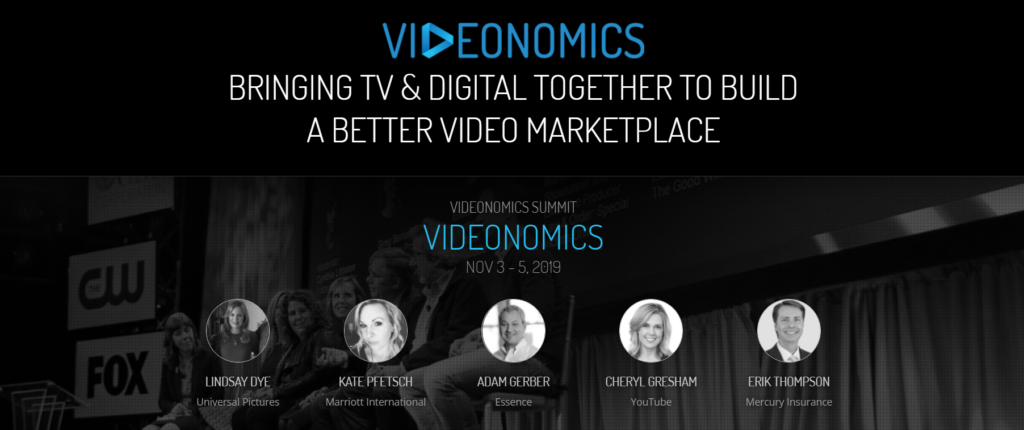 Videonomics is a 2.5 day invitation-only summit that brings together 200+ executives across brands, agencies, media companies, and service vendors to advance the business of video marketing and advertising.

Hosted By:
Adam Gerber – Global President, Media at Essence
Cheryl Gresham – Global Head of Integrated Media at YouTube
Location: THE RITZ-CARLTON BACARA
Prominent Speakers
Ben Aronson – Managing Parter, Group Director of Strategy at MediaCom
Ben Blatt – Executive Director, Digital Strategy at ABC
Sarineh Croft – Head of West Coast Sales at Tremor Video
Lisa Herdman – SVP / Director, National Video Investment and Branded Content at RPA
Topics Covered:
the business of video marketing and advertising, the right TV vs digital mix, innovation and content vs advertising, social and mobile video strategy, addressable and multi-screen advertising etc.

Why you should attend this conference
Learn through a series of presentations, case studies, keynotes, and breakout sessions. from the marketers and new age companies that are imagining and building the future of media.
Here are the Top 40 Video Production Companies in India
About Vidsaga
Vidsaga is a global marketplace for Organisations to create Videos. Consider it as "Upwork/ Fiverr for videos" with Creative script writing and professional project management.
Join thousands of Global Video Marketers