Learn about Personalised videos from Video Product Leader, Deepak Sharma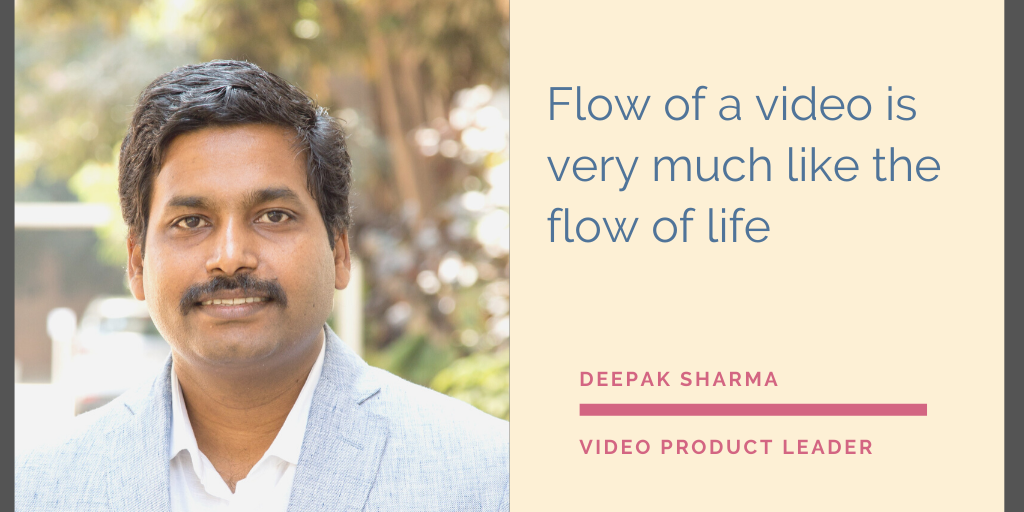 "Video is 'fattest' data in the pipe across any communication channel and most difficult to manipulate." – Deepak Sharma, Video product leader.
Deepak Sharma is a Video Product Leader. He has a deep understanding of Video, Video engineering, and personalised videos . Deepak was invited as a Chief host of PLF.

Check out these interesting Video Marketing Campaign Stories

1. Tell us about your life journey?
As far as I remember, our family was always on the move (My Dad being in transferable jobs). So, few life skills I picked up early:
a) Adaptable (as the situation around you vary)
b) Concise in communication (as you need to repeat it again).
Much later as a Video aficionado (both tech and content), I realized ABR and Encoding would come back to haunt 🙂 which are the equivalent of being 'adaptable' and 'concise'. So in that sense flow of a video is very much like the flow of life (glass to glass and dust to dust)

Get updated with Latest Video Marketing News

2. What made you interested in "Video"?
Like any child of the 80s, I was also naturally fascinated by TV and it's prowess of storytelling. It was so Impactful and so profound that when I got the opportunity to work on video technologies, I Jumped on it.
I worked on development to system integration. And I never regretted it. MPEG tables were remembered like a periodic table and non-compliance to standard was abhorred.
Video is 'fattest' data in the pipe across any communication channel and most difficult to manipulate. This poses complexity but at the same time makes 'video engineering' career extremely complex and challenging.
A well-designed system where technology is not in between the viewer and 'unadulterated fun' is a pure reward in itself.

Check out – Top 25 Global Video Marketing Disruptors

3. Please share how Personalised Video has evolved over the last few years and what according to you is its future?
In the Early days, the medium (TV mainly) was an uncommon resource. So the time slots were used to be personalized.
Morning news shows were for busy Dads, Afternoon – family dramas presumably for moms, evening for kids (I am talking 90s, cable was prevalent) and so on. Channel was trying to offer everything to maximize the reach.
Then we saw the rise of the specialized channels for people who wanted more specialised content – 24×7 music, cookery shows, etc..
The premise was that if you offer a vertical content, interested people could watch all they need (expectation was that an average viewer is a simple entity which likes only one kind or very few things).
First the web and now even in the video, we are seeing the hyper-personalization Now the premise is each user is unique and content should be tailored to or presented in order of her desires. Algorithms and heuristics are used, computer-aided decision making (AI and ML) is being seen in a silver bullet.
Future of personalization would be more deeper-contextualization – where is the user, what is she doing, what would be the best medium to reach and what would be the best content to offer.
Let me exemplify, if a user travels via metro ride for her work in the morning and the ride lasts 24 minutes. it would be apparent to present to her (and as the preferences are known,) an episodic or concise content that could start and end in 20 mins time. it would have a high probability of getting consumed.
This opens up another aspect (if not Pandora's box) – Can the editorial dimension also be personalized? So if I like more scientific stuff in a Sci-fi series, can that content have low quotient of drama for 'me'? At the same time my friend is sucker for drama – so can that same content has a longer version of dialogues and zips through the techno-babble. Note that we are talking about the same show, series or movie.

Read Deepak's Apple TV+ India experience

4. What is the most valuable metric for Personalised video streaming for Organizations?
– If reasons are commercial (like for OTT/VIDEO service providers), the engagement of the user with the content on a given platform i.e. how often the user is coming back and how long she is staying.

Know the New Things happening in Video Marketing

5. What advice you would like to give to Marketers who want to start with Personalised videos?
– Try not to be aggressive I understand that you know it's my wife's birthday but I will not be interested in a 17% discount in an expensive restaurant
– People operate in zones like moods, occasions, group dynamics, etc. – Nowadays, young/ urban/ mobile is no more a segment (if et all it's a very high-level grouping of 30 possible segments). So do the hard work in understanding all of your successful and failed campaigns better – what worked and what didn't. Log it in a playbook, treat this with very high respect and continuously revise it.

Are you a video marketing expert? Take these quizzes

About Vidsaga
Vidsaga is a global marketplace for Organisations to create Videos. Consider it as "Upwork/ Fiverr for videos" with Creative script writing and professional project management.
Join thousands of Global Video Marketers