Learn why your videos are not ranking on YouTube from Douglas Karr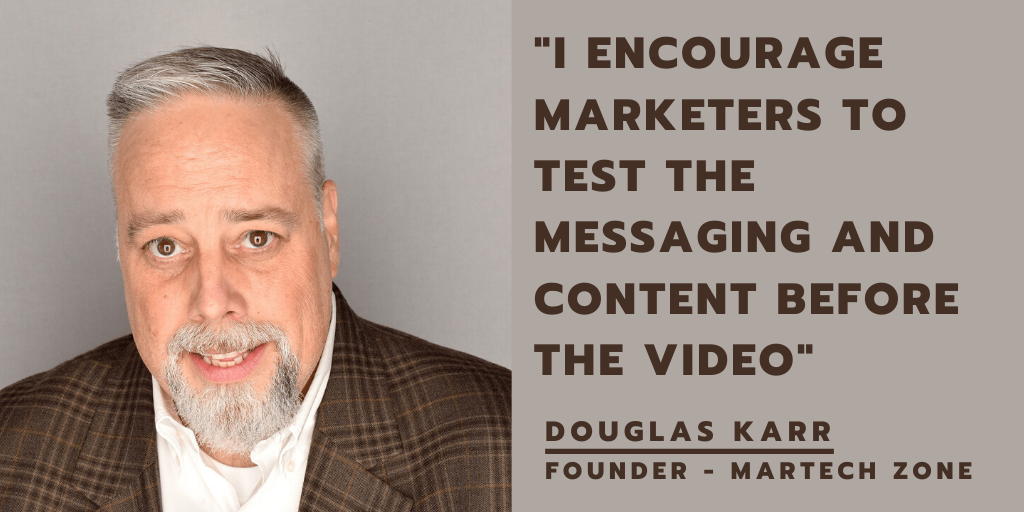 Douglas Karr Is the founder of Martech Zone and Co-Host of the Dell Luminaries Podcast.
In this insightful article, he shares his knowledge about Youtube content strategy, YouTube video retention, and things marketers should consider during video production & before publishing the videos.
Invitation to join Global Marketers Community Discussion Space
In the next few minutes, you will learn deep insights about Youtube videos and marketing. Read on!

1. Tell us about your life journey,  Douglas?
I'm 52, so this is the short (really long) version. My father was an engineer and productivity expert. Growing up, he was always analyzing and sharing how he was able to optimize everything from his gas mileage (seriously – we found the logs after he passed away) to entire factory layouts. Opposites attract, so my Mom was more creative and didn't plan anything.
I grew up in a home where both creativity and analysis were always encouraged, though. My sister was an international fashion model and actress, so I was exposed to both cultures growing up. As I grew older, I was into both designs as well as troubleshooting. I was naturally curious about how systems operated and ways to correct and improve them. 
The best life decision I made was enlisting in the United States Navy and going through Nuclear Electrician school. A ship is basically a floating city with limited resources, so you had to be both creative and disciplined to troubleshoot and maintain equipment because an entire crew was depending on you. After I was discharged, I brought that expertise to the newspaper industry. The Internet was in its infancy but I was lucky to work for an organization that was fully invested in it. 
We networked equipment and captured usage data to predict failures and preventative maintenance, then built dashboards that monitored productivity. Every year we saved resources and grew our efficiency. At that point, database marketing took off and I applied the same creativity and troubleshooting discipline to database marketing and analytics. Fast forward, and I helped bring several SaaS products to market, many of them centred around intent and search visibility. 
YouTube is the second largest search engine and its users are highly engaged and have the intent to solve problems – so optimization of YouTube channels and videos was critical to my customers' success.

Check out – Top 25 Global Video Marketing Disruptors

2. What content strategy do you recommend for Youtube marketing?
I'll be honest that I'm not a fan of calling it "YouTube Marketing"… it's marketing. A portion of every customer base appreciates and utilizes YouTube, but not everyone. I encourage and work with my clients to develop a finite "content library" that utilizes each medium – graphics, text, audio, and video – to provide the information necessary to their prospects. 
Repurposing this material helps you maximize your resources and your reach. If you're solely focused on YouTube, you're missing out on customers that aren't attracted by video. If you're solely focused on text and graphical content, you're missing out on customers that love video.
You have to incorporate video into every element of your acquisition, retention, and upsell marketing strategies. Years ago, I said that I envisioned a day when every page of a website had a video element… I still believe that should be the goal despite virtually every company missing the mark.

Get updated with Latest Video Marketing News

3. What things marketers should consider during video production and before publishing the videos?
Because video can require more resources, I encourage marketers to test the messaging and content before the video. We may start with researching trends and competing articles, graphics, and videos that are popular for the audience we're targeting. Then we'll identify resources, research, write an article, and promote it. We'll observe how it performs, enhance it with graphics, and keep optimizing it… sometimes for weeks. When we see it gaining traction, we may do a presentation, an infographic, or even a webinar on the topic. And when we see those taking off – we do a video that is both concise and thorough on the topic.
It may be as simple as a customer testimonial or a full animated explainer video. If the information is time-sensitive, we'll publish updates to keep the content fresh and engaging.

Are you a video marketing expert? Take this quiz

4. How marketers can increase audience retention on YouTube?
Retention is synonymous with value. If you're providing value to your audience – whether it's entertainment, how-to, or any other strategy – you must sustain or increase that value. Your subscribers may also want you to maintain your frequency.
I would also caution video marketers that attention spans are short… it's a myth. People are binge-watching entire series on YouTube… there's no shortage of attention spans. They do; however, have choices. Because of this, you need to grab their attention immediately, set expectations on what they're going to see, and then create a video that fulfils that expectation. Whether that's a 2 minute explainer video or a two-hour tutorial, the audience will remain and subscribe if they get value from you. 
Plan and create videos accordingly! I'd also encourage you to cross-promote your videos – talk about your last one and tease your next one to have people subscribe and keep them coming back. And incorporate them into every channel of your marketing – from social media to advertising, to public relations.

Know the New Things in Video Marketing

5. What are the reasons a video is not ranking on Youtube or not getting any views?
Aside from what I mentioned above, the biggest issues I see on underperforming YouTube videos are terrible titles and descriptions. Without titles, tags, and detailed descriptions, YouTube may be unable to index the video accurately. I'd also encourage transcriptions – sometimes we paste those directly into the description.
 If you're looking to market, be sure to include a link FIRST in your description so people can go to your site and dig deeper into a topic. 
It's crazy to me that a video company will spend weeks planning, recording, and editing a beautiful video – and then they don't optimize their title, write an engaging description, and then fill out all the additional data fields that YouTube offers. If they took an extra hour to do this, it would make all the difference! I've spent days on new clients, optimizing each video, and watched their views and conversions increase tenfold. 

Here are the Top 40 Video Production Companies in India

About Vidsaga
Vidsaga is a global marketplace for Organisations to create Videos. Consider it as "Upwork/ Fiverr for videos" with Creative script writing and professional project management.
Join thousands of Global Video Marketers