Learn why branding is important for small businesses too from Richa Pathak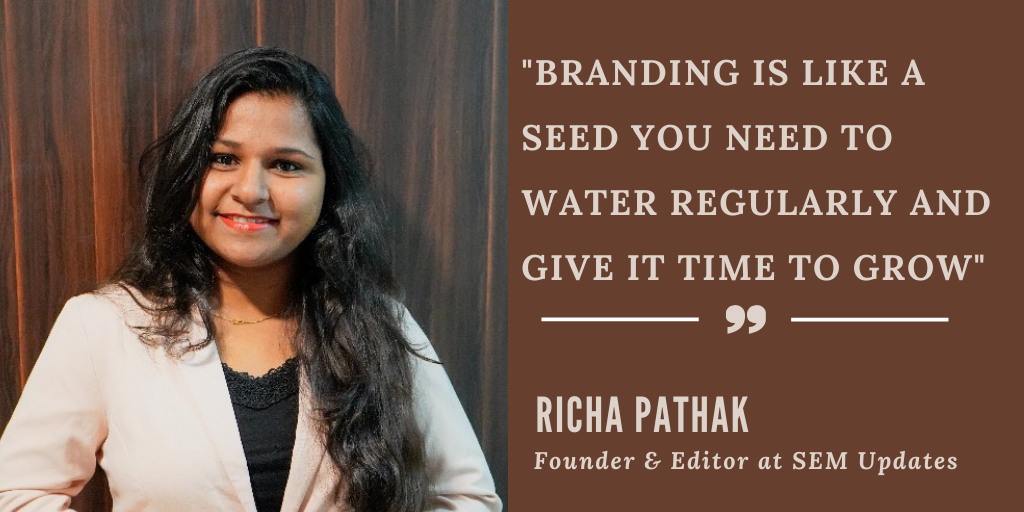 Richa Pathak is Founder & Editor at SEM Updates – The Digital Marketing Magazine. She is a digital marketing influencer, a creative consultant & a corporate trainer.
With a decade of experience in working with B2C & B2B brands across the globe, she is also a featured author in top-10 marketing magazines globally. She offers various consulting, training, & mentorship programs to share her knowledge.
Read on to know more about the most effective branding strategies.
Invitation to join Global Video Marketers Community
1. Tell us about your life journey in brief, Richa?
I was a bright student in the school and topper in the college too. But, I have started my journey as a failed software engineer and explored my interest in digital marketing. I started reading about SEO, social media, and other digital marketing channels. I learned all of it from YouTube videos, blog articles, free ebooks, etc. As I started learning about it, I started loving it. I developed my interest and understanding of all the marketing aspects. I started my career as an SEO and now I am an emerging digital marketing influencer and got featured in various top digital marketing magazines.
It all starts from your area of interest that turns into passion followed by a successful career. You need to be very consistent about it, to see the great results.
I realized people invest in people not just any business. You need to associate your brand value to your business, without that, you will only think about tomorrow's revenue, not long-term goals. I started sharing my knowledge and experience just to help people. I built my own social media channels a couple of years back and now I have more than 25K+ followers on all social media handles. That is how branding works.
Check out – Top 25 Global Video Marketing Disruptors
2. For beginners, how Branding is different from Advertising?
Branding and advertising both are different and equally important digital marketing segments. Branding when people know your business, product, services and they come to make a purchase. Whereas advertising is something in which businesses to go find the audience, attract them, and try to entice them with nice ad-copies.
I believe these days people trust brands more than any product or service. But to build that brand image you must have to develop a strong content strategy and story behind your business idea. Everyone is interested in knowing the WHY more than HOW.
Advertising is a great tool to increase the reach of your product and services, but the campaign should be aligned to the buyer's journey, you should never run a lead generation campaign directly after launching your product or service in the market. First you have to establish awareness about your business then you should engage with the audience and generate great content to inform your audience. Then you will build a credible brand.
Get updated with Latest Video Marketing News
3. What are the most effective Branding strategies you recommend in 2020?
Try to help people genuinely, through your brand! When you understand people of your audience and try to solve them, it creates a positive brand image in audiences subconsciously.
Share great informative, in-depth content, quick videos, infographics about how you can solve the challenges faced by your buyer persona. Different people consume different content formats, that is why you need to provide variety. Being creative about what you post on your fan page is really important. The more you interact with your audience through your content, the more brand recall value is created.
Are you a video marketing expert? Take this quiz
4. Why is Branding important for small businesses?
To generate more business you can't spend the amount on advertising, that is why you need to create your brand to gain trust and credibility. Audience purchase the product or services they are aware of or referred to by someone. Small businesses face a lot of competition these days, so to stand out of the crowd an amazing content piece can bring a lot of attention to your brand and give you better ROI in the long-run.
Branding is like a seed you need to water regularly and give it time to grow. Once it becomes a tree, you can enjoy the fruits. Small businesses can generate high-quality business leads, potential customers through branding their product, and services consistently.
Know the New Things in Video Marketing
5. What are the common mistakes should professionals avoid when it comes to Online Branding?
Do not try to hard-sell your product or services to the new audience. This is the worst mistake a lot of people make these days. If the person doesn't know you or your business, they won't invest in it. You first need to understand what problems or challenges they are facing right now and how your business can solve them.
Another mistake people make with branding is showing a lack of patience. Some people leave some platform too early by thinking that it's not working for their business. That is not a right approach. You have to maintain all the channels for a long time, post content regularly, interact with the audience, come up with some creative campaign ideas, that is how people will recall your brand image and will be connected to you and convert as a customer eventually.
Here are the Top 40 Video Production Companies in India
About Vidsaga
Vidsaga is a global marketplace for Organisations to create Videos. Consider it as "Upwork/ Fiverr for videos" with Creative script writing and professional project management.
Join 52,000+ Global Video Marketers' Community