Learn what does it take to be a great global account manager from Akshat Mohindra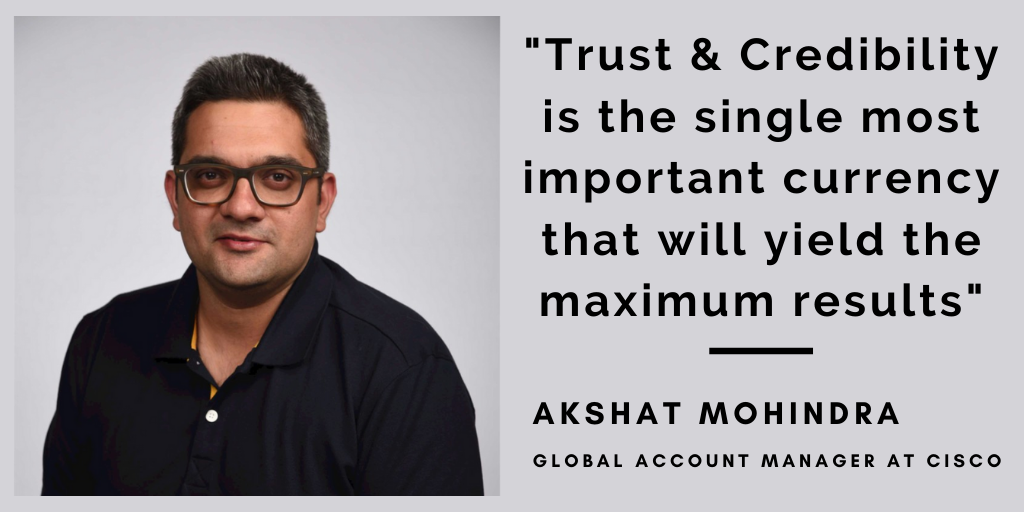 Akshat Mohindra is a Growth Hacker, Public speaker, and Global Account manager at Cisco.
In this article, he shares his learnings about 3R principles and door opening strategies.
In the next 4 minutes, learn the deep insights about what it takes to be a great account manager.
Invitation to join Global Video Marketers Community
1. Tell us about your life journey, Akshat?
(If you could start from childhood – not only academic/ professional but some personal story and what prompted you to take up Business development/ Sales/ Account Management)
I believe Sales has always been in my DNA. My earliest memory of childhood is seeing my father going to the office (and yes he was part of the Sales team in his firm) and invariably jotting down all the buzzwords, he would be using throughout the day.
It was also the time in early 90s when computers & email had started making a splash in the market, so I got a 1st hand exposure of how technology could play a huge role in Business Development.
When I was in Engineering, I realised midway in the 2nd year that my calling was not in Software Coding (nothing against them, in fact I respect them the most) & that helped me hone up my other skills. I regularly found participation opportunities for debates, paper presentations, marketing events not only to test myself against my peers but more importantly to learn from them.
This clarity of thought helped me immensely when I applied for MBA as my expectations from the course, colleagues & most importantly from the institution was to get an opportunity to continuously better myself & make myself employable enough for the best of breed organisations to come & pick me up.
Check out – Top 25 Global Video Marketing Disruptors
2. What does it take to be a great Global account manager?
I believe there are 6 tenets that any professional should follow – these are skills that cut across all functions, verticals & job profiles.
Communication – you are representing your firm in front of the client, but also representing your client within your firm. It is a 2 way street and should be treated & respected in the same vein.
Strategic Understanding – as a professional it is imperative to have a short term, medium term, long term goal. Break down your end objective into smaller targets – keeps you focussed & on plan.
Leadership – Leaders are born, but Leadership skill can be learnt. This is a skill cutting across both firms as your actions will help define the kind of following & respect you gain. A skill if learnt well can bring about additional business which wasn't forecasted.
Value Selling – Ability to continuously communicate effectively to someone about the value that your product / service / you brings on the table. Financial or strategic value can go a long way in inculcating the right business acumen for a potential leader.
Negotiation – Not an easy one to master, because there is no set pattern. However, with due amount of practice your ability to disseminate & showcase your ability to be flexible can many a times be the difference between getting or losing business.
Organisational Knowledge – It doesn't hurt anyone to read. Proficiency at reading through your own firm and the client's firm goes a long way to establish trust & credibility.
Get updated with Latest Video Marketing News
3. Which door opening strategy do you suggest to businesses in 2020?
This has been quite a year and COVID19 has been the prime disruptor across all industries. My understanding is that the traditional door opening strategies will still remain, but like other businesses transitioning & getting disrupted the manner in which the strategies get implemented will change.
These strategies are mostly played at a psychological level and dependent on what relationship you enjoy with the customer, Tt could be a mixture of Foot-In-The-Door technique vis-à-vis B2B, B2C or a combination of show & tell, PoC & PoVs.
However, I believe Trust & Credibility is the single most important currency that will yield the maximum results & help businesses gain further momentum. Across the world there is a huge lack of trust emanating from institutions which derail the overall business momentum and if a firm or an individual comes across as trustworthy, the business is there for the taking.
Are you a video marketing expert? Take this quiz
4. Can you tell us about 3R principles you follow?
I haven't come up with this set of principles today. It took me 10 years to finally understand what drives me as an individual, as a professional and how can I keep myself motivated for the years to come.
3R's are
Respect – the individual, the firm, the client and most importantly yourself. Your ability to put self-respect but to also know how to balance your own thought processes are important for you to grow.
Recognition – human beings are driven or motivated and one of the best ways to get a team/firm to be productive is to constantly recognise them. The more you recognize the team, the better will be the results. Look at any team – the happier they are, the better they perform and it becomes a winning cycle leading to a creation of a winning culture.
Responsibility – How do you want to leave a legacy behind – the only way you can is by leading with example & actions but more importantly also sharing responsibility. It helps the team & the individual grow and prepares you for the battles ahead.
Know the New Things in Video Marketing
5. What mistakes professionals must avoid when it comes to Key Account Management?
Apart from the skills that I mentioned above, I invest hugely in building Trust & Credibility. I have seen scenarios where fly by night operators come across with fancy offers with gullible customers getting fleeced because these operators don't provide Trust & Credibility in their engagements. These might be simple things, but I am firmly of the opinion that the more you invest in becoming a trusted advisor to anyone you work with, the better will be the results for that organisation as well as the individual.
Here are the Top 40 Video Production Companies in India
About Vidsaga
Vidsaga is a global marketplace for Organisations to create Videos. Consider it as "Upwork/ Fiverr for videos" with Creative script writing and professional project management.
Join 52,000+ Global Video Marketers' Community