7 Questions To Ask When Looking For Corporate Video Makers In Bangalore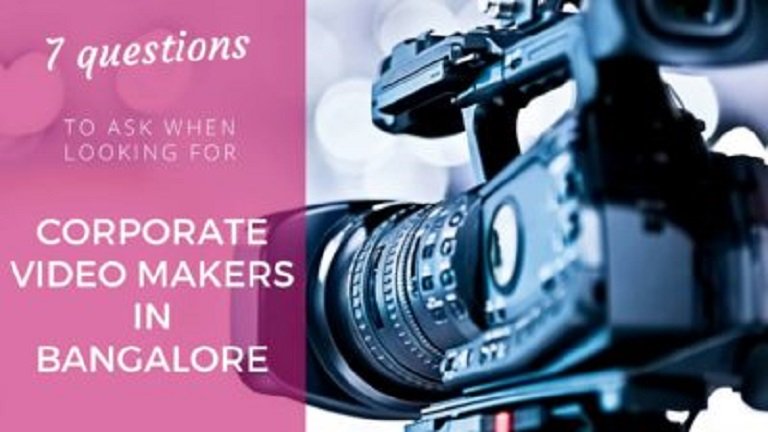 7 Questions To Ask When Looking For Corporate Video Makers In Bangalore
(Note: Are you looking for corporate video makers in Bangalore? Click here and submit your details and we'll FIND you the best corporate video makers in Bangalore right away.)
When it comes to video making and marketing, people have started realising that video is an important medium, and excelling in video would mean great results for their brand.
So, people have started focusing on preparing video marketing and video content strategy for their businesses.
But that's not really where it stops.
The real deal is to find someone who can assist you in creating that piece of content.
If you are someone who knows that the video campaigns you are developing can't be made in-house, then you should hire someone who can do it for you.
To hire the right person in Bangalore, you need to find out about their outlook on a bunch of things that matter you the most and your business.
But before we do that, there are few things you need to keep in mind before working with corporate Video makers in Bangalore.
a) Have clearly defined goals:
We work with a lot of businesses and we see this all the time that manager or marketers don't have well defined goals when it comes to making corporate movies.
Having a goal of creating a corporate movie is a vague goal but defining an outcome by making it is a clear goal. So as a business having a clear roadmap when it comes to defining goals for corporate movie is super critical to ensure that your corporate movie is a huge success.
Tip: Chart out clear objectives for your movie on an end to end basis.
b) Distribution methods:
If you don't know where you'll distribute your corporate movie, it's better that you should figure that thing out before you start. Because creating a corporate movie is half of the job, the rest half is distributing it in the right places.
For example if you are b2b brand then promoting in places like linkedin is going to get you the best results. If you are a consumer brand then promoting through normal channels or digital channels like facebook and google will get you better results.
Tip: figure out the best channels by working with your marketing team and promote your corporate movie on those channels and plan it out properly.
c) Focus on brand building:
Corporate video making should be seen as a brand building exercise which will reap you results in the coming years. If you see it from that point of view you'll find out the exact standing of your brand, you'll develop your unique value proposition in the market, how people perceive your brand in the market.
So to do that, I have compiled a series of questions which you can ask them and figure out whether there is a good FIT between you guys or not.
7 Questions To Ask When Looking For Corporate Video Makers In Bangalore
1) Can this team handle our brand? And our campaign volume?
Just like everyone is not your friend, the same way not every corporate video maker in Bangalore will be a good FIT for you and your brand. You need to find out the ones who are identical to yours, and work with them.
Another interesting thing is to question yourself and you can even sit down with your internal team and figure this out for yourself. So the real question is, will this team be able to handle the volume for your business, or not?
Because campaign volume means that, you will be introducing a series of videos and you want a corporate film maker to take care of the whole campaign.
As a brand, your reputation will depend on the kind of work that you guys do. So you have to question yourself given the kind of work portfolio and testimonials that you see.
Do you think this team is the right team to represent your brand story, or not? If yes, do they have the skillset to pull off a campaign volume which is suited for your brand.
2) Do these guys have a production capacity that will allow us to scale our video marketing campaigns?
Another important factor when it comes to video making is, whether the team you are hiring have the chops to make corporate videos at a high capacity, or not.
Because, making a corporate movie is a difficult task and there are a lot of moving parts that go into the making of a high quality video.
So, you'll have to test the team and see whether they have the ability to produce videos at a faster production rate or not.
Not only production, but how do you actually measure everything with respect to production of these series of movies.
3) Are they flexible with their location?
If you are making a corporate movie, then you have to switch between different locations and sets. You could question the team whether their set up is friendly enough to be transported to multiple locations or not.
For example, they could even say that their tools and equipment are easy to carry within the city, but they can't be moved out of Bangalore. So for you, as a brand, it is really critical to understand the level of flexibility these guys have when it comes to location part.
4) Do you have Domain expertise?
Some people are good at making corporate videos, some at explainer videos, some are excellent at brand-related videos in Bangalore. So as a brand, your goal should be to find someone who has core domain expertise in corporate film making only.
Over the years, we at Vidsaga have curated the finest people in the industry who are good at their craft when it comes to corporate video making.
So if you are looking for someone who can be good and do a good job for you, we can help you to find the right person for your brand, someone who is a domain expert at this.
5) How fast can you deliver on your timelines?
You should get all your timelines mapped out clearly. You should know which format will work well for you, timewise. If you are not strict and diligent with timelines, then the chances are that your project would move at the pace at which the corporate video maker's team will move.
So you should take care of this fact that the timelines and the project deadlines that you have set are being met on time. You could also ask the previous clients of the team you are dealing with. You could ask them about their speed of delivery when it comes to their video projects.
TIP: To understand your case better, you could even ask the team to make it into a milestone based format where you release a certain amount of cash every time these guys HIT a certain deadline.
6) If we plan to work with you, what kind of quality we can expect from your end?
A lot of video making companies in Bangalore claim about quality, but when they deliver the project, it usually differs from their claims. We, at Vidsaga, have come across all types of quality issues and false claims happening to customers.
That's why if you are buying a video service from a video maker, you should specifically ask them about the level of quality you'll be getting and what price point does it usually come at.
7) How many revisions do we get for our corporate video making engagement?
Usually with creative projects, you need a lot of revision, time and again. Because no matter what, there will always be difference in the kind of brief you give to your client and what you get in return.
So to ensure that you get the kind of quality and creative work that you are looking for, you should get adequate number of revisions for your project.
You also need to bear in mind about that. Usually you get a certain number of revisions for every project and post that, they usually charge a certain amount for revisions.
So to be fair, you have to know how many revisions you are getting and what's the exact price that you will pay for every revision after that.
If you are looking for a corporate film maker in Bangalore, you have to keep these things in mind to ensure that you get the best out of everything for your brand.
If you are also planning to create a video, find the fair price through our video price calculator – here.
About VidSaga
Vidsaga is a global marketplace for Organizations to hire Video Creators. Currently, 1100+ businesses including Shell India, News 18, Carlton Luggage (VIP Bags), Hindustan Times, FeverFm, Mysmartprice are using our platform.