Top 35 Must-Follow YouTube channels for Filmmakers and video editors in 2019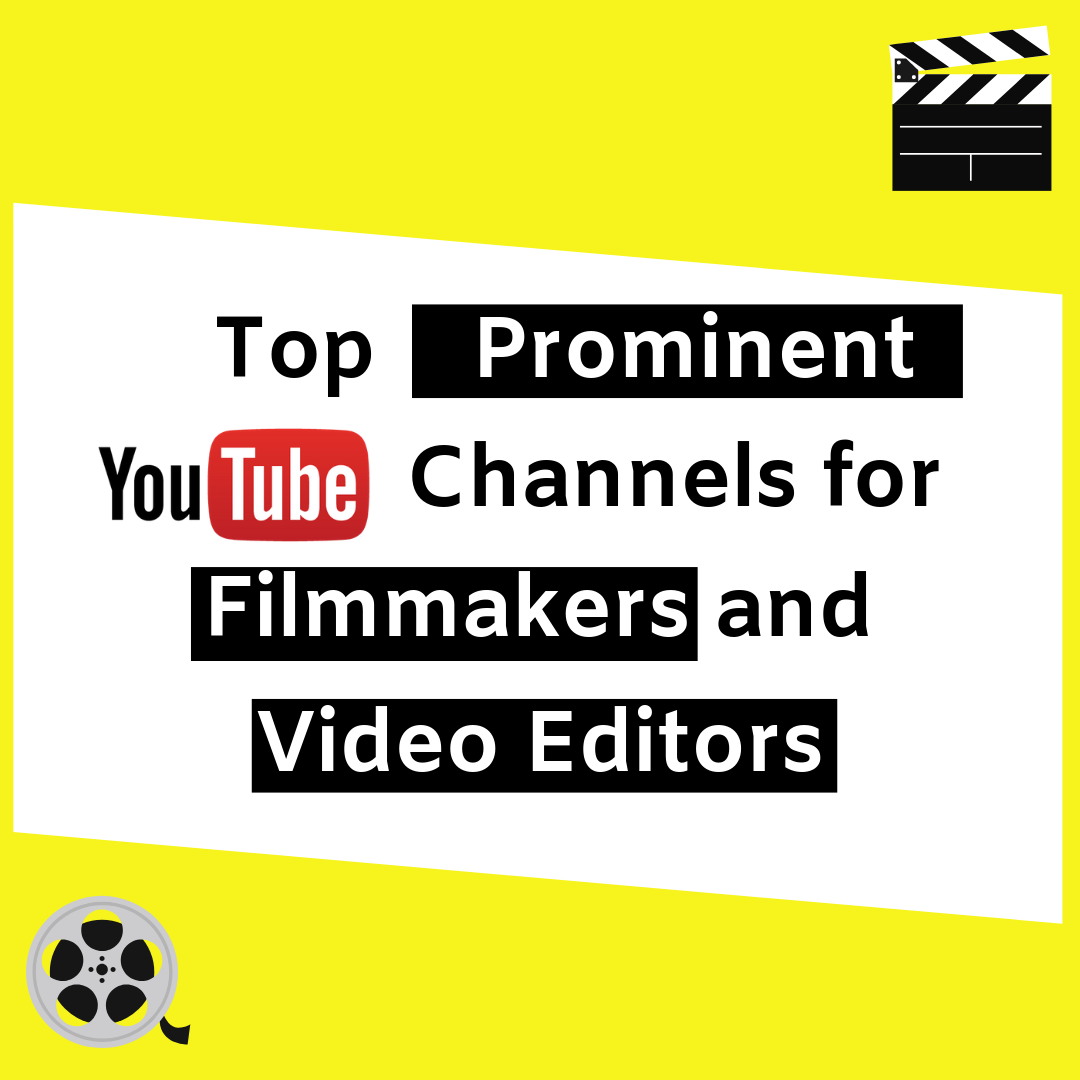 Following these youtube channels for filmmakers is like going to film school without giving any fee.
Youtube is one of the most efficient ways, to find out about anything you want to learn and filmmaking is no exception.
So, instead of going to expensive film Schools, follow these top 35 amazing YouTube channels for budding filmmakers or film enthusiasts who want to learn from start to finish.
Here is a list of top 35 Youtube channels for Filmmakers.


Disclaimer: Intention of writing this article is to give recognition to some of the prominent Youtube channels for Filmmakers and Video Editors. The list is not in any particular order.
Also Read: How to make Videos like Khan Academy ?
1. Cinema Beyond Entertainment

Ideal for Upcoming Filmmakers
Cinema beyond Entertainment is a filmmaker vlog has its own series which is also listen on IMDB.
They have a collection of video essays where movies are analysed through different cinematic lenses.
They exactly describe the camera positions and the emotions that the cinematographer is trying to show through the camera.
2. Film Companion
Ideal for Indian Filmmakers
Film Companion is best YouTube channel for Indian filmmakers and is founded by film critic Anupama Chopra.
You will find interviews, movie reviews, recommendations from bollywood, analysed scenes with famous directors and producers and cheat sheets for creating various types of scenes in this Youtube channel.
3. TIFF Originals
Ideal for Indie Filmmakers
William bill Marshall is the person without whom TIFF ( Toronto International Film Festival) wouldn't have existed.
TIFF is a youtube channel for filmmakers that offers screenings, lectures, discussions, festivals, workshops and industry support.
4. Deity Microphones
Ideal for cinematographers
Deity Microphones is a filmmaker vlog which shares free educational content to help filmmakers, vloggers, sound mixers and sound designers.
5. What It All Meant
Ideal for cinematographers
A YouTube channel which shows all the aspects of filmmaking. From visuals, to dialogue, to motif, to symbolism, to allegories, to general subtext.
6. Mark Bone
Ideal for cinematographers
Mark Bone is a filmmaking vlogger.
He's a film director from Toronto, Canada sharing how to make films better.
He uploads new videos every week showing behind the scenes looking at filmmaking.

7. Filmmaker IQ
Ideal for Indie Filmmakers
Filmmaker IQ is a YouTube channel dedicated to help filmmakers learn filmmaking on a beginner level. You won't just learn how to record a scene, you'll learn the fundamentals of how lights work and how they reflect the emotions of a scene.
8. Dave Dugdale
Ideal for technical lovers
Ever since he has purchased a camera, he is sharing his knowledge about filmmaking to the world through his YouTube channel. He shares his experience with camera, equipment and software.
9. Neumann Films

Ideal for cinematographers
Their videos tell you the exact cinematic experience behind a scene. From shooting hallucination videos to slo-mo videos, you can have it all.
Not all their videos are free, but if you can spend a few dollars, then their paid stuff is worth buying.
10. Tom Antos
Ideal for cinematographers

Tom Antos is a director, cinematographer and visual effects artist. He has worked on big-budget feature films, as well as numerous short films and music videos.
11. Zach Ramelan

Ideal for Indie Filmmakers

Zachary Ramelan is an award winning film director who has a youtube channel with over 65k subscribers. He regularly posts tutorials, crazy ideas and little vlogs about filmmaking on his YouTube channel.
12. CookeOptics Tv

Ideal for Filmmakers

They share interviews with prominent cinematographers and top filmmaking experts, who share their suggestions and behind the scenes experiences.
13. Filmmaking Simple

Ideal for video editors

Filmmaking Simple is a place to understand visual effects and editing in Final Cut Pro X and After Effects in a simple way.
They upload videos on every Tuesday and Friday and is one such channel to look out for video editors.
14. Raindance

Ideal for Indie Filmmakers

Raindance is the biggest UK independent film festival and is the ultimate place for best filmmaker tips and interviews.
15. DSLR Video Shooter

Ideal for gear video lovers

DSLR Video Shooter is a YouTube channel owned by Caleb Pike and is the destination to find the best gear reviews and tutorials for making your videos better.

16. D4darious
Ideal for cinematographers

Darious Britt is a director, producer, screenwriter and an actor. He shares his advice on filmmaking tips, screenwriting and directing.
17. The Slanting Lens

Ideal for technical lovers

Jay P Morgan regularly posts about photos, videos, and lighting lessons and tutorials, equipment reviews, and photography and videography business lessons.
18. Indie film Hustle
Ideal for Indie Filmmakers and video editors

Indie Film Hustle talk over cinematography, RED Camera, Arri Alexa, Blackmagic camera, post production, color grading, filmmaking, visual effects, motion graphics, film festivals, editing, film crews, directing, producing, film business, screenwriting, movie scripts, film distribution, film marketing, VOD, VHX, iTunes distribution, DIY filmmaking.
19. IndependentVFX

Ideal for Indie Filmmakers and Video Editors

IndependentVFX is a YouTube channel for filmmakers and video editors with great visual effects tutorials and videos for indie film and DIY productions. All VFX compositing is done in Adobe After Effects.

20. Moving Image
Ideal for Indian Filmmakers

Moving Image discusses indian Cinema and different angles of a scene. If you are an Indian Filmmaker, then you should follow this page.

21. SonduckFilms

Ideal for Video editors and Filmmakers

SonduckFilms is a YouTube channel with 303k subscribers and regularly post videos on graphic design, filmmaking, motion graphics and photography.

22. The Film look

Ideal for Indie Filmmakers

Rob & Rich, two filmmakers from the north-east of England, who try to figure out what it takes to create a movie look more like hollywood equivalent.

They post DIY tips, and micro budget tips and tricks on how to make your film achieve the heavenly film look.
23. The Media Division
Ideal for Indie Filmmakers

The Media Division is dedicated to filmmaking and sharing knowledge about it.
Tests, Reviews, Gear, Tutorials, Tips, Tricks, Techniques, Experiments, Behind the Scenes, Experience & Knowledge is shared on this YouTube channel.
24. Film drunk Love

Goutham Gnanasekaran is the video creator who regularly posts on this YouTube channel. He analyzes films, themes and make video essays.
25. This Guy Edits
Ideal for Video Editors and Filmmakers

Sven is an A.C.E. Award nominated editor who shares videos on film editing, behind the scenes, interviews and video essays.
26. Boone Loves video
Ideal for Video editors
Boone shares tips on video editing tools and creates video essays on specific types of scenes. This is a YouTube channel every video editor should follow.
27. Cinematography Database

Ideal for Cinematographers

This YouTube channel shares Cinematography tutorials and guides which are very helpful for cinematographers.
28. Tripping on Cinema

Ideal for Indian Filmmakers

Tripping on cinema is a YouTube channel who shares video essays, script analysis, character analysis and scene analysis.

29. Philip Bloom

Ideal for Video editors and filmmakers
Philip Bloom is among the best youtube channels for filmmakers with 190k subscribers.
He has created his own series after 6 months of hard work ,you can now watch his 8 part Cinematic Masterclass series via download or streaming.
30. Grip Tips

Ideal for Art Directors
Join Dave Donaldson shares an in-depth look at all the distinct tools used to help light a set.
31. Film Courage
Ideal for filmmakers
Film Courage features video interviews, audio podcasts and articles about filmmaking, screenwriting, acting, women in film and more.
32. Wolf Crow
Ideal for cinematographers
Wolf Crow is among the best YouTube channels for Cinematographers and shares videos on camera angles, camera movements and film lighting.
33. Carlos Quintero
Ideal for cinematographers
Carlos Quintero shares modern filmmaking, cinematography, production gear and tech reviews to help improve the Lighting, Sound and Cinematic Image quality.
34. The Frugal Filmmaker
Ideal for filmmakers and video editors
This YouTube channel shares DIY's , filmmaking tips, product reviews and video editing tips.
35. Make . Art . Now
Ideal for Cinematographers
This YouTube channel has 120k subscribers and shares videos about cinematography, filmmaking, low-light videography, behind the scenes.
Apart from these prominent YouTube Channels for filmmakers and video editors, there are some channels which are already popular among filmmakers.
In case, if you are not following them, you can subscribe to the following channels too.

1.Nerdwriter1 
2.Every Frame a Painting
3.Film Riot
4.Now you see it
5.FoundFlix
6.Watchmojo
7.Looper
8.Kaptainkristian
9.Cineflix
10.Chris Stuckmann
11.Chez Lindsay
12.Channel Criswell
13.YMS (Your Movie Sucks)
14.Impression Blend
15.Patrick (H) Willems
16.Aputure
17.James Matthews
18.Thevfxbro
19.Avid
Also Read: What are the Top Video Promotion Strategies ?
About VidSaga
Vidsaga is a global marketplace for Organizations to hire global Video Creators.
If you are a video creator or filmmaker and looking for work opportunities, then create your profile here
Get similar article in your Inbox