"One thing that marketers should always keep their eye on, is competitors. It's not spying. "- Nishit Nanda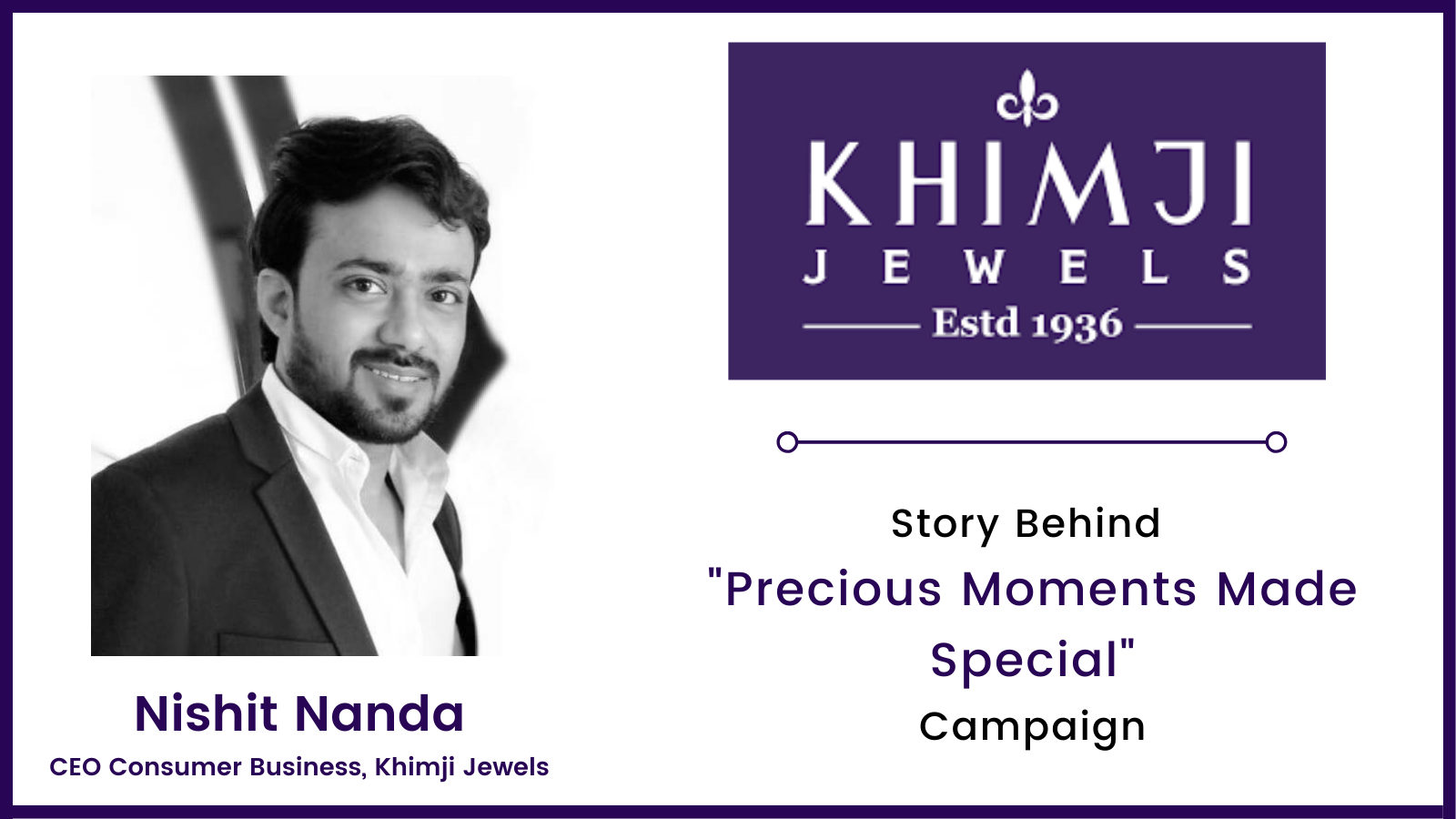 "We should not always run after a trend, we should first know what the customers are really looking for.

Campaigns and ads should be planned after understanding the customers as well as the overall market."

– Nishit Nanda, CEO Consumer Business , Khimji Jewels
Khimji Jewels launched a campaign with 3 video ads. The theme is to reconnect with family members and BFFs through jewelry.
We talked to Nishit and learned their thought process and story behind the campaign. Read on to know more.

Are you paying high? Check – Global Video Production Price guide


1. What is Khimji Jewels' internal process of coming up with an ad campaign?
Our focus has always been consumer experience. And every time we're conceptualising an ad campaign, we try to explore stories that have human insight and can connect with our customers at a personal level.
If they relate to our campaign, we have already gone a step ahead in reaching them.
The objective of our ad campaigns is to focus on the happiness of our customers.

Get updated with Latest Video Marketing News


2. So, what was your thought process when you decided to create "Precious Moments. Made More Beautiful."?
In these three films, we wanted to show real relationships; stories of family, love and the nuanced dynamics of interpersonal emotions in our everyday lives.
The aim of this campaign is to position the brand on the platform of authentic closeness and deep partnership with the consumer.
Hence, it was built on the brand's promise of making precious moments beautiful, reminding us that our lives are filled with precious moments and we only need to be aware of them to make them unforgettably beautiful.

The first film shows us the redefined relationship with the elders in our joint families and how we always look at them in a fixed way, until another lens is presented to us.
The second film explores the love and kinship between best friends for decades and reminds us that friendship is always the first.
The third film brings us a glimpse of the love and proximity between a husband and wife and tells us how the glory in everyday living needs be nothing more heroic than never forgetting to love one another every single day.

Join 52000+ strong Global Video Marketers Community


3. How did you launch and measure your campaigns? Is there any internal checklist you follow?

We go all out with all our campaign launches, ensuring streamlined communication across online and offline platforms.
To measure success, we check on the number of enquiries we get on our social media platforms.
Then of course, sales and demand of a particular collection measures the success of the campaign.
If we run digital ads, we track metrics like impressions, CTC, CTR and naturally, the conversion rate.

Youtube SEO: 10 Hacks you need to know in 2021


4. What mistakes should marketers avoid when it comes to planning jewellery marketing ad campaigns?
One thing that marketers should always keep their eye on, is competitors. It's not spying.
By doing this, you can understand the market and might get inspired as well.
Another thing that marketers should do is to know their customers, their taste and wants in order to connect with them.
We should not always run after a trend, we should first know what the customers are really looking for. Campaigns and ads should be planned after understanding the customers as well as the overall market.
Visually aesthetic digital and social presence plays a very important role. Now and going forward, your presence must have a powerful digital impact.

Check out these interesting Video Ad Campaign Stories


5. Please name the team behind this (share the team pic, if possible) and your latest company's logo.
Brand: Khimji Jewels
Brand Leads: Nishit, Nishant and Sameer Nanda
Made by: Digital Dogs Content and Media
Idea and Creative Direction: Anjali Rawat (Digital Dogs)
Strategy: Ambarish Ray (Digital Dogs)
Project Lead: Ridhima Srivastava (Digital Dogs)
Produced by: PressPlay Collective (India)
Directed by: Yogesh Pandi
Music: Mukund Ambarish
Audio Production and Language localisation: Potbelly Audio

Check out What Media is writing about Vidsaga


About Nishit (in his own words)

I had joined the family business in 2013 after completing my graduation with Computer Science.
I strive to create a confluence between the two worlds of logic and emotions in order to bring an experience that is both holistic as well as largely unparalleled in the jewellery sector.
I believe that with focus, ethics and transparency, one can meet, tackle and achieve milestones. I'm an absolute technophile.
In my free time, I tinker with codes and listen to the latest keynotes of global tech titans.

Know the New Things happening in Video Marketing


About VidSaga
Vidsaga is a global marketplace for Organisations to create Videos. Consider it as "Upwork/ Fiverr for videos" with Creative script writing and professional project management.
Join 52,000+ Global Video Marketers' Community